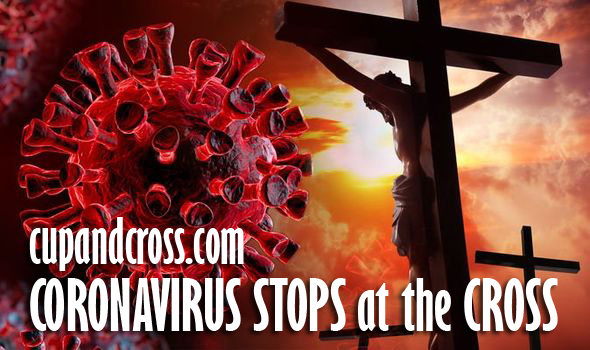 CORONAVIRUS STATEMENT by Cup & Cross Ministries International
The United Nations have just declared the Coronavirus (COVID-19) a global pandemic. Most European flights are suspended and a number of countries in our area of ministry remain closed. Alternatively, CDC has issued a detail set of resources for faith-based communities and their leaders for preventing COVID-19. As a result, churches are cancelling their Sunday services, conferences and international assemblies.
Having full awareness of the above and convinced by the Bible that "It is not the healthy who need a doctor, but the sick," according to Mark 2:17
WE HEREBY AFIRM that:
Divine healing [is] provided for all in the Atonement (Psalm 103:3; Isaiah 53:4, 5; Matthew 8:17; James 5:14-16; 1 Peter 2:24 – 42nd A., 1948, pp. 31, 32)
"The prayer of a righteous person is powerful and effective" (James 5:16)
And that there is still "power, power, wonder working power in the blood of the Lamb" (L.E. Jones, 1899)
For 30 years now, every public prayer we have held around the Globe has ended with these words:
"WE COMMAND every sickness, every disease, every virus
and ever infection, every tumor and every cancer
to leave the body of the believer in the name of Jesus."
This prayer includes the Coronavirus (COVID-19) as well and therefore
WE FIRTHER AFIRM:
Our commitment to REVIVAL especially in the year 2020
Our long-scheduled Revival Harvest Campaign in celebration of the First Centennial of Pentecostalism in Bulgaria (1920-2020)
Our readiness to respond to every church, state and national office that contacts us with a request to schedule our ministry in due time.
The Cross of Calvary cancels every coronavirus!
Revival must go on…
Sincerely,
Dr. Dony & Kathryn Donev
Cup & Cross Ministries International
by Kathryn Donev
Sunflowers are so much fun.  They are actually thousands of tiny flowers that bring joy in many ways. It's neat to watch them follow the sun because of a trait called heliotropism.  Eating sunflower seeds can lower rates of cardiovascular disease, high cholesterol, and high blood pressure. They are a good source of many vitamins and minerals that can support your immune system. And did you know that a sunflowers destroy contaminants of its surrounding soil, water and air?
Although sunflowers are Native to North America, Bulgaria is among the top 10 sunflower producing countries.  As in various places in Polk County, Bulgaria is famous for their golden fields. And believe it or not, you can find Bulgarian sunflower seeds in any Dollar General labeled with the Clover Valley brand.  When we were ministering together with Feeding God's Lambs Summer Program at First Baptist Benton giving a presentation about the 6 Senses of Bulgaria, the kids even got to taste some.  Fun.
With a multisensory trip to Bulgaria, we shared how the Holy Spirit is our Sixth Sense to guide and direct us in life and found in everything we touch, see, hear, smell and even taste.  When we all come together, we can do great things, just as with the thousands of tiny flowers that come together to have the appearance of a unified flower.  Let us be a purifier of our environments and always be reminded to follow the SON.  Being consumed with the sixth sense of the Holy Spirit is good for the soul.
CYBER MONDAY 2021: Several of our best sellers now on Kindle for quick and easy read. Stay tune for our new titles in 2020…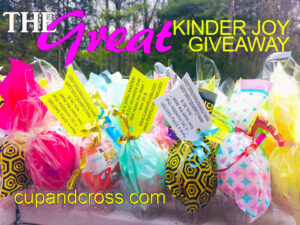 Cup & Cross Ministries in corporation with the Polk County TN Homeschool Network has partner with the FLIP Kids Program in Polk County, TN to have a Great Kinder Joy Egg Giveaway.  Over 200 chocolate eggs will be given away to the children in the FLIP Kids Program this Easter season.  No need to social distance in this egg hunt, the hunt will be delivered to your door.  Each egg has chocolate and it's own "Incredibles" Movie character surprise toy along with scripture reminder of the Resurrections from Acts 26:8.
"..it [is] incredible that God raises the dead."
For more information go to cupandcross.com or polkhomeschool.com
Parts of Leadership Table will be available on Gumbo Podcast. For more information visit www.CupandCross.com

Cup & Cross Ministries International Presentations by Year:
2004 Postcommunist Believers in a Postmodern World at the Lilly Fellows Research Conference, Samford University
2005 Bulgarian Churches in North America at the Bulgarian Evangelical Alliance Annual Meeting – Chicago
2005 Internal Motivation at the Bulgarian Chaplaincy Association Quarterly Meeting – Bulgaria
2006 Introductory Chaplaincy Training Course at the Bulgarian Chaplaincy Association Quarterly Meeting – Bulgaria
2006 The Story of the Bulgarian Bible at Evangelical Theological Society – Washington, DC
2007 Bulgarian American Congregations: Cultural, Economic, Leadership Dimensions at Society for Pentecostal Studies
2009 Using Bible Technologies in a Censured Context: The Case of Postcommunist Bulgaria at BibleTech – Seattle
2009 How to Do Ministry on the Internet at Leadership Development Institute – Cleveland, TN
2010 The Untold Story of the Life and Ministry of Rev. Ivan Voronaev at Society for Pentecostal Studies – Minneapolis
2010 Using Computer Technologies in the Making of the New Bulgarian Translation of the Bible at BibleTech – San Jose
2010 Bulgaria: The Road to Democracy at the University of Nebraska – Lincoln, NE
2011 How to Broadcast Your Church Services for Free at Leadership Development Institute – Cleveland, TN
2011 The (un)Forgotten: The Story of Rev. Ivan Voronaev's Children at Society for Pentecostal Studies – Memphis
2013 The Video Bible Project on the Internet at BibleTech – Seattle
2015 Historical and Doctrinal Formation of Holiness Teachings and Praxis among Bulgarian Pentecostals at Society for Pentecostal Studies at Southeastern University in Lakeland, FL
Cup & Cross Ministries International Publications by Year:
January 1994, "Going Up", Christian News, Newspaper of the Bulgarian Church of God
1998-2003, Commentary on the Gospel of John for the Bulgarian On-Line Bible [http://www.bibliata.com]
September 2000, To Harvard and Back a Hundred Years Later (A Biographical Sketch of Stoyan K. Vatralsky)
May 2001, Pentecostal Primitivism Preserved
March 2002, Sunday School Lesson Series
April 2005-2010, Bulgarian Protestant History Series in the Bulgarian Evangelical Newspaper
April 2005-2010, About the Bible Series in the Bulgarian Evangelical Newspaper
Fall 2005, Postcommunist Believers in a Postmodern World in East-West Church & Ministry Report
Spring 2006, When East Met West in East-West Church & Ministry Report
July 2006, Roberts College in Pro & Anti Newspaper
July, 2007-2009 Letters from Bulgaria: A Series on Bulgarian Pentecostal Heritage in Pentecostal Evangel
2008 Analytical Overview and Church Planting Proposal for Bulgarian American Congregations Considering Cultural, Economic and Leadership Dimensions
2009 Pentecostal Primitivism
2010 About the Bible, a monograph on the history of the Bulgarian Bible
2011 Tetraevangelion: The Complete Works of the Gospel Writers in the New Bulgarian Translation Series (2007-2013)
2012 Bulgarian Study New Testament
2015 Complete Greek-Bulgarian Interlinear of the New Testament
We've completed another successful term of ministry for 2015 marking a decade since the start of Mission BULGARIA in 2005 and also our 25th anniversary in the ministry. From humble beginnings in September of 1990, God has taken us to a full quarter century of ministry literally throughout the globe.
As the Thanksgiving season is now upon us, we will be commemorating this event more extensively with a series called "25 Years of Miracles." The series contains testimonies with various healings and miracles from our ministry, which we've collected and recorded through the years.
We are grateful to the Lord for giving us the opportunity to preach the Gospel and be a part of your life through our ministry. Thank you for your partnership and friendship through the years and Happy Thanksgiving!