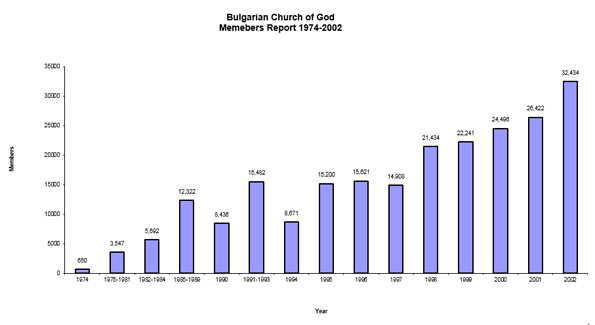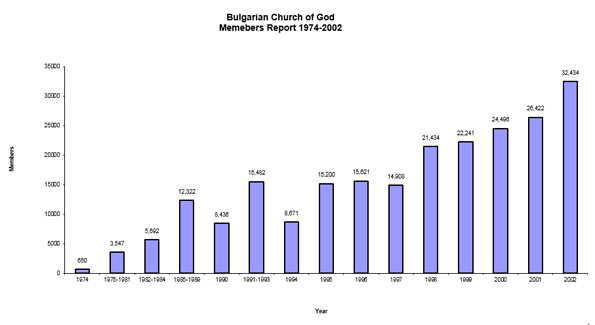 Congregationalists (called "Evangelicals" in Bulgaria, the word "Protestant" is not used [3] ) were among the first Protestant missionaries to the Ottoman Empire and to the Northwestern part of the European Ottoman Empire which is now Bulgaria, where their work to convert these Orthodox Christians was unhampered by the death penalty imposed by the Ottomans on Muslim converts to Christianity.[4] These missionaries were significant contributors to the Bulgarian National Revival movement. Today, Protestantism in Bulgaria represents the third largest religious group, behind Orthodox and Muslim. Missionaries from the United States first arrived in 1857–58, sent to Istanbul by the American Board of Commissioners for Foreign Missions (ABCFM). The ABCFM was proposed in 1810 by the Congregationalist graduates of Williams College, MA, and was chartered in 1812 to support missions by Congregationalists, Presbyterian (1812–1870), Dutch-Reformed (1819–1857) and other denominational members.[5] The ABCFM focused its efforts on southern Bulgaria and the Methodist Church on the region north of the Balkan Mountains (Stara Planina, or "Old Mountains"). In 1857, Cyrus Hamlin and Charles Morse established three missionary centres in southern Bulgaria – in Odrin (Edirne, former capital city of the Ottoman Empire, in Turkey), Plovdiv and Stara Zagora. They were joined in 1859 by Russian born naturalized America Frederic Flocken in 1859.[6] American Presbyterian Minister Elias Riggs commissioned, supported and edited the work of Bulgarian monk Neofit Rilski to create a Bible translations into Bulgarian which was then distributed widely in Bulgaria in 1871 and thereafter. This effort was supported by Congregationalist missionary Albert Long, Konstantin Fotinov, Hristodul Sechan-Nikolov and Petko Slaveikov.[7] Reportedly, 2,000 copies of the newly translated Bulgarian language New Testament were sold within the first two weeks.
Congregational churches were established in Bansko, Veliko Turnovo, and Svishtov between 1840 to 1878, followed by Sofia in 1899. By 1909, there were 19 Congregational churches, with a total congregation of 1,456 in southern Bulgaria offering normal Sunday services, Sunday schools for children, biblical instruction for adults; as well as women's groups and youth groups. Summer Bible schools were held annually from 1896 to 1948.[8]
Congregationalists led by Dr James F. Clarke opened Bulgaria's first Protestant primary school for boys in Plovdiv in 1860, followed three years later by a primary school for girls in Stara Zagora. In 1871 the two schools were moved toSamokov and merged as the American College, now considered the oldest American educational institution outside the US. In 1928, new facilities were constructed in Sofia, and the Samokov operation transferred to the American College of Sofia (ACS), now operated at a very high level by the Sofia American Schools, Inc.[9]
In 1874, a Bible College was opened in Ruse, Bulgaria for people wanting to become pastors. At the 1876 annual conference of missionaries, the beginning of organizational activity in the country was established. The evangelical churches of Bulgaria formed a united association in 1909.[10]
The missionaries played a significant role in assisting the Bulgarians throw off "the Turkish Yoke", which included publishing the magazine Zornitsa (Зорница, "Dawn"), founded in 1864 by the initiative of Riggs and Long.[11] Zornitsa became the most powerful and most widespread newspaper of the Bulgarian Renaissance.[12] A small roadside marker on Bulgarian Highway 19 in the Rila Mountains, close to Gradevo commemorates the support given the Bulgarian Resistance by these early Congregationalist missionaries.
On 3 September 1901 Congregationalist missionaries came to world attention in the Miss Stone Affair when missionary Ellen Maria Stone,[13] of Roxbury, Massachusetts, and her pregnant fellow missionary friend Macedonian-Bulgarian Katerina Stefanova–Tsilka, wife of an Albanian Protestant minister, were kidnapped while traveling between Bansko and Gorna Dzhumaya (now Blagoevgrad), by an Internal Macedonian-Adrianople Revolutionary Organization detachment led by the voivoda Yane Sandanski and the sub-voivodas Hristo Chernopeev and Krǎstyo Asenov and ransomed to provide funds for revolutionary activities. Eventually, a heavy ransom (14,000 Ottoman lira (about US$62,000 at 1902 gold prices or $5 million at 2012 gold prices) raised by public subscription in the USA was paid on 18 January 1902 in Bansko and the hostages (now including a newborn baby) were released on 2 February near Strumica—a full five months after being kidnapped. Widely covered by the media at the time, the event has been often dubbed "America's first modern hostage crisis".
The Bulgarian royal house, of Catholic German extraction, was unsympathetic to the American inspired Protestants, and this mood became worse when Bulgaria sided with Germany in WWI and WWII.[14] Matters became much worse when the Bulgarian Communist Party took power in 1944. Like the Royal Family, it too saw Protestantism closely linked to the West and hence more politically dangerous than traditional Orthodox Christianity. This prompted repressive legislation in the form of "Regulations for the Organization and Administration of the Evangelical Churches in the People's Republic of Bulgaria" and resulted in the harshest government repression, possibly the worst in the entire Eastern Bloc, intended to extinguish Protestantism altogether. Mass arrests of pastors (and often their families), torture, long prison sentences (including four life sentences) and even disappearance were common. Similar tactics were used on parishioners. In fifteen highly publicized mock show-trials between 8 February and 8 March 1949, all the accused pastors confessed to a range of charges against them, including treason, spying (for both the US and Yugoslavia (!)), black marketing, and various immoral acts. State appointed pastors were foist on surviving congregations. As late as the 1980s, imprisonment and exile were still employed to destroy the remaining Protestant churches. The Congregationalist magazine "Zornitsa" was banned; Bibles became unobtainable.[15] As a result, the number of Congregationalists is small, and estimated by Paul Mojzes in 1982 to number about 5,000, in 20 churches. (Total Protestants in Bulgaria were estimated in 1965 to have been between 10,000 and 20,000.)[16] More recent estimates indicate enrollment in Protestant ("Evangelical" or "Gospel") churches of between 100,000 and 200,000,[17] presumably reflecting the success of more recent missionary efforts of evangelical groups. The United Church of Christ has been described as "the historic continuation of the Congregational churches".[18]
Bulgarian Evangelical Churches in Germany (2022 Report)
Koloniestraße 23, 13359 Berlin
P-r Trajan
Rathausstr. 13, 21502 Geesthacht
P-r Nasko
Zollhofstrasse 4, 67061 Ludwigshafen
P-r Asen
Ruhrort Apostelestr. 58, Duisburg 47053
P-r Dari
Kaiser Wilhelm Str. 255, 47169 Duisburg
Bremen Walle Heerstr 197
P-r Dimitar
Hofäckerstrasse 3 71732 Tamm
P-r Emil
Höfflerstr. 14 – Kaiserslautern 67659
P-r Todor
Franz Georg str 36, Trier 54290
P-r Krasimir i Bena
Kirschstr 45a, Montabaur 56410
P-r Ličo i Lejsti
Donauwörther str. 85, Neuburg an der Donau 86633
P-r Ličo i Cecka
Thiewall 9, Hameln 31785
P-r Vasko i Irena
Berliner Str. 77, 51064
P-r Mančo i Dari
Bahnhofstr. 4, Hagen 58095
P-r Miroslav
Oranien Str. 15, Wiesbaden 65185
P-r Sašo, "Šalom Visbaden"
Hinterbärenbadstr. 4, München 81373
Hafenweg 31, 48155 Münster
P-r Simeon i Pepi Vlačkovi
Sundays 7 PM
Goethering 9-11, Osnabrück 49074
P-r Gosho
Lange Str. 226, D-59067 Hamm
P-r Ivo
Zwickau (Sachsen)
Domashna grupa
Rosen
Bremen – Evangel. Gemeinschaftszentrum, Waller Heerstraße 197, 28219 Bremen
Seitenweg 13, 28309 Bremen
Jašar Atanasov
Duisburg
Die Brücke, Johannismarkt 7, 47169 Duisburg
Jašar Mihajlov
http://duisburg.incilbg.com/
Hannover
Lankwitzweg 56, D-30179 Hannover
Aldeniz
Frankfurt a.M.
Lotzstr. 54, 65934 Frankfurt-Nied
Asen Stefanov
Sundays 1:30 PM
http://www.iyihaber-frankfurt.de
Hamburg
Lichtinsel Veringstrasse 47: D-21107 Hamburg – Wilhelmsburg
P-r Ilhan
Sundays 2PM
Domašna grupa
Billstedter Hauptst. 43, 22111 Hamburg
Okšan
Kiel
Domašna grupa
Bilhan
Limburg
Offheimer Weg 50, 65549 Limburg
Ferdi Filipov
Offenbach a.M.
Waldstr. 36, 63065 Offenbach
Sali Ahmed 01771470903
Nedelja ot 17:30 http://www.iyihaber-offenbach.de/
Osnabrück
Goethering 9-11, 49074 Osnabrück
P-r Nazmi
Limburg
Offheimer Weg 50, D-65549 Limburg
Filip Filipov
Nedelja 18:00 č.
Mönchengladbach
Domašno sabirane
Jakub Jakubov
Saarland / Ramiz Ognjanov
Bulgaria's new prime minister has signalled that Sofia will finish its obstruction of North Macedonia's bid to affix the EU as soon as his new authorities takes workplace within the coming weeks.
Kiril Petkov, who was confirmed as premier by the nation's parliament on Monday after his social gathering took the most important share of the vote in November's elections, made the pledge as he reaffirmed Bulgaria's dedication to Nato and the west. "We're on the best facet of Nato and EU insurance policies, 100 per cent," he instructed the Monetary Occasions in an interview earlier than he was confirmed as prime minister.
"We are going to suggest a brand new course of [on North Macedonia], very quick, with a restricted timeframe, simply six months lengthy," he mentioned.
Sofia wished sure points to stay on the desk, he famous, together with either side pledging to combat hate crime towards the opposite and North Macedonia referring to its historic connection to Bulgaria in its structure. However he indicated compromise was doable. "Let the 2 populations begin speaking about the advantages of working collectively.," he mentioned. "As soon as we put the upsides on the desk . . . discussions about compromises are a lot simpler to have."
The prime minister added: "As soon as that is all achieved . . . I consider we will fortunately signal Macedonia into the EU."
The U-turn comes after Bulgaria final yr vetoed its neighbour's EU accession talks amid disputes over historical past and identification. Critics on the time accused Bulgaria's former centre-right chief Boyko Borisov of resorting to nationalism to distract consideration from months of protests towards organised crime and corruption on his watch.
Borisov was ousted in April elections, however failure to agree a coalition led to recent polls in July and once more in November, when Petkov's centrist We Proceed the Change (PP) social gathering received a few quarter of the vote.
We search an lively and dedicated function for Bulgaria each within the EU and in Nato. We not need to be the dangerous child behind the classroom
Petkov and his coalition companions — the Socialist social gathering, "turbo-folk" pop star Slavi Trifonov's anti-establishment ITN, and the liberal Democratic Bulgaria — accomplished the primary draft of a coalition settlement final Monday.
Also Read Greenwich-based GXO Logistics to hire 9,000 workers for the holiday season across North America
The brand new authorities's rapid problem can be tackling the nation's coronavirus disaster. Bulgaria has among the many world's highest demise charges and lowest vaccination charges.
"We now have to extend vaccinations for certain," mentioned Petkov, whose social gathering campaigned on a pledge to eradicate corruption and streamline the state. "We are going to put up a ample finances for promotion . . . I'll invite consultants, go to hospitals and present the scenario. It's as a lot a well being program as an financial program. We can't shut Bulgaria once more."
The incoming prime minister may also face a fancy overseas coverage balancing act at a time when Russia is taking part in an more and more assertive function within the area.
Petkov instructed the FT the brand new authorities would put discussions with North Macedonia on a recent footing. "We are going to use working teams . . . to hash out options on points like joint financial exercise, infrastructure, tradition and historical past," he mentioned.
North Macedonia, which first known as itself the Republic of Macedonia, emerged out of the previous Yugoslavia and was granted EU candidate standing in 2005. Its software was held up for years by Greek opposition to its unique identify, which Athens complained implied a territorial declare on the Greek area of the identical identify. The difficulty was resolved in 2019 when the qualifier "North" was added.
In the meantime relations between Sofia and Skopje deteriorated, with many Bulgarians rejecting the idea of a separate Macedonian identification and language, and disputes over occasions relationship again to the second world battle.
North Macedonian particular forces participate within the 2021 parade celebrating the nation's independence. Many Bulgarians reject the idea of a separate Macedonian identification © Robert Atanasovski/AFP by way of Getty Photographs
Nonetheless, Petkov faces a problem in framing his authorities's North Macedonia coverage. The enigmatic ITN chief Trifonov has cultivated a picture rooted in romantic nationalism — which in Bulgaria encompasses the declare that North Macedonia is ethnically and culturally Bulgarian. His social gathering has nominated the coalition's overseas minister and power minister.
Also Read Glover given early shower as Kings lose spite night
A latest Gallup Worldwide ballot discovered fewer than 10 per cent of Bulgarians help North Macedonia's EU aspirations outright, and greater than 70 per cent again upholding Bulgaria's veto on Skopje's accession talks till the bilateral disagreements are settled.
Petkov mentioned ITN was a constructive companion in coalition talks and that areas of concern mentioned in latest months would stay on the desk. "For instance, within the Macedonian textbooks Bulgaria shouldn't be known as fascist," he mentioned, alluding to Macedonian descriptions of Bulgarian troops occupying — or in Bulgaria's view, liberating and managing — what's as we speak North Macedonia throughout the Forties.
The prime minister aimed to win either side spherical with sweeteners, together with monetary funding, infrastructure and cultural tasks and a publicity push. "We're prepared not simply to speak the discuss but in addition put some cash on the desk," he mentioned.
Sofia may also must tread rigorously at a time of intensifying tensions within the Black Sea area, the place Russia is more and more flexing its muscle tissue following its 2014 annexation of Crimea from Ukraine.
Bulgaria wished to finish its dependence on Russian power, Petkov mentioned. The nation obtains practically all its pure fuel from Russia. A pipeline operating by way of Greece to Bulgaria that would carry different provides has been beneath building for over a decade.
Petkov famous Sofia had already signed contracts for provides of Azeri fuel by way of the Greek route and pledged to finish the Bulgarian a part of the work as quickly as doable.
Also Read North Halsted Street Mainstay Yoshi's Café Set To Close This Month After Nearly 40 Years In Business – CBS Chicago
Petkov mentioned his overseas coverage would deal with averting armed battle "anyplace within the neighbourhood" however that the nation remained anchored within the west.
A remark by his political mentor, President Rumen Radev, throughout an election debate in November — when Radev sparked concern amongst worldwide allies by saying "Crimea is . . . at the moment Russian" — had not signalled a change in Bulgaria's stance, Petkov argued. The president merely meant to name consideration to the truth on the bottom, he mentioned.
"We're treating Crimea as a part of Ukraine, there isn't any doubt about that," Petkov insisted. "However we need to be sure to make use of all diplomatic means to keep away from army battle.
"We search an lively and dedicated function for Bulgaria each within the EU and in Nato," he added. "We not need to be the dangerous child behind the classroom."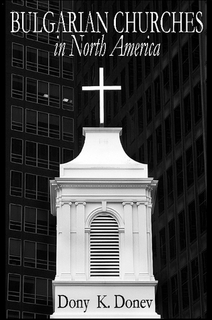 Over a decade ago, after publishing Bulgarian Churches in North America: Analytical Overview and Church Planting Proposal for Bulgarian American Congregations Considering Cultural, Economical and Leadership Dimensions, we purposed to explore the possibility of implementing the church planning program among Bulgarian Diasporas in various destination countries of migration.
With this in mind, we carried the vision for establishing 20 Bulgarian churches outside of Bulgaria by the year 2020. Cyprus, the United Kingdom and Canada were among the first to successfully implement our program. Bulgarian migrant communities in France, Italy and especially Spain and Germany followed with great enthusiasm – there are 7 Bulgarian evangelical churches active in Span today, and 18 in Germany.
Of course, not all parts of the program proved to be efficient. The program's modules and training that was implemented, however, have produced 47 strong church plants thus far and the number is growing every month. The program proposed has been confirmed by the leadership we have received from the Holy Spirit. Our commitment to seize the opportunity and work toward adding more Bulgarian churches by the year 2020 has by far surpassed all expectations.
Bulgarian Evangelical Churches in the European  Union (2020 Report)
Bulgarian Evangelical Churches in America (2020 Report)
Bulgarian Evangelical Churches in Chicago (2020 Report)
Bulgarian Evangelical Churches in Texas (2020 Report)
Bulgarian Evangelical Churches – West Coast (2020 Report)
Atlanta (active since 1996)
Los Angeles (occasional/outreach of the Foursquare Church – Mission Hills, CA)
Las Vegas (outreach of the Foursquare Church – http://lasvegaschurch.tv)
San Francisco (occasional/inactive since 2012, Berkeley University/Concord, CA)
Bulgarian Evangelical Churches in Canada (2020 Report)
Toronto (inactive since 2007)
Toronto/Slavic (active since 2009)
Montreal (occasional/inactive since 2012)
CURRENTLY INACTIVE CHURCHES/CONGREGATIONS:
New York, NY (currently inactive)
Buffalo, NY  (occasional/inactive)
Jacksonville, FL  (occasional/inactive since 2014)
Ft. Lauderdale / Miami  (currently inactive)
Washington State, Seattle area (currently inactive)
Minneapolis, MN (occasional/inactive since 2015)
READ MORE:
New centrist party poised to win Bulgarian election, will not end the long months of deadlock as Routers projects. With the lowest activity ever recorded in Bulgaria, the new election winner cannot form a majority parliament with only 25.34% of the vote. In an even more complicated scenario, to possibly form a coalition with the 2nd highest vote party will add only 22.4% percent, which will still be insufficient for a 51% parliamentarian majority. It certainly looks like a new (fourth) round of parliamentarian elections in the Spring of 2022.
Even more uncertain are the results of the parallel Presidential vote where current socialist president won with 49.4% – just a notch short from the 51% needed to remain in power. It is also disturbing that the current Bulgarian president who represents the Socialist Party in the country was mentioned by name (sic [b]Radev) as an ally and partner (in the video below) by U.S. President Joe Biden. The hope is that in the ballot this coming weekend, the second candidate in the election may overturn the vote in his favor so Bulgaria can receive at least a bit more democracy-oriented new President. For all this, your prayers are still coveted.
New centrist party poised to win Bulgarian election, could end months of deadlock
https://www.reuters.com/world/europe/new-centrist-party-poised-win-bulgarias-election-partial-results-show-2021-11-15/
• Bulgaria holds third parliamentary election this year
• New party set up by two entrepreneurs tops the poll
• Parliament still fragmented, tough coalition talks loom
• Incumbent Radev is frontrunner for presidential run-off
SOFIA, Nov 15 (Reuters) – A new centrist political party emerged as the likely winner of Bulgaria's national election on Monday, partial data showed, boosting hopes for an end to months of political deadlock in the European Union's poorest member state. The anti-graft We Continue The Change party (PP), launched by two former interim ministers only two months ago, was in the lead with 25.4% of the vote, based on 61% of ballots counted from Sunday's election,the third in Bulgaria this year. After two previous elections in April and July produced an inconclusive outcome, Bulgarian voters are keen to see a new government formed quickly to tackle a dire COVID-19 situation, surging energy prices and widespread graft.
"I voted for what we are fighting for and hoping to happen – a more serious change in everything, so that we can have a better life here, at least for our children," Kostadin Manov, a 39-year-old father of two, said after casting his vote in the capital Sofia.
"This corruption and all this theft should stop."
But the partial results show the next parliament will be even more fragmented than in April and July, with seven parties represented.
TOUGH COALITION TALKS
Voter turnout in Sunday's vote is estimated at about 40% – a historic low amid public disillusionment and apathy and also coronavirus infections that have left hospitals overwhelmed. The centre-right GERB party of long-serving premier Boyko Borissov was seen coming in second place with 22.2% of the vote. His decade-long rule ended with the April election amid public anger over his failure to crack down on corruption.
President Rumen Radev, a harsh critic of Borissov, won 49.2% of votes in a presidential election that also took place on Sunday and is tipped to win a second five-year term in the largely ceremonial post in a runoff set for Nov. 21.
Analysts said the new PP party – set up by two Harvard-educated entrepreneurs – looked better positioned to seal a coalition with the support of the Socialists, who won 10.3% of the vote, the anti-graft alliance Democratic Bulgaria with 6% and the ITN party of TV talk show host Slavi Trifonov.
Trifonov's party had topped the July vote with 24% but the partial results show it now getting just 9.8% after his failure to forge a government.
However, tough coalition negotiations lie ahead before a workable government can be formed.
"Forming a government… will be more complicated because at least four parties will be needed for a majority," said Dobromir Zhivkov, political analyst with Market Links pollster.
PP leader Kiril Petkov promised on Sunday to be open to dialogue and compromise in coalition talks but said his party would not renege on pledges to overhaul the judiciary and clamp down on corruption. read more
"Bulgaria is headed onto a new path," said Petkov, who hopes to become prime minister and to have his PP co-founder, Assen Vassilev, as finance minister.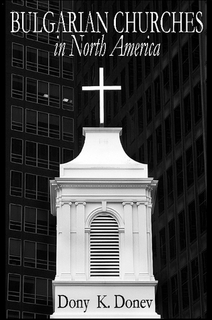 Bulgarian Evangelical Churches in the European  Union (2019)
Bulgarian Evangelical Churches in America (2019 Report)
Bulgarian Evangelical Churches in Chicago (2019 Report)
Bulgarian Evangelical Churches in Texas (2019 Report)

Bulgarian Evangelical Churches – West Coast

(2019 Report)
Atlanta (active since 1996)
Los Angeles (occasional/outreach of the Foursquare Church – Mission Hills, CA)
Las Vegas (outreach of the Foursquare Church – http://lasvegaschurch.tv)
San Francisco (occasional/inactive since 2012, Berkeley University/Concord, CA)
Bulgarian Evangelical Churches in Canada (2019 Report)
Toronto (inactive since 2007)
Toronto/Slavic (active since 2009)
Montreal (occasional/inactive since 2012)
CURRENTLY INACTIVE CHURCHES/CONGREGATIONS:
New York, NY (currently inactive)
Buffalo, NY  (occasional/inactive)
Jacksonville, FL  (occasional/inactive since 2014)
Ft. Lauderdale / Miami  (currently inactive)
Washington State, Seattle area (currently inactive)
Minneapolis, MN (occasional/inactive since 2015)
READ MORE: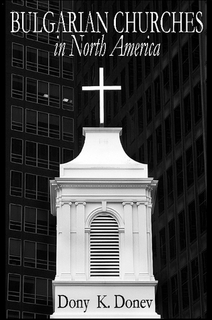 Love of Christ Bulgarian Church – Yarapetra, Crete
READ MORE: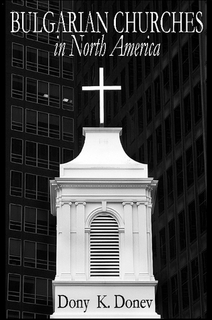 #1 Baptistenkirche, Müller Straße 14 Berlin
#2 Zollhofstrasse 4, 67061 Ludwigshafen
#3 Stadtmission Waldsrt. 36, Offenbach am Main
#4 Lotztstr. 54, 65934 Frankfurt
#5 Kaiser Wilhelm Str. 255, 47169 Duisburg
Duisburg 47169 "Die Brücke", Johannismarkt 7
#6 Hauptstrasse 4 Hilgert 56206
#7 Bremen Walle Heerstr 197
#8 Hofäckerstrasse 3 71732 Tamm (near Stuttgart)
#9 30457 Reichweinweg 2, Hannover
#10 Adolph Kolping Platz 11 – Kaiserslautern 67655
#11 Franz Georg str 36, Trier 54290
#12 Kirschstr 48a, Montabaur 56410
#13 Emilienplatz 16, Hagen 58097
#14 Kesselheimer weg 16, Koblenz 56070
#15 Langestraße 226, Hamm
#16 Emserstr. 57, Wiesbaden 65195
#17 Goethering 9-11, Osnabrück 49074
#18 Lichtinsel Veringstr. 47, Hamburg 21107
#19 Athener Ring 34, Kulturbücke 50765
READ MORE: