Since our Revival Harvest Campaign with the theme of Nehemiah Experience began, we have been receiving miracles reports:
a lady seeking for the Holy Spirit for some time now, was baptized late at night after the service and began speaking in tongues while on her bed
heavy anointing to the point of people blacking out
a truck driver came from the street to seek God
a spontaneous Jericho march broke out with dramatic spiritual manifestation
right arm hurt in a car accident many years ago, began feeling sensation in muscles and ligaments again during the service
a clear direction was given by the Holy Ghost to remain faithful to the vision
Cookson Creek Baptist Church was established in 1836 and currently stands as the 2nd oldest continued church in Polk County. While the foundation and parts of the building are originals, the church has undergone many renovations throughout the years – one of the more recent being the stone, silo-shaped teenage Sunday School classroom. The church sits alongside the beautiful creek, after which it was named, and just down the road from Cookson Creek Cemetery.
The following accounts are recorded by Lynne McClary from the Polk County Chamber of Commerce.
The year was 1936 and Cookson Creek Baptist Church was celebrating it's 100th anniversary in Polk County, Tennessee. N. B. Fetzer attended the festivities and later wrote about it from his Nashville home.
According to his writings, "There was an immense crowd . . . many of my relatives and old friends, but I missed many faces which used to show up there on May's Fourth Sunday." Thomas W. Mathis had been scheduled to give a historical review of the church, as his membership dated back some 70 years. Unfortunately, "Uncle Tommy was called to his heavenly home" on Wednesday prior to the celebration.
Fetzer's note goes on to state that Miss Mae Ella Stinnett, who served as church clerk, was the 'power behind the throne,' and the highlight of the day came when a 3-1/2-year-old young man, the son of Tom Green, sang several stanzas to a "catchy mountain tune". Fetzer could not remember the youngster's name, but was told by an uncle that everyone called him 'Tooter'.
This year Cookson Creek celebrates year 187. The building has undergone many renovations through the years; however the foundation, as well as some of the building itself, dates back to the construction in 1836! It sits alongside the creek for which it is named and just down the road from Cookson Creek Cemetery. The creek was named for Joseph Cookson, a white man who married Jennie Hildebrand. Jennie, who was half-Cherokee, was the daughter of Michael Hildabrand. Joseph and Jennie were moved to Oklahoma during the Cherokee removal of 1838 and lived their remaining lives on the reservation.
TAGS: Blue Springs Church, Beech Springs Church, Little Hopewell Church, Cookson Creek Church, Candies Creek Church, Good Spring Church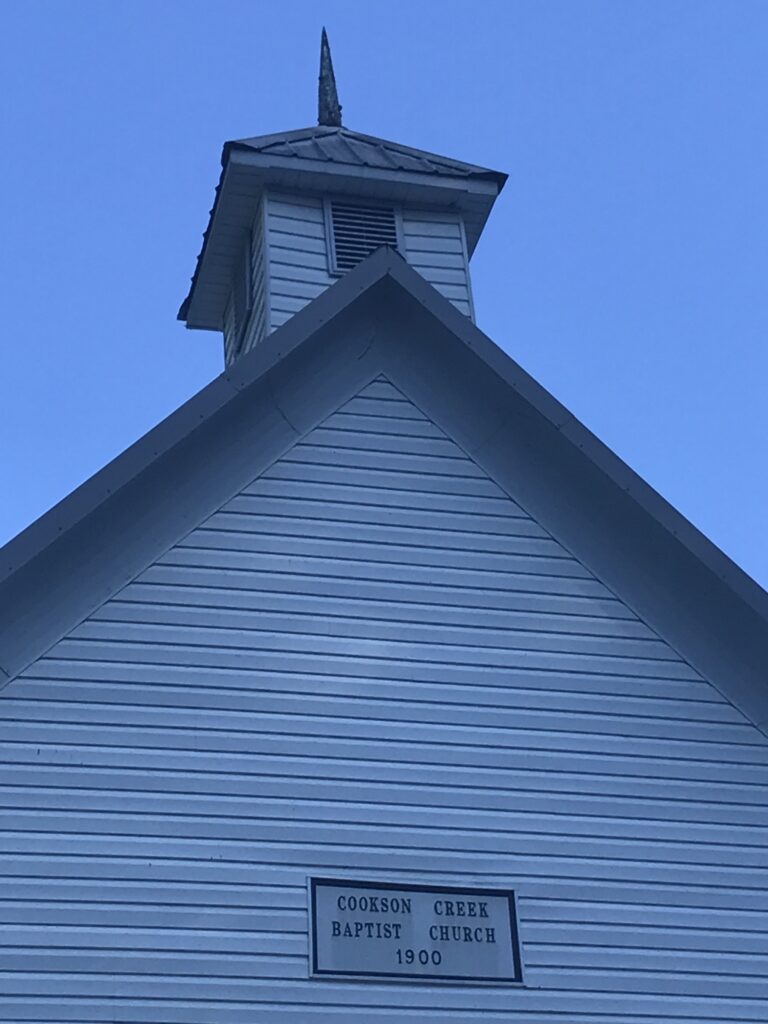 HISTORIC SITES OF POLK COUNTY
• Ocoee Indian Village, Hatcher farm. (Early Woodland, Yuchi, and Cherokee
Indians).
• Old Fort Block house, Benton, constructed 1805-1806.
• The Hildebrand House, Ocoee River, early 1830s; oldest house in the county.
• Friendship Baptist Church, First District, 1826, the oldest church in Polk County in
continuous operation. The Columbiana Presbyterian Church was organized in 1822
near Columbus and operated for about twenty years.
• Hiwassee Old Town, oldest and largest of the Cherokee villages in Polk County, was
located on the north bank of the Hiwassee River.
• Site of the discovery of copper on Potato Creek, 1843.
• James McNair family graves, Conasauga.
• Ducktown Basin Museum, Ducktown.
• Old Federal Road, 1804; the Old Stock Road; the Old Copper Road, 1853.
• The Savannah Farm, the largest and one of the oldest farms of the county.
• Columbus, north bank of the Hiwassee River, temporary county seat of Polk County;
had a post office by 1823 and was incorporated.
• Present day site of the Benton Department Store was site of the first home in Benton
(Four Mile Stock Stand); the home of James Lindner and his Cherokee wife, a
descendant of Nancy Ward.
• The Jacob Clemmer house at Benton was built in 1842 and is now owned by Mr. and
Mrs. Kenneth Bishop.
• The Nuchols home and office, (present site of The Drug Store), was built in 1868 and
was occupied in succession by Dr. J. D. Nuchols, Dr. J. G. C. Garner, and Dr. Joseph
E. Hutchins.
• Benton's first hotel was on the site of Matt Witt's Store, having been moved from
Columbus in 1840. It was operated by Commodore White, J. Q. A. Lewis, William
Higgins, and last by J. L. and Ben McClary.
• Maggie's Mill located near Springtown, erroneously believed by some to have
inspired the song "When You and I Were Young, Maggie." (Original site is in
Canada.)
• Great Indian War Path crossed the river at Hiwassee Old Town and continued
southward to Bridgeport, Alabama.
• The Cookson's Creek Baptist Church is the second oldest church in the county, with
the Ocoee Baptist Church, Benton, third.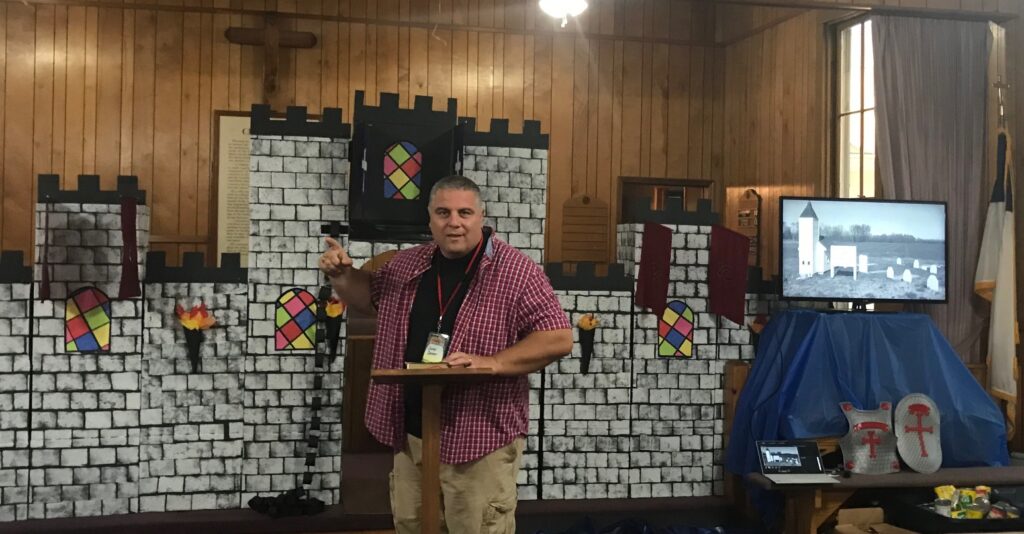 Friendship Baptist Church located in present-day Delano is Polk County's oldest church in continuous operation – 1826-2026!
The following accounts are recorded by Lynne McClary from the Polk County Chamber of Commerce.
Started just 7 years after the Indian removal in the Hiwassee Cession of 1819, Friendship was near what was then known as Columbus. In June 1826, 10 men and women met in Brother Wilkerson's home north of Coe Cemetery to organize a church. An ordination service was held July 1826 with members from Eastannallee Church.
Until December 1826, services were in the Wilkerson and Funkhouser homes. At which time a simple log church was built across the road from the present building. A cornerstone still remains of the original building. In 1819, land north of the Hiwassee was ceded to the US by the Cherokee, while the land south of the river to the GA line was not given up until 1838, meaning Friendship was established in free territory 12 years before the rest of present-day Polk County was even US Territory.
A frame church was built in 1856 north of the current building. Raised soil marks that site today. Calvin Denton pastored there 40 years, but little is known about Friendship through the Civil War due to loss of records.
In the late 1800s to early 1900s the building was used as a school until the county could build one. A box dinner was held to raise money for a bell, used for both the school and church. This bell is the only remaining item from the school and it's located in the belfry of the current church.
The current building was built in 1908, and Friendship's 100th year was celebrated in 1926 with an all-day singing and history from JD Clemmer. During the celebration a group of Ku Klux Klan marched out of the woods in capes and hoods, went up one aisle, out the other door, and back into the woods, after which the celebration ended.
Friendship Church is an integral part of Polk County history, and future. There's even a time capsule packed in 1976 scheduled be opened during 2026's Homecoming.
In 1850 William Forest was licensed to be a Baptist minister ; he was ordained by the Friendship Baptist Church in Delano , Tennessee— where his father – in – law , Samuel Short , had been the first pastor– in 1857
*Some names are missing due to lost Church records. The information below came from a booklet titled" 150 Years Of Friendship", by Terry Blair, Wanda Carter, Johnny Coe, and Deborah Williams. The booklet was handed out to to the congregation of Friendship at the July 4th Homecoming, a celebration of the 150th year, in 1976. Thanks to Connie Baumann for supplying this information!
by Kathryn Donev
Sunflowers are so much fun.  They are actually thousands of tiny flowers that bring joy in many ways. It's neat to watch them follow the sun because of a trait called heliotropism.  Eating sunflower seeds can lower rates of cardiovascular disease, high cholesterol, and high blood pressure. They are a good source of many vitamins and minerals that can support your immune system. And did you know that a sunflowers destroy contaminants of its surrounding soil, water and air?
Although sunflowers are Native to North America, Bulgaria is among the top 10 sunflower producing countries.  As in various places in Polk County, Bulgaria is famous for their golden fields. And believe it or not, you can find Bulgarian sunflower seeds in any Dollar General labeled with the Clover Valley brand.  When we were ministering together with Feeding God's Lambs Summer Program at First Baptist Benton giving a presentation about the 6 Senses of Bulgaria, the kids even got to taste some.  Fun.
With a multisensory trip to Bulgaria, we shared how the Holy Spirit is our Sixth Sense to guide and direct us in life and found in everything we touch, see, hear, smell and even taste.  When we all come together, we can do great things, just as with the thousands of tiny flowers that come together to have the appearance of a unified flower.  Let us be a purifier of our environments and always be reminded to follow the SON.  Being consumed with the sixth sense of the Holy Spirit is good for the soul.
By Dr. Dony and Kathryn Donev, Cup & Cross Ministries – Ocoee, TN
The Polk County TN Homeschool Network was established in August of 2018 with the purpose to provide a network to help homeschool families in the Polk County, TN area stay connected.  At the end of the 2019-2020 school year, plans were in place to extend the Network's reach and launch an e-social platform.  On August 13, 2020 its Facebook site was launch with a consecutive website PolkHomeschool.com in October of 2020.  This coming 2021-2022 school year the Network will celebrate its fourth year of connections.  Thank you to all who are making this community possible.  If you are a homeschool family in the Polk area wishing to connect reach out at www.PolkHomeschool.com.