Parts of Leadership Table will be available on Gumbo Podcast. For more information visit www.CupandCross.com

This is a re-post of popular articles on Missiology from 2009-2010:
M3: Missions for the Third Millennium – A Public Position (2010)
8 Simple Rules for Doing Missions in the Spirit (2009)
Church of God Eastern Europe Missions: Leadership, Economics and Culture (2009)
The Maxwell Leadership Bible has drawn lots of attention especially with the publication of John Maxwell's new bestseller "Sometimes you win, sometimes you learn," which deconstructs the winning model of church leadership on a totally different level. We've used his study Bible through the years especially in cases of young ministers' training and mentorship.
Instead of a page by page annotation, the Maxwell Bible setup contains inline articles and discussions on various leadership issues within the text. Over 100 biographical profiles of Biblical leaders and short articles are combined with the philosophy behind two other bestsellers on leadership by the author: "The 21 Irrefutable Laws of Leadership" and "The 21 Indispensible Qualities of a Leader"
One of our initial comparison passages (Numbers ch.6 and Jeremiah ch.18) is commented, although Numb. 6 does have an article on the Nazarite vow within the Law of Sacrifice (qt. "Give up to go up"). Jeremiah 18, however, contains a great note on "teachability." The annotation of v. 18 is simple, but strong: "To keep leading, keep learning!"
The Maxwell Bible is not doctrinally organized per se. Therefore, there's not much on eschatology and particularly Rapture and Tribulation. Nevertheless, the lessons from the 7 Churches of Revelation are abundantly annotated and worthy to be read privately or taught in a classroom setting, but most of all taken literary and applied to today's ecclesial reality.
This work is also not Pentecostal in particular, as it addresses church leadership in a general Biblical sense. There's no particular reference to the Trinity, however Acts 2 comments on the magnetic power received by the apostles at Pentecost and in 1 Corinthians 14, the Spirit is called "Broker of gifts." Instead of a concordance at the end of the Bible, there are several indexes containing leadership laws, qualities, issues and a complete list of profiles of Bible heroes who encompass the law of leadership.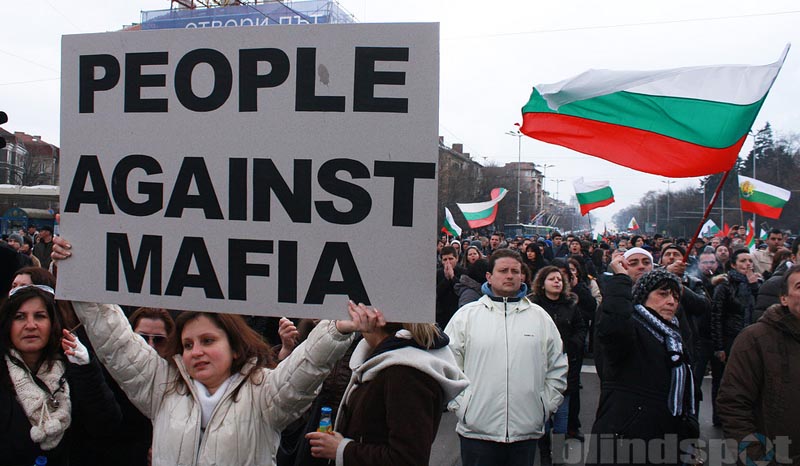 As Bulgaria is celebrating its Liberation Day on March 3rd, protests are still going on in most major Bulgarian cities. Neither the resignation of the Prime Minister and the leading party from the government amidst deepening economics crises, nor the appointment of a new patriarch to the Orthodox Church was able to calm the crowds who have been out in the streets for weeks now. General government elections are scheduled for May 12, 2013 while the President is working with parliament on forming an interim government.
After the last election some four years ago, political analysts working closely with our ministerial team warned that if newly elected government continues to use the same local level (city, municipality) political paradigms to run the country as a member of the European Union, crises will be inevitable.  This was obvious even to the social concern grassroots including our chaplaincy program and para-church ministries.
Two years later, as half of the parliamentarian term has passed, we further advised in "Election's Perspectives for Bulgaria" that as Bulgaria's Prime Minister elect did not take the much expected place as a presidential candidate, his political strategy has been strongly criticized by his opponents as inadequate and insufficient to answer Bulgaria's current crises. Amidst the global economic collapse, it was reasonable to suggest that similar socioeconomic shifts will not be long before appearing in Bulgaria.
The year 2013 began with a political distress in one of Bulgaria's ethnic parties through a "backstage" attack against their soon to resign leader. The opposition responded immediately releasing a secret dossier code named "Buddha" revealing the Prime Minister working as a secret agent for the communist government police. His resignation, along with the resignation of the whole Cabinet, followed less than two weeks later as protests swept the streets of Bulgaria in the month with lowest temperatures, highest electric bills and of course highest rate of the government disapproval.
Meanwhile, after almost entering Bulgaria's parliament in 1997, the Bulgarian Christian Coalition, traditionally representing the Protestants in the country, remains on the borderline of any political existence. Bulgarian evangelicals were never able to reach their political legacy again, although the new Bulgarian census showed over 25% increase of evangelical population in Bulgaria to some 65,000 people strong. The alternative party, Christian Democratic Forum has showed no political activity since it was established a decade later and quickly defeated by having less than 1,000 votes nationwide. The Bulgarian Christian Coalition has also chosen not to run in the upcoming elections.
Broadcast Your Church Services for Free
 Learn how to broadcast your church service or team training event on the internet
 Examine several available options to broadcast with a special accent on the free version of uStream.TV.
 Chose and set up proper camera and audio source for the broadcast
 Broadcast from your computer, notebook or even your cell phone
 Publish your church services as a LIVE stream on the internet and organize them in an internet based video archive
 Embed LIVE broadcast or video recording on your church website or pastor's blog
 Publicize your streaming event or video recording using the social networks
 Monetize your broadcast and contribute to your church media ministry fund
The weekend of the 16-19th of September Cup and Cross Ministries, along with Yambol based Mission Maranatha, held a Leadership Training Retreat for the Yambol region. Ten delegates from the area were chosen to represent various areas of ministry including ministry to the villages, children, home groups, women, elderly and the military. Representatives from Spain and the United States were also present.
Throughout our time together we were able to share personal experiences of ministry successes and growth areas in order to brainstorm through appropriate techniques and strategies to effectively resolve dilemmas in ministry. We discussed topics such as burnout and addressed how to nurture on-going motivation within each specific area of ministry.
At the conclusion of the training each delegate was encourage to take the resources which they had acquired and implement them into their specific areas of interest and take on the responsibility of training those whom are under their leadership.
Unfortunately we were unable to broadcast this training event live due to the remote location, but we are hoping to be able to make it available again in the near future, as we are planning our next event in which we will be reviewing leadership and communication styles. This series of training events is a part of our humble contribution toward the redevelopment of evangelical education in Bulgaria and the move from static training methodology to a dynamic strategy of empowering ministers throughout church-wide discipleship.
The Liberty Leadership Seminar is beginning in the Bulgarian capital, Sofia under the teaching of Cup & Cross Ministries and partnering churches. This year the seminar will be held at the Elitsa Conference Center on the very top of the Vitosha Mountain which overlooks Sofia.  The seminar is a week-long training event, which purposes the equipping of pastors and lay leaders within the Bulgarian Church of God. The seminar will be broadcasted LIVE on the internet according to the following schedule:
July 3, 2009 12:00 PM ET:  Opening Ceremony
July 4, 2009 7:00 AM ET: Liberty Leadership Seminar
July 5, 2009 2:00 AM ET: Morning Prayer Service
July 5, 2009 12:30 PM ET:  Sunday Evening Worship
July 8, 2009 12:00 PM ET: Closing Events
Follow Cup & Cross on Twitter: http://twitter.com/bibliata
Watch Cup & Cross LIVE on uStream.TV: http://www.ustream.tv/channel/bibliata
Levels 3-5 of the Leadership Seminar were presented on Saturday afternoon in the Gabrovo Church of God.  The following topics were covered: 21 Laws of Leadership from a Biblical Perspective, 52 Leadership Principles of Jesus and 17 Laws of Teamwork for Churches. Plans have been made for the seminar to be held in Bourgas, Sofia, Samokov and Russe.
On Sunday we delivered a message entitled 10 Signs of the Last Days. This is a sermon accompanied by a powerful media presentation that informs of recent developments in Bible Prophecy and urges believers to prepare and stay ready for the final hour of Biblical eschatology.
After the morning service, we traveled south to meet with pastors in Kazanlak and Stara Zagora and reached the city of Dimitrovgrad located South of the Balkan Range. We were invited to speak to the hundreds of young people from Bulgaria, Ukrain, Russia and Molodva who had gathered there for a youth rally. As planned and expected we announced the release of the newest of our ministry websites – a GodTube like web community called Bibliata.TV.
A month ago, Cup & Cross Ministries visited the Samokov congregation pastored by Church of God National Overseer Alexander Todorov.  Our team then left for the Salvation Church of God in the capital Sofia, to hold the first level of the Church Leadership Seminar. We have worked on this course for the past two years and designed it to serve as a tactical ministry training element in our national strategy for Church of God congregations. The first module included topics such as:
(1) The leadership principles of Jesus
(2) Recognition, training and personal qualifications of a successful leader
(3) The principles of God's timing
(4) Sacrifice, responsibility, investment and delegation
(5) The law of sowing and reaping
(6) The law of navigation
(7) Problem solving
(8) Psalm 23 for leaders
Subsequently, we released on the internet a 34-part series called the Successful Leader. Immediately after we held the course in Sofia, we began receiving invitations to hold the course in various locations in Bulgaria. As a result, we scheduled the first level of the leadership course with the churches in Sliven, Bourgas, Rousse and began planning its future presentation with the churches in Gabrovo, Yambol, and Samokov. We will be then returning to Samokov and Sofia in September to teach the second level of the Church Leadership Course in the Church of God congregations there.