I keep on repeating this through the years, but the need for the constant repetition comes from the simple fact that among new doctrinal teachings and Hillsong style of worship the True Message of Pentecost remains long forgotten
Salvation – That a man must be saved while the hour of grace is still upon us has been that teaching of every protestant evangelical since the Reformation. Why people attend church all their lives without getting saved is beyond me. But I do know that the commitment of the CHURCH to REVIVAL brings people to SALVATION.
Sanctification – The Wesleyan teaching of sanctification resolves that the sanctification of the believer is definite. This means that though it may progress and evolve through time, as the believer gets closer to God in his/her daily walk, sanctification must become ENTIRE i.e. allowing NO sin to abide in the believer's body, soul or spirit. Without ENTIRE sanctification resulting in holiness, no one will ever see God (Heb. 12:14).
Holy Ghost Baptism – The doctrine of the Baptism with the Holy Ghost means that when baptized we speak in one tongue with God because we are ONE with His Spirit. Not just in us or upon us, but that we are IN the Spirit as John was on the day of Revelation.
Healing in the Atonement of Christ belongs to every believer. This means you, your family and your church members. The healing provided in the Atonement is for ALL believers – no exception. It is also for ALL sickness, disease, viruses, infections, tumors and cancers. But that it belongs to does not yet mean that it has been received by the believer. For this reason, God does not stop healing neither in this age nor through eternity, as the leaves of the Tree of Life in the New Jerusalem are still and forever for the healing (Rev. 22:2)
The Second Coming of Christ for Pentecostals is not simply pre-millennial, but also pre-Tribulation. There have been MANY teachings on the End Times until today. Post-millennials claim we live in the Millennium even now anticipating the return of the Lord; a-millennials that there will be no Millennium at all. Post-tribulationists expect his return at the end of the Tribulation, mid-post-tribulationists in the middle. But in Pentecost, we expect Christ to return before the Tribulation that we may be saved from the hour of trial (Rev. 3:10) and before the Millennium so we may reign with Him 1,000 years. Any other message is no message of hope for the Church of the Living God.
Speaking in Tongues in America Prior to the Azusa Street Revival of 1906
April, 1906 – The Azusa street revival swept the globe starting with California
January 1, 1901– The initial phenomenon of speaking in tongues occurred at Parham's school in Topeka, Kansas
January 6, 1900 – Frank Sanford's Shiloh school reported that "The gift of tongues has descended"
1896 – Over 100 people baptized in the Shaerer schoolhouse revival conducted by the Christian Union in the North Carolina mountains
1887 – People falling in trances and speaking in tongues were reported at Maria Etter's revival meetings in Indiana
1874 – Speaking in tongues occurred during healing meetings reported in New York
1873 – William H. Doughty and the Gift People of Rhode Island spoke in tongues
1854 – V. P. Simmons and Robert Boyd reported tongue speaking during Moody's meetings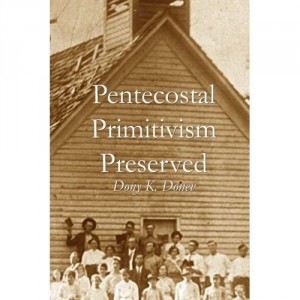 FURTHER READING:
Church of God (Cleveland, TN)
Azusa Street Revival of 1906
Prior to Azusa Street Revival of 1906
The Unforgotten: Historical and Theological Roots of Pentecostalism in Bulgaria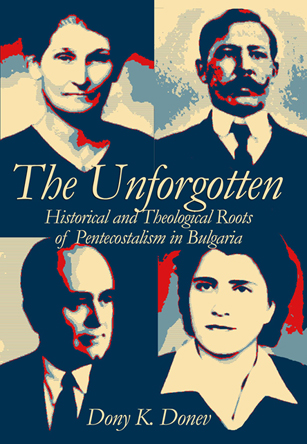 SEE MORE at Amazon.com by clicking this link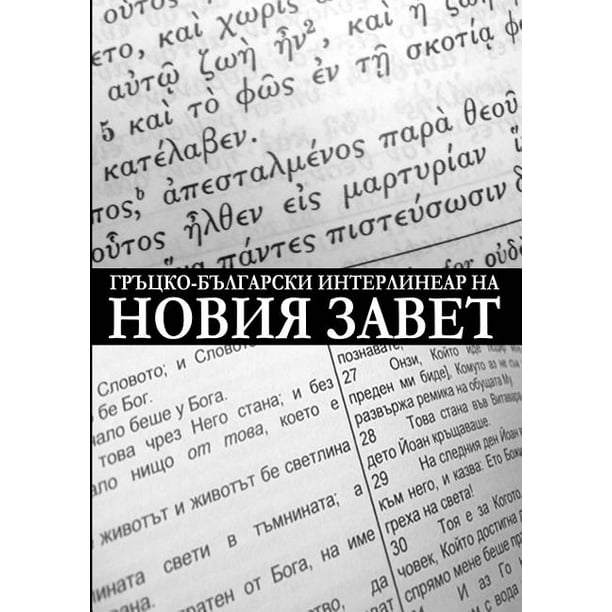 This new translation took several years to refine through multiple revisions, re-readings, and new re-translate where needed in order to produce an interlinear with priority advantages and distinctive features as follows:
The text is arranged in three lines – Greek original, literal translation and for the first time in a Bulgarian publication, an analytical apparatus with detailed morphology of the words.
A brand-new word for word translation, not phrase for phrase or simple imposed text on an already existing translation, challenges the reader into a deeper understanding of the Word.
Unnecessary text markers and explanations have been avoided because the parallel stylistics between Greek and Bulgarian are much more similar than other languages even when accompanied with Strong's numbering.
The literal meaning of the text is shown without the dynamic equivalent characteristic of other interlinear editions.
All participles/predicates are literally translated avoiding the superimposition of like, as, which, etc., when they are not in the original text.
All definite articles are given as in the Greek before the word (not at the end part of the word as it is done in Bulgarian) even in the tradition of Nomina Sacra.
Enforced literalism on understandable New Testament terminology such as Lord/Master, church/ecclesia/congregation/gathering/assembly, baptism, etc. is avoided.
The literal word for word translation preserves case and gender as possible in over 90% of the New Testament text.
The applied critical apparatus in addition to the analytical morphology, includes designation of all verses and passages of critical difference with the Nestle-Aland GNT.
Hitherto missing morphology now provided, not only shows why a given word is translated in the chosen way, but enables the reader to navigate through more complex grammatical structures of the Greek language and understand them.
Brill's Encyclopedia of Global Pentecostalism (BEGP) provides a comprehensive overview of worldwide Pentecostalism from a range of disciplinary perspectives. It offers analysis at the level of specific countries and regions, historical figures, movements and organizations, and particular topics and themes. The online version of the Encyclopedia is already available
For some of you it has been a long time ago that you submitted your article(s) for BEGP, for others it was a bit more recent, but I am very happy to announce that this Summer the print edition of Brill's Encyclopedia of Global Pentecostalism will finally see the light. With this we can proudly close this chapter and proceed to see what the reception of the volume will bring! Thank you for being part of this great project!
To celebrate, we will organize an online symposium on September 16th, with presentations from the editors as well as 3 experts who will comment on BEGP: Amos Yong, Birgit Meyer and Néstor Medina. You can find more detailed information in the attached flyer. Please be welcome.
Registration is free (but necessary to receive a link); we will raffle one free copy of the print edition among the registered participants. For registration and questions, please send your message to begp@brill.com, mentioning Symposium in the subject line.
We hope to see you then!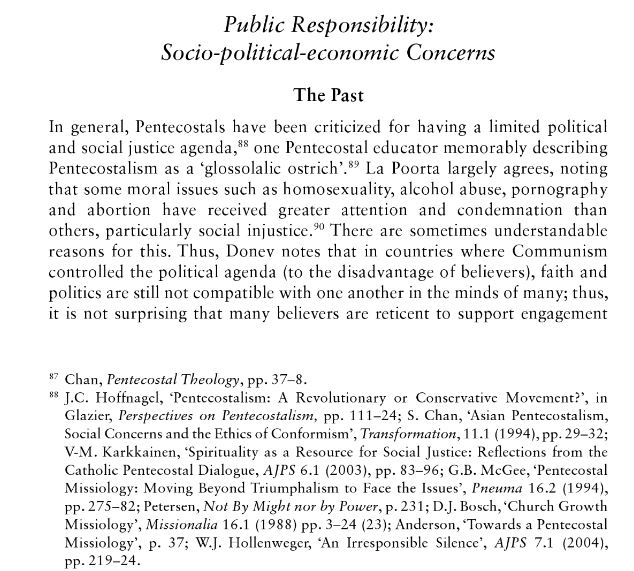 The text of the Bulgarian Bible is printed in the United States. The revision methodology used in the editing of the original text is patented and protected by PCT international patent law and may not be duplicated. Copyright © 1990-2023 by Bibliata.com.
English-Bulgarian New Testament
English Bulgarian New Testament Vol. 1 New Bible Diglot Series by Bibliata.com (2022)
The Darby Bible was first published in 1890 by John Nelson Darby, an Anglo-Irish Bible teacher associated with the early years of the Plymouth Brethren. Darby also published translations of the Bible in French and German. J. N. Darby's purpose was, as he states in the preface to his English New Testament, to make a modern translation for the unlearned who have neither access to manuscript texts nor training and knowledge of ancient languages of the Scriptures. Darby's translation work was not intended to be read aloud. His work was for study and private use. In his own oral ministry he generally used the English KJV Bible.
Nuevo Testamento Español-Búlgaro
Nuevo Testamento Español-Búlgaro Vol. 2 New Bible Diglot Series by Bibliata.com (2022)


The translation has been made directly from the standard Nestle-Aland Greek text. Its purpose is to be a faithful translation of its original meaning, without difficult or confusing terms. The style has been translated into contemporary English and Spanish, avoiding the use of slang or colloquial words, thus speaking to our modern society in a way that everyone can understand.
Neue Testament Deutsch-Bulgarisch
Neue Testament Deutsch-Bulgarisch Vol. 3 New Bible Diglot Series by Bibliata.com (2022)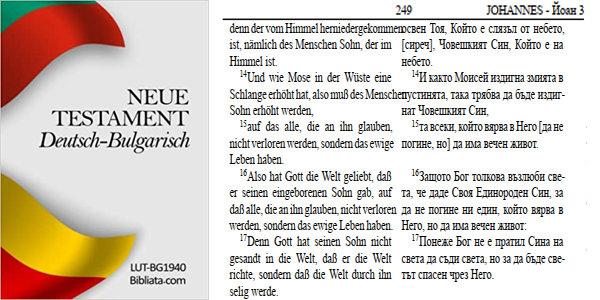 The Luther Bible is a German language Bible translation from Hebrew and ancient Greek by Martin Luther, of which the New Testament was published in 1522 and the complete Bible, containing the Old and New Testaments and Apocrypha, in 1534. The language was updated in 1912.
This Bible is in the public domain in the United States. We are making it available in the same format in which we acquired it as a public service.
Nouveau Testament Français-Bulgare
Nouveau Testament Français-Bulgare Vol. 4 New Bible Diglot Series by Bibliata.com (2022)
The LSG was published in 1910 as the classic French equivalent of the English King James Version. Louis Segond French Bible – (October 3, 1810 – June 18, 1885), was a Swiss theologian who translated the Bible into French from the original texts in Hebrew and Greek. He was born in Plainpalais, near Geneva. After studying theology in Geneva, Strasbourg and Bonn, he was pastor of the Geneva National Church in Chêne-Bougeries, then from 1872, Professor of Old Testament in Geneva. The translation of the Old Testament, commissioned by the Vénérable Compagnie des Pasteurs de Genève, was published in two volumes in 1871 (Meusel has 1874 as the publication date), followed by the New Testament, translated as a private venture, in 1880. The text was then reviewed by experts. The result is the 1910 revision that is now freely available on Internet.
Nuovo Testamento Italiano-Bulgaro
Nuovo Testamento Italiano-Bulgaro Vol. 5 New Bible Diglot Series by Bibliata.com (2022)
An Italian translation of the Holy Bible according to the Roman Catholic canon, based on the original texts and meant to be typical for use in liturgy, approved by the Italian Conference of Catholic Bishops and published in 2008. The previous 1974 edition is taken into account, but it is often corrected, while trying to reflect recent advances in Biblical exegesis, and to respect the literary style of different Biblical authors. The Book of Esther offers two parallel translations (second translation is offered in module CEI2008-2), based on the Greek text and on the Hebrew text.
Since 2011, we have authored over two dozen books related to our ministry and mission work in Eastern Europe. As several of the prints are now almost exhausted and second/third editions and several new titles are under way, we are releasing all currently available editions in a Christmas sale through the month of December. All titles are available at up to 30% off and Amazon offers free shipping and extra savings for bundle purchases.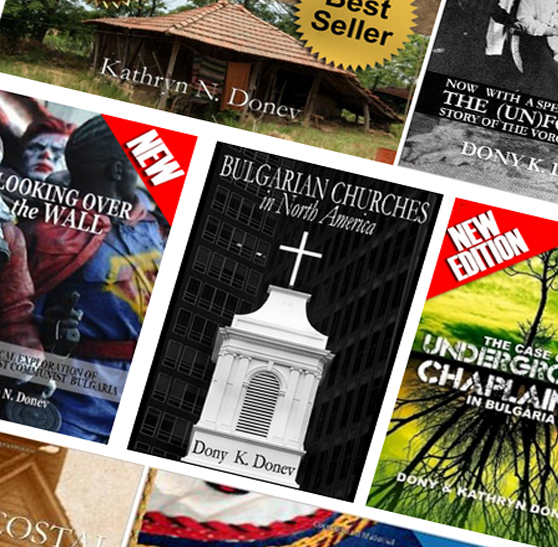 ORDER at: https://www.amazon.com/Practical-Superfood-Survival-Wellness-Recipes/dp/B0B1ZPB339/
FOLLOW THE LINK to purchase today:
https://www.walmart.com/ip/The-Life-and-Ministry-of-REV-Ivan-Voronaev-Paperback-9781477496930/992877643