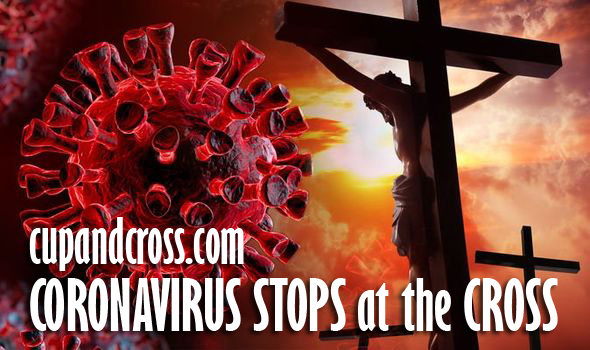 CORONAVIRUS STATEMENT by Cup & Cross Ministries International
The United Nations have just declared the Coronavirus (COVID-19) a global pandemic. Most European flights are suspended and a number of countries in our area of ministry remain closed. Alternatively, CDC has issued a detail set of resources for faith-based communities and their leaders for preventing COVID-19. As a result, churches are cancelling their Sunday services, conferences and international assemblies.
Having full awareness of the above and convinced by the Bible that "It is not the healthy who need a doctor, but the sick," according to Mark 2:17
WE HEREBY AFIRM that:
Divine healing [is] provided for all in the Atonement (Psalm 103:3; Isaiah 53:4, 5; Matthew 8:17; James 5:14-16; 1 Peter 2:24 – 42nd A., 1948, pp. 31, 32)
"The prayer of a righteous person is powerful and effective" (James 5:16)
And that there is still "power, power, wonder working power in the blood of the Lamb" (L.E. Jones, 1899)
For 30 years now, every public prayer we have held around the Globe has ended with these words:
"WE COMMAND every sickness, every disease, every virus
and ever infection, every tumor and every cancer
to leave the body of the believer in the name of Jesus."
This prayer includes the Coronavirus (COVID-19) as well and therefore
WE FIRTHER AFIRM:
Our commitment to REVIVAL especially in the year 2020
Our long-scheduled Revival Harvest Campaign in celebration of the First Centennial of Pentecostalism in Bulgaria (1920-2020)
Our readiness to respond to every church, state and national office that contacts us with a request to schedule our ministry in due time.
The Cross of Calvary cancels every coronavirus!
Revival must go on…
Sincerely,
Dr. Dony & Kathryn Donev
Cup & Cross Ministries International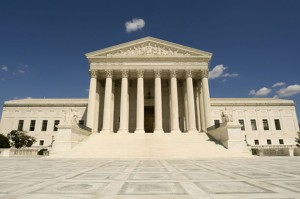 The June 26, 2015, ruling by the Supreme Court legitimizes same-sex marriage in all 50 states and overturns all state laws to the contrary. In a 33-page opinion, five of the nine justices agreed that no difference exists between same-sex marriage and the traditionally held union of a man and woman. Based on their interpretation of the Fourteenth Amendment, they declared that no legal impediment should stand in the way of any couple who wishes to marry.
In a clarifying statement at the conclusion of the written opinion, Justice Anthony M. Kennedy made it clear that the ruling did not forbid churches from continuing to oppose the idea of homosexual marriage.
He stated, "Finally, it must be emphasized that religions, and those who adhere to religious doctrines, may continue to advocate with utmost, sincere conviction that, by divine precepts, same-sex marriage should not be condoned. The First Amendment ensures that religious organizations and persons are given proper protection as they seek to teach the principles that are so fulfilling and so central to their lives and faiths, and to their own deep aspirations to continue the family structure they have long revered."
The Church of God stands with fellow Christians who understand that God intended marriage to be between a man and woman, as explained in Genesis and confirmed by Jesus, when He declared that the Creator has "made them male and female," and that "For this reason a man will leave his father and mother and be united to his wife, and the two will become one flesh." Our church joined in the Supreme Court case by means of an amicus brief requesting consideration for this millennia-old view of marriage propounded by Scripture.
We urge the pastors and members of the Church to continue to hold high the biblical standard for godly marriage. A legal definition of marriage may have changed, but the orthodox understanding based on God's revelation has not changed. We call upon men and women to demonstrate to a confused world the fulfillment that results when they covenant in marriage to practice faithful and sacrificial love. Action by the International General Assembly in 2014 protects pastors and congregations who do not wish to participate in same-sex marriage ceremonies, based on First Amendment rights to religious freedom. On that basis, we recommend that each pastor adopt the following personal statement that echoes the official church action:
I am a minister of the gospel, credentialed by the Church of God (Cleveland, Tennessee).
It is the long-established biblical/religious belief and polity of the Church of God, which belief and polity I adhere to, that marriage is a spiritual union in which a man and woman are joined by God to live together as one.
Based on my personal religious beliefs and the beliefs and polity of my credentialing church, I refuse to perform same-sex marriages.
I base this refusal on my First Amendment guarantee of religious freedom, and on any and all exemptions granted to me under Federal and State laws.
This refusal shall extend to my church's refusal to allow its facilities to be used for same-sex marriages or any celebration relating to same-sex unions.
The ill-considered opinion of the activist members of this Court will have far-reaching and threatening aftereffects in coming months and years. It evidences again the supreme importance of electing a president who will seek out and appoint constitutional jurists rather than judges who would rather be legislators.The Christian Church has understood during most of it existence that it is part of a kingdom that is not of this world. It has faced much hostility and endured much suffering, but it remains steadfast and victorious. We believe that despite the best efforts of antichristian forces, it will ultimately triumph.
The "Duck Dynasty" family says they are excited to return to work after A&E Network announced Friday it would resume filming their hit show with Phil Robertson next spring in a reversal of its decision last week to suspend him for comments he made about homosexuality.
In an exclusive statement to FoxNews.com, the family said it was "excited to keep making a quality TV show for our dedicated fans, who have showed us wonderful support. We will continue to represent our faith and values in the most positive way through 'Duck Dynasty' and our many projects that we are currently working on.
"The outpouring of support and prayer has encouraged and emboldened us greatly."
Robertson had been indefinitely suspended by the network on Dec. 18 for remarks he made in an interview with GQ Magazine.
The removal of the 67-year-old family patriarch triggered support from gay rights organizations but objections from many fans of the show, including political figures such as former Alaska Gov. Sarah Palin and Louisiana Gov. Bobby Jindal.
The fifth season of the family series originally had been scheduled to start Jan. 15 but until Friday's announcement, its future had been uncertain, since the family had said it could not imagine going forward without Robertson.
In a statement released late Friday afternoon, A&E said, "While Phil's comments made in the (GQ) interview reflect his personal views based on his own beliefs, and his own personal journey, he and his family have publicly stated they regret the 'coarse language' he used and the misinterpretation of his core beliefs based only on the article. He also made it clear he would 'never incite or encourage hate.'"
The network added that "Duck Dynasty is not a show about one man's views. It resonates with a large audience because it is a show about family, a family that America has come to love. As you might have seen in many episodes, they come together to reflect and pray for unity, tolerance and forgiveness. These are three values that we at A&E Networks also feel strongly about.
"So after discussions with the Robertson family, as well as consulting with numerous advocacy groups, A&E has decided to resume filming Duck Dynasty later this spring with the entire Robertson family."
"Duck Dynasty" is the top-rated reality program on cable, according to the Hollywood Reporter, with an average 13.4 million viewers and a marketing franchise in such outlets as Walmart, Sears and Cracker Barrel restaurants – which briefly removed the "Dynasty" items after Robertson's suspension.
In a statement Friday night to Fox News, the Gay & Lesbian Alliance Against Discrimination said "dialog" between Robertson and the black and gay communities was a critical next step.
"Phil Robertson should look African-American and gay people in the eyes and hear about the hurtful impact of praising Jim Crow laws and comparing gay people to terrorists," the statement said. "If dialog with Phil is not part of next steps, then A&E has chosen profits over African-American and gay people — especially its employees and viewers.
Jindal released a statement Friday night saying, "I am glad to hear that the folks at A&E came to their senses and recognized that tolerance of religious views is more important than political correctness. Today is a good day for the freedoms of speech and religious liberty."
Family Research Council president Tony Perkins said in a statement following A&E's announcement, "The attacks on Phil Robertson revealed to the American people that the push to redefine marriage is less about the marriage altar than it is fundamentally altering America's moral, political and cultural landscape.
"A&E Network's reversal in the face of backlash is quite telling to the American people who are growing tired of GLAAD and cultural elites who want to silence people and remove God and His word from every aspect of public life."
Fox News' Todd Starnes contributed to this report.