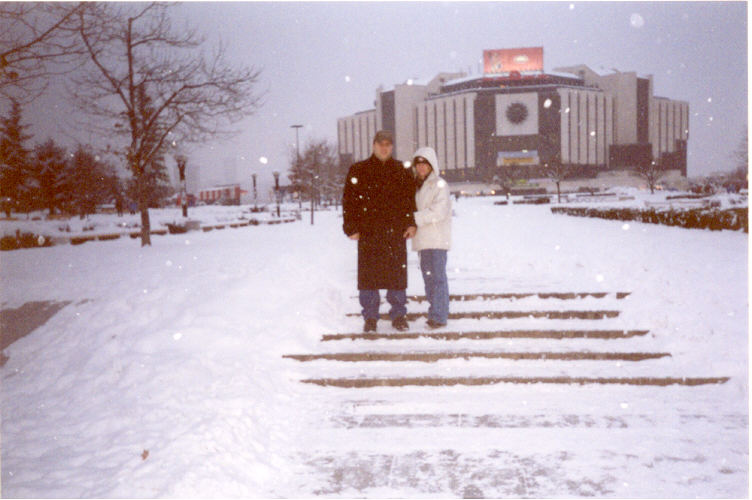 At the end of each year, we have made it a tradition to share the projects completed in the past months of hard work and labor for the Kingdom. But as we are approaching now 20 years of ministering and teaching with the Church of God denomination together, we have decided to recall some more long-term projects.
Exactly 20 years ago, my wife landed in Sofia, Bulgaria for the first time on a snowy December day. In fact, it was so cold that my mother worrying she would be coming from a much warmer subtropical climate, bought the biggest winter jacket she could find, so we could wrap her with it on the way from the airport. Not the most glorious meeting or welcome party as I recall it today.
I was eager to show her my Church, the Bulgarian Church of God, then second to none in the country with 32,000 membership strong and 400 congregations. Many of them newly started and 28 of them in the two-million people capital alone. The Central Church of God in Sofia, where I preached and ministered in 2001-02, had almost 1,200 people at that time. Its main meeting place was the multifaceted Church of God Ministry Center in a prime location in the growing European capital – a project we had undertaken in 1998 with the faithful will and support of some two dozen Church of God congregations from Florida. The documents from my personal archives tell the story best:
December 2, 2001 – I had just returned from Romania bringing with me World Missions Director Lovell Carry and Field Director (Central/Eastern EU/CIS) Dieter Knospe. They were in Bulgaria on a special visit to transfer the new building to the ownership and operation of the Central Church of God in Sofia per the contract signed with our overseer in the Spring of 2001.

The days of Ministry Weeks 17-19 that followed in December, 2001 and which my wife recorded here: https://cupandcross.com/2001/12/ are excruciating to even remember today. Sunday service with Sunday School and preaching, then again on Tuesday, Wednesday and Thursday. Then special Saturday services in Pravetz and many other places. Similar schedule plus the traditional celebration services in the following Christmas week. Repeat again for the New Year's week. And all of these done in extremely cold weather and tons of snow on the ground – so much that my wife was delayed for days leaving for the States mid-January with all flights out of Sofia cancelled as the ice never melted enough to clear the runway and defrost the airplanes.
And all through this, the building never stopped. Regardless of all difficulties, we were all working eagerly and anticipating greater results. The multifaceted Church of God Center in downtown Sofia was to encapsulate all our ministries and many more, giving our young freedom generation the opportunity of a lifetime to make a difference for the Kingdom…
Today, when the building of our Ministry Center is being sold and it will be used for something the will of the donors never intended it to be, our Church of God denomination in Bulgaria is split to no less than 12 fractions all registered since 2005. All of them still carry a variant of the Church of God name and consist of the same people I grew up with under the Communist Regime of Bulgaria.  We were promised a democratic leadership formed by indigenous people, but instead ended up with mini-bosses, regional micromanaging oversight, multiple splits and everything that characterizes a very typical colonial type of missions.
With the church organizations split time and again until torn into pieces, many of my peers chose alternative paths. Some left the ministry, others were hurt or divorced, a few even died and many simply gave up and moved on. With the rest, I have an appointment at the End of the World!
But none of this gives any pleasure or satisfaction to share. Especially when reminded that the dreams we all once dreamed are now hang on the willow trees by the rivers of Babylon. When reaching those waters of deeply troubled cross-cultural crises of faith and conviction, all bridges to people have sunken with no hope to recover again. God's Kingdom has no gain in any of this!
Our prayer has hence turned into a prophetic protest for a new reality – not merely for a new mission paradigm, but one of a whole new mission… A Spirit-led ministry that forgoes all man-made politics and business-like models, but instead aims to build a New Church that is nothing less than the very cross-road where we encounter God and others in the Spirit of Pentecost.

CONFESSIONS of a Pentecostal Preacher
To Mark Alan
We know not why good people have to die,
but we do know we must tell their story…
Chapter I: Beyond the Church and into God
Be without fear in the face of your enemies.
Be brave and upright that God may love thee.
Speak the truth always, even if it leads to your death.
Safeguard the helpless and do no wrong.
That is your oath.
~Kingdom of Heaven (2005)
Separation of church from politics of false religiosity
The phone rang heavy and long. It was 4 AM in Bulgaria, but I was already up. A friend on the other end of the line was calling from South Carolina with a warning of some bad situation. The following morning, I was going to be contacted by the Director questioning why we were ministering in churches outside of our denomination.
The truth was we had ministered in some 300 local churches across the Balkan country of Bulgaria crossing all denominational boundaries and gathering youth from just about every confession. God had used us not only to reach and minister and to lead, but to step into an untouched spiritual realm, to undertake an unfamiliar ministry paradigm and to approach a brand new dimension of reality where He was to be the center of it all. And we had obeyed without questions. Now it was time to pay the price!
* * *
Our denomination, the one to which I remain both critically loyal and loyally critical, spreads over some five generations. Through its century old existence, the struggles and tension between theology and praxis has been in the center. And there, in the very essence of Pentecostalism itself, while some are always celebrating and being celebrated in the office or temple, others are always pushed in the periphery of normal life, hidden from the world behind closed doors and seeking a much deeper experience with God.
These modern day mystics are not only forgotten, but often forbidden. For their riot for righteousness cannot be conceived, contained and controlled by the religious norms of organized officiality. They speak as prophets to a world they so fervently try to escape from, about a reality that does not exist in the normal believer's mindset. A stage of spirituality that cannot be preached without being lived in the social existence. And a relationship of God that goes far beyond common relationism and into God himself. That God, Who does not abide in offices and temples, but on the cross outside of the city walls…
But I knew nothing of this until that cold winter morning when the phone rang through darkness of the night. Knowing what is coming, rarely changes what we have done to get here.
7 Years in Bulgaria: CONFESSIONS of a Pentecostal Preacher
by Dony K. Donev, D.Min.
Upcoming Releases for United States (October, 2020)
Anti-government protests in Bulgaria's capital have been going on for 40 days, and escalated Tuesday evening as several hundred demonstrators trapped the officials inside Parliament in a bid to oust the left-leaning government.
(Reuters) – Hundreds of protesters built barricades around Bulgaria's parliament, effectively trapping over 100 lawmakers, ministers, and journalists in the building for more than seven hours on Tuesday following a brief scuffle with police. Protesters pulled out sidewalk tiles and piled garbage bins to cut off roads to Bulgaria's parliament, shouting "Mafia!" and "Resign!" and "Red Garbage!", to keep the deputies under blockade until the Socialist-led government steps down. An earlier attempt to get deputies out of the parliament with a bus led to a scuffle with police. It was aborted after protesters threw bottles and other objects at the bus, while others sat in front of it.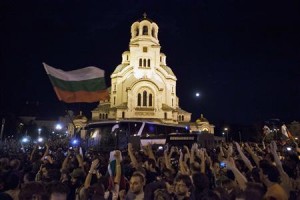 Thousands of Bulgarians have been protesting almost daily in Sofia since last month following a government decision to name a powerful media magnate as security chief, which many see as an example of private interests controlling state institutions. The government's withdrawal of the appointment failed to quell public discontent in the European Union's poorest country, which also is one of the bloc's most corrupt. Seven protesters were treated for head injuries, the national radio said. Two police officers were also wounded.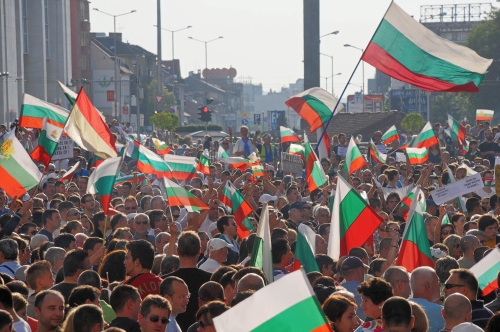 EVERY day, for the last twelve days, at exactly 6:30pm, Independence Square, a busy intersection in the center of Sofia, has been the starting point for a protest march that passes by the parliament building, the so-called Eagle's bridge and the National Palace of Culture. Around 10,000 people participate every evening. They are calling for more transparency, less corruption and an end of the local oligarchs' rule.
Only three weeks into the job, the new Bulgarian government is facing the fate of the old one. Large-scale protests are being held daily not only in Sofia but other major cities too just four months after demonstrations forced the previous conservative administration to resign. The protests were sparked by a string of dodgy appointments by the new government. The most controversial was the nomination of the Bulgarian Kim Dotcom, Delyan Peevski, a 32-year-old media mogul, as head of the powerful national security agency. A member of DPS, the ethnic Turkish party, the junior coalition partner in the Socialist-led government, Mr Peevski controls a media empire of numerous high-circulation newspapers, popular TV channels and news websites all of which tend to change allegiance according to who is in power. Mr Peevski's political résumé is equally questionable: after spending two years as a deputy minister in a previous Socialist-led government, he was fired in 2007 and prosecuted on extortion and corruption charges. (He was eventually cleared.)
"My trust in this government is gone after this appointment," said Rosen Plevneliev, the president, who questioned Mr Peevski's "reputation and competence". As the protests gathered speed, Mr Oresharski admitted the appointment was a mistake and parliament reversed the decision.
But the U-turn failed to appease the protesters. They are now demanding the resignation of the whole government as well as changes in the electoral law to allow smaller parties to enter parliament. Unlike the demonstrations earlier this year, the current rallies are largely peaceful. More and more members of the middle class are joining the protests, including popular actors, writers and musicians as well as families with babies and strollers.
"We feel that nobody is steering the boat," says Mihail Vuzharov, one of the protestors who is a marketing specialist at a medical IT startup. "In fact, the boat has been sinking for decades." Therefore, adds Justine Toms, a business-development manager in Sofia, "we are protesting against the people who should be in jail and are instead appointed at high posts in the state." Most Bulgarians tend to agree with Mr Vuzharov and Ms Toms: over 80% say they support the protests, according to a poll by Alpha research. Today sixty prominent intellectuals, lawyers, journalists and human rights activists posted online a "charter for disbanding the plutocratic model of the Bulgarian state" calling for genuine democracy and the rule of law .
The wide backing by Bulgaria's society (the educated elite in particular) makes the situation extremely tough for the government according to Tihomir Bezlov, political analyst with the Center for the Study of Democracy in Sofia. Most analysts agree that it won't be able to serve its full four year term. In fact, the odds were against the government of Mr Oresharski from the very beginning. The Socialist party was able to form a cabinet only because GERB, the ex-ruling party of Boiko Borisov which won the May 12th snap elections, was unable to muster a parliamentary majority. With only half of the votes in parliament, the Socialists and their partners from DPS were left reliant on the unpredictable, ultra-nationalist Ataka party.
After twelve days of protests and with new ones planned for the coming weeks, the risk of yet another early election is increasing. Demonstrators will continue to gather at Independence Square every evening…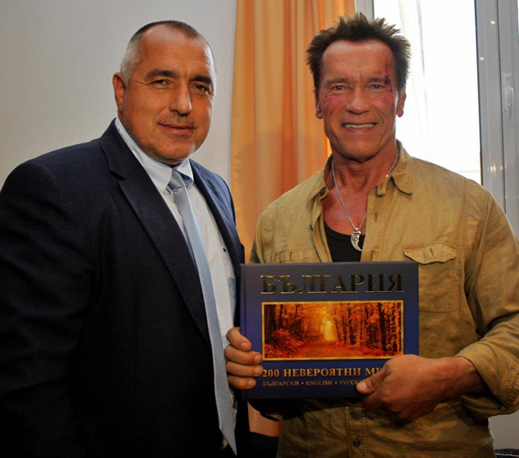 Bulgaria's fall season has again become a colorful arrangement of political attitudes and campaigns toward the upcoming Presidential Elections on October 23, 2011. To add to the political theater at hand, Prime Minister Boyko Borisov thoughtfully scheduled the shooting of The Expendables 2 to take place in Sofia, Bulgaria a week before the elections.
Sylvester Stallone has been in Sofia for the past month or so, Dolph Lundgren for the past few days. Chuck Norris landed in Bulgaria last week, and now Bulgaria's Prime Minister patiently is waiting for governor Schwarzenegger to arrive along with Bruce Willis before an official public meeting before the press with the star cast as part of his political campaign.
This time however, the nation's political and ethnic tensions were rebirth anew after a civil unrest followed the death of two Gipsy boys in the village of Katunutza. The ruling party GERB was strongly criticized by its opponents for the way police handled the wave of protests that followed throughout the country.
Meanwhile, a total of 79 political parties and formations are already registered for the elections on October 23, 2011. Only seven of them are expected to have the necessary electorate to finish the race. They are as follows:
(1) GERB (Bul. "coat of arms") the Bulgarian abbreviation means Citizens for European Development of Bulgaria took over the parliamentarian elections a few years back with the strong political figure of leader Boyko Borisov, who began his colorful career as fireman and personal bodyguard of ex. king Simeon and Bulgarian communist dictator of over 30 years Todor Zhivkov. Borisov became minister-general of Internal Affairs, mayor of Sofia and serves currently as Bulgaria's Prime Minister. While he has not taken a much expected place as a presidential candidate, his political strategy has been strongly criticized by his opponents as inadequate and insufficient to answer Bulgaria's current crises.
(2) BSP, the Bulgarian Socialist Party has followed a leftist communist trend for over a century now, being empowered by economic and structural recourses inherited by the Regime and Russia's political strategies on the Balkans. Ruled in the triple coalition in the previous government mandate along with the party formed by the ex-king and Turkish minority, it has been represented in the past decade by current president with two consecutive mandates.
(3) Bulgaria's Democratic Forces, a rightist party of 21 years is now lead by recognized evangelical Martin Dimitrov, but unofficially ruled by ex. prime minister Ivan Kostov. The party has again disappointed their supporters by being a small and inefficient political force, which remains in the periphery of Bulgaria's political realm with small voting power and virtually no influence on government polices.
(4) NDSV (abr. National Movement for Stability and Progress) formed at the turn of the century by Simeon Saxe Coburg Gotha – Bulgaria's ex-king returning after a 50-year exile. The party was a major political player since its coming to power in 2001, but has remained virtually uninvolved in recent years boxed by a political coffin created by both socialists and democrats after its last mandate ended. One of their activists, Mrs. Miglena Kuneva, currently serving as EU parliament deputy has launched a campaign as independent presidential candidate.
(5) ATAKA (Bulg. Attack) as always is absorbing the negative vote, which comes from the people disliking current government politics, socialism and minority parties. Their methods have been rightfully characterized as dangerous with extreme pro-Bulgarian chauvinism bordering nationalistic ideologies. The party was involved in a fire-related attack against the central mosque in Sofia and consecutively organized protests flaming ethnic and political unrest in the recent incidents at the village of Katuntza.
(6) RZS (abr. Order, Law and Justice) although keeping away from nationalistic ideologies, it resembles ATAKA, being a minor but scandalous political formation. RZS received sufficient vote in the last parliamentarian elections through presenting a series of compromising publications in major Bulgarian periodicals. These politics have been continued through RZS's participation in government life, as the party was the first one to start its current campaign branded with the phrase "I'll fire Boyko Borisov!"
(7) DPS (Bulg. Movement for Rights and Freedom) was formed on ethnic foundation of Bulgarian Turkish and Muslim population. It has remained the constant "balancer" in Bulgaria's political life providing the necessary votes to one or another formation only to remain in power. DPS was blocked almost permanently after the last parliamentarian elections, but only until now when it is strongly entering Bulgaria's political scene again.
After almost entering Bulgaria's parliament in 1997, the Bulgarian Christian Coalition has again remained on the borderline of any political existence. Bulgarian evangelicals have never been able to reach their political legacy again, although the new Bulgarian census showed over 25% increase of evangelical population in Bulgaria to some 65,000 people strong. The alternative party, Christian Democratic Forum has showed no political activity since last election when it was defeated having only some 1,000 votes nationwide. The Bulgarian Christian Coalition has also chosen not to run in the presidential elections.
Celebrating 90 years since the first Pentecostal revival in Bulgaria
Exactly 400 years ago, the first King James Bible was printed in June, 1611. The first Bulgarian Bible was printed 140 years ago in June, 1871. The first Pentecostal Revival in Bulgaria took place between Easter and Pentecost of 1921. And finally, exactly 20 years the Pravetz youth group, where I had the privilege to begin my ministry, experienced a spiritual revival in which hundreds of young people were reached and saved.
To commemorate this great heritage, we undertook a historic revival tour during the month of June in Bulgaria. We started at the Black Sea with the momentous ordination of presbyters in the church of Aheloy – one of the few Church of God congregations with the original doctrine and practice. The special ordination service on Saturday night went on with prayer and praise, communion and foot washing until 2am.
Then on Sunday we gathered at 6:30am for prayer and followed with the morning service. We continued with services in Pravetz, where our youth group celebrated its 20-year anniversary, then at the church in Verdical near Sofia with a special foot washing and communion service, and finally in Sofia with a prophetic word to the Church of God in the Obelya suburb.
During our ministry in Bulgaria we often travel to the capital Sofia as the obligations of our ministry position necessitates that we minister there several times a month. Sofia has grown tremendously since we began ministering there in the early 90s. As a modern European capital it has drawn both investors and work force from many foreign countries and most of Bulgaria's towns as well. The result is some 3 million people population, which account for about half of the Bulgarian nation, living and working in the capital Sofia.
Currently, the Bulgarian Church of God has three Bulgarian congregations active in the territory of Sofia, not counting the Roma Gipsy churches and the multiple home groups at various suburbs and locations. These congregations are: (1) Grace Church of God, (2) Crossroads Church of God and (3) Fire Church of God.
1. The Grace Church of God is the oldest active Bulgarian Church of God congregation in Sofia. It owns its own building built in the north suburbs of the city with substantial help of Church of God World Missions. This is the church that mostly resembles the old practices of the Bulgarian Church of God, often forgotten by the congregations of the new generation. Thus, the role of this church is important as a protector of the identity and praxis of the historical Church of God, which has been ministering in Bulgaria since 1928.
2. The Crossroads Church of God is a relatively new congregation envisioned and formed around the dawn of the century. The church was initially formed around the growing youth group of Sofia's Central Church of God to give one centralized location in the capital, where both students and professionals can worship together. It averages about 100 people who rent an auditorium west of downtown Sofia once a week on Sunday night for their church service.
3. The Fire Church of God began just a few years ago in the downtown location where the Crossroads Church previously met. The congregation is small, but growing attracting with its ministry young and knowledgeable people from all walks of life. The people of the Fire Church recently renewed their monthly revival services with special focus on healing and miracles.
Returning to minster at the Fire Church of God in Sofia was a special event for our team. Many of the members there, as well as the pastor's family, have been friends of ours and pastors in the ministry for a long time now. We have worked with Church of God Sofia regional overseer, Daniel Kirov and his team since 2002 when he first moved to Sofia with a vision to plant a church. Since then, his vision has become a reality in the capital as the Fire Church of God is one of the few active Church of God congregations in the largest metropolitan area in Bulgaria.
This time, we were able to focus on the new Bulgarian translation of the Bible, which we have now prepared for print, and present to the congregation an interactive Bible study from the Gospel of John. It was encouraging again to watch the small, but growing congregation, interpret the Bible corporately in a Bible study that enlightens the mind and transforms the soul. It was the way the Bible was intended to be read and interpreted, understood and lived – among true brothers and sisters.
We are just returning from a powerful weekend of teaching in Sofia. With temperatures below zero and snow covering the larger part of Bulgaria, we travelled to the capital city to minister at the Mission Church there. The church is only a couple of years old, but we have worked with the pastor and the leadership team for over a decade now as part of our Church of God ministry and the Bulgarian Chaplaincy Association as well.
Since April, 2009 the Mission Church has had services in the heart of the Sofia metropolitan of some 2.5 million people living in it. The church started with a handful of folks and now has some 120 members in their regular meetings, a Bible school, home group program, arts program and a very powerful praise team and choir that have held several successful concerts already.
Our visit was connected with a series of lectures on New Testament interpretation at their Bible school and ministering in their Sunday service. Although the school has only 30 students, we felt a powerful presence during the lectures and were able to extend the material and connect on a more personal level with the students. Naturally, the Sunday service became a great continuation of what we had already completed with the students. During the first song of worship, a demon possessed man ran to the altars screaming and rolled on the ground, only to be delivered a few minutes later. Then, the preaching took the attention of the people in the congregation, followed by an alter service in which many rededicated their lives praying to God to bring them to a new spiritual level in their Christian walk. Along with the pastor and his family, we were blessed to observe the Word working within the people and changing their lives forever.