SOFIA, Aug 1 (Reuters) – Bulgarian President Rumen Radev set Oct. 2 as the date for the country's fourth parliamentary election in less than two years on Monday, after the collapse in June of reformist Prime Minister Kiril Petkov's coalition government. Radev also appointed former labour minister Galab Donev to lead a caretaker government to serve from Aug. 2 until a new government is formed after the election. Radev will outline the priorities of the new government on Tuesday, his office said in a statement.
The European Union country faces surging inflation, natural gas supply doubts and other impacts from the war in Ukraine. The appointment of Donev, 55, a presidential adviser on social policies, is seen as a sign that shielding households from soaring energy and food prices will be a priority for the caretaker administration. This could involve efforts to renew Russian gas imports as well as mending diplomatic relations with Moscow strained under Petkov's government.
We,
The believers from different churches in Bulgaria declare on this day of October 5th 2014 in the city of Varna,
That we, according to The Holy Scriptures, will do our best to "fulfill the vows to the Lord" (Psalm 116:14), which were written and signed by 5,000 believers in the two scrolls produced on April 9th 1989 in the same city of Varna
In which we presented our requests, prayers and intersession for those in authority, that we may live peaceful and quiet lives in all godliness and holiness (1 Timothy 2:2)
Reminding now our authorities in these two second scrolls about the urgent New Testament warning, that "God did not spare angles, when they sinned and He did not spare the ancient world, when He brought the flood on its ungodly people, and that He did not spare Sodom and Gomorrah but burned them to ashes and made them an example of what is going to happen to the ungodly" (2 Peter 4-6).
These two second scrolls are again signed by Christians in Bulgaria both on October 5, 2014 and further on by Christians all over the country, to whom these second scrolls are being brought and presented.
On behalf of the Bulgarian Christians
Read Also:
Plamen Oresharski formally resigned as prime minister on July 23, after weeks of speculation and – in certain quarters – anxiety about whether he would play his part in carrying out the agreement reached by political parties to hold early parliamentary elections.
The Wall Street Journal: Bulgaria's Prime Minister Plamen Oresharski late Wednesday submitted his resignation to parliament, a move that will lead to his entire cabinet stepping down after a tumultuous year marked by public protests, a banking crisis and confrontations with the European Union. [more]
Bulgarian Outgoing Ministers React to Cabinet Resignation: Most of Bulgaria's outgoing ministers have assessed their work in office as "positive" and have voiced warnings the next government would face a number of issues. [more]
Deutsche Welle: Socialist-backed Oresharski Cabinet resigns in Bulgaria. Bulgaria's prime minister has resigned ahead of snap elections to end months of political turmoil in the European Union's poorest country. The legislature as expected approve the resignation on Thursday. [more]
New York Times: The fate of one of the biggest banks in the European Union's poorest country, Bulgaria, remains hostage to a political crisis, which caused the prime minister's government to resign on Wednesday. [more]
BBC: Bulgaria prime minister quits to allow snap election. The embattled Socialist prime minister of Bulgaria has resigned after only a year in office to allow for an early election on 5 October. [more]
MORE to COME:
August 5, 2014 – President Plevneliev announces the line-up of the caretaker Cabinet, which will have reduced powers and whose main task will be to prepare and hold the snap elections. This will be the second caretaker government appointed by Plevneliev, who was elected on the GERB ticket in 2011 – in March 2013, he appointed ambassador Marin Raykov as caretaker prime minister.
August 6, 2014 – the 42nd National Assembly is officially prorogued by presidential decree.
October 5, 2014 – Bulgaria holds early parliamentary elections.
HISTORY of EVENTS: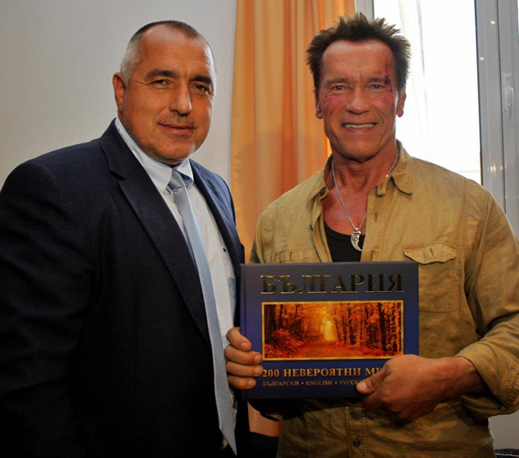 Bulgaria's fall season has again become a colorful arrangement of political attitudes and campaigns toward the upcoming Presidential Elections on October 23, 2011. To add to the political theater at hand, Prime Minister Boyko Borisov thoughtfully scheduled the shooting of The Expendables 2 to take place in Sofia, Bulgaria a week before the elections.
Sylvester Stallone has been in Sofia for the past month or so, Dolph Lundgren for the past few days. Chuck Norris landed in Bulgaria last week, and now Bulgaria's Prime Minister patiently is waiting for governor Schwarzenegger to arrive along with Bruce Willis before an official public meeting before the press with the star cast as part of his political campaign.
This time however, the nation's political and ethnic tensions were rebirth anew after a civil unrest followed the death of two Gipsy boys in the village of Katunutza. The ruling party GERB was strongly criticized by its opponents for the way police handled the wave of protests that followed throughout the country.
Meanwhile, a total of 79 political parties and formations are already registered for the elections on October 23, 2011. Only seven of them are expected to have the necessary electorate to finish the race. They are as follows:
(1) GERB (Bul. "coat of arms") the Bulgarian abbreviation means Citizens for European Development of Bulgaria took over the parliamentarian elections a few years back with the strong political figure of leader Boyko Borisov, who began his colorful career as fireman and personal bodyguard of ex. king Simeon and Bulgarian communist dictator of over 30 years Todor Zhivkov. Borisov became minister-general of Internal Affairs, mayor of Sofia and serves currently as Bulgaria's Prime Minister. While he has not taken a much expected place as a presidential candidate, his political strategy has been strongly criticized by his opponents as inadequate and insufficient to answer Bulgaria's current crises.
(2) BSP, the Bulgarian Socialist Party has followed a leftist communist trend for over a century now, being empowered by economic and structural recourses inherited by the Regime and Russia's political strategies on the Balkans. Ruled in the triple coalition in the previous government mandate along with the party formed by the ex-king and Turkish minority, it has been represented in the past decade by current president with two consecutive mandates.
(3) Bulgaria's Democratic Forces, a rightist party of 21 years is now lead by recognized evangelical Martin Dimitrov, but unofficially ruled by ex. prime minister Ivan Kostov. The party has again disappointed their supporters by being a small and inefficient political force, which remains in the periphery of Bulgaria's political realm with small voting power and virtually no influence on government polices.
(4) NDSV (abr. National Movement for Stability and Progress) formed at the turn of the century by Simeon Saxe Coburg Gotha – Bulgaria's ex-king returning after a 50-year exile. The party was a major political player since its coming to power in 2001, but has remained virtually uninvolved in recent years boxed by a political coffin created by both socialists and democrats after its last mandate ended. One of their activists, Mrs. Miglena Kuneva, currently serving as EU parliament deputy has launched a campaign as independent presidential candidate.
(5) ATAKA (Bulg. Attack) as always is absorbing the negative vote, which comes from the people disliking current government politics, socialism and minority parties. Their methods have been rightfully characterized as dangerous with extreme pro-Bulgarian chauvinism bordering nationalistic ideologies. The party was involved in a fire-related attack against the central mosque in Sofia and consecutively organized protests flaming ethnic and political unrest in the recent incidents at the village of Katuntza.
(6) RZS (abr. Order, Law and Justice) although keeping away from nationalistic ideologies, it resembles ATAKA, being a minor but scandalous political formation. RZS received sufficient vote in the last parliamentarian elections through presenting a series of compromising publications in major Bulgarian periodicals. These politics have been continued through RZS's participation in government life, as the party was the first one to start its current campaign branded with the phrase "I'll fire Boyko Borisov!"
(7) DPS (Bulg. Movement for Rights and Freedom) was formed on ethnic foundation of Bulgarian Turkish and Muslim population. It has remained the constant "balancer" in Bulgaria's political life providing the necessary votes to one or another formation only to remain in power. DPS was blocked almost permanently after the last parliamentarian elections, but only until now when it is strongly entering Bulgaria's political scene again.
After almost entering Bulgaria's parliament in 1997, the Bulgarian Christian Coalition has again remained on the borderline of any political existence. Bulgarian evangelicals have never been able to reach their political legacy again, although the new Bulgarian census showed over 25% increase of evangelical population in Bulgaria to some 65,000 people strong. The alternative party, Christian Democratic Forum has showed no political activity since last election when it was defeated having only some 1,000 votes nationwide. The Bulgarian Christian Coalition has also chosen not to run in the presidential elections.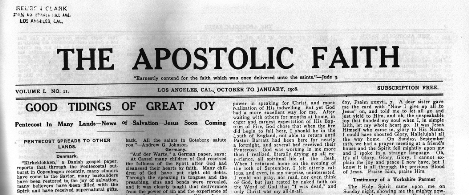 Denmark.
"Kirkeklokken," a Danish gospel paper, reports that through the Pentecostal outburst in Copenhagen recently, many sinners have come to the Savior, many backsliders have been restored to the joy of salvation, many believers have been filled with the Spirit and have received supernatural gifts.
In Wales
"Praise God for another brother here who has also now received the Pentecost with tongues. He went home from here speaking in tongues all along the street. There are others to follow. Glory to Jesus. Tonight five or six brothers are coming here for their Pentecost. O, I do praise God that He sent me to Sunderland to get such a wonderful blessing. Praise His holy name."–W. J. Tomlinson, Lynion House, Grove Place, Port Talbot.
Honolulu
Brother and Sister Turney, who have returned from Honolulu, now on their way to Africa report the work in Honolulu: "We had a glorious meeting Honolulu. The power came down and one young man a captain of the Salvation Army, who received his Pentecost, has now opened up an Apostolic Faith Mission in Santa Cruz, Cal. A lieutenant also received his Pentecost and went to carry the news to London, England. Charley Puck, who had a most wonderful experience, is preaching the Gospel on the Island of Hawaii in the city of Kanuela. They are having good meetings and good attendance. People are hungry for the truth.
London, England
I do thank God that there are a few whose eyes God has opened to see their lack and who have waited upon His in prayer for quite a year and a half ** Ackerman Rd., Brixton S.W., London. God has manifested His almighty power there in the baptism of dear Sister Price and one brother and myself, and I am so glad to send in my testimony to the glory of God and the encouragement of all His children. People are coming from far and near, and no one has been even invited. They just hear how God is working and come. This power was mightily present last Thursday, two sisters being shaken and nearly spoke in tongues. One night the very room was shaken as we read in the Word: "And when they had prayed the place was shaken." Several have had blessed anointings, outpourings of the Spirit and revelations of Jesus Christ. Praise His Holy name.-Mary A. Martin, 319 Southampton St., Camberwell, London, England.
China.
Brother and Sister Garr are in Hong Kong, China, last report. God is using them blessedly. A glorious revival is breaking out. Several souls in Hong Kong have received their Pentecost.
In Macao and Canton, China, numbers have received the baptism with the Spirit. They are hungry for the Holy Ghost. Brother McIntosh wrote, "They come to our house at all times of the day and rap at our door at 11 and 12 o'clock at night, coming to seek for the Holy Ghost, and we stay up till one and two o'clock praying with them, and glory to God, the Pentecost falls and they speak in tongues." Two sisters who received their Pentecost in Brother Cashwell's work in the South have gone over to help Brother and Sister McIntosh. They are Sister A.E. Kirby and Sister Mabel Evans. Address Macao, China, care S.C. Todd.
Sweden.
Bramaregarden, Hisingstad, Goteborg, Nov. 19.-"I am very glad to hear from the old Azusa Mission, my home. I have victory through the dear, cleansing Blood of Christ. Glory to His great name! It is one year today since I came over to Sweden and this city Goteborg. God is still saving, sanctifying, and baptizing with the Holy Ghost, and people are getting healed of God. Last Sunday two got their Pentecostal blessing. We had a wonderful day, the Holy Ghost running the meetings, God's children testifying, praising God, talking in unknown tongues. The fire has begun to fall on small islands near the city. Bless God! The work is still going on in many places in Sweden and God's people are getting more hungry than ever. We trust God to send out more workers into the field. The fire is falling in 'Norrland.' Yet many, many have not heard this Gospel yet. This work will go on till Jesus our Lord comes back. All the saints in Goteborg salute you."-Andrew G. Johnson.
Germany.
"Auf der Warte," a German paper, says: At Cassel many children of God received the fullness of the Spirit after God had cleansed their hearts by faith. Many children of God have put right old debts. Through the speaking in tongues and the preaching, sins and bonds were revealed, and it was clearly taught that deliverance from the power of sin and the experience of heart cleansing are the conditions for receiving the Pentecostal baptism.
The manifestations of the Spirit when the souls were touched were different according to I Cor. 12. Some were knocked down to the floor, some were overflowed gently while sitting in their chairs. Some cried with loud voice, others shouted Hallelujah! clapped their hands, jumped or laughed with joy. Some saw the Lord not only in the meetings, but when silent in the houses, or in bed, or when walking on the road, god touched their souls.
All that was uttered in tongues as far as it concerned salvation was in perfect accord with Scripture. What the Lord gave to utter about His Cross, His Glory, and the Second Coming was refreshment and comfort for every believing soul. Through the speaking of tongues and prophecy those in the audience received conviction of their sins; which statement is proven by confessions made afterwards to the minister.
The fire is already burning at Grossalmerode. The Lord is doing great things. Many have received the Pentecostal baptism; and the Lord bestowed gifts upon many, especially the gift of tongues and interpretation.
——–
WITNESSES IN ENGLAND
(From reports printed at Sunderland, Eng.)
Children Receive Pentecost
I was present when the two girls, who were the first children to speak in tongues in England, Janie and May Boddy (the two daughters of the Rev. Alex A. Boddy, All Saints' Vicarage, Sunderland), received their Pentecost. It was at the Vicarage.
The nine or ten persons present will never forget the scene. Janie received the interpretation for each sentence, and her childlike simplicity and joy, her beaming face, that I shall never forget, she turned message she received was: "Jesus is coming!" With a surprised look of joy on her face, that I shall never forget, she turned to her mother and kissed her, repeating the words: "Jesus is coming, mother!"
Then her fact became serious. She bowed her head a little and lifted her left hand to her cheek (she was kneeling all the time at the end of the table). Again a foreign language was heard. Then came the interpretation: "The Heavens are opened!" followed by the same jubilant glee.
One message was very solemn, spoken, too, with emphasis: "The first shall be last, and the last first." Coming from such childlike lips, it made a great impression on us all.
Oh, what joy when she said: "Oh! mummie, Jesus has come, and come to stay; oh, good Jesus, good Jesus!" then peals of joybells of laughter.
As she related her experience the next day to a large crowd of children at the Parish Hall, she said, whilst inviting them to seek their Pentecost, "Oh, it is so wonderful, so wonderful!" It was wonderful, it was the Holy Spirit come to dwell within them.
May Boddy had a great revelation of God's power. She prayed so earnestly that she might not "be left out." It was touching, too, to see Janie, who had just received her Pentecost, as she laid her hand on her sister's head and encouraged her; "It's all through the Blood, May, all through the Blood! Jesus is come, He said, May too, May too."
May spoke a long time. Some words were very clear. It seemed as if she was constantly claiming Jesus. His name was repeated time upon time. The words, "Aa, Ja, Jesus! Ja, ja, ja, Jesus!" were distinctly Norwegian, with the correct pronunciation (Oh, yes, Jesus! yes, yes, yes, Jesus!)
These two dear children have been kind and good girls before and loved Jesus dearly but now they love Him much more and are bold to tell others of His wonderful power to save-T.B. Barratt.
Testimony of a Vicar's Wife
After a long time of silent waiting upon Him, God gave me a wonderful vision of Christ in the glory at the right hand of the Father, and from Him came a wonderful light on to me, causing me to laugh as I had never done before. I thought this was the Baptism, for this gave me more power in speaking for Christ, and more realization of His indwelling, but yet God had a more excellent way for me. After waiting with others for months at home, in eager and earnest expectation of His Baptism of Fire, God chose that when the fire did begin to fall here, I should be in the South of England, not able to return until Pastor Barratt had been here for nearly a fortnight, and several had received their Pentecost. God was working in me more than I realized, literally drying up all experience, all spiritual life of the flesh. When I returned home on the evening of the 10th of September, I felt utterly callous, and even, to my surprise, uninterested I could not pray, nor read, nor even think of God, but just rested by naked faith on the Word of God that "I was dead," and only Christ was my all-in-all.
I went to the meeting the next evening, but could not sing nor pray, I just rested in God and asked Him to lead the Pastor to lay hands on me when He wished. Soon the Pastor was "filled with the Holy Ghost" and came to me. When he laid hands on me, I expected a great rush of feeling, such as I have often experienced, as the Life of Jesus thrilled through me body, but I felt nothing. The Spirit then flashed light on to the Word, "They laid hands on them and they received the Holy Ghost." I should like to emphasize that it was at this point of really believing in my heart God's Word, that I had received (Acts Viii., 17), that He began to manifest His presence (the empty cleansed vessel receiving the out-poured gift), and I just rested again in the fact that God the Holy Ghost had come and would do His own work. Suddenly the Lord fulled His Temple and I was in the glory. What followed I cannot describe, and it is too sacred to do so, but I knew God had come. Though never unconscious, I was quite oblivious to everyone around, just worshiping. Then my mouth began to quiver, my tongue began to move, and a few simple words were uttered, as I just yielded to the Holy Ghost. Much to my astonishment, I began to speak fluently in a foreign language-Chinese I think. The Spirit sang through me. The joy and rapture of this purely spiritual worship can never be described. If for no other purpose, I felt at last satisfied that "there was no difference between me and them as at the beginning," Acts xi., 15. Then came a vision of the Blood. As the Spirit spoke that word I was conscious that ALL heaven oh glory! (myself included) was "worshiping the Lamb, as it had been slain." Oh, the efficacy, the power of the Blood. In one moment, what I had believed in for years was illuminated as a reality. Nothing else can take its place, it is the Blood that cleanseth. Then came more words in 'tongues' with the interpretation. "Worthy is the Lamb; Jesus is coming."
People say, "What is the difference now?" Just this, and this is all the difference. What one has held on to by faith in the Word, is a reality. I know, as never before, that Christ liveth in me. The Power to love and believe and witness is there, as never before; and last, though not least, after longing with a hungry heart for years to satisfy my God and Savior, that "He might see the travail of His soul and be satisfied," I thank Him with all my heart that at last He has received from me pure spirit-worship-"mysteries,"-I Cor. 14, 2; John 3, 23. I recognize, as never before, that it is still a walk of faith and obedience, that I am nothing, and Christ is my all in all. I am launched out into the fathomless ocean of God's love, joy and peace. It is "joy unspeakable and full of glory." I thank god for the Pentecostal sign of 'tongues.' I did not ask for 'tongues' but for the Holy Ghost, and He "gave me utterance," and the joy of praising God in the Spirit is truly wonderful.-Mrs. A.A. Body, Sunderland, Eng.
Testimony of a Sunday School Teacher
On Sunday, September 8th, I surrendered my whole being full to Jesus and accepted cleansing through His most precious Blood, and on Monday, September 9th, while reading a little booklet, I got a great blessing form these two verses:-
Nothing to settle? all has been paid,
Nothing of anger? peace has been made;
Jesus alone is the sinner's resource,
Peace He has made by the Blood of His cross.
Nothing of guilt? no, not a stain,
How could the Blood let any remain,
My conscious is purged, my spirit is free,
Precious Blood is to God and to me.
And then I claimed my Pentecost through that precious Blood, and stood firm on the blessed promises in Luke xi., 13, and Luke xxiv., 49, and I praised Him for it until Friday, September 13th. Oh, that glorious night when Christ came into my heart in all His fullness. It was about twenty minutes to nine when I went into the meeting and they were singing "Rest in the Lord," the message He gave me on Thursday, Psalm xxxvii., 7. A dear sister gave me the card with "Now I give up all to Jesus" on, and told me to let all go and just yield to Him, and oh, the unspeakable joy that flooded my soul when I, in simple faith, let my whole heart go. It was Jesus Himself who came in, glory to His Name. I could have shouted Glory, Hallelujah! all the way home. On Sunday, September 15th, we had a prayer meeting at a friend's house and the Spirit fell mightily upon me and I spoke in a strange language. Oh, it's all Glory, Glory, Glory, I cannot explain the joy and peace I now have, but I know it is all through the precious Blood of Jesus. Praise Him, praise Him.
Testimony of a Yorkshire Farmer
The Holy Spirit came upon me on Sunday night, showing me the mighty power in the blood of Jesus. The following night it was Jesus himself and the Holy Spirit entering in like a flood. I do thank the Lord that He enabled me to take Him in, or rather, He so melted me that I allowed Him to come in. I took Him in all His fullness, that the life of the head might be the life of the member of the body. How unnatural it would seem to see a person going about with life in the head and not the same life running through the body and the head no control over the body. I feel that I want to be like the bed of a river, perfectly still, but wide enough to admit a flood. When I got home on Tuesday night, I was sitting by myself occupied with the Lord, when I got the sign of tongues. Glory to the name of Jesus.
——–
PENTECOSTAL MISSIONARY REPORTS
Since the last paper, Spirit-filled missionaries have gone out from Los Angles to Monrovia, Liberia, Africa, two sisters to South China and a band of nine missionaries to North China. Also a band of fourteen missionaries went from Spokane, Wash., to Japan and China. They were able to talk to the Chinese and Japanese at the dock and on the ship in their native languages. The "Apostolic Light" is now published by Brother Ryan in Tokyo, Japan.
Our dear Brother A.H. Post who is on his way to South Africa from Los Angeles, writes from London, England, "Praise our god the 'latter rain' is falling in England. Glory to our God forever. I do greatly rejoice in Him for this blessed privilege of carrying this wonderful salvation to other nations. My heart leaps with joy and burns with His love for so great a privilege." Address him at 14 Ackerman Road, Brixton, London, S.W., care Mrs. Price.
We never saw a more humble and Spirit-filled band of missionaries than the dear ones that left Los Angeles for North China, going by the way of Seattle where they were joined by others, making twelve in all, besides children. Brother Bernstein, Brother and Sister Hess and six workers from the Swedish Mission, made up the company from here. They went out trusting God alone for their support. Brother Bernsten says, "God has laid it on my heart to go to a new field and open up the work there. It is on the railroad line south of Peking, a big field, and to open our home for any independent worker filled with the Holy Ghost and fire, to come and stay with us until they are sure where God wants them. Pray for a dwelling place and a home convenient for Chinese orphans." We are expecting God to wonderfully bless these consecrated and anointed ones. They are going into the famine district. Address B. Bernsten, Taiming fu, Chih-li, North China.
—
Our dear Sister Farrow, who was one of the first to bring Pentecost to Los Angeles, went to Africa and spent seven months at Johnsonville, 25 miles from Monrovia, Liberia, in that most deadly climate. She has now returned and has a wonderful story to tell. Twenty souls received their Pentecost, numbers were saved sanctified and healed. The Lord had given her the gift of the Kru language and she was permitted to preach two sermons to the people in their own tongue. The heathen some of them after receiving the Pentecost, spoke in English and some in other tongues. Praise God. The Lord showed her when she went, the time she was to return and sent her the fare in time, brought her home safely, and used her in Virginia and in the South along the way.
——–
There is no man at the head of this movement. God Himself is speaking in the earth. We are on the verge of the greatest miracle the world has ever seen, when the sons of God shall be manifested, the saints shall come singing from the dust (Isa. 26:19) and the full overcomers shall be caught up to meet the Lord in the air. The political world realizes that some great crisis is at hand, the scientific world, the religious world all feel it. The coming of the Lord draweth nigh, it is near, even at the doors.
THE APOSTOLIC FAITH
312 Azusa Street
—————————————————————–
Published by
THE APOSTOLIC FAITH MISSION
Headquarters, Los Angeles
Subscription Free
_________________________________________________________________
—————————————————————–
QUESTIONS ANSWERED
Should a person seek sanctification before the baptism with the Holy Ghost?
Yes. Sanctification makes us holy, but the baptism with the Holy Spirit empowers us for service after we are sanctified, and seals us unto the day of redemption. Sanctification destroys the body of sin, the old man Adam. Rom. 6:6, 7, "Knowing this, that our old man is crucified with Him, that the body of sin might be destroyed, that henceforth we should not serve sin." When a man has been saved from actual sin, then he consecrates himself to God to be sanctified, and so his body of sin is destroyed or crucified. Then the resurrection life of Christ rises in his soul according to the Scriptures, Rom. 6:8, "Now if we be dead with Christ, we believe that we shall also live with Him."
Is it necessary for a person to leave their home duties in order to wait at some place for the Holy Ghost?
No; you can wait right in the kitchen or in the parlor or in the barn. Some have received the baptism of the Spirit in their barns, some in the kitchen, some at family worship, some on their porch, some about their business.
Must people give up their property and have all things in common, in order to receive the Pentecost?
No; God has made us stewards over all that we have, and He lays on our hearts to give as He prospers us. At the beginning of Pentecost, there was a great awakening in Jerusalem, and many people were waiting for salvation. Numbers of them were poor and had no home, and were in need of food and raiment. And God laid it on the hearts of as many as were possessors of lands or houses that they sold their possessions and brought the price and laid the money at the apostles feet, to help supply the food and to spread the Word of God, that it might be preached over the world. But they did not do this in order to get salvation. God laid it on their hearts to do this for a special need. So those that were sent to preach the Gospel found favor with all the people and their needs were supplied, and they all were in one accord in the Spirit. But God does not mean that we should today, wherever the baptism is poured out, just sell our homes and come and wait for salvation, and expect to receive salvation simply because we have sold out our homes and our business and given up our talents. We can have positions that are decent and get salvation also, and can be called to a special business and can keep saved.
We read God's word in I. Thess. 4:11, "And that ye study to be quiet and to do your own business and work with your own hands as we commanded you; that ye may walk honestly toward them that are without, and that ye may have lack of nothing."
People that have large families have become so enthused over this wonderful salvation that they have sometimes sold out their homes, when God has not said so. We believe that people can have homes and still be in God's order. We bless God for everyone to whom He has given homes and still be in God's order. We bless God for everyone to whom He has given homes.. We tell them not to run ahead of the Spirit in selling their homes, except God has really laid it on their hearts to do so. We have seen many that did so and regretted it afterwards.
What is the real evidence that a man or woman has received the baptism with the Holy Ghost?
Divine love, which is charity. Charity is the Spirit of Jesus. They will have the fruits of the Spirit. Gal. 5:22. "The fruit of the Spirit is love, joy, peace, longsuffering, gentleness, goodness, meekness, faith, temperance; against such there is no law. And they that are Christ's have crucified the flesh with the affections and lusts." This is the real Bible evidence in their daily walk and conversation; and the outward manifestations; speaking in tongues and the signs following; casting out devils, laying hands on the sick and the sick being healed, and the love of God for souls increasing in their hearts.
Can a person lose the Pentecost and be restored?
Yes; if they have not sinned willfully. A willful sin means to deny the Blood of Jesus Christ and insult the Spirit of truth, which is the blessed Holy Ghost. Then there is no more remission of sin. But the person that has been snared by Satan and will confess their sin and turn to God will find saving power in the Blood to cleanse them. There is a great difference between denying the Blood of Jesus Christ or doing despite to the Spirit, and just simply falling into temptation and being overcome by Satan. If they repent and do the first works, and consecrate to receive sanctification, and wait for the baptism, they can get it again.
Do you teach that it is wrong to take medicine?
Yes, for saints to take medicine. Medicine is for unbelievers, but the remedy for the saints of God we will find in Jas. 5:14, "Is any sick among you, let him call for the elders of the church, and let them pray over him, anointing him with oil in the name of the Lord, and the prayer of faith shall save the sick, and the Lord shall raise him up; and if he have committed sins, they shall be forgiven him."
Does the Lord Jesus provide healing for everybody?
Yes; for all those that have faith in Him. The sinner can receive healing.
Does a soul need the baptism with the Holy Ghost in order to live a pure and holy life?
No; sanctification makes us holy, Heb. 2:11, "For both He that sanctifieth and they who are sanctified are all of one, for which cause He is not ashamed to call them brethren." The Holy Ghost does not cleanse anyone from sin. It is Jesus' shed Blood on Calvary. The Holy Ghost never died for our sins. It was Jesus who died for our sins and it is His Blood that atones for our sins. The Scripture says, I. John 1:9, "If we confess our sins, He is faithful and just to forgive us our sins and to cleanse us from all unrighteousness. And as He is in the light, we have fellowship one with another, and the Blood of Jesus Christ His Son cleanseth us from all sin. It is the Blood that cleanses and makes holy, and through the Blood we receive the baptism of the Holy Spirit. The Holy Ghost always falls in answer to the Blood.
Do we need to study the Bible as much after receiving the Holy Ghost?
Yes; if not we become fanatical or many times will be led by deceptive spirits and begin to have revelations and dreams contrary to the word, and begin to prophesy and think ourselves some great one, bigger than some other Christians. But by reading the Bible prayerfully, waiting before God, we become just little humble children, and we never feel that we have got more than the least of God's children.
Is it necessary to have hands laid on in order to receive the Holy Ghost?
No; you can receive Him in your private closet. The gift of the Holy Ghost comes by faith in the word of God. You may receive the Holy Ghost right now, that is if you are sanctified. Take your Bible, turn to the first chapter of Acts, 5th verse, "For John truly baptized with water, but ye shall be baptized with the Holy Ghost not many days hence." Just read this verse of Scripture and cry out to the Father, "Lord Jesus, baptize me with the Holy Ghost," and believe the Lord with all your heart and the power will fall.
The baptism of the Spirit is a gift of power on the sanctified life, and when people receive it, sooner or later they will speak in tongues as the Spirit gives utterance. A person may not speak in tongues for a week after the baptism, but as soon as he gets to praying or praising God in the liberty of the Spirit, the tongues will follow. Tongues are not salvation. It is a gift that God throws in with the baptism with the Holy Spirit. People do not have to travail and agonize for the baptism, for when our work ceases, then God comes. We cease form our own works, which is the very type of the millennium.
Is the speaking in tongues the standard of fellowship with the Pentecost people?
No; our fellowship does not come through gifts and outward demonstrations but through the Blood by the Spirit of Christ. There is nothing more loving than the Blood of Jesus Christ in our hearts. The Lord Jesus says, "If we walk in the light as He is in the light, we have fellowship one with another, and the Blood of Jesus Christ, His Son, cleanseth us from all sin." If a man is saved and living according to the word of God, he is our brother, if he has not got the baptism with the Holy Spirit with tongues.
How are we to keep the anointing of the Spirit after receiving the Pentecost?
By living in the word of God with perfect obedience.
In meetings, should a number speak in tongues at the same time?
No; except as God sends a wave of the Spirit over the saints. Sometimes the Spirit will come as a shower or a rushing wind and everybody may speak that has the power. But it is not in order or Bible regulation for all to speak in tongues at once. I. Cor. 14:23, 24. Yet sometimes God works in ways that we do not just understand. But for the edification of all, there comes a time when we have to get back to the 14th chapter of First Corinthians from the 26th to the 40th verses. Paul says, "Let all things be done decently and in order."
Is this movement a new sect or denomination?
No; it is undenominational and unsectarian. We believe in unity with Christ's people everywhere, in the Word of God. It is the old-time apostolic assembly, the same old teaching of 1900 years ago. It is new to the world in these last days, but its teaching and doctrine is old as the New Testament.
Does any man control the missions of the Apostolic Faith?
No; every mission will have its own elders and teachers as the Holy Ghost shall appoint and teach the pure word of God. Every mission will be in harmony and work in unity. The Lord has deacons, elders, and teachers for the perfecting of the ministry in His saints, until we all become a perfect man in Christ Jesus.
What is the Bible way for a preacher to get his support and to raise the expenses of the church?
To pray to the Lord God and by free will offerings and donations, as God lays it on the hearts of the people that he is laboring with. God will graciously supply all needs, if you simply will trust Him and look to Him. He will pay off expenses.
Do you teach that divine love in the heart would make any familiarity between men and women safe and right?
No, every precious child that is getting the baptism of the Holy Spirit should be watchful and avoid all appearance of evil. Satan is transformed as an angel of light to deceive many precious souls that receive great spiritual blessings; and not understanding the cunning devices of the enemy, people have been led by Satan into freelovism. Some have taught that a baptism of love would make you so holy that you could overstep he bounds of propriety. May God help us to keep free from anything that is impure. If a person happens to get under the influence of these powers, they must denounce their doctrine and get these spirits cast off from them and get under the Blood. The doctrine of freeloveism is Satan's counterfeit of genuine salvation through the Blood of Jesus.
On what grounds did the Lord Jesus teach that a man and wife could separate?
On the ground of fornication. These are the words of Jesus, "It hath been said, whosoever shall put away his wife, let him give her a writing of divorcement; but I say unto you that whosoever shall put away his wife, saving for the cause of fornication, causeth her to commit adultery; and whosoever shall marry her that is divorced committeth adultery."-Matt. 5, 31, 32. Notice He says, "It hath been said, let him give her a writing of divorcement." This used to be the teaching before the great Teacher came, but in Christ's church there is no divorcement. Now a man has a right by the Scripture to put away his wife for fornication, but he has no right to marry another, according to the Scripture, while she lives. "For the woman which hath a husband is bound by the law to her husband, so long as he liveth; but if her husband be dead, she is loosed from the law of her husband; so then if while her husband liveth, she be married to another man, she shall be called an adulteress."-Rom. 7:2, 3.
If a man puts away his wife, except for fornication, he exposes her to get another husband and send her soul to hell, so it will pay every man and every woman to live with their companion for the salvation of their soul, except for the cause of fornication. He has a right to put away but not a right to get another again.
Do you have preachers and evangelists of the Apostolic Faith that have two wives or two husbands?
No, we did allow it before we became settled down and searched the Scriptures and compared scripture with scripture. We allowed those that were divorced and remarried to preach the Gospel, thinking that everything was under the Blood, and if they did not have any more light it did not condemn them. But after searching the Scriptures, we found it was wrong; that the widow was to be the wife of one man and the bishop was to be the husband of one wife. We found no scripture where the preacher could be engaged in this blessed Gospel ministry with two living companions.
If people never had light on the divorce question and have the second companion, how shall they regulate their lives in harmony with the Scriptures?
"If any man come to Me, and hate not his father and mother and his wife and children and brethren and sisters, yea, and his own life also, he cannot be My disciple."-Luke 14:26. That does mean to desert a lawful wife, but it means to let nothing stand between you and Christ. "And whosoever doth not bear his cross and come after Me, cannot be My disciple."-Luke 15:27. "And if thy right eye offend thee, pluck it out and cast it from thee; for it is probable for thee that one of thy members should perish, and not that thy whole body should be cast into hell. And if thy right hand offend thee, cut it off, and cast it from thee; for it is profitable for thee that one of thy members should perish, and not that thy whole body should be cast into hell. It hath been said, whosoever shall put away his wife, let him give her a writing of divorcement but I say unto you, that whosoever shall put away his wife, saving for the cause of fornication, causeth her to commit adultery; and whosoever marrieth her that is divorced, committeth adultery."-Matt. 5, 29, 32.
Can a child of God be possessed by evil spirits?
No; evil spirits cannot come under the Blood, any more than the Egyptians could pass through the Red Sea-the Red Sea represents the Blood of Jesus Christ. The Blood gives you power over all the power of the enemy. But we must have Christ within us. If the soul is left empty and no "strong man" within, then the evil spirit can just take the house. (Luke 11:21, 26.) Some say that when the soul is sanctified, the house is empty and clean, and if he does not get the Holy Ghost, a wicked spirit can come in. Don't you ever believe that. That empty house represents a man that had a demon cast out (as we see plainly in the 24th verse); and he did not get Christ within. But a man that is sanctified has Christ ruling within. People that are living under the Blood live free from demons and satanic powers. They live pure and holy before the Lord. A man might be a Christian and oppressed by a demon, but that is altogether different from being possessed. Wicked spirits are driven out and repentance and faith wrought in the heart, when a man if justified. Then Christ comes in and keeps them out. A demon might be in the flesh as in the case of a cancer. The devil may oppress the body with sickness but that is very different from possessing the soul.
——–
A WONDERFUL BAPTISM IN ENGLAND
Two years ago, a special work of grace began. The Holy Spirit came upon me with manifestations, and the old natural life was in very deed and truth crucified with Christ. And from that time, I became a crucified follower of my crucified Lord. Anointings of the Holy Spirit were continually given me for service, as each need arose. It was indeed a walk in newness of life, proving the power of His resurrection.
On the last night of the old year, came the command to tarry, which was promptly carried out. The result being a further revelation of the exceeding sinfulness of sin and of His glorious holiness and love. At the end of eight days came a baptism of fire burning and consuming through my whole being as the very ashes of my old life were consumed and done away with. Love to God and man took possession of me, and I was filled to overflowing with the resurrection life of my Lord. Much time daily was spent in silent waiting before the Lord, receiving from His Holy Spirit such teaching, that what had formerly been light was translated into life for spirit, soul and body.
With two dear Pentecostal saints, I met for prayer and waiting. I saw in vision Christ on Calvary, bearing my sin. Each act of sin was laid separately upon Him and weighed Him down deeper and deeper, until beneath the awful weight of blackness and darkness of woe and of anguish, His heart was broken and mine seemed to break with His. How long this lasted, I do not know; but at length, consciousness returned. The glory broke and the Holy Spirit sang through me in English a hitherto unknown song of praise and thanksgiving for the precious, precious Blood, and of glory to the Lamb upon the throne.
On the evening of our next united gathering for prayer and waiting, revelation after revelation was given of the Lamb; the glory of the Lamb, the power of the Lamb, the victory of the Lamb, the marriage of the Lamb, and the reign of the Lamb with His glorified bride. I knew from that moment that Christ Jesus was on the throne of my heart as the Lamb slain from the foundation of the world, and that His purpose was to demonstrate the Lamb life through me.
The Holy Spirit descended in clouds of glory, wave after wave of glory broke upon me. Tidal waves of resurrection life and glory surged through every organ of my body, so that I was constrained to cry aloud for everything within me shouted "Glory" and could not be silenced.
I realized that this was that which was spoken by the prophet Joel, that God had made good His promise to me, and poured upon me His Holy Spirit. Glory to His name.
When I was once more alone, the Lord spoke to me and asked if I was disappointed that the gift of tongues had not been given. Disappointed Lord! I have You and You can speak in every tongue. It was You I wanted-You alone; and now You have taken full possession. He gave me to understand that tongues would soon be given. And a few days later when in prayer with two dear friends, He gave me the gift, and the Holy Spirit sang through me in a tongue utterly unknown before. The interpretation was given, and I knew it was all about the precious, precious Blood. Glory to the Triune God! Glory to the Lamb upon the throne.-Your English sister, M.J.D.
——–
"Jesus is coming soon," is the message that the Holy Ghost is speaking today through nearly everyone that receives the baptism with the Holy Ghost. Many times they get the interpretation of the message spoken in an unknown language and many times others have understood the language spoken. Many receive visions of Jesus and He says, "I am coming soon." Two saints recently in Minneapolis fell under the power were caught up to Heaven and saw the New Jerusalem, the table spread, and many of the saints there,-both seeing the same visions at the same time. They said Jesus was coming very soon and for us to work as we had little time.
—
Wherever this blessed Gospel goes, through Christ's Spirit-filled servants, a fruitful field grows up right away. The birds all begin to sing, showing spring has come. The flowers all bud out in their souls, and they commence singing in tongues like the birds, showing us that the Holy Ghost brings spring to our hearts, and the blossoms and the fruit commence growing. Glory to God.
CHRIST'S MESSAGES TO THE CHURCH
The last message given to the church was by the Holy Ghost, from our Lord and Savior Jesus Christ through Brother John on the Isle of Patmos. Dear beloved, we read in Revelations 1:5-7, these words, "Unto Him that loved us and washed us from our sins in His own Blood." Hallelujah to His name. "And hath made us kings and priests unto God and the Father; to Him be glory and dominion for ever and ever. Amen. Behold He cometh with clouds; and every eye shall see Him, and they also which pierced Him; and all kindreds of the earth shall wait because of Him. Even so, Amen."
This is the beginning of this wonderful and blessed message given to our beloved Apostle John while he was suffering for the word of God and for the testimony of Jesus Christ. Jesus knew all about His servant, though He had been living in Heaven more than half a century after His ascension. And He came and visited that beloved apostle, the disciple who loved Jesus and leaned on His bosom. He now was old but had been faithful to the trust that Jesus had given him. He had passed through awful trials and tribulations for this precious Gospel, even being boiled in a caldron of oil, tradition tells us; but, blessed be God, they were not able to kill him. And when they got tired of this precious Holy Ghost Gospel messenger, preaching to them the faith of Jesus, they banished him to the Isle of Patmos. And while he was in the Spirit on the Lord's day, our blessed Jesus Christ, the Son of the living God, our great Redeemer, came and gave him this wonderful revelation, and introduced Himself to John as, "I am Alpha and Omega, the beginning and the ending, said the Lord, which is, and which was, and which is to come, the Almighty." Hallelujah.
O beloved, the Lord Jesus knows all about our trials and tribulations, because He was a man of sorrows and acquainted with grief. His whole life was a life of suffering. We read in Heb. 5:7, 8, "Though He were a son, yet learned He obedience by the things which He suffered. And being made perfect, He became the author of eternal salvation unto all them that obey." O bless our God. Just to think that Jesus was God's Son, and all things were made by Him and for Him; yet He was foreordained before the foundation of the world that He should die. He was slain before the foundation of the world. So the Word of God became flesh and dwelt among men and was handled by men, and lived in this world. And at the age of 33 years, He paid the debt on Calvary's cross. O beloved, if we expect to reign with Him, we must suffer with Him-not that people must be sick or unhealthy or go with a long face, but we must bear all things and keep the faith of Jesus in our hearts. Our lives now are with the suffering Christ: and "it doth not yet appear what we shall be, but we know that when He shall appear, we shall be like Him; for we shall see Him as He is." Glory to Jesus.
After Jesus introduced Himself, He gave John these blessed messages to the church. John was permitted to see from the beginning of the church age on down to the white throne judgment, the final winding up of the world. He was permitted to see the overcomers. He was permitted to see the millennial reign with Jesus in triumph over the kingdoms of Satan; to see this old world pass away, to see the new heavens and new earth, and the New Jerusalem coming down from God out of Heaven. John saw things past, things present, and things in the future. He had witnessed the glory and power of the apostolic church, and saw the falling away of the church, and God sent him to the church with this blessed message; that she should come back to her first love.
The Vision of Jesus in His Church
The most striking passage of Scripture in the first chapter is where John was permitted to see Jesus walking among the golden candlesticks, which represent the church. Christ is in His church today to fill men and women, to heal their bodies, save and sanctify their souls, and to put His finger upon every wrong and mean thing in the church. His rebuke is against it, for He hates sin today as much as He ever did when He walked by the Sea of Galilee. Glory to His name. Jesus hates impure doctrine just as much as when He rebuked the Pharisees for their impure doctrine.
John beheld Jesus in His glorified body. What a holy scene it was: the Son of God clothed with a garment down to the foot and girt about the paps with a golden girdle. "His head and His hairs were white like wool, as white as snow." Hallelujah. There is nothing but purity and holiness in our Savior. And "His eyes were as a flame of fire." Glory to Jesus. "And His feet like to fine brass, as if they burned in a furnace. And His voice as the sound of many waters," which represents many people. Bless God.
"And He had in His right hand seven stars." This represents His Holy Ghost ministers. Jesus has them in His hand, that is to say that He gave them the authority to preach the Gospel and power over devils. All of our authority and power comes from Jesus. It is so sweet when we know that we have authority from Jesus. Bless His holy name. O beloved, when we know Jesus Christ has His minister in His hand, we know that minister is a live preacher. Glory to Jesus. Hallelujah. A live minister represents one that is saved, sanctified and filled with the Holy Spirit. Then the same life, the same authority that Jesus promised we will find in his life.
"And out of His mouth went a sharp two-edged sword, and His countenance, was as the sun shineth through the blessed Christ. "And when I saw Him, I fell at His feet as one dead. And He laid His right hand upon me, saying unto me, Fear not; I am the first and the last." Praise God, Jesus is alive and because He lives everyone that gets Christ is alive in the blessed Holy Spirit. The Blood of Jesus Christ does give life, power and fire, joy, peace, happiness and faith. Hallelujah to His name.
"I am He that liveth and was dead, and behold, I am alive for evermore." Bless His holy name. He wanted John to know that He was the same One that hung and bled and died and shed His precious Blood on Calvary's cross, went down into the grave, and rose again. This ought to make the whole body of Christ's people everywhere happy to know that Jesus is alive for evermore. Hallelujah to His name.
Then He said, "And have the keys of hell and of death." Bless God. No wonder Bro. David said, "Though I walk through the valley of the shadow of death, I will fear no evil, for Thou are with me." When we get Jesus Christ in our hearts, we can use the word and it is a comfort to us to know that we have passed from death to life.
Then He told John particularly, "Write these things which thou hast seen, and the things which are, and the things which shall be hereafter."
The Message to the Church of Ephasus
Then He gave him the messages to the seven churches. "And to the angel of the church at Ephesus write, "These things saith He that holdeth the seven stars in His right hand, who walketh in the midst of the seven golden candlesticks." Hallelujah to His name. Ephesus was a city of Asia, quite a commercial city, a city of wealth, refinement, culture and great learning. It was where John preached and where Paul had labored. Many people there had been saved and baptized with the Spirit. Paul had witnessed a great scene in Ephesus where he had preached the Gospel of the Son of God and of the doctrine of the baptism with the Holy Spirit, and 12 men after hearing of this blessed doctrine, received water baptism, and when Paul laid his hands on them, they received the baptism with the Holy Ghost and spoke with tongues and prophesied. Acts. 19;6. So Ephesus was a favored place, but the message was sent to it and to all the churches of Asia. This is a true picture of the Lord Jesus' eyes upon the church ever since its beginning, and; will be unto the end. We are living near the close of the Gentile age down in the Laodicean period, when the church has become as formal as the Laodiceans. This message was first to the church of Ephesus.
I Know Thy Works
The Lord Jesus said, "I know thy works." God knows our works, He knows our hearts. "And thy labor and thy patience, and how thou canst not bear them which are evil; and thou has tried them which say they are apostles, and are not, and hast found them liars; and hast borne and hast patience, and for My name's sake hast labored and hast not fainted." Bless our God. That is more than many churches today could receive from the Master. Jesus commended them for what they had done. He commended them for their faithfulness. He is not like men. He knows our hearts, our trials, our conditions. But bless God, He does not make any allowance for sin. He hates sin today as much as He ever did. Yet He does not come to destroy us or condemn us, but to seek and to save us.
"Nevertheless I have somewhat against thee, because thou hast left thy first love." The Lord does not want anything to get between us and Him. O may every precious child in these times that are getting the Holy Spirit not go into apostasy, but may they be a burning and a shining light for God, just as we were when we first received the baptism with the Holy Spirit. God wants us to keep the same anointing that we received and let nothing separate us from Christ.
Repentance
We find Jesus still preaches the same doctrine of repentance that He preached while on earth. In order to get right with God, He says , "Remember from whence thou art fallen and repent and do the first works, or else I will come unto thee quickly, and will remove thy candlestick out of his place, except thou repent." Dear beloved, if there is anything wrong in your life and Jesus has His finger is truly in His church today. This is the Holy Ghost dispensation and He does convince men of sin, righteousness and the judgment, and if we will be honest, God will bless us.
To the Church Today
When a church or mission finds that the power of God begins to leave, they should come as a whole and confess, and let all get down before God and repent and pray to god until the old time fire and power and love come back again. Many times the Holy Spirit will leave an assembly, mission or church because the pastor grieves Him, and sometimes not only the pastor but the whole body commences backbiting, whispering, tattling, or prejudice and partiality creep in, until the whole becomes corrupted and Jesus is just ready to spew them out of His mouth. But, O beloved, let us then come to the 2nd chapter of Revelation and see what Jesus says to the assembly. He expects to find the church, when He comes back to earth again, just as full of fire and power and the signs following, as it was when He organized it on the day of Pentecost. Bless His holy name. May God help all His precious praying children to get back to the old Pentecostal power and fire and love. The church at that time was as terrible as an army with banners. She conquered every power of evil. Hypocrites were not able to remain in it any more than Annanias and Sapphira. God gave such wonderful love to His people.
Then He gave messengers to every church, showing that Jesus' eyes are upon every church. His finger this day is upon every heart that does not measure to the fullness of holiness. God wants a holy church and all wrong cleansed away-fornication and adultery two wives, two husbands, not paying grocery bills, water bills, furniture bills, coal bills, gas bills, and all honest bills. God wants His people to be true and holy and He will work. Nothing can hinder. Bless His holy name.
I thank God for this wonderful message to the church, a message from heaven, given by Jesus to show that He is in the church, that He does walk among the golden candlesticks. He is in heaven, but through the power of the Holy Spirit, He walks in the church today. Nothing can be hidden from His pure eyes. He wants people to live the highest and deepest consecration to Him. He does not want their love for him divided. Their first love is to Him.
Impure Doctrine
We find many of Christ's people tangled up in these days, committing spiritual fornication as well as physical fornication and adultery. They say, "Let us all come together; if we are not one in doctrine, we can be one in spirit." But, dear ones, we cannot all be one, except through the word of God. He says, "But this thou hast that thou hatest the deeds of the Nicolaitanes, which I also hate." I suppose that the apostolic church at Ephesus allowed people that were not teaching straight doctrine, not solid in the word of God, to remain in fellowship with them; and Jesus saw that a little heaven would leaven the whole, and His finger was right upon that impure doctrine. It had to be removed out of the church or He would remove the light and break the church up. When we find things wrong, contrary to Scripture, I care not how dear it is, it must be removed. We cannot bring Agag among the children of Israel, for God says he must die. Saul saved Agag, which represented saving himself, the carnal nature of old man; but Samuel said Agag must die, and he drew his sword and slew him. Christ's precious word, which is the sword of Samuel, puts all carnality and sin to death. It means perfect obedience to walk with the Lord. There are many people in these last days that are not going to live a Bible salvation, they are going to take chances. But may God help everyone, if their right hand or right eye offend them to cast it from them. It is better to enter into life maimed than for soul and body to be cast into hell fire.
The Lord says, "He that hath an ear, let him hear what the Spirit saith unto the churches; To him that overcometh will I give to eat of the tree of life which is in the midst of the paradise of God." O beloved, if we expect to reign with the Lord and Savior Jesus Christ, we must overcome the world, the flesh, and the devil. There will be many that will be saved but will not be full overcomers to reign on this earth with our Lord. He will give us power to overcome if we are willing. Bless His holy name.
W.J. Seymour.
——–
CHINA MISSIONARY RECEIVES PENTECOST.
On leaving China, October, 1906, I was asked to investigate the Apostolic Faith Movement in Los Angeles, where they claimed to have manifested the same gifts of the Holy Ghost as of old. (I Cor. 12: 8-10.) I heard such contradictory reports that I kept away for some time, but praise God, He had His hand upon me for this wonderful gift, and I had no rest until I went and heard and saw for myself.
It only took a short time after the beginning of the first meeting, to know it was of God. And when the altar call came, I went forward.
Before this I had asked God to turn His great searchlight upon my heart and was astonished to find so much worldliness, spiritual pride, vanity, insincerity, lack of love, selfishness, and other things. When I had left for the foreign field seven years before this, I thought I had died to everything; but when the Spirit began to deal with me in preparing me for the fullness of the Spirit, I found I was very much alive, in fact had scarcely begun to die to self. Although the Lord had given me wonderful victories in my life and what I thought was the baptism of the Spirit, yet when God began to search me as never before, I had to confess that I had never even been sanctified.
I had been taught the suppression theory, and now and again the "old man" would pop up in a greater or less degree; sometimes harsh words did not escape, but I would feel the boiling up inside. But God showed me that His word meant just what it said, that provision was made in the atonement-not only for our sins but for our sin, the old Adamic nature. (Rom. 6: 6, 18, 22.) How I did rejoice that at the last, the longing of my heart to be rid of that which had kept me from being entirely free from sin, was to be satisfied. I had sought my baptism of the Spirit three times, when the Lord told me that I must be sanctified before the Spirit could take full possession of my body. Just so were the disciples sanctified before Christ left them (John 17: 17, 19), that they might be ready for the baptism of the Spirit.
After some of the saints had prayed for me, one of them asked me if I had the witness of the Spirit to my sanctification according to Heb. 10: 14, 15. For some years back I had been taught of the Spirit to keep "short accounts" with the Lord, and there was nothing left to do in the way of restitution; and having laid all on the altar, I knew I had met the condition, and that god had fulfilled His promise; although there was no other feeling than the assurance that God had done the work because of His Word. I then began to praise God audibly, and in a few minutes I was flooded with billows of glory, and the Spirit sang through me praises unto God. Besides this witness of the Spirit, was the witness of the fruits; for under whatever provocation, there is no uprising, for there is nothing to rise up. Glory to Jesus.
When sanctified, I was filled with such glory that I felt sure it must be the baptism, which did not come for three weeks. In the meantime, the power was upon me almost continually, sometimes lying under the power for hours, while I consecrated myself to God as never before.
At last after a real dying out, as I never dreamed could be possible on earth, in the upper room at Azusa Mission, the promise of the Father was made real to me, and I was charged with the power of God and my soul flooded with glory. The Spirit sang praises unto God. Glory to Jesus. He gave me the Bible experiences, speaking through me in other tongues..
The Lord showed me that the cross was going to mean to me what it had never meant before. One morning the Spirit dealt with me, singing through me-
"Must Jesus bear the cross alone,
And all the world go free:
No, there's a cross for every one,
And there is one for me."
The last line He just seemed to burn into my soul by repeating it over and over again. Sometimes the Spirit would sing a line and then sob out a line. Although I wept and was in anguish of soul, it was all in the Spirit.
The life of Jesus passed before me, and He asked me if I was willing to follow Jesus in living absolutely for Him in ministering unto others. I thought I had known something of what this meant in China; but now to preach the everlasting Gospel in the power and demonstration of the Spirit and to truly go out on the faith line and to minister day and night, sometimes unto the hungry multitudes in the face of fierce opposition, meant far more than ever before. But He enabled me to say, "By Thy grace I will bear this cross."
The Garden scene came up before me next, as the Spirit again sang, "Must Jesus bear the cross alone?" And He seemed to say, "Your friends will forsake you, your own family will misunderstand you, you will be called a fanatic, crazy; are you willing to bear this cross?" Again I answered, "By Thy grace, I will."
The crucification scene then came before me and it seemed as if my heart would break with sorrow, and I could only wait in silence. Then I said, "Lord, if it was to be beheaded, I could; but-" I could go no further. Later in the day, the Lord spoke to me again as I was under the power. It seemed as if I would almost perish in soul anguish. I was unconscious of the workers all about me. It seemed as if Jesus Himself stood beside, looking down upon me. I could only say, "Jesus, Jesus, Jesus, I will, I will, I will." His promises came to me as distinctly as if audibly said, "My grace is sufficient for you." And in a flash, He gave me to understand the secret of the endurance of the martyrs who were burned at the stake with the glory of heaven upon their faces, and seemingly free from pain. And He enabled me to say, "Yes, Lord, your grace is sufficient."
Then the Spirit began to sing in a joyful strain, repeating over and over again the last line until I could almost see the crown:
"The consecrated cross I'll bear,
Till Christ has set me free;
And then go home a crown to wear,
For there's a crown for me."
To sum it up, the baptism of the Spirit means to me what I never dreamed it could this side of Heaven: victory, glory in my soul, perfect peace, rest, liberty, nearness to Christ, deadness to this old world, and power in witnessing. Glory to His name for ever and forever!-Antoinette Moomau, Eustice, Nebr.
——–
We ought to claim perfect health through the atonement of Jesus.
——–
The well of water that is within you that springs up into everlasting life is the Spirit, and its fruit is love. That love waters your own soul and everyone else that you come in contact with.
THE BAPTISM WITH THE HOLY GHOST.
There is no difference in quality between the baptism with the Holy Ghost and sanctification. They are both holiness. Sanctification is the Lord Jesus Christ crowned in your heart and the baptism with the Holy Spirit is His power upon you. It is all holiness. It makes you more like Jesus. It is Jesus in justification, Jesus in sanctification and Jesus in the baptism with the Holy Ghost. If we follow Jesus, we will never have any other spirit but the Spirit of holiness.
* * *
Everyone that gets sanctified and cleansed through the Blood has perfect union with the Lord Jesus Christ. The baptism with the Holy Ghost does not cleanse and free you from sin but it is the precious Blood of Jesus Christ. Then the Spirit falls in answer to the Blood.
* * *
Every man or woman that gets sanctified gets the witness of the Spirit. But when you enter into the Holy of Holies, you get the great Shekina glory upon you and cloven tongues of fire, and speak as the Spirit gives utterance, and the pillar of fire guides you every day of your life.
* * *
Everyone that gets this blessed Holy Spirit the signs will follow. Tongues are not an evidence of salvation, but one of the signs that follow every Spirit-filled man and woman. We find the people that abound in talking of Jesus today are people that are given power by the blessed Holy Spirit. The time is out for the work of the flesh.
* * *
When the Holy Ghost comes in, He fills you with love and joy and satisfaction. You have something when you have the baptism with the Holy Ghost. You have Him. People are hunting for blessings, but if you get the Blesser, you have Him all the time. You want not simply a blessing but the Holy Ghost. When He comes down, He will keep a fire in your heart. He is a person, He comes to lead and guide into all truth.
* * *
The baptism of the Spirit is the in-filling of the personal Holy Ghost, which is the earnest of the Spirit. Then God gives us the authority to do the same work that Jesus did. We find where men and women have received this baptism with the Spirit, there is a revival going on just as on the day of Pentecost. That is what the baptism with the Holy Spirit means-a continual revival.
* * *
When you get the baptism, you have a street in your soul called Thanksgiving Street, and you have an Amen Street and a Glory Street. Thanksgiving and the voice of melody is in your soul. When the Holy Ghost comes in, He comes singing, preaching and talking. It is because the church has brought forth the "man child." Then we go on to perfection, forgetting the things which are behind and pressing forward to the things that are before.
* * *
The Lord God says He will make you witnesses unto the uttermost part of the earth. When He sent His disciples to the lost tribes of Israel. He sent them to those that spoke Greek and Hebrew. They did not need the languages of the nations. But when He sent them out after Pentecost, He gave them the commission, "Go ye into all the world and preach the Gospel to every creature." And we find the first congregation they preached to after they received the baptism with the Holy Spirit, they had seventeen nationalities that heard the Gospel in their own tongue without confusion. (Acts 2, 9-11.) He is doing the same today, compelling men to believe that He is the same yesterday today, and forever. When God performed a miracle right before those people, of course they were convicted. So it is today where this Gospel is being preached in the power of the Spirit with signs following, men will fall out under the mighty power of God, and rise up and report that God is in you of a truth. This Gospel has power. Bless God.
* * *
The God of Pentecost has never lost any power. He stands to baptize man and women with the Holy Ghost today just as He did 1900 years ago. Every worker that is going out to stand for Christ ought to get the baptism with the Holy Ghost and fire. It is for you as soon as you get light upon it.
* * *
Keep your eyes on Jesus and not on the manifestations, not seeking to get some great thing more than somebody else. The Lord God wants you just as humble as a baby, looking for Him to fill you with more of God and power. If you get your eyes on manifestations and signs you are liable to get a counterfeit, but what you want to seek is more holiness, more of God.
* * *
The Holy Spirit has been in the world ever since God created it, for we find in Genesis 1: 2, "And the Spirit of God moved upon the face of the waters." This precious Spirit was with Enoch, He was with Elijah, He was with Daniel, He was with God's priests and prophets, and they spoke as they were moved by the Holy Ghost. The disciples of Jesus knew the Holy Spirit, because they had His presence when they were sent out on a mission, for Jesus empowered them Himself while on earth to cast out demons and heal the sick and raise the dead. The Spirit was upon them for a special work, but He was not in them, for Jesus said to them, "Even the Spirit of truth whom the world cannot receive, because it seeth Him not, neither knoweth Him, but ye know Him for He dwelleth with you and shall be in you." (John 14, 17.) But when Jesus Christ took His place in heaven on the right hand of God, then He poured out His Spirit and gave us another Comforter that He should abide with us forever, to empower and to lead us into all truth.
* * *
The Holy Spirit talks with us like a companion, for He is a companion. Jesus was the Comforter of His disciples while He was here in the flesh; but He said when He went away, "I will pray the Father and He shall give you another Comforter, that He may abide with you forever. * * * It is expedient for you that I go away, for if I go not away, the Comforter will not come unto you, but if I depart, I will send Him unto you. When He the Spirit of truth is come, He will guide you into all truth." The day came when He should make His home in the hearts of men and women, it was the day of Pentecost. He came to abide. He is the abiding Comforter. O praise God, He has come and taken His home in our hearts. Everyone can receive the personal Holy Ghost in their hearts, for He says, "I will pour out of My Spirit upon all flesh."
* * *
The baptism of the Holy Ghost comes on the sanctified, cleansed life. After the vessel is cleansed and made holy, it is meet for the Master's use. Bless His Holy name. "If a man therefore shall purge himself from these, he shall be a vessel unto honor, sanctified and meet for the Master's use, prepared unto every good work." (II Tim. 2, 21.) In seeking this baptism, if you realize that you are sanctified and cleansed by the Blood of Christ, and wait before Him for the out pouring of the Holy Spirit in thanksgiving and faith, He will come in and fill His temple from head to foot. This Holy Ghost is love, power, joy, blessing, wisdom and holiness. He will guide you and open the Scriptures to you.
* * *
The most wonderful thing a man or woman can receive after being sanctified is the outpouring of the Holy Ghost in their heart. He is fire and rivers of salvation in you inmost being. Isaiah prophesied, speaking of the Holy Ghost as floods of water: "I will pour water upon him that is thirsty, and floods upon the dry ground: I will pour My Spirit upon they seed, and My blessing upon thine offspring." (Isaiah, 44, 3.) "Until the Spirit be poured upon us from on high, and the wilderness be a fruitful field, and the fruitful field be accounted for a forest." (Isaiah, 32, 15.) Hallelujah! O it is so sweet and precious to receive this almighty baptism with the Holy Ghost in our souls. "He shall come down like rain upon the mown grass; as showers that water the earth. In His days shall the righteous flourish; and abundance of peace as long as the moon endureth." (Ps. 7 1/2, 6, 7.)
——–
JESUS, O HOW SWEET THE NAME!
"Jesus, oh, how sweet the name!
Jesus, every day the same,
Jesus, let all saints proclaim
Its worthy praise forever-"
is the beautiful hymn the saints sang for three hours the night I received my baptism (June 15th, about 12 o'clock).
Oh, praise the name of Jesus! I sang it until the Precious Holy Ghost took my tongue and spoke for Himself. Oh, how wonderful, oh, how wonderful. Oh, praise God for His wonderful love! I wish I could describe to you what Jesus is to me. Oh, I thought I knew how to love Him before, I thought I knew Him, but never in such a way as I do now. Oh, it is so sweet to commune with God. I just wait before Him by the hour and let Him talk to me. I just cannot tell it. There are not words in the English language that can describe what Jesus is to me. I cannot begin to tell all, as my time is too limited, but will do the best I can.
I received my first anointing May 15th. By the anointing I mean the first I felt the Holy Ghost within. You will know when He begins to work. He just took control of my limbs and head. Oh, I cannot describe it. You must taste and see, you must have this blessed experience. Do not let anything interfere. Had another anointing a few days after that. Then felt the power within me almost every day until I received my baptism. About May 20th, I had such a wonderful anointing and I believe I would have received my baptism then, had I just known how to hold on to God by faith and rebuke the devil. Oh, he tried so hard to cheat me out of it. After that I got sort of discouraged for I felt I had done my part. Knew I was sanctified and ready for my baptism, and couldn't understand why I did not get it. I thought the saints should pray more for me, but I had to die to the saints. I thought I ought to hurry and get it so you and the other dear ones would be encouraged, thought you would wonder why I did not get it sooner. But praise God He showed me that I must die to all opinions of people, so praise Him, I died to that.
Then He showed me the Word that, "After ye have done the whole will of God, ye have need of patience, that ye might obtain the promise." I felt my need of that, for I was anxious. Oh, we just have to die to everything and everybody and see no one save Jesus. Praise His dear name! How blessed it is to reach the place where we see Him only.
Well, the Lord showed the Azusa street people that they were to have a camp-meeting, so they came out June 1st. Miss Johnson and I rented a tent and came also. during all this time I knew the Lord was with me, and I also knew the old devil was trying with all the forces of hell to cheat me out of the blessing. He presented everything imaginable to my mind, but, praise God! He brought me through more than conqueror. I just tell this for your encouragement. Remember, when the Lord works the devil works too, but when Satan presents anything to you, just tell him you are under the Blood. Just plead the blood, and he will flee.
July 11th, before going to the meeting, I had a blessed time talking to the Lord, and just felt sure I was going to get through. Went to the altar; the power of God was upon me, but I heard Miss Johnson say, "Hallelujah!" right at my side, and that was so unnatural for quiet Miss Johnson that I couldn't help but think she must be getting through, so I looked at her. She was under the power and, bless God, she did get through. Had a wonderful experience. Both sang and spoke in tongues. Oh, I rejoiced that she got through. Now, just a word, remember when the power of God is upon you, even a thought will interfere with the workings of the Spirit. Oh, He is so easily grieved. So, when the Holy Ghost is working, keep your eyes centered upon Jesus, and when the devil presents a thought just rebuke him and plead the Blood.
The next night I was under the power, and almost spoke, but some one came into the room who did not feel right toward the sister that was praying for me, and the Spirit was so grieved within me that I just cried and cried. Not I, but the Spirit grieved. Oh, such grief, it was heart-rending. Oh, how careful people should be not to grieve the Holy Spirit. Before I go further I must tell you that when I went to the altar that night the Spirit began to shake my head, then my body, and gradually and gently laid me out of the floor. The Spirit did this three different times. At times it shook my whole body, and I was perfectly conscious all the time, but my thoughts were on Christ, I knew He was having His way in me.
The next morning (after the night just mentioned) I went to the eight o'clock prayer meeting and, while praying, the power came upon me, the Spirit laid me out on the floor again, and I was there from 8:45 until 4 o'clock that afternoon, right on my back, God having His way with me. Neale was dead and clear out of the way. It was the temple of the Holy Spirit, and He was having His way. This was in the large tabernacle. They had service at 10:30 and lasted until 12:30 or 1:00, and then service again from 2:30 until 5:00. Well, praise God! I was just covered with straw, but I never gave a thought, it was my baptism I was seeking. I was lost to the people, the straw and everything else. Well, may God bless and put a real hunger in your soul while you read this. Some one got up and sang a hymn (in the flesh), that means, of themselves, and it so grieved the Spirit in me I again gave vent to bitter tears. Oh, I have had sorrow in my life, but the deepest sorrow was when the Holy Ghost was grieved within me. To think of God Himself being within, having His way and then someone full of self getting up and talking and grieving the Spirit to such an extent that He leaves. Sad? Oh, I cannot find words to express it, but how it has taught me to walk carefully, to speak only as He gives me utterance. I would rather lose my life than grieve the Holy Spirit in anyone. But while I suffered from it, it just put such a contempt in me for this old life, this self life. Oh, what a terrible thing it is. How we have to walk and talk only as the Spirit leads, else we grieve the Spirit.
Well, it would take a long time to tell you how the devil tried to cheat me out of it. The Spirit was grieved again the next night but, praise God! on Friday night I got the victory and about 12 o'clock I received the baptism with the Holy Ghost and fire. The Spirit having been grieved so often, I felt very sad, and as I sat in the tabernacle that night, the Lord looked down upon me in pity, and He led a dear sister over to me (who was filled with the Holy Ghost) and she just threw her arm around me with such pity and tender mercy. It was not she but the Holy Ghost within that led. She was at the altar and our Father, praise His dear name, told her to go to me. Oh, how I love Him, how sweet to know how He loves us, how He pities us and how ready and willing He is to cheer us. As soon as she came, the old devil said, "You will not get there tonight." I said, "Jesus, I am looking to Thee," and as I looked to Him He brought this sweet and beautiful hymn to my mind, "Jesus, oh, how sweet the Name," etc. I began to sing it and the saints that were there joined, and oh, praise His name! it was Jesus only I saw. This part is so holy, so sacred, that I know words will fail to convey it to your mind. I just kept singing until I seemed borne to a heavenly atmosphere. The beautiful strain seemed like a heavenly choir as I was borne upward, upward. Oh, how wonderful! It seemed as though I had become a little child and Jesus led me by the hand. As He led me on and on, I said, "Yes, I'll go all the way with You." He showed me the stake. I said "Yes." I thought that would be easy, for He stood right by my side, and I felt-O! I just cannot tell you what sweet confidence I had in Him. He showed me the foreign field, He showed me home, etc., and it seemed I was so satisfied to do anything, for He had my hand all the time. Praise His precious name! I said, "Yes, Jesus, yes," and I even said, "I want You to talk for me," and that is when I spoke in another tongue. I feel that I fail when I try to write it. Words cannot express it. Wonderful! Wonderful! He spoke through me for some time. Remember, I was conscious all this time, but it was Jesus and I who were conversing. The world was shut out, self was shut out, and I was lost in God.
Oh, how wonderful to let God take every thought captive, and not only your thoughts but your body, too. Praise His holy name! My body shook most of the time and my hands went so fast. I sang just the chorus, "Jesus, oh, how sweet the Name!" and the saints sang it all the time, too; but I lost sight of the saints. I could hear the strain and it seemed like a heavenly host that was helping to bear me upward. Praise God! Praise God! This has been the most wonderful experience of my life. Oh, how could any one doubt God? That God shall give you your baptism soon is my prayer. Seek earnestly. Let no worldly care cheat you out of God's wonderful gift.-(Letter written by Miss Martha Neale to a friend. This has been slightly altered for publication.)-Good Tidings.
——–
A CHEERING TESTIMONY.
"I never was so determined as now to stand in all the fullness of this great Gospel. O my life is in His hands to do just as He will with me. I can say from my heart, I count not my life dear unto myself; and there's something down in my soul that says:
"Though earth and hell my way oppose,
Jehovah's mightier than my foes."
I bless and praise God that the Holy Ghost fell in dear Los Angeles. Oh, and it took me in. Oh, how hungry I was, and how the glory of heaven flooded my soul as I sat and listened to dear Brother Seymour expound the Word of God. "This is that" which the prophet Joel said should come. Glory to His holy name, it's come! It's in my innermost being and abiding there. Oh the glory of the anointing that abideth. It's clean hands and pure hearts and a walk blameless before God, in holiness, in fear, meditating day and night in the law of God that keep this wonderful anointing. Few will pay the price to get that that Joel should come, and few will continue to pay the price to keep it; but by His grace and power, I mean to keep it if all hell should shake and conspire to make me fall or step for one moment aside. I've taken the narrow way. O I love it. I mean to go through with the despised few.
O how I love Jesus. I never loved Him as I do now. His word never was so sweet. It's my meat and drink day and night. How can I ever praise Him enough or do enough or suffer enough for what He's done for me! What a privilege to suffer a little with Jesus. This awful power and prince of the air is our worst enemy. We don't fight against flesh and blood now. This is a greater fight-and with the greater fight comes far greater power. For every ninety-nine pounds of trial comes one hundred pounds of grace.
How it thrills my heart to think of the dear blessed saints that are standing true. As never before we are going to see the mighty signs follow the preaching of the Word; as we keep in line with the truth and in no way compromise, preach the word and let the Holy Ghost magnify Jesus. Glory, glory to His precious name. How my very soul does thrill with the thought of what God is going to do through a clean people. O I want to be spotless and have every thought brought into subjection. This Gospel is going like wildfire. It shall sweep everything before it, compromisers and all. The blessed Lord does let us see a little ahead to encourage our hearts while the fight is on. The blessed Jesus is so precious to me. Amid evil reports and great demands for help, He gives such assurance in my poor soul that all is well, and O the calm that's coming after the storm."-Florence Crawford.
——–
The Lord wants a people in these days that will make the very highest consecration to God. He wants us to step up to the heights of holiness. We are in a time when we ought to be looking for the greatest revival the world has ever had, because the time is drawing nigh when the Scripture says, "And He shall send Jesus Christ, which before was preached unto you; whom the heaven must receive until the times of restitution of all things, which God hath spoken by the mouth of all His holy prophets since the world began." Now, beloved, if we come together in unity and love and look to God, He can send an earthquake to this old world, just as He did to the Philippine jail and loose the bands. He wants His people to have faith in God that He may do a mighty work.
——–
The principles of the doctrine of Christ are:
1. Repentance.
2. Faith in our Lord and Savior Jesus Christ.
3. Water baptism.
4. Sanctification.
5. The baptism with the Holy Spirit.
6. Second coming of our Lord Jesus Christ.
7. Final white throne judgment.
This is a word for word reprint.

All along the ages men have been preaching a partial Gospel. A part of the Gospel remained when the world went into the dark ages. God has from time to time raised up men to bring back the truth to the church. He raised up Luther to bring back to the world the doctrine of justification by faith. He raised up another reformer in John Wesley to establish Bible holiness in the church. Then he raised up Dr. Cullis who brought back to the world the wonderful doctrine of divine healing. Now He is bringing back the Pentecostal Baptism to the church.
God laid His hand on a little crippled boy seven years of age and healed him of disease and made him whole except his ankles. He walked on the sides of his ankles. Then, when he was fourteen years of age, he had been sent to college and God had called him to preach. One day as he was sitting reading his Bible, a man came for him to go and hold a meeting. He began to say to the Lord: "Father, if I go to that place, it will be necessary for me to walk here and vonder, just put strength into these ankle joints of mine." And immediately he was made whole and leaped and praised God, like the man at the beautiful gate. He has since been in evangelistic work over the United States, seeing multitudes saved, sanctified and healed.
Five years ago, God put it into this man's heart (Bro. Charles Parham) to go over to Topeka, Kansas, to educate missionaries to carry the Gospel. It was a faith school and the Bible was only text book. The students had gathered there without tuition or board, God sending in the means to carry on the work. Most of the students had been religious workers and said they had received the baptism with the Holy Ghost a number of years ago. Bro. Parham became convinced that there was no religious school that tallied up with the second chapter of Acts. Just before the first of January, 1901, the Bible School began to study the word on the Baptism with the Holy Ghost to discover the Bible evidence of this baptism that they might obtain it.
The students kept up continual prayer in the praying tower. A company would go up and stay three hours, and then another company would go up and wait on God, praying that all the promises of the Word might be wrought out in their lives.
On New Year's night, Miss Agnes N. Ozman, one who had had for years "the anointing that abideth," which she mistook for the baptism, was convinced of the need of a personal Pentecost. A few minutes before midnight, she desired hands laid on her that she might receive the gift of the Holy Ghost. During prayer and invocation of hands, she was filled with the Holy Ghost and spoke with other tongues as the Spirit gave utterance.
This made all hungry. Scarcely eating or sleeping, the school with one accord waited on God. On the 3rd of January, 1901, Bro. Parham being absent holding a meeting at the time, while they all waited on God to send the baptism of the Spirit, suddenly twelve students were filled with the Holy Ghost and began to speak with other tongues, and when Bro. Parham returned and opened the door of the room where they were gathered, a wonderful sight met his eyes. The whole room was filled with a white sheen of light that could not be described, and twelve of the students were on their feet talking in different languages.
He said they seemed to pay no attention at all to him, and he knelt in one corner and said: "O, God, what does this mean?" The Lord said: "Are you able to stand for the experience in the face of persecution and howling mobs?" He said: "Yes, Lord, if you will give me the experience, for the laborer must first be partaker of the fruits." Instantly the Lord took his vocal organs, and he was preaching the Word in another language.
This man has preached in different languages over the United States, and men and women of that nationality have come to the altar and sought God. He was surely raised up of God to be an apostle of the doctrine of Pentecost.
This Pentecostal Gospel has been spreading ever since, but on the Pacific coast it has burst out in great power and is being carried from here over the world. We are expecting Bro. Parham to visit Los Angeles in a few days and for a mightier tide of salvation to break out.
________
FIRE STILL FALLING.
The waves of Pentecostal salvation are still rolling in at Azusa Street Mission. From morning till late at night the meetings continue with about three altar services a day. We have made no record of souls saved, sanctified and baptized with the Holy Ghost, but a brother said last week he counted about fifty in all that had been baptized with the Holy Ghost during the week. Then at Eighth street and Maple avenue, the People's church, Monrovia, Whittier, Hermon, Sawtelle, Pasadena, Elysian Heights, and other places the work is going on and souls are coming through amid great rejoicing.
Four of the Holiness preachers have received the baptism with the Holy Ghost. One of them, Bro. Wm. Pendleton, with his congregation, being turned out of the church, are holding meetings at Eighth street an Maple avenue. There is a heavenly atmosphere there. The altar is filled with seekers, people are slain under the power of God, and rising in a life baptized with the Holy Ghost.
The fire is spreading. People are writing from different points to know about this Pentecost, and are beginning to wait on God for their Pentecost. He is no respecter of persons and places. We expect to see a wave of salvation go over this world. While this work has been going on for five years, it has burst out in great power on this coast. There is power in the full Gospel. Nothing can quench it.
Missionaries for the foreign fields, equipped with several languages, are now on their way and others are only waiting for the way to open and for the Lord to say: "Go." We are on our faces before God. Let a volume of prayer go up from all the Lord's people. Awake! Awake! There is but time to dress and be ready, for the cry will soon go forth. "The Bridegroom cometh."
________
Eight missionaries have started to the foreign field since this movement began a Los Angeles a few months ago. About thirty workers have gone out into the field.
________
The brother at Elysian Heights who received his eyesight after being blind for a year and a half, is a living witness of the power of God. Since that he has been sanctified and anointed with the Holy Ghost and his wife has been saved.
________
In the City of Oakland, during the five weeks that the band from Los Angeles were there, Brother and Sister Evans and Sister Florence Crawford, sixty-five souls received the baptism with the Holy Ghost, thirty were sanctified and nineteen converted.
________
A man who was twice in the insane asylum, an infidel that had been going from place to place denying the name of Jesus Christ, is now saved, sanctified and baptized with the Holy Ghost, and working to win others.
________
Sometimes, among officers of the law, we find a keen judgment in regard to genuine or spurious religion. In Pasadena, where the Lord was working in power some months ago, the chief of police made the remark: "I would not give much for a meeting that did not have a shout in it."
________
Sister Lizzie Frazer of Colorado Springs, Colorado, was one of those who received the gift of tongues when the Palestine Missionary band passed through there. She writes that she expects to go to India with a band of missionaries next month. The Lord has given her a wonderful equipment.
________
Mrs. J. Kring was healed of cancer of the lungs on August 8, after the doctor had given her up. One lung was entirely closed up. When she was prayed for, the Lord immediately touched her body and healed her. She shouted for an hour with strong lungs, and is the happiest woman you ever saw.
________
A mother brought her son to the Mission to be healed of epileptic fits. He is about twenty-one years old and has been suffering for years, like the boy that was brought to Jesus whom the devil had often caused to fall into the fire and into the water. The boy was so wrecked in mind and body that he was in a semi-conscious condition. Bro. Batman, who is called to Africa, prayed for him, asking the Lord to cast the demon power out of him and give complete healing. The boy raised up from the floor and witnessed that the work was done and went home rejoicing.
________
A brother living in the east had been down sick for quite a while and sent a handkerchief to be blessed as in Bible times. His sister brought it to the Mission, praying for the Lord to show her to whom she was to give it, and the Lord showed her to give it to Sister Sallie Trainor. She immediately took it upstairs and as she knelt before the Lord, the Spirit came upon her in great power and she prayed in tongues, and kissed the handkerchief three times, as the Spirit seemed to lead her. It was sent with a prayer and the brother was immediately healed.
________
A PORTUGUESE MINISTER RECEIVES HIS PENTECOST.
Rev. Adolph Rosa, a Portuguese brother from Cape Verde Islands, was baptized with the Holy Ghost in Oakland and is now in Los Angeles preaching the full Gospel. He was a Catholic and his father had expected to have him educated as a Catholic priest; but God had His hand upon him. He came to America, was converted from the power of Romanism and captivity about six years ago in a Portuguese Methodist church in New Bedford, Mass., and entered the ministry of the Methodist church as a missionary to the Portuguese in the state of California. He was sanctified about four years ago, and is now conducting Pentecostal offerings in the People's church in Los Angeles.
________
BRO. ROSA'S TESTIMONY.
When Rev. Evans and his wife and Sister Florence Crawford went to the city of Oakland preaching the full Gospel, I went the first night, not to criticize but to investigate. Many preachers were there to criticize, but when I stepped in, I felt the power of God and could not say that it was the work of the devil, as most of the preachers declared, for I was practically convinced that it was the work of the Holy Ghost. I went home and began to study my Bible, and went to God in prayer to reveal to me if these people were really the people of God. He revealed to me in the attitude of my supplication, that they were preaching exactly what the disciples of old preached. I was convinced that every minister of the Gospel should receive the same baptism with the Holy Ghost and fire that the disciples received on the day of Pentecost, before they are prepared to preach the Gospel. I was teaching that when we receive sanctification, we receive the Holy Ghost, as most of the preachers are teaching. But as I went to my Bible with the spirit of prayer, God revealed to me that the disciples were justified before Christ ascended: but they never were baptized with the Holy Ghost until the day of Pentecost.
The second day that I went to the meeting, the Lord put a real hunger in my soul to go forward, but I was too proud as a minister of the Gospel to humble myself in a lowly mission and let ladies pray over me for the gift of the Holy Ghost, and I had in my mind what people would think of me. I at the third day, as I arose to testify in the audience, the only words I could say were: "What does God think of me?" Then I could only weep for some minutes and the power of God came upon me until I dropped to the floor. I was under the power of God for about an hour and a half, and it was there that all pride, and self, and conceit disappeared, and I was really dead to the world, for I had Christ within in His fullness. I was baptized with the Holy Ghost and spoke in a new tongue.
I praise God for the light, and now I am walking in it. The desire of my heart is to see every man and woman that preaches the Gospel of Christ, baptized with the Holy Ghost, for without the Holy Ghost it is almost impossible for us to convince the world of sin, of righteousness, and the judgment.
________
GET INTO THE CORNFIELD.
"It is an awful hard thing to get a holiness preacher that has been indoctrinate for years to see that he has not received his Pentecost. I have been preaching for twenty years and never preached anything but a full salvation. To get a fellow that has been preaching twenty years to see that he has not received the baptism, when he has been preaching all the time that he has it, and then to get him to turn seeker, is a hard job. I tell you it means for him to get pretty near the end of himself.
"The time has come, in the full blaze of Pentecost, that if you do not walk in the light, you will become a dry chip. I bless God, I humbled myself. On the 10th day of July the Lord gave me the evidence of the Pentecost. It took me three weeks, searching the Word, from Genesis to Revelations to see that these things were so. Any fellow that will get down on his knees and pray through and read through, will find that the Holy Ghost only falls on a clean temple. You must give over and let God have His way.
"So many folks remind me of the hog that was trying to get into a big cornfield. There was a big, hollow, crooked log in the fence, laid in such a way that both ends of the log were on the same side of the fence. The hog would go into one end of the log expecting that he would get into the cornfield. He would go in and come out, and look all around to see how it was that he was not in the cornfield. There are a lot of folks today just in that place. They crawl through a hollow log of experience and never get anything. Bless God, I would hunt the way. Jesus said: 'I am the way.' Get into the cornfield. Hunt for the wicket gate and you will get in. Hallelujah! I am in the cornfield."
The above is the testimony of Bro. Hill, a Nazarene preacher. He and his wife have both received their personal Pentecost and Bible evidence.
________
TESTIMONIES OF OUTGOING MISSIONARIES.
A company of three missionaries left Los Angeles September 13, en route for the west coast of Africa. Sister Hutchins has been preaching the Gospel in the power of the Spirit. She has received the baptism with the Holy Ghost and the gift of the Uganda language, the language of the people to whom she is sent. A brother who has been in that country understands and has interpreted the language she speaks. Her husband is with her and her niece, who also has been given the African language.
________
SISTER HUTCHINS' TESTIMONY.
I was justified on the 4th of July, 1901, and at that time, I felt that the Lord wanted me in Africa, but I was not then at all willing to go. But on the 28th of July, 1903, the Lord sanctified me. Before He sanctified me, He asked me if I would go to Africa. I promised Him I would. From that time on, I have felt the call to Africa, and have been willing to go at any moment, but not knowing just when the Lord would have me leave.
On the sixth of last month, while out in my back yard one afternoon, I heard a voice speaking to me these words: "On the 15th day of September, take your husband and baby and start out for Africa." And I looked around and about me to see if there was not someone speaking to me, but I did not see anyone, and I soon recognized that it was the voice of God. I looked up into the heavens and said: "Lord, I will obey." Since then I have had many tests and temptations from the devil. He has at times told me that I would not even live to see the 15th of September, but I never once doubted God. I knew that He was able to bring everything to pass that He told me to do.
After hearing the voice telling me to leave Los Angeles on the 15th, I went to one of my neighbors and testified to her that the Lord had told me to leave for Africa on the 15th of September. She looked at me with a smile. I asked her what she was smiling about. She said: "Because you have not got street car fare to go to Azusa Street Mission tonight, and talking about going to Africa." But I told her I was trusting in a God that could bring all things to pass that He wanted us to do. He has really supplied all my needs in every way, for the work where He has called me.
I want to testify also about my husband. He was a backslider, and how the devil did test me, saying: "You are going out to cast the devil out of others, and going to take a devil with you." My husband was not saved, but I held on to God and said: "Lord, I will obey."
I continued to testify and to make preparations to leave on the 15th. The Lord reclaimed my husband and sanctified him wholly and put the glory and shout in him. So now it is my time to laugh. The devil has oppressed and mocked me; but praise the Lord, now I can mock him. Glory to God!
It is now ten minutes to four o'clock in the afternoon on the 15th day of September. I am all ready and down to the Mission with my ticket and everything prepared, waiting to have hands laid on and the prayers of the saints, and expect to leave at eight o'clock from the Santa Fe station en route for Africa. We expect to go to Mt. Coffee, Monrovia, Liberia.
Feeling the need of a real companion in the Gospel that was out and out for God, I prayed to God that He might give me one to go with me. I had my eyes upon one that I wanted to go, but in prayer and humility before God, I found out it was not the one the Lord wanted to go. So I said: "Anyone, Lord, that you would have to go will be pleasing to me." And, to my surprise, He gave me my niece-a girl that I had raised from a child. Now she is nineteen years of age, is saved, sanctified and baptized with the Holy Ghost, and is going with me out into the work of the Lord. So instead of giving me one companion,, He gave me two-my niece and my husband.
Our first stop will be Chattanooga, Tenn., Harge Row. I want the prayers of the saints that I may stay humble.
Mrs. J.W. Hutchins. Address Mt. Coffee, Monrovia, Liberia, Africa.
________
A GIRL'S CONSECRATION FOR AFRICA.
I am saved, sanctified and baptized with the Holy Ghost and have the Bible evidence. The Lord showed me that the language I spoke was the language of Africa. My aunt who has been the same as a mother to me, was going to Africa. I asked the Lord if He wanted me to go, to open up a way for me, and the next morning He opened the way for me. I did not have the means and He gave me the fare and supplied all my needs. I am willing to trust Him through to Africa. I know the Lord wants me to go there. I want to testify to those people and teach the children about the blessed Lord, and to work for the Lord. I am willing to forsake all my loved ones for His sake. I want the saints to pray for me for I am young in the Lord.
Leila McKinney.
END OF PAGE ONE
---
THE ELDER BROTHER.
"And he was angry and would not go in." Luke 15:28.
The prodigal son had returned amid great rejoicing to his father's house. There was music and dancing, and perhaps the whole neighborhood was stirred up and came out to see what was happening. "Joy shall be in heaven over one sinner that repenteth." And when heaven rejoices, if we are connected up properly, we will catch the refrain and join in.
Father has certainly opened up His house on Azusa street for the return of the prodigals. And they are coming in from the north, south, east and west. The fatted calf is daily being killed, and the fine new garments of praise and salvation are being handed out to the poor prodigals who are so lean and weary, and covered with filth and rags. Praise His name!
This causes great rejoicing among Father's servants and such scenes as the weeping prodigal, the Father's kiss of peace, the loving welcome, the whole household welcoming the prodigal, arraying him in the best robe and ring of authority, killing the fatted calf, and sweet strains of heavenly music, are being repeated every day and often run far into the night. People that have been good, pious church members for years, and have been noted for their sobriety and level-headedness, are attracted by these things. If they are honest before God, they soon realize that Father is furnishing the music and singing, and supplying the wine of the feast. As the table is spread so freely, they take a small drink of the "new wine." Immediately their eyes begin to light up and heavenly illumination comes into their faces. The prodigal has entered into justification, and sanctification, and the baptism with the Holy Ghost. They have never seen it on this fashion before, but they find it all on the table and all from heaven, so they are soon "filled with the Spirit" and begin to speak and sing with new tongues, as the Spirit gives utterance. Business cares are forgotten, while they enjoy the feast.
There was one discordant voice in the parable, as told by Jesus. It was the elder brother's. He is here also. The father called him"son," and he was "in the field." We do not read, however, that he was doing any work. It simply states that he was in the field. He may have worn a long-tailed coat and white necktie and walked around and gave orders. If he had been hard at work all day plowing with a deep plow, with his father's interests at heart, would he not have rejoiced with the household at his brother's return?
Yes, the elder brother is angry and will not come in to the feast. He sits on the fence and finds fault, saying that the "new tongues" and other gifts that Father is handing out to His children are of the devil. He says "It is spiritualism, hypnotism, and the rankest kind of fanatacism." Father has gone out to him several times, and continues to entreat him to come in. He says that he has not worn gold nor costly array, neither has a feather been seen in his hat, "lo, these many years," yet he has had no fatted calf killed for him. He does not drink tea, nor coffee, nor eat hog meat, neither does a necktie adorn his shirt front. He has done many wonderful works, but here are the drunkard and harlot entering into the kingdom before him. He does not understand it and has not recognized his brother as any kin to him. We are praying that he will soften his heart and come in before it is too late. But in the meantime, the rejoicing goes on. Father hands out the clean, white raiment, and spreads a feast of fat things. The new wine of the kingdom never runs out, and peace and joy and heavenly music are flowing like a river, till the sound is heard over the whole land.
________
TESTIMONY AND PROPHECY.
[The following was written down from the lips of a sister, who is unlearned and works and washing and ironing for a living. Sue received the gift of prophecy ten years ago, and though she is not learned in books or affairs of the world, she has been foretelling great events, and her prophecies accord with the Scriptures.]-Ed.
Years ago there was a Jew holding meetings in Pasadena, and he invited them to come up and receive the Holy Ghost. I had a little baby in my arms and could not get to the altar, but knelt in the aisle. I did not get anything, but I went home and washed my baby and put him to bed, and got down on my knees and said: "Dear Lord, please give me the Holy Ghost, if there is such a thing as the Holy Ghost. Give me what you would like for me to have." So that night He called me and anointed me with the Holy Ghost. It was just like an outpouring rain from heaven, and the next day it seemed I was nothing but a feather walking around. He told me I should see, hear and know the wonderful things that should come to pass, before they did come to pass.
He told me the Japanese would win against the Russians, and showed me these things before a gun was fired. He said: "The Japanese will win, because the Russians started the war, and they shall die in their own blood and stampede one another." He said: "They wanted blood and they shall have blood to their heart's content."
LABOR AGAINST CAPITAL.
The Lord says. "The time is coming when the poor will be oppressed and the Christians can neither buy nor sell, unless they have 'the mark of the beast.'" Then He says: "The time will come when the poor man will say that he has nothing to eat and work will be shut down. And the rich man will go and buy up all the sugar, tea, coffee, etc., and hold it in his store, and we cannot get it unless we have the mark of the beast."
"That is going to cause the poor man to go to these places and break in to get food. This will cause the rich man to come out with his gun to make war with the laboring man. They will cause blood to be spilt in the street as it never was before." I saw the blood ankle deep, and they were holding to the horse's bridles with the right hand and cutting and slashing right and left with their swords. And the Lord said the blood would be in the streets like an outpouring rain from heaven. He says all these unions are bringing the sword to their own head, to cut their own heads off. (I had never heard of unions before the Lord showed me this and I asked my husband what 'labor against capital' meant.)
Then He said to me again: "The time is coming when men are going to get desperate and will go into the banks even at noon-time and hew men down, and take out the silver and gold and walk on with it. They will rob the banks in open daytime."
The Lord said the time was coming when men would not regard a man's life any more than that of a dog. Then He says again that there is going to be a war as there never was before. Four nations from the four corners of the earth are coming together for battle, and it is going to be one of the worst wars that ever was in history.
The Lord says: "The time will come when the rich man will bury his silver and gold and return to it no more, and he will floods and pestilences and earthquakes shall weep and howl and his misery shall be great."
EARTHQUAKES.
The Lord says that earthquakes will come as they never have before and more often, because of the wickedness of the people. He wants His people to get ready. The only way He can get you ready is to bring disaster. If you do not repent, a great many of you will be lost. Not only is the earthquake coming, but death and destruction everywhere. Every day you hear of these things and you are walking into it with your eyes open, and death is overlooking you on the cars and railroads, and in floods and storms.
The Lord says there will be more destruction than there ever has been, because you will not serve God. You will not give God your hearts. He brings these things upon the earth, that you might repent and be drawn nearer to Him. He says wars and floods and pestilences and earthquakes shall come upon us. We must prepare ourselves for it.
The Lord showed me the earthquake in San Francisco just a year before the day it came to pass. He showed me an earthquake coming to Los Angeles. He showed ** eagle flying over Los Angeles and lighting on the highest building, and as it lit, the building began to crumble. I asked the Lord what it meant, and He said: "The eagle means death and the crumbling is an earthquake. There will be a violent shock in the morning and one at night. There will be mangling and tangling with wires, and the street car rails will bend and twist, and the telegraph poles will come down." He showed me the cars and people mangled up together and the live wires setting fire to the buildings. I asked Him if this was coming to pass, to show it to me again and He showed it to me again. And I saw a death angel flying over the city and fire falling on the city. The Lord showed me the land was going to sink and I saw water. Then five weeks after this earthquake, He said that Pasadena would be shaken, and many cities would be destroyed, and Chicago would be one of them.
I fasted two days and asked the Lord when it was coming, and He told me: "It will come on Sunday," but He did not tell me when it would be. He says: "Be ready and look for it." I believe He will either save us or come and catch us up to heaven. The Lord said to me ten years ago: "If you are faithful, you shall never see death." I said: "Lord, when are you coming?" He said: "Be ready when I come, saith the Lord."
THE REVIVAL IN LOS ANGELES.
The Lord showed me that since Bro. Seymour came to Los Angeles, there have been more souls converted and sanctified than in all the city of Los Angeles during the last five years. And He said there would be more, and they should be as thick as the leaves and twigs on a tree.
Mrs. Mary Galmond. 1106 N. Marenge Avenue, Pasadena, Cal.
________
THE SECOND CHAPTER OF ACTS.
A preacher's wife, who at first opposed Pentecostal truth, went home and read the second chapter of Acts, and while she read, the Spirit fell upon her and she began to speak in tongues. She is a member of the Nazarene church in Vernon. As she was on the way to the church she met a brother whom she had been instrumental in leading to the Lord. He is a foreigner and as soon as she saw him, she began to pour out her soul in French. He was amazed and *.
"When did you learn French?"
"What did I say?" she asked.
"You said: "Get ready! Get ready! Jesus is coming soon!"
She went on up to the church, and as they were giving out the Sunday school leaflets she began to speak in tongues again and spoke for some time. They could only listen to this manifestation of the power of God.
AWFUL REALITIES OF HELL.
The question is asked: "Do you believe in hell?"
Brother, it makes no difference what you or I believe, that does not do away with God's word. Hell exists in its awful reality, whether you believe it or not, and multitudes are plunging headlong into it. "The wicked shall be turned into hell, and all the nations that forget God." Ps. 9, 17.
Jesus believed in hell, and warned men to flee from it. Why are the pulpits so silent today? Because we are in the latter day apostacy. Read the words of Jesus:
"the Son of man shall send forth His angels, and they shall gather out of His kingdom all things that offend, and them which do iniquity and shall cast them into a furnace of fire, there shall be wailing and gnashing of teeth." Matt. 13:41, 42.
"So shall it be in the end of the world, the angels shall come forth and sever the wicked from among the just, and shall cast them into the furnace of fire; there shall be wailing and gnashing of teeth." Matt. 13:49, 50.
"But Abraham said: Son, remember that thou in thy lifetime receivest they good things, and likewise Lazarus evil things, but now he is comforted and thou art tormented." Luke 16:25.
"But the fearful and unbelieving, and the abominable, and murderers, and whoremongers, and sorcerers, and idolaters, and all liars, shall have their part in the lake which burneth with fire and brimstone which is the second death." (or separation from God.) Rev. 21:8.
"And the devil that deceived them was cast into the lake of fire and brimstone where the beast and the false prophet are, and shall be tormented day and night forever and ever." Rev. 20:10.
Beloved, these are the words of Jesus, and when He says "forever and ever" what could be more expressive of eternity?
________
PENTECOST IN DANVILLE, VA.
Dear Saints in Los Angeles:-God be praised for His power and grace. We are making preparations to go to India as soon as possible. Three of us-with the baby, four in all-will go just as soon as possible, so as to be on the ocean in the right time.
When we came here from Los Angeles, we found the band to whom we had preached while here before, most of them backslidden and fussing among themselves. But when they saw that God had really done something wonderful for us, they all came in and began to seek the Lord. Most of them have been baptized with the Holy Ghost and have received the foreign tongue.
One young girl received the baptism Friday night and she spoke in German. God sent us a German to interpret. He said he could understand everything perfectly. Sister Jennie Eans has also received the German language, and speaks it very fluently.
Sister Garr improves every day in her Tibetan and Chinese. O, how I praise God that He ever gave us this wonderful experience of the baptism with the Holy Ghost.
The folks fall under the power of God, and a great time is on here. The church was packed twice yesterday and altar overflowing with seekers. One saved man was sanctified in the afternoon meeting and in the evening meeting received the baptism with the Holy Ghost and spoke in tongues and magnified God.
A real revival has begun and three holiness preacher boys have fallen in line. Two of them have received the baptism and the tongues. The other one is seeking and says he will never stop till he receives it. A good many have received the tongues, we do not know how many.
The sick are being healed. Soon after we arrived, a lady sick with dropsy came to the meeting. She got out of bed to come; had been sick a long time. As she told us how glad she was to see us back in Danville and of her long sick spell, I said: "God will heal you," and took her hand. She immediately shouted that she was healed. I felt the healing power flow into her body. The next day she told us that her limbs were swollen, but that every bit of it was driven out at once. She walked down town and then told her neighbors about the wonderful things the Lord had done for her.
Several have been healed. But, best of all, many are getting the light, and as the Bible opens to us, they rejoice for the precious truths that have been hidden from us for so long by the "traditions of the elders." This is the greatest power I ever saw. Glory to God! I have wanted just this for years, but did not know how to get it. But, Hallelujah! After all, the great God opened my eyes and let me see the truth, and it liberated me from the bondage of ignorant teachings and the devil in general. I see the Bible now as never before.
Many are tied through fear. Some are afraid of their leaders, some of one another, some are so afraid of the third blessing that they are not quite sure of the second. So it goes. And the world speeds along its way to hell, while the so-called sanctified people are asleep or else arguing that they got it all when they were sanctified. The feebleness of the so-called sanctified is enough to convince any honest soul that they have not got the power. We rejoice daily that we are free from sectarianism. Hallelujah, that God ever showed us that there was a real witness to the baptism. Why did we not see it sooner?
May God open the eyes of the world, and show the people that He is willing to give them what He gave the disciples on the day of Pentecost.
We are expecting God to give us a good revival in India. Pray for us.
A.G. Garr and Wife.
________
SERMON FROM A DRESS.
The Lord makes His truth so plain that a wayfaring man, though a fool, shall not err therein. You have all seen a dirty dress washed. But you never saw a person take a dirty dress and iron it. And you never saw them take a dress and wash and iron it all at once. And you never saw a person put on a dress and iron it. And you never saw them take a dress and wash and iron it all at once. And you never saw a person put on a dress and iron it.
The dirty dress represents a person in sin. Your righteousness is filthy rags. "Though your sins be as scarlet, they shall be as white as snow." When you get the dress washed, that represents a justified experience. When the dress is washed and on the line, you rejoice because the washing is through.
But the clothes need nothing else before they are ready to wear. What do they need? Why, they need to be ironed. You would be ashamed to take the clothes off the line and wear them without ironing. Jesus would be ashamed to present you before the Father if you were not sanctified, but when you are sanctified He is not ashamed to call you brethren. Christ gave Himself for His church that He might wash it and present it without spot or wrinkle. So we must let Him iron out all the wrinkles.
What next? You take an ironed garment and there is something lacking yet. What is it? Why you need to put it on and wear it. But that is no work. The work was done when you washed and ironed it. So the Holy Ghost is a free gift. It is the promise of the Father to the soul that is sanctified. You do not have to repent to get the Holy Ghost, but you must be washed clean and whiter than snow. Now you have nothing to mourn over, but something to rejoice over. You can know you are baptized. The Holy Ghost will cut your tongue loose and let you praise Him in an unknown language. God will not iron a dirty piece. He will take out the spots and then the wrinkles, and after these two weeks, He will baptize you with His free gift-the Holy Ghost.
Ophelia Wiley.
________
MARKS OF FANATICISM.
Fanatics are marked by harshness towards those who do not fall in line with them, an Jesus is not held up. Sooner or later the fruits of the flesh appear in a lack of holy living.
We note these things because some honest souls have feared that this Pentecostal movement was fanaticism. So we mark some of the features of the meetings which are the opposite of fanaticism. Divine love to all, especially to the church, the body of Christ, of which every justified soul is a member. Humility: This is a humble work in a humble place and we are glad that it is. We humble ourselves under the mighty hand of God and constantly search the scriptures to know His whole will and plan. Holy lives: these people are living holy lives, separate from the world, the flesh and the devil, and rescuing other souls to a life of purity and holiness. There is a Holy Ghost shine on the faces of the workers. Is this the work of the devil? Friends, if you profess to know the Spirit of God and do not recognize Him when He comes, there is cause for you to be anxious about you own spiritual condition.
________
WHEN THE HOLY GHOST SPEAKS.
Bro. H.M. Allen, 3081 E. 6th street Los Angeles, who received the gift of tongues, says he wrote down the sounds phonetically and took the standard works on languages and found out what it meant. He says: "I find everything the Holy Ghost speaks to me in the unknown tongues is of profound report. He has not given me liberty to tell all He has shown me in unknown tongues, but they are the most important things that can possibly take our attention, things that are speedily coming on the whole earth. God performed a miracle in speaking to me in unknown tongues. I have taken the dictionary of languages and found out that it was absolutely true. It may sound foolish to you to hear people speaking in unknown tongues, but if He speaks only two words they are well worth listening to."
________
A KNOW-SO SALVATION.
If God for Christ's sake has forgiven you your sins, you know it. And if you do not know it better than you know anything in this world, you are still in your sins. When you go down in the atonement, in the sacrifice of our Lord Jesus Christ, you are accepted. And if you are accepted, and He has given you a clean heart and sanctified your soul, you know it. And if you do not know it, the work is not done.
If you are baptized with the Holy Ghost, you know it, and everybody else knows it. That is one thing you cannot hide. When you are sanctified, people have to take your testimony and watch your life, but when He comes and covers you over and around and about, people know it. Man may say, it is of the devil and they are drunk, but glory to God, He will shine out Himself, and there is a power back of you that men and women cannot gainsay. It will give you holy boldness to stand up before the world without fear.
END OF PAGE TWO
---
SHALL WE REJECT JESUS' LAST WORDS?
Many of the dear holiness people are rejecting the last words of Jesus in the last chapter of Mark, beginning at the fifteenth verse:
"And He said unto them: Go ye into all the world and preach the Gospel to every creature. He that believeth and is baptized shall be saved; but he that believeth not shall be damned. And these signs shall follow them that believe; in my name shall they cast out devils; they shall speak with new tongues; they shall take up serpents and if they drink any deadly thing, it shall not hurt them; they shall lay hands on the sick and they shall recover."
Why do they reject these verses? Because Dr. Godbey, in his commentary and translation, has left them out. Why did he leave them out? Because they were not in the Sianitic manuscript from which he translates. It was a manuscript found in later years in a mission on Mount Sinai. The man who found the manuscript, a German by the name of Tischendorf, said that some sheets of it had already been thrown into a receptacle for kindling wood. In this or some other way, a part may have been lost from that manuscript.
However this may be, we feel sure that these are the words of Jesus. The writer herself, being a great admirer of Bro. Godbey, was for some time influenced by his views in regard to the last words of our Lord as given above. But since being in these Holy Ghost meetings, and hearing these same words given again and again by the Spirit in unknown tongues and interpreted, all doubt has been swept away in regard to them. Besides they are proved true before our eyes. We have thrown all doubts to the winds and taken to our hearts the whole word of Jesus. Dear friends, do not let any man riddle your Bible for you or cut out any part of it. You need the whole. Hallelujah for the Word.
________
PRAYING FOR THE HOLY GHOST.
We are now hearing from individuals, and companies who are definitely waiting on God for their personal Pentecost. Some have been stimulated in seeking by hearing of God's visitation in Los Angeles. We join hands with all such hungry seekers and meet you at the throne. Some are expecting to come this way. We expect the Lord to speedily prepare such to go out into the field. Calls are coming from every direction for workers who are filled with the Spirit and have the Bible evidence. We are expecting the Lord to send out workers all over the country carrying this Gospel.
Before another issue of this paper, we look for Bro. Parham in Los Angeles, a brother who is full of divine love and whom the Lord raised up five years ago to spread this truth. He, with other workers, will hold union revival meetings in Los Angeles and then expects to go on to other towns and cities, and will appoint workers to fill the calls that shall come in. So begin to pray right away for a revival in your neighborhood or town or city. Perhaps you need one in your own closet or at your family altar first. But expect great things from God. Begin to prepare for a revival and a great and deep revival, too, and believe for it. It may cost you money and it may cost you humbling processes, but prepare for the Lord's coming.
________
LETTER FROM BRO. JOHNSON.
New York City, Aug., 31st.
Peace be unto you. I am, God willing, going to leave New York in a few days for Palestine and Jerusalem. I am going via Gibraltar, Spain. God is working mightily. I would like to say good-bye to you before I leave this land, it may be never to return in this life.
I have been working for my Master all the way along, and God's hand is with me. He has saved a few and many have been blest. Some have received the Holy Ghost. I give all glory to God for it. Please pray for me. I would like for God to send me a brother to help me in Palestine. I am still hungry for more of Jesus. He is so good to me. The Lord has been giving me more freedom and power than I ever had before. I now speak eleven or twelve languages.
Sweet peace and love is in my heart toward every man. Pray that God will keep me humble. I want to use the gifts to the glory of God. Tell Bro. Seymour that I am one with him and all the other saints in Los Angeles. I love my dear Bro. Seymour so much. He has been a good help to me. May God bless him in his work.
My love to all the saints. I want the whole assembly to pray for me that God may have His whole way with me in this life. My heart goes out for the Jews and every lost soul in this world. God is my refuge and He will never leave me nor forsake me.
Andrew Johnson.
Address Care of Soldiers' and Sailors' Home, Gibraltar, Spain.
________
Sister Florence Crawford says: "There is no spot on earth so dear to me as this place, but I must go out and tell this story. Souls are perishing far and near. The Lord told me yesterday to go into all the world and preach His Gospel. 'The kingdom of heaven is at hand,' and 'Behold, I come quickly. What He says to me, He says to every baptized soul. He wants us to go out into the highways and hedges and declare this Gospel. He has anointed me to tell the story of Jesus and I can go alone for Jesus is with me. O, glory to God!"
PENTECOSTAL SCENES.
At Brunner, Texas, in August, a wonderful meeting was held by the Apostolic Faith people. Fifty, seventy-five, and one hundred seekers at a service crowded the altars for two whole weeks. The sixty-foot altar was doubled half way back, then trebled, until the whole front half of the Tabernacle was occupied with the great altar service. Think of one hundred seekers and twice as many faithful Christians assisting, all praying before God. Glory to His great name! Then see them rise with shining faces and Pentecostal power.
________
CAME THREE HUNDRED MILES.
Some have come long distances to see the Pentecost in Los Angeles. An Armenian brother, who came three hundred miles, said, "I am like the queen of Shebva who went to see the wisdom of Solomon, only when I heard about these meetings, I did not come so far, I came only 300 miles to see if this was true. And now I am well satisfied that I see the wonderful works of God. If these people who have only a few drops from God are crazy, what will it be when the shower comes. The shower follows the drops."
________
UNITED TO JESUS.
Jesus says, "Take my yoke upon you and learn of me." The Lord showed me that this yoke was the covenant of the new testament in His blood, and we put this yoke on when we are baptized with the Holy Ghost. This covenant is a marriage covenant. We are married, not for one day or year or life, but eternally married. When I got married to my wife it was settled for this life. So when I got married to Jesus Christ, it was settled forever. Hallelujah! Jesus and I are united. He baptized me with love.
________
THE WORK IN VIRGINIA.
907 Glasken St., Portsmouth, Va.
We had a glorious meeting last night. It was the sixth night and we have six speaking in tongues. It is wonderful to see how the Lord is working with His believing children, but there is much to be done here. There is a band of saints that do not read the Bible like saints. They say the Bible is for unbelievers so they do not read it at all. O for some one to help. Won't you come and help if you can, and as soon as you can?
God is making a short work in the earth today. He is soon coming to earth again. He said we should not get over the cities until the Son of Man should come, so we have not much time to lose. Remember me to all of the saints. Tell them to pray for me much. I can't write to all, so you remember me to all as one. Ask them to pray for the work in Virginia. It is much needed. I don't know how long the Lord is going to keep me here. There is so much to be done.
I did not come through Danville, but I am going there as soon as I can get off from this place. I came through New Orleans and changed cars there, and laid hands on two sick, and sowed seed on the way from Houston here.-Lucy Farrow.
A later report is that twenty have received the baptism of the Holy Ghost in Portsmouth.
________
CHINESE WANT THE GOSPEL OF THE BIBLE.
A dear friend went to China as a surgical missionary, preaching the Gospel and cutting up people. She has been in China eight years and only has a little of the language. (Cannot God, who confounded the people at the tower of Babel, and caused all nations at Jerusalem to hear in their own tongue, give a language?) She writes that the Chinese are smart people, and some of them had been reading the Bible and came to her with the open Book, saying, "When you do what your God tells you, then we will believe in your God. Here He says, 'These signs shall follow them that believe,**they shall lay hands on the sick and they shall recover,' and here you come with your knives cutting us up, and with your pill bags. Why don't you do what your God tells you to do?" What do these things mean? They mean that if we go as representatives of our Lord, we must go with the equipment He gives. The heathen want the whole Gospel.
________
LITTLE CHILDREN RECEIVE THE HOLY GHOST.
A number of children have been baptized with the Holy Ghost. A sister at Hermon has been holding a daily children's meeting and three children have been baptized with the Holy Ghost. One Sunday night also at Azusa Street Mission three little girls, sisters, were baptized with the Holy Ghost and each of them spoke in tongues, and different languages. It was touching to see how they went to praying for others at the altar. They had to leave with their mother for Canada and expect to cross the ocean from there, but before they left the Lord gave them their Pentecost. A number of children have been clearly saved and sanctified in the Sunday afternoon children's meeting, led by the boy preacher, Clayborn, on Sunday afternoon and some have received the gift of the Holy Ghost, and God is using their testimonies.
________
Apostolic power will mean apostolic persecution. Hell with all its power will be turned lose. It behooves us to get a spiritual backbone, spiritual stamina and stick-to-it-iveness that will enable us to stand in these last days against all the forces of the enemy. Jesus came to destroy all the works of the devil, and He said He would give us power, the Holy Ghost coming upon us, the same power that He had.
THE POLISHING PROCESS.
Several years ago, when I was very hungry, seeking God in all His fullness, I shut myself away in my closet one day, and the Lord gave me a wonderful revelation. As I was kneeling before my Maker, beseeching Him to show me all He expected me to be, right before my eyes I saw this wonderful vision. There appeared a man with a large, long, knotty, but straight log. The man had an axe. Did you ever see anybody score timber? He was scoring the log, and it seemed to me the axe went clear to the bit. And every time he scored, it hurt me. He scored it on four sides and then took the broad axe and whacked off the knots. Then he took a line and with adz he made it pretty smooth. Then he raised it in the air, and taking a great plane, turned to me and said: "This is the plane of the Holy Ghost," and he ran the plane up and down, till I could see the image of the man perfectly reflected in the face of the log, as in a mirror. He did this to all four sides. Then turning to me, he said: "Thou art all fair, my love; there is no spot in thee."
That is what God wants to do with us. He wants to take all the bumps, all the barnacles off. We have only begun to lay ourselves on the anvil of God's truth. The hammer is being applied to us. He may have to throw us back in the smelter several times. Let us stay in the fire till there is no more dross in us. Sometimes we think God has done all He needs to do; but something comes up that we do not like, and the old man can get up and hobble off on a pretty good shin.
Several weeks ago, I thought surely the last stroke is put in, and now I am dead to the world. But it was not very long till I found out there was a little self there. I was holding a meeting in a little village. We had to move a kitchen stove, and there was no way but for me to get on top of that cook stove and ride behind an old mule team, and I found Sister Hall had a little life in her yet. Thank God, I am dead to that thing now.
Let us stay on the anvil of God, till we reflect the image of the Master. There is a place where we can get, that God Almighty will say: "Thou art all fair, my love, there is no spot in thee."-Mrs. Anna Hall.
________
A MESSAGE CONCERNING HIS COMING.
A young sister, Miss Lillian Keyes, daughter of Dr. Keyes, of this city, speaks and singe in tongues as the Spirit gives utterance. She also interprets, and the following interpretation was also corroborated by Sister S.K. Mead, twenty years a missionary in Africa. Sister Mead arose and said that the language spoken was their dialect in Africa, a beautiful language, but one that is very difficult for English-speaking people to acquire, but the Holy Ghost, through the young lady, had given the perfect accent. The message interpreted was as follows:
"Jesus is coming again,
Coming again so soon,
And we shall meet Him then.
"Prepare your hearts now, for the Lord is coming soon, and ye know not the hour. If you are not prepared, you will not go with Jesus. He sees each heart, and wants to prepare them for His coming. Seek Him now, for some day it will be too late.
"The Lord says: 'I will bless all those that seek me with all their hearts, for God is no respecter of persons. The Love of God is so great.' He says. 'Come unto me; come unto me, and I will give you rest. I will baptize you with the Holy Ghost and with fire, and all those that seek me diligently.'
"O, Jesus is such a wonderful Savior. He is coming soon and all must have their hearts ready. O, Jesus is so sweet. He says: 'Watch and be ready when I come.' O, He is coming so soon."
Our sister also speaks two Chinese dialects. She speaks to the Chinese as she passes them on the street, or as they come to the house, and they listen in astonishment and say she is telling them about God.
________
ONE CHURCH.
At a recent church trial, a brother made the remark that he little thought when he was seeking more of God it would mean for him to be turned out of the Holiness church. This brings to mind the old lady who was turned out of the church, and as she walked down the hill, she said: "Yonder is the meeting house, here goes the church."
They may turn you out of church houses and organizations of men, but not out of the one church. Thank God, that church book is kept in heaven. Jesus said: "Rejoice that your names are written in heaven."
One of the Holiness leaders said that the church had always taught sanctification as the baptism with the Holy Ghost, and they could not afford to give it up. Besides he would have to burn his books and sermons. Brother, on that great day of judgment, how much will those books and sermons weigh as compared to God's word?
At first the Holiness leaders approved of the work at the Mission, but at their camp meeting, they decided against the Pentecostal baptism as distinct from sanctification, and also the speaking in tongues. These were ruled out and not to be mentioned on the camp ground. What might not that meeting have been, if they had let the Holy Ghost have right of way? Eternity alone will reveal the great loss to souls through leaders who would not let the hungry sheep enter into this blessed life of power and the Holy Ghost.
"THIS SAME JESUS."
When the Holy Ghost fell on the one hundred and twenty it was in the morning of the dispensation of the Holy Ghost. Today we are living down in the evening of the dispensation of the Holy Ghost. And as it was in the morning, so it shall be in the evening. This is the last evangelistic call of the day. As John the Baptist was the voice of one crying in the wilderness: "Prepare ye the way of the Lord," so the voice of warning is going out through the land today to prepare the world for the second coming of the Lord Jesus Christ. The angels said to His disciples as He was received up into Heaven, and they stood steadfastly gazing upward: "This same Jesus that was taken up from you into Heaven shall so come in like manner as ye have seen Him go into Heaven." This same Jesus is coming back again to sit in the kingdom of His Father. This same Jesus that wore the crown of thorns and was lifted up between heaven and earth. This same Jesus that hung over yonder on Calvary, and now sits at the right hand of God the Father, is coming back to earth. Is not that enough to ravish your souls, dear ones?
________
BACK TO PENTECOST.
What mean these salaried preachers over the land that will not preach unless they get so much salary? People have wandered from the old landmarks. The priests had no land of their own. They were to live on the tithes and offerings. The ministers of today have wandered from the old landmarks, therefore they are seeking salary over the land. Get back. You have no time to lose. We must all be up and doing something for perishing souls around us. Do you want to be blest? Do you want the approbation of God? Be a servant to humanity. The loaves and fishes did not multiply in the hands of our blessed Redeemer till He began to give out to the hungry.
God does not need a great theological preacher that can give nothing but theological chips and shavings to people. He can pick up a worm and thrash a mountain. He takes the weak things to confound the mighty. He is picking up pebble stones from the street and polishing them for His work. He is using even the children to preach His Gospel. A young sister, fourteen years old, was saved, sanctified and baptized with the Holy Ghost and went out, taking a band of workers with her, and led a revival in which one hundred and ninety souls were saved. Salaried ministers that are rejecting the Gospel will have to go out of business. He is sending out those who will go without money and without price. Glory to God for this Apostolic day.
________
VICTORY.
Thank God for the means with which to get out this second number of the Apostolic Faith. This large issue is paid for in answer to prayer. The last issue of 5,000 was sent all over the United States and the world and was soon exhausted, so that we had to refuse a good many requests for papers. This time we publish 10,000. We could have used several thousand more last time , to good advantage. We do not find it at all necessary to advertise the paper, because the news of the work has gone far and wide already. The people are rejoicing to hear of this wonderful outpouring of old time Gospel salvation. And no wonder, they are starving on theological shavings. Never mind what the preaching say or anyone else, go in for Pentecostal salvation.
________
"ASK WHAT YE WILL."
Sister M. Eila Judy, a teacher in the Blind School of Columbus, Ohio, came to Los Angeles for her summer vacation. She dropped in the Azusa Street Mission soon after her arrival, and felt that God was there. She had been a great sufferer from insomnia and other troubles and was a very hungry soul. In the past she had felt that the Lord gave her the promise that she should be one of His bride. He had said to her. "Ask what ye will," and she had answered: "thy will be done." Then what joy it was for Him to choose so great a gift for her. Afterward her faith failed, but God was true.
About an hour before the train left Los Angeles on which she was to go, the Lord, in the little upper room at the mission, graciously baptized her with the Holy Ghost and gave her the Bible evidence. She could not speak the English language for some time. It was taken away and she spoke the language of the Spirit, pointing those about her to Jesus. It was a heavenly spot. Our sister was sealed as one of the bride and she was very happy. We expect to see her back in Los Angeles. The Lord has called her to His work. He has used her in winning souls in the past, and now that she has the Pentecostal enduement, we expect her to be much more used of the Lord.
________
The Lord put His seal of approval up in the departing of the missionaries for Africa, September 15. For about two hours at the depot, the saints sang, while some wept and rejoiced in the Spirit, and some danced before the Lord. While Sister Wiley was preaching the Gospel to the crowd, one of the officials, being angry, tried to break up the meeting, but the saints began to pray, and were allowed to continue undisturbed for some time, till a brother began to speak in tongues. This seemed to stir the devil and Bro. Lee was put out into the street, which resulted in a meeting there. God has wonderfully supplied the means to send the missionaries.
END OF PAGE THREE
---
THE APOSTOLIC FAITH
312 Azusa Street
---
Published by
THE APOSTOLIC FAITH MOVEMENT
of Los Angeles.
---
Address all communications to the Apostolic Faith, 312 Azusa street.
As we have no paid subscription list we are not entitled to second-class postage rates. Papers will be sent to any address in quantities needed, as the Lord furnishes the means.
---
We are not fighting men or churches, but seeking to displace dead forms and creeds and wild fanaticisms with living, practical Christianity. "Love, Faith, Unity' are our watchwords, and "Victory through the Atoning Blood" our battle cry. God's promises are true. He said: "Be thou faithful over a few things, and I will make thee ruler over many." From the little handful of Christians who stood by the cross when the testings and discouragements came, God has raised a mighty host.
Seeking Healing.-He must believe that God is able to heal.-Ex. 15:26: "I am the Lord that healeth thee." James 5:14; Psa. 103:3, 2 Kings 20:5; Matt. 8:16, 17; Mark 16; 16, 17, 18.
He must believe God is able to heal. "Behold I am the Lord, the God of all flesh; is there any thing too hard for Me?"-Jer. 32:27.
---
Send for a roll of sample copies to hungry souls. We can send seven for two cents postage.
________
NOTICE.
The Lord sends us to preach the Gospel, but not to beg. Anyone soliciting money does not represent the Apostolic Faith, as it is carried on by free-will offerings. Jesus commanded them to give the Gospel freely. "Freely ye have received, freely give."
________
Nothing less than the whole Gospel of Jesus Christ will suffice in these last days.
________
We are not divine healers any more than we are divine saviors. Healing is done through the Almighty God.
________
A woman in San Pedro was very sick, suffering such great agony that she was all most unconscious and her body rigid. She was almost insane. The saints were called to pray for her, and as one laid her hand upon her she was immediately healed and arose and cooked dinner that day.
________
Sister E. Thomas came for the healing of her wrist which had been sprained and the bones so out of place that it was stiff and very painful. As prayer was offered, you could see the Lord working in the wrist, arranging the bones, etc., that were out of place, and He did a perfect work, putting the wrist into shape so that she could bend it without pain.
________
Two dear sisters that we have known years ago, Mrs. May J. Sharps and Mrs. Roba Schoepf, hearing of these meetings through reading the Apostolic Faith, came from Orange county, and before they returned they both received the Holy Ghost and Bible evidence. The Lord is certainly blessing this little paper to many hungry souls.
________
Sister Lucy M. Leatherman writes from 692 Eighth Avenue, New York city: "Praise God for the gift of the Holy Ghost, the third person in the trinity." We have been receiving letters from those who have been much blest and have been led into the Pentecost through our sister and the rest of the Palestine Missionary band.
________
Jesus said: "If a man abide not in me, he is cast forth as a branch and is withered." Now, if you cut off a withered branch, you will find, perhaps, a worm has killed it. When a Christian goes into sin, he is withered and is no longer a branch of Christ. Then the fist thing you know, he is bearing the fruits of the flesh. As soon as the fruits of the flesh appear, everybody knows you are a sinner.
________
Bro. G.W. Batman and wife are saved, sanctified and baptized with the Holy Ghost and have the gift of languages. They are all packed up for Monrovia, Liberia, Africa. They have three little children, but are willing to trust the Lord. Have had a call to that land for years. Bro. Batman said God gave him a vision of a town on the west coast of Africa, and said he should go there. Bro. Meade, a missionary who has been there, said it was a perfect description.
________
Praise God for a salvation that brings a witness. God gives us a witness that we are justified, the Spirit witnesses that we are sanctified and when we receive the Holy Ghost, He witnesses through us, as recorded in Acts 2:4, the speaking in other tongues. Jesus had a witness for everything. When He was born, the angels sang on Bethlehem's plain, when He was baptized with the Holy Ghost. He had the witness of the heavenly dove and the voice from Heaven, when He arose from the dead, the angels witnessed at the tomb, and when He ascended, the angels witnessed that He would come again. Why not have the Bible witness, a supernatural witness that people will not have to take your word for?
Evangelist Daniel Awrey heard of this Pentecostal revival while in Dudleyville, Arizona, and was led of the Lord to come. He says that about fifteen years ago, when he received the baptism with the Holy Ghost, he saw a flame of fire come down on his head and the Lord took control of his tongue, making him pray in another language. He did not realize the significance of the new tongue at that time. He is now looking for God to restore it, as He sends him back to hungry souls.
________
A man who had been using tobacco for twenty-five years was seeking at the altar to have the appetite taken away. He had a plug of tobacco in his pocket. He took it out and gave it to one of the altar workers. And immediately the Lord began to bless his soul, and he got victory over his old enemy. He could get no help till he cleaned up his pockets. Many seekers have some hidden shelf behind the door that needs cleaning out of its idols.
________
A man said to me: "I would be afraid to get down at the altar and seek the wonderful power that you tell about, the devil might give me something." What! Do you think when I get down covered with the blood of Jesus, and seek Him to baptize me with the Holy Ghost that He is going to give me a serpent? "If a son shall ask bread of any of you that is a father, will he give him a stone, or if he ask a fish will he for a fish give him a serpent? How much more shall your Heavenly Father give the Holy Spirit to them that ask Him."-Luke 11:11.
________
Christians are sleeping in their pews in the churches and hireling preachers are sleeping in their pulpits. We have got to have something to wake people up. The tongues are like a bell, ringing the people up. They are waking up to the fact that God is in the land. The priest used to wear bells in the temple, so that the people could know he was alive. If they ceased to ring, they knew he was dead. As long as the Holy Ghost is in us, He will continue to ring out Jesus.
________
THE WAY INTO THE HOLIEST.
A sinner comes to the Lord all wrapped up in sin and darkness. He cannot make any consecration because he is dead. The life has to be put into us before we can present any life to the Lord. He must get justified by faith. There is a Lamb without spot and blemish slain before God for him, and when he repents toward God for his sins, the Lord has mercy on him for Christ's sake, and put eternal life in his soul, pardoning him of his sins, washing away his guilty pollution, and he stands before God justified as if he had never sinned.
Then there remains that old original sin in him for which he is not responsible till he has the light. He hears that "Jesus, that He might sanctify the people with His own blood, suffered without the gate," and he comes to be sanctified. There is Jesus, the Lamb without blemish, on the altar. Jesus takes that soul that has eternal life in it and presents it to God for thorough purging and cleansing from all original and Adamic sin. And Jesus, the Son of God, cleanses him from all sin, and he is made every whit whole, sanctified and holy.
Now he is on the altar ready for the fire of God to fall, which is the baptism with the Holy Ghost. It is a free gift upon the sanctified, cleansed heart. The fire remains there continually burning in the holiness of God. Why? Because he is sanctified and holy and on the altar continually. He stays there and the great Shekina of glory is continually burning and filling with heavenly light.
W.J. Seymour.
________
SPREADS THE FIRE.
When Bro. Wm. Pendleton and thirty-five of his members were turned out of the Holiness church and their church doors closed on them, they were invited by Bro. Bartleman and other workers to occupy the church at Eighth street and Maple avenue that had just been opened up for Pentecostal work, and God has been using them as never before. And when some of the saints were rejected from the Nazarene church at Elysian Heights on account of the baptism with the Holy Ghost and evidence of tongues, they opened cottage prayer meetings where hungry souls flocked, and in both of the above named places meetings sometimes go on all night and souls are coming through into Bible experiences. We can do nothing against the truth but for the truth.
"Truth crushed to earth will rise again.
The eternal years of God are her's;
But error wounded writhes in pain,
And dies among its worshipers."
In California, where there has been no unity among churches, they are becoming one against this Pentecostal movement. But, thank God, the source is from the skies and cannot be cut off from below. The dear church people know not what they do. Many of them are hungry and coming and saying: "This is just what I have been longing for for years." God is drawing His people together and making them one. No new church or division of the body of Christ is being formed. Christ never had but one church. We may be turned out of the big wood and brick structures, but "By one Spirit are ye all baptized into one body."
BRO. PENDELTON'S TESTIMONY.
When my place of worship was taken away from me, I said: "Lord, I trusted you once and you gave me a better place," and, praise God, He gave me the best place I ever had in my life and gave me more people to listen to the Gospel than I ever had before. God will never allow things taken from us but He will give us better than ever before. There is not a vail or shadow between heaven and my soul today. I am getting more from God than ever in my life. My prospects of heaven are getting stronger and stronger. There is no life that gives a man such an assurance of heaven as the life in the baptism with the Holy Ghost and fire. God the Father, God the Son, and God the Holy Ghost, can use these members to His own glory.
________
SPANISH RECEIVE THE PENTECOST.
[There are a good many Spanish speaking people in Los Angeles. The Lord has been giving the language, and now a Spanish preacher, who, with his wife, are preaching the Gospel in open air meetings on the Plaza have received their Pentecost. They are very happy, and God is using them. The following is their testimony and the translation.]-Ed.
Los Angeles, Cal., September 14.
Soy testigo de el poder del Espiritu Santo, en perdon, en sanctificacion, y bantismo en fuego. Acts 1:8; Mark 16, 17, 18. Doy gracias a Dios por esta combicsion y poder. Recibibo de Dios comforme a sus promesas el os giara. John 16:13-14. Gracias a Dios por la ordenacion de ir a la Calle de Azusa a la Mission Apostolic Faith. Old time religion Ho y mi Ezpoza el dia, 29th of May, 1906.
Por sanctificacion en verdad y gracias a Dios por la dadiba del baptismo del Eptu Santo en fuego, 5th de Junc. 1906. No podemos expresar en nuestros corazones dia tras dia y momento tras momento usandonos el Sr como instrumentos para la salvacion y sanidad de almas y de cuerpos y de cuerpos tomos tes tizo de estas permosas marabillas y miligros, en el Espiritu Santo y son promesas para cada uno de los que a Dios, se lleguen por medio del Sr. J. Cristo, San John 7:37:39; Rev. 22:17; Acts 2:37:39; James 1:5-7. Due Dios os Vendiga a todos. Acts 10, 34, 35; I John 1:1-3; Rev. 1:6, 7.
Abundio L. Lopez an Wife, Rosa de Lopez.
The translation of the above into English is as follows:
We testify to the power of the Holy Spirit in forgiveness, sanctification, and the baptism with the Holy Ghost and fire. We give thanks to God for this wonderful gift which we have received from Him, according to the promise. Thanks be to God for the Spirit which brought us to the Azusa Street Mission, the Apostolic Faith, old-time religion, I and my wife, on the 29th of last May. I came for sanctification, and thank God also for the baptism with the Holy Ghost and fire which I received on the 5th of June, 1905. We cannot express the gratitude and thanksgiving which we feel moment by moment for what He has done for us, so we want to be used for the salvation and healing of both soul and body. I am a witness of His wonderful promise and marvelous miracles by the Holy Ghost, by faith in the Lord Jesus Christ. May God bless you all.
________
MISSIONARIES' FAREWELL.
New York City.
"Grace, mercy and peace be multiplied to you." How wonderfully God has blest us all the way. Praise His dear name! Hungry souls have flocked to the altar at every service and many have spoken in the tongues. Bless God. How I praise God for leading me to Azusa street mission and the baptism with the Holy Ghost and a new tongue He gave me. What a blessed privilege to lift up Jesus to a lost world.
Mrs. Rushnell, an old friend about sixty years old, is with me, and is going to Jerusalem with me. We shall sail, God willing, September 15. I praise God we can meet every day at the throne of grace.
Pray for the peace of Jerusalem. Pray for the dear Jews, and ask all of the dear saints there to pray also.
Asking God to bless and use you more and more for His glory.
Till Jesus comes,
Louisa M. Condit.
Address Jerusalem, Austrian Post, Palestine.
________
STREET MEETINGS.
We have been holding our street meetings in front of a saloon at the corner of San Pedro and Second streets. The devil tried at first to drive us away by throwing a lot of water there and heaping it about to make the ground muddy. But the workers went on, mud or no mud, and get a wonderful blessing, standing and kneeling in the mud. The Lord has been in the meetings in great power. Street meetings in Pasadena and Whittier have been held also with victory.
________
HALLELUJAH FOR THE PROSPECT.
What do such congregations as this mean here and there over the world? Jesus is coming back to take His bride. How long is it going to take? The way this wonderful power is spreading over the world today, not very long. We are looking for God to separate a company of men and women from Los Angeles that will carry this Gospel over the whole world, people that are willing to forsake all and carry the Gospel. We are only in the A.B.C. of this wonderful power of God that is to sweep over the world. We have only gotten the soles of our feet wet in the power of God that is to be manifest in these last days.
TO OUR CORRESPONDENTS.
We thank you, dear brothers and sisters, for your letters of appreciation of the paper, showing that God has made it a blessing. They more than pay us for all the labor of publishing the paper. We thank you for the lists of names you have sent and the offerings which enable us to send the papers to other hungry souls.
Your requests for prayer for healing and salvation and the baptism with the Holy Ghost are presented before the assembly of God's children. We cannot set dates for prayers, so look up and expect the blessing from heaven at any time. Requests are presented as soon as possible. We shall be glad to hear what the Lord is doing for you. If you do not get the answer right away, perhaps there is something on your part that needs to be gotten out of the way. Let the Spirit search your heart and life.
Send in your lists of addresses for the paper. If there are some who want the paper sent regularly, please state it and we will put your names on the permanent lists. To the others we will simply send one or two copies till we hear from them.
We have not time to write to all, so we will let the paper do for a letter. It will be issued as often as the Lord provides the means and will always be paid for before it comes out.
We thank the Lord for this blessed way of publishing the paper, trusting Him for the means. It is a restful way and saves much time. It also enables us to send it far and wide. We pray for God to bless its messages to the readers. Most of these messages have been taken down in shorthand in meetings of great power messages that are inspired by the Holy Ghost. To God be all the glory.
________
HONOR THE HOLY GHOST.
Let me warn you, dear ones, as a mother in Israel, Don't try to prune one another, Jesus says: "I am the vine and my Father is the husbandman. Every branch in me that beareth not fruit, he purgeth it." Let Him do the pruning and purging. If you see a brother or sister doing anything you do not approve of, instead of blazing it abroad, get down on your knees and say: "My Father, I honor you to bring them out of this fault." Multitudes and great bodies of Christians have gone to the wall for that very same thing. They tried to prune one another, tried to make others believe just as they believed and think just as they thought. If this movement stands for anything, it stands for unity of mind. It was raised up to answer the prayer of Jesus: "That they might be one, as thou Father art in me and I in thee." What is the matter with the world today? Here is a little selfish sect and there a denomination by itself. They do not love one another as God would have them. Let us honor every bit of God there is in one another. Let us honor the Holy Ghost to teach men to get them out of their error. Dear ones, watch and pray that ye enter not into temptation. Watch that something does not come in to grieve the Holy Spirit. "Grieve not the Holy Spirit of God whereby ye are sealed unto the day of redemption."-Mrs. Anna Hall.
________
HEALED BY THE LORD.
A sister who has had hemorrhages of the lungs for years was brought very low lately, having seven hard hemorrhages one after another. She was nearing the river and heard her name called three times by a heavenly messenger, but she answered that she did not feel she could say she had fought a good fight and kept the faith. Then the drawing to the other shore ceased. The saints prayed for her, and she arose, and dressed, being perfectly healed. She went to the table and ate her dinner and afterwards played and sang several hymns. She has received the baptism with the Holy Ghost and God has raised her up to preach the whole Gospel.
________
BURIED WITH HIM IN BAPTISM.
A wonderful day was spent at the Terminal Island beach September 11. Four cars packed with people went down from the mission, and singing, praise, prayer and rejoicing, as well as preaching the Gospel, made it a continual meeting all the way. Eighty-five were baptized in the ocean. This was the second service. It is a beautiful place for this service as there is a pavilion seating several hundred people and we were given free use of the bath house and all its rooms. Two services were held in the pavilion. The power of God rested on the baptismal service. Heaven and earth certainly came together.
________
Jesus is searching for a people that will believe the gospel. He has never changed the gospel in any way since He commissioned it. Many take sanctification to be the power. They stop when they have original sin taken out, and Christ enthroned in the heart; but God wants us to go on and get filled with the Holy Ghost; that we may be witnesses unto Him to the uttermost parts of the earth. The times of this ignorance God winked at, but now commandeth men everywhere to repent. The Lord is restoring all the gifts to His church. He wants a people who have faith in His word and in the Holy Spirit.
Jesus was not only nailed to the cross, but hung there till He died. He did not come down from the cross as they told Him to do, though He had the power to do so. So with us, when we are crucified with Christ, we should not come down and live for self again, but stay on the cross. A constant death to self is the way to follow our Master.
END OF PAGE FOUR