Nationalists had tried to keep Bulgarian-Turkish dual citizens from voting in Bulgaria's upcoming parliamentary election. Meanwhile, Presidents Erdogan and Radev traded barbs.
Amid growing tension between Sofia and Ankara, Bulgarian police on Friday removed barricades protesters had erected at at least two border crossings with Turkey. Bulgarian nationalists had attempted to prevent Bulgarian-Turkish dual citizens from entering the country to vote in Sunday's parliamentary elections. Dozens of protesters carried banners bearing nationalist slogans such "No to Turkish interference" at Kapitan Andreevo, the main checkpoint between the two countries. Similar blockades had been erected earlier in the week, but protests quickly petered out.
Turks are an influential minority
Tension has been growing between neighbors Bulgaria and Turkey as of late over Ankara's open support for a new party representing Bulgaria's Turkish minority. Turks make up roughly 10 percent of Bulgaria's 7.25 million inhabitants. There are least another 200,000 ethnic Turks with Bulgarian passports who live in Turkey, Turkish-Bulgarians have traditionally supported for centrist Movement for Rights and Freedoms (MDL). But the party's increasingly critical stance towards Turkish President Recep Tayyip Erdogan and the Turkish government caused a pro-Erdogan splinter group to form last year. Turkish officials have openly backed this new party, Dost, leading to tension with Bulgaria. The Sofia administration has objected to what it sees as Turkish interference in Bulgarian politics. Last weekend, Bulgaria, a member of the European Union, recalled its envoy from Ankara and summoned the Turkish ambassador in Sofia for talks.
Erdogan vs. Radev
In the latest angry exchange over the issue, Erdogan said it was "unacceptable" that Sofia was putting "serious pressure" on Turks in Bulgaria ahead of the vote. Bulgarian President Rumen Radev fired back on Thursday, saying that "Bulgaria neither gives nor accepts lessons in democracy, especially from countries that do not respect the rule of law." The spat has boosted support for Bulgaria's nationalists. Recent polls project that the United Patriots coalition will come third in the election on Sunday behind the Socialists and the center-right. Bulgaria had called for early parliamentary elections after Prime Minister Boiko Borisov of the center-right GERB resigned in November, following his party's loss in presidential polls.
The Turkish-Bulgarian strife comes amid deteriorating relations between Ankara and several EU member states ahead of a constitutional referendum in Turkey on April 16, which some have criticized for granting the president too much power. Several EU countries – including Germany – have decided not to allow campaign events with members of the Turkish administration, which has enraged Erdogan.
Police protests continue as promised by unions. After the beginning of the week the officials made a demonstration in Sofia. Today the same happens in Varna. The demands are again for higher wages and better working conditions, bTV reported.
Protests began actively 2 days ago in the capital. They are happening despite the talks and promises on the part of representatives from the Ministry of Internal Affairs 2 weeks ago and the demands for higher salary were announced on 5 July by the police at a big rally in Sofia.
Today's second protest will not be the last. After Varna, demonstrations are planned for Dobrich and Gotse Delchev next week and then continue in Bourgas, Blagoevgrad, Pernik and other cities.
Bulgarian police has been on street strike for a week now. Syndicates warn that army and firefighters may join
In the same week:
Bulgaria's ruling Socialists vow to stay despite protests
Over 6,000 immigrants await to enter at the border with Greece
Websites of key institutions collapsed on election day
Two rocket launchers fired in Sofia during week of second round voting
Bulgarian Trade Unions warned of more strikes and protests
The police blocked Sofia in rush hour on several occasions
Leader of a parliamentary represented party was detained and his diplomatic immunity was voted down by Parliament
Political coalition partners quarreled in front of millions of TV viewers
Dollar value in Bulgaria rises from 1.78 to 1.82 BGN (Bulgarian currency)
Hundreds of Bulgarian policemen, firemen and prison guards staged a spontaneous protest on Tuesday against cuts to their pensions and benefits, testing the authority of the center-right government. The demonstrators blocked major roads in the capital Sofia and held rallies in several other cities, demanding the resignation of Interior Minister Rumyana Bachvarova, who is trying to force through the changes.
Street protests have grown in Bulgaria, the European Union's poorest member, in recent years. Voter frustration, especially with rampant corruption and organized crime, erupted in months of protests in 2013 and the country has had five governments in two years. "This is a very risky wave of insubordination," said Tihomir Bezlov, a political analyst at the Center for the Study of Democracy. "This is an uncalculated move with unpredictable consequences."
Staff like police who are paid from the interior ministry budget are not allowed to strike, take a second job or join a political party; in return they are exempt from paying social security contributions. But police are threatening to keep up daily protests and road blockades after negotiations with the finance ministry failed to result in the withdrawal of its 2016 budget plans. These include cutting lump sum retirement payouts to 10 times monthly net salary, from the current multiple of 20. The measures would also slash annual paid leave to 20 days from 30, and reduce extra pay linked to length of service.
Anti-government protests in Bulgaria's capital have been going on for 40 days, and escalated Tuesday evening as several hundred demonstrators trapped the officials inside Parliament in a bid to oust the left-leaning government.
(Reuters) – Hundreds of protesters built barricades around Bulgaria's parliament, effectively trapping over 100 lawmakers, ministers, and journalists in the building for more than seven hours on Tuesday following a brief scuffle with police. Protesters pulled out sidewalk tiles and piled garbage bins to cut off roads to Bulgaria's parliament, shouting "Mafia!" and "Resign!" and "Red Garbage!", to keep the deputies under blockade until the Socialist-led government steps down. An earlier attempt to get deputies out of the parliament with a bus led to a scuffle with police. It was aborted after protesters threw bottles and other objects at the bus, while others sat in front of it.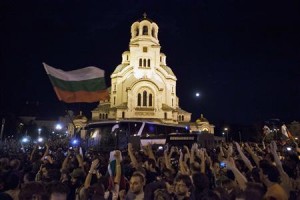 Thousands of Bulgarians have been protesting almost daily in Sofia since last month following a government decision to name a powerful media magnate as security chief, which many see as an example of private interests controlling state institutions. The government's withdrawal of the appointment failed to quell public discontent in the European Union's poorest country, which also is one of the bloc's most corrupt. Seven protesters were treated for head injuries, the national radio said. Two police officers were also wounded.
Silence in the face of evil is itself evil: God will not hold us guiltless.
Not to speak is to speak. Not to act is to act.
Dietrich Bonhoeffer
Pastors who served as agents of the secret police during the Communist Regime in Bulgaria are being revealed this week through special legal provision of the Bulgarian Constitution, which allows secret government dossiers and archives to be made public. The law excuses ministers who are retired, immigrated or deceased as it pays special attention to people who continue to serve on denominational boards, heads of religious organizations or church pastors.
The released records have revealed a significant count of Bulgarian evangelical pastors, who have served directly under the Communist government as secret agents and are currently serving in lead positions in their respective churches and denominations. At least 17 agents have infiltrated the Pentecostal churches in Bulgaria (including the Assemblies of God, Church of God and other charismatic denominations). The count is overwhelming in comparison with the Bulgarian Orthodox Church representing some 90% of Bulgaria's general population with only 11 regional bishops with secret police dossiers.
The newly released documents reveal that these pastor-agents served the Regime through willfully betraying and reporting fellow ministers and their respective ministries, regularly submitting the names of new believers joining their congregations and the activities of their churches as a whole. Special interest in their reports seems to have been given to "foreign religious emissaries" – missionaries from sister-denominations in other countries who visited Bulgarian evangelicals with the purpose of bringing moral and financial support, smuggling Bibles or just encouraging the churches during their time of trials and tribulations under the Regime.
Even more disturbing is the lack of definite and unified response on behalf of the current denominational leaders and the repulsiveness of the general public on the issue as a whole. While the Bulgarian Evangelical Alliance appealed for prayerful but fair dealing with the said misconducts, the Bulgarian Assemblies of God has chosen to deal with the issue internally behind closed doors and the Church of God in Bulgaria has postponed discussion to its general meeting in March or perhaps May. Several outspoken leaders from the Congregational and Apostolic churches have been unsuccessful in bringing about a public debate involving all Bulgarian Protestants, while journalistic investigations in the Christian media have been openly attacked in attempt to be kept silent.
It is understood that many of the said pastor-agents were coerced to serve as such through pressure in their jobs, friends, families and in some cases even their children. Yet, the Bulgarian churches are now struggling to cope with the fact that leading ministers within their denominational structures have continually and purposefully reported on the life of the church, thus betraying fellow believers and ministers.
(Washington) – United States Helsinki Commission Chairman Rep. Christopher H. Smith (R-NJ) expressed alarm today over the widespread seizure of church properties in Bulgaria, which currently serves as Chair-in-Office of the Organization for Security and Cooperation in Europe. Bulgarian authorities raided more than 200 properties used by the alternative Bulgarian Orthodox synod for more than 10 years.
"I'm deeply distressed that Bulgarian police, with the apparent approval of the state prosecutor's office, would forcibly seize some 200 churches and church-owned properties," declared Chairman Smith. "While there may be disputes within the Bulgarian Orthodox Church, it is certainly not the proper role of government to interfere with internal church affairs. Unfortunately, Bulgarian authorities have abandoned neutrality and chosen sides, potentially endangering religious freedom."
News reports indicate that throughout the day on July 21 Bulgarian police across the country expelled members of the alternative Orthodox synod of Bishop Inokentii, taking control of properties used by the synod. A longstanding church dispute between the Bulgarian Orthodox Church and the alternative synod has existed since they split in 1992.
The raids were discussed with Bulgarian Foreign Minister Solomon Passy, visiting Washington last week in his capacity as Chair-in-Office of the OSCE, in a meeting with Chairman Smith.
"Property issues should be decided by a court, not through legislative fiat or the unilateral actions of a state prosecutor and police," said Chairman Smith. "Considering that Bulgaria is the current OSCE Chair-in-Office, I urge the Bulgarian Government to end this embarrassment, lead by example, and honor its OSCE human rights commitment toward religious freedom."
"Bulgarian authorities should stop interfering and reinstate to the alternative synod full control of the properties," Smith added. "The state should play no role in forcibly reconciling the two Orthodox communities."
These raids are not the first time that the Bulgarian Government has favored one synod over the other. The December 2002 religion law enumerated detailed characteristics of the Bulgarian Orthodox Church, thereby establishing the synod of Patriarch Maxim above the alternative synod and all other religious communities. The law also laid the groundwork for the seizures by vesting government recognition and property rights with only the Bulgarian Orthodox Church. This provision works to the detriment of the alternative synod, placing it in a precarious and vulnerable position. The United States Helsinki Commission issued a report on the religion law, highlighting this problematic provision and other shortcomings.
The United States Helsinki Commission, an independent federal agency, by law monitors and encourages progress in implementing provisions of the Helsinki Accords. The Commission, created in 1976, is composed of nine Senators, nine Representatives and one official each from the Departments of State, Defense and Commerce.