Protest party ITN edged out the conservative GERB in the latest vote, but was not able to form a government. Bulgarian President Rumen Radev will also be running for reelection. Bulgaria will hold its third parliamentary election since April on November 14, President Rumen Radev announced Saturday. Following months of deadlock, Bulgarians are set to once again choose a new parliament after neither of the three largest parties was able to secure a majority government after an election in July. On Saturday, Radev announced that presidential elections will be held on the same day to save money. He is hoping to secure his second term in November.
President Biden delivers remarks at Bulgaria's Three Sea's initiative, which aims to reinforce ties between countries along the borders of the Baltic, Adriatic, and Black Seas.
Who is predicted to win?
Protest party ITN, that emerged from mass demonstrations against corruption in 2020, won the July election  but was  not able to secure a majority in parliament.
The latest polls indicate a similarly inconclusive race ahead of the November election.
The pro-EU, centre-right party Citizens for European Development of Bulgaria (GERB) is now leading in a Politico poll by 23% with ITN on 20% support.
In contrast, the leftwing alliance, led by the Socialist Party, is trailing the top two with 16% of the popular support, according to the poll. It achieved 13.2% of the vote at last July's parliamentary elections.
The split sets the scene for more political instability amid the COVID-19 economic crisis and Bulgaria's desire to enter the eurozone in 2024.
What of the presidential elections?
President Radev is an independent who is widely considered one of the most popular politicians in Bulgaria. He is tipped to win a second term in office.
While the Bulgarian president's powers are largely ceremonial, he can also propose legislation and force new votes in parliament by vetoing policy.
"I will count on the support of all respectable Bulgarians on the big issues – the fight against poverty and injustice," said Radev.
Government Elections in Bulgaria (2005-2019):
2005 Parliamentary Elections
2006 Presidential Elections
2007 Municipal Elections
2009 Parliamentary Elections
2009 European Parliament elections
2011 Presidential Elections
2011 Local Elections
2013 Early parliamentary elections
2014 Early Parliamentary Elections
2015 Municipal Elections
2016 Presidential election
2017 Parliamentary elections
2019 European Parliament election (23-26 May)
2019 Bulgarian local elections
2019 Municipal Elections
Facebook Is Still King Among Social Networks
If your church is deciding on which social network to use, Facebook is still number one. In fact, Pew Research Center found that 68% of adults are Facebook users. The only other network that came close was YouTube at 40%. However, using both doesn't hurt, especially if your church focuses on video content.
Don't Count Out Instagram
Many church statistics focus mainly on Facebook for social media, but it's important to not count out Instagram. Not only do 35% of adults use Instagram, but Pew also found that 71% of 18-24 year-olds use Instagram. If you're trying to reach out to a younger audience, it's worth expanding your social media strategy to include Instagram.
YouTube Works Well For Younger Members
Want to better engage your younger members or expand your reach to 18-24 year-olds? Pew found that 94% of people in that target demographic use YouTube regularly. Of course, 75% of adults overall use YouTube. So, it's beneficial no matter what age you're trying to reach. Consider YouTube for sermons, showing community outreach programs in action, Bible study sessions and even fun skits to show a humorous side to your church.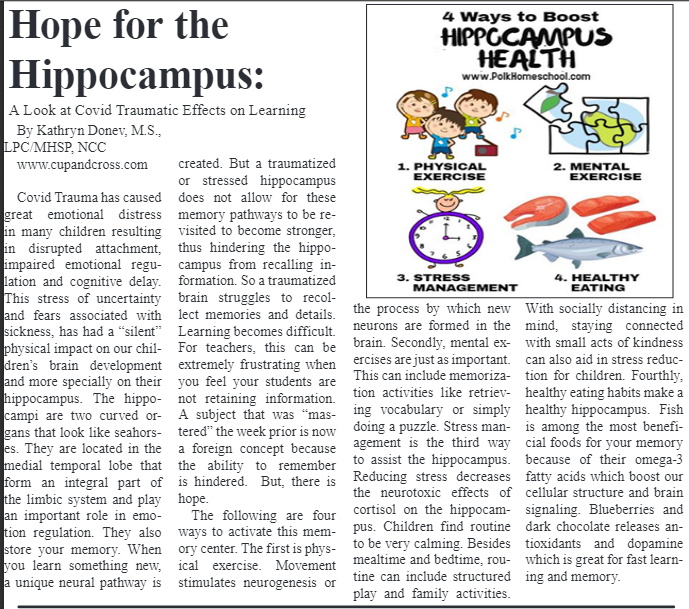 As a Board Certified Licensed Professional Counselor with nearly 20 years of experience in the field of play therapy, I understand the vital importance of play in the life of a child.  With the COVID-19 pandemic which has swept the world, our children are being exposed to stressors and events that no child should ever have to endure.  Children need play in their lives now more than ever before.  Play is their only way to communicate and to process these traumatic times. A time of play allows for children to increase their emotional strength and reduces stress which in turn increases our children's immunity defenses.
It is for this reason that I feel the urgency to call all parents and caregivers to set aside a minimum of 45 minutes to 1 hour during the day to play with their children. This structured time should meet the following guidelines:
If possible should be one parent with one child at a time even if you have to limit play to only 30 minutes
Play time is uninterrupted with no texting, social media, online surfing or phone use of any type
Should be in a safe place
Parents and caregivers need to offer a time which is non-judgmental in the parameters of protection
Needs to be led by child and not adult, offering no suggestions about what or how to play unless asked from child
Do not interrupt the child's process by being impatient for child to finish tasks at hand
This is not a time for teaching. It is a time of reflecting and empathetic listening of feelings.
Repeat back to the child their actions during play instead of offering your biased insight.
Listen to what your children are telling you via their play
Provide unconditional love and support
There is always time for play.  It should not be underestimated.  During this time of crisis it is a basic necessity and will strengthen our children.  We will make it through this together.
– K. Donev, LPC/MHSP, NCC