Initially 7, now 8 churches and multiple ministries across Polk County, TN have set to seek after the will of God for revival in their area after the pandemic. The revival has gone on now over a month each week changing to another of the original seven church locations. Over a thousand have attended in total during September alone with multiple saved, recommitted and called to the ministry in the past month. Though Fridays were set as days for prayer and reflection, on several occasions services continued well through the weekend into the next church.
Churches from the greater Conasauga, Reliance, Ocoee, Old Fort, Benton, and Delano communities along with the two oldest Polk County congregations at Cookson Creek and Friendship Baptist, are joining piece by piece the original vision God has given to many ministers for this area of East Tennessee. While a few have seen it as continuation of the Lee University student revival, most have found it as restoring the original Appalachian/Cherokee holiness outpouring, which took place among L&N Depot and Hiwassee River Rail Loop workers in the old Methodist church across from Etowah's chamber of commerce. As Polk Revival continues strong, the participants are requesting prayer from all who love the Lord and have awaited His renewal of the land and His people. https://polkrevival.com/
BulgarianCooking.com's featured author of the month is Bulgarian native, Evdokia Krusteva who wrote the cookbook, "Ancient Recipes of Bulgaria".
Evdokia (Eva) Krusteva was born and raised in Yambol, Bulgaria. She is a fourth generation Pentecostal believer and minister of the gospel. She fondly remembers how her home was opened to holding services underground during communist times. These times would be centered around a meal as not to bring unwanted attention to people gathering.
Having lived in communist and post-communist Bulgaria, Eva has a unique view on life with a great story to tell. She often recalls how dishes were traditionally prepared growing up along with the many unique customs of each. She has included a few in this collection of memories.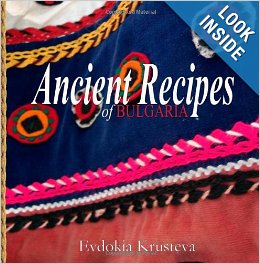 This cookbook features nearly two dozen truly ancient recipes of Bulgarian cooking. Some of these dishes are distant relatives to ones found in ancient Roman manuscripts believed to have been compiled in the late 4th or early 5th century AD. Others are among those far before the time of Christ. As Bulgaria is a country of oral history, recipes are typically not written, but passed down from one generation to the next by experiencing the method of preparation. With nearly every dish in Bulgarian cooking comes a story and custom. This cookbook attempts to preserve these hundred year old stories for many years to come so they can continue to be passed down.
After the success of our annual national X Event for youth in the heart of Bulgaria we undertook a national evangelization campaign with a special focus on the Stara Zagora region of the Bulgarian Church of God. The reason behind this ministry endeavor were the countless meetings, calls and contacts with ministers and believers from the area who agreed to pray, fast and partner with us in the work toward a regional revival campaign. The purpose of this work was to enhance and sharpen the focus of the local congregations and their leaders toward the ultimate goal of ministry, namely the salvation of eternal souls.
We are here to report that the Bulgarian Church of God is preparing for to receive a fresh vision from God and to move into a new level of ministry. The need for this is great and the factors that confirm it are many. Just regard our ministry report from the last several weeks.
After the X Event in the Heart of Bulgaria and after teaching the leadership course at the Church of God congregations of Samokov and Sofia, we ministered in the Pentecostal church in Yambol from the Gospel of Mark. Then on Monday night, we took a youth team to minister in the gipsy ghetto of Yambol. This was a very unique opportunity as we patterned with the "Jesus Film" representatives in Bulgaria.  After singing a few songs and showing the children's version of the film, a little past 9:00 p.m. we delivered a message to the many adults and children that had gathered around us and offered to pray for them at the end. Many raised their hands and others came forward for prayer. Several young mothers brought their children to us to be anointed and prayed for. We were blessed to participate in this service, as our lives were also touched by what took place in the middle of the ghetto.
In October 1996 we partnered I ministry with the Mission for Christian Upbringing in Bulgaria, which today is operated by the Cup & Cross Ministers International team in Bulgaria.
During 1996-98 our ministry began two new churches in the region and provided pastoral care for 14 more. We held as many as four services every day. This work grew to what today is known as Mission Maranatha – a home mission department of Cup and Cross Ministries International which operates in Bulgaria.
Through this endeavor since 1999, Cup & Cross Ministries has began 11 Pentecostal churches in the Yambol region, providing Sunday School literatures, weekly radio program, organizing social care centers and numerous conferences, crusades and meetings. The team ministers to several hundred people, as the main ministry methodology includes ongoing prayer meetings and fasting organized among all the churches. The results have been magnificent as hundreds of people have been saved and many have received healing and miracles as the power of God is evident in every service.
Strategically located at the Bulgarian border with Turkey and Greece, this ministry has been able to reach Greek Orthodox and Muslim believers as well. Through the ministry of Shalom TV and the help of a local radio station, we have been able to provide weekly media outreaches which have served our vision as evangelistic tools.
As a result of this work today Cup & Cross Ministries provides pastoral care and ministry to 13 churches with 300 members. The following is an excerpt report of our ministry activities.
Churches: 13 (plus 2 project churches)
Traveling: Average of 2,500 miles per month
Services: Average of 100 a month
Team: 8 (plus 4 in raining)
Media: Shalom TV, Local Radio Broadcast
Training Seminars:
Kamenetz Church
Easter Regional Conference May 24, 2002
Christmas Regional Seminar December 27, 2002
Women of Godliness February 2, 2003
Forgiveness Conference March 15, 2003 (100 present)
Bogorovo Church
Women of Godliness May 3, 2003 (120 present)
Iretchekovo Church
Prayer for Jerusalem Seminar June 26, 2003 (250 present)
Please pray for our next regional training seminar in September, 2003. We are expecting over 300 to attend.
Water Baptism Services
May, 2001 Baptized 3 in the Yambol church
June, 2001 Baptized 3 in the Yambol church
June, 2003 Baptized 24 in the Black Sea