Since 2011, we have authored over two dozen books related to our ministry and mission work in Eastern Europe. As several of the prints are now almost exhausted and second/third editions and several new titles are under way, we are releasing all currently available editions in a Labor Day sale. All titles are available at up to 30% off and Amazon offers free shipping and extra savings for bundle purchases.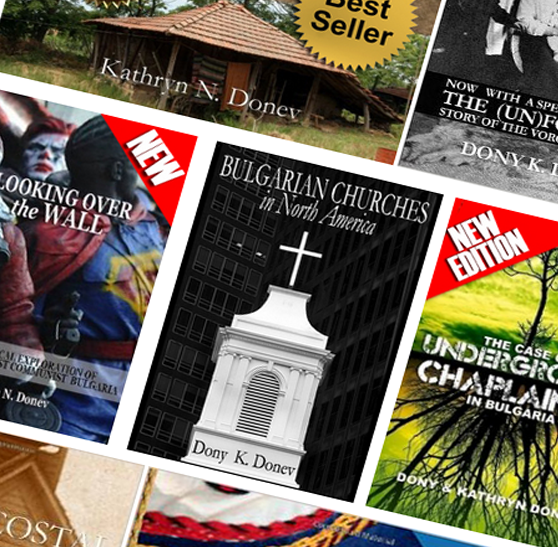 2018 Revival Harvest Campaign: REBUILDING the WALLS
2017 Prophetic Revival in Bulgaria: The Search for Holiness Continues
2016 School Youth Revival Takes Over Delbarton, West Virginia
2016 110 Years ago, the Azusa Street Revival Began with a Fast
2016 Speaking in Tongues in America Prior to the Azusa Street Revival of 1906 (Diamonds in the Rough-N-Ready Series)
2016 The FORGOTTEN ROOTS OF THE AZUSA STREET REVIVAL
2015 Why Revival Came? by Dr. Charles Conn
2015 La France District Revival
2014 25 Year Revival Cycles in Bulgaria's Protestant History
2014 Revival Harvest Campaign 2014 in Varna and Signing of the Scrolls
2013 End of Days Revival Series
2012 12.12.12. Revival at the End of the World
2012 Revival Harvest Campaign 2012: Revival Must Go On…
2011 WAR ON THE SAINTS: Revival Dawn and the Baptism of the Spirit
2011 Historic Pentecostal Revival Tour in Bulgaria Continues
2009 Revival Begins in Chicago
2008 Revival Bulgaria 2 Film Released
2007 Revelation Revival Continues
2007 Revival in Bulgaria Again
2006 Mission Maranatha in Revival
2006 Healing in the Midst of Revival
2005 Revival in Bulgaria Again
2004 Revival Harvest Campaign Results
2004 Is There Revival in Bulgaria?
2003 Postcommunist Protestant Revival in Bulgaria
All ministers of faith minorities representing less than 1% of the population "would be required to be Bulgarian citizens, having graduated theology in this country"
Bulgaria could soon strongly restrict the freedoms of all minority faith groups representing less than 1% of the population. If the bill changing the "Religious Denominations Act" of 2002 is passed, evangelical Christians and other groups would not be allowed to have foreign ministers leading their religious services. In addition, "the state is implementing restrictions over international donations and is placing itself in a position to control any training of ecclesiastic leadership."  The new law "is supposedly aiming to limit and filter attempts for radical influence", but it would end up reinforcing the power of the two majority religions: Eastern Orthodox Christianity and Islam.
"Should an Evangelical denomination want to train its clergy, the only academic education allowed would be either in a national Eastern Orthodox academy, or in a Muslim school."  Several Christian faith minorities have already issued statements demanding political parties to open an honest dialogue with the confessions.
What are the changes that are being introduced in the "Religious Denominations Act"?
In the first days of May, 2018, two new bills were submitted in Parliament regarding Bulgaria's Religious Law. The first one was put forward by the three largest political parties (one in power; and two in opposition); while the second bill was coined by the United Patriots (an alliance of nationalistic groups participating in the country's government). The most disconcerting one is the first bill. It was drafted by the pro-European governing party GERB and their parliamentary rivals of the Socialist Party and the pro-Muslim Movement for Rights and Freedoms. This bill claims its goal to "prevent interference of foreign countries, institutions and persons into [national] religious affairs". The document proposed several changes to the existing 2002 Act: only religious communities having at least 1% of the population would have a right to state subsidy; all clerics would be required to be Bulgarian citizens, having graduated theology in this country; any financing of religious institutions from abroad would wither be banned or filtered by the state Committee of Religious Denominations. In this way, the state is implementing restrictions over international donations and is placing itself in a position to control any training of ecclesiastic leadership. By limiting state subsidies and religious education only to religious groups over one percent, the new law is imposing an unjustifiable governmental favoritism. The only entities thus qualifying would be the Easter Orthodox Church and the Muslim religion.
Atanas Slavov, Professor of Law at the University of Sofia, went on record to say about this one-percent limitation that "placing all confessions under the same common denominator is an act of discrimination". Groups that are discriminated against with this bill, include all Protestant denominations, the Catholic church, the Armenian church, and the Jewish minority, among others.
Catholic bishop Hristo Proykov commented for Patheos website: "The legislative proposal is a sad reminder of a bygone Communist past, which we believed would no longer return".
Is there a fear in Bulgaria about foreign organisations influencing religious groups in Bulgaria and gaining influence?
With the current refugee situation in Europe, and with our country responsible for the Union's outside borders, there have been all sorts of disturbing rumors and instilled fears about our way of life and our children's future. Broadcasting agencies and the social media regularly feed us with information about terrorist threats, religious overtaking and ethnic reshaping of the continent's culture and values.
In addition, Bulgaria is probably the state with the highest number of Muslims per capita in the European Union. According to estimates from 2017, Muslims are about 15 percent of the country's population. However, for many decades the relations between Muslims and Christians in Bulgaria have been peaceful and mutually respectful. On a local level, people have lived together, celebrating each other's cultural and ethnic traditions. The government's concern in suggesting those restrictive measures, apparently, is that there have been endeavors on behalf of Islamic fundamental groups to infiltrate some Muslim communities in Bulgaria. Based on such anxieties, the new law is supposedly aiming to limit and filter attempts for radical influence.
How would these legal changes affect evangelical churches in Bulgaria in practice?
According to the 2011 national census, all Evangelical Christians in Bulgaria comprise of 43,000 or less than 1% of the population . This means that with the implementation of the new law, Protestants will be deprived on several levels. In fact, it is our belief that Protestants are actually more than one percent of Bulgaria's population. But this is a whole different conversation.
There are at least five areas how this new bill would inspire discrimination if voted for:
The motives of the new bill include the argument that it aims "to stop all activities… that are aimed against the national security, the social order, the public health and moral". This claim indirectly implies that all religious groups comprising less than one percent of the population are a threat to the national security
Only groups over 1% will be eligible to receive state subsidy for restoration of church buildings. In this aspect, all Protestant churches are immediately scratched off.
Any religious entity that does not meet the one percent criterion, will not be allowed to open its own theological school, and accordingly will not be able to issue any academic certificates to its graduating students.

Moreover, their clergy will not have a permission to study theology abroad.

In other words, according to the new bill, should an Evangelical denomination want to train its clergy, the only academic education allowed would be either in a national Eastern Orthodox academy, or in a Muslim school! The St. Alexander Nevski Cathedral, in Sofia, Bulgaria. / Pixabay (CC0)
No foreign sponsorship will be allowed to any religious organization to pay salaries to their clergy or their religious staff. The only way donations will be allowed from abroad is if they meet two requirements: the purpose of the funding can only be towards building construction or social aid; the donation itself will need a preliminary permission issued by the state Committee of Religious Denominations! In other words, no outside sponsorship will be allowed to enter Bulgaria for the operation of Christian-run medical centers, for educational activity, for publishing, for cultural events, for small business, for volunteer initiatives, etc
Only citizens of Bulgaria will be allowed to perform religious duties. The only way a foreigner (a missionary, a preacher, a teacher, an evangelist, etc.) could conduct a worship service or preach a sermon would be if he is doing this jointly with a Bulgarian minister.
Are evangelical churches talking to the Bulgarian government or political parties about possible amendments or lines of dialogue to soften the consequences of such a law?
Part of our objection was that absolutely no attempts were made on behalf of the politicians to consult any religious group in regard to this new bill. The same sentiment has been shared by the Armenian community, the Jewish minority, the Apostolic Nunciature of the Catholic Church. The speaker of the Orthodox Holy Synod father Nikolay Georgiev announced that the Bulgarian Orthodox Church does not agree any minority should be deprived of their rights, and that the BOC is ready to defend other denominations' just religious cause. Soon after the proposed bill was pushed, a number of Christian churches in the country issued declarations of protest.
Denominational positions were officially published by the United Methodist Church, the Bulgarian Baptist Union, the Bulgarian Evangelical Alliance, the Central Israelite Religious Council, the Catholic Church in Bulgaria, the National Alliance "United Churches of God", the National Council of Religious Communities in Bulgaria, as well as various civil rights organizations.
Two alternative legislative proposals put forward by Bulgaria's main parliamentary fractions would give the state more oversight over the activities of the country's faith groups.
Bulgaria's parliament is seeking to change the Law on Religious Confessions, to limit external financing and crack down on religious "radicalism".
Two separate pieces of legislation – one backed by party leaders of the ruling GERB party, the opposition Socialist Party and the Movement for Rights and Freedoms, MRF – and another introduced by GERB's minor coalition partner, VMRO, were both deposited in the assembly on Monday.
The first proposal aims primarily to introduce state subsidies for the major religious denominations of up to 15 million levs [7.5 million euros] a year.
This sum would be divided among the faiths whose followers number at least 1 per cent of the population, according to the latest census data. In practice, this would mean that only the Bulgarian Orthodox Church and the Muslim community would be eligible for the cash.
The alternative proposal, introduced by Defence Minister Krasimir Karakachanov's VMRO party, follows similar lines. However, it focuses also on the fight against "radicalization" and seeks the introduction of more oversight of religious activities and financing by the state.
Both proposals would only allow foreign preachers to deliver sermons in the presence of locally accredited clerics. The two proposals are a response to a cross-party agreement reached after an April National Security Consultation Council, organized by President Rument Radev.
However, the plans are already dividing the ruling GERB-United Patriots coalition, with the latter claiming they were not consulted by Prime Minister Boyko Borissov's party about the plans.
On Sunday, Iskren Vesselinov of VMRO, one of the three parties in the United Patriots, told Bulgarian National Radio that there had been "a problem with communication" within the coalition about the legislative proposal.
"We had to introduce it to parliament before we received statements from the major religious communities because the other piece of legislation was already deposited, which would have slowed down the entire reform process," Vesselinov added.
The lack of consultation with religious communities may also turn out to be an issue, experts warned.
"There is a problem with the philosophy of the reform proposals; until now, the Religious Confessions law sought to guarantee the rights of the faith communities. Now it will seek to introduce oversight and control," Mihail Ivanov, an ethnic minorities expert from New Bulgarian University who took part in the preparation of the 2002 law, told BIRN.
He noted other problems, too – that both plans introduce a discriminatory element that divides the two big religions from the many smaller faith communities and limit the ability of foreign preachers to practice in Bulgaria.
"The changes don't take into account important religious differences – for example, the Catholic Church is a unitary body and its Bulgarian priests receive their funding from the Vatican. This would now be rendered illegal," Ivanov observed. According to him, the same applies for visiting clergymen who might not now be allowed to preach in places where there is no local pastor of their faith. Another issue Ivanov pointed out is that both proposals would increase the regulatory role of the Religious Confessions Directorate under the Council of Ministers. This would, in practice, place control over donations, religious institution accreditation and educational program matters in the hands of the executive power.
However, Ivanov said the positive sides of the changes include the two major Bulgarian religions receiving state financing guarantees. "It is good that the debate about religious regulations has been opened; now the political forces need only to leave the discussion to experts and members of the religious communities themselves," he concluded.
Using state funding for "illegal activities" by religious denominations will be sanctioned with prison terms of 3-6 years. With these sanctions in mind, the new legal measure embodies the following rationale:
Churches and ministers must declare all foreign currency money flow and foreign bank accounts
Participation of foreign persons in the administration of any denomination is strictly forbidden
Foreign parsons shall not be allowed to speak at religious meetings in any way shape or form especially religious sermons
Anonymous donations and donorship to religious organization is not permitted
Bulgarian flag shall be present in every temple of worship
The new measure will block all foreign interference in the faith confessions and denominations in Bulgaria
August 2018 Update: Churches across Bulgaria have petitioned against the new changes in the Law of Religion as they constitute:
Limitations on freedom of religion and speech
Merge church and state
Establish goverment control over preaching
Ban any missionary work and preaching in a foreign language
Halt international support for religious organizations
Removes meeting form rented closed properties
Legalizes discrimination on basis of religion and faith convictions
Prayers for Pastor Andrew Brunson Imprisoned in Turkey
NRB's president & CEO, Dr. Jerry A. Johnson, is urging Christians in America to pray as the July 18 trial date for imprisoned American Pastor Andrew Brunson approaches.
Furthermore, Johnson is encouraging Christians to sign a petitiondemanding the release of Brunson, who has been wrongfully detained in Turkey and denied due process rights for years.
"Let's unite in prayer for Pastor Brunson and his family," he said.
"It's time for the Church to pray. It's time for the Church to speak up and stand up. Let your voice be heard," he added, noting the petition that is currently being circulated by the American Center for Law and Justice (ACLJ) has been signed so far by more than 580,000 individuals.
A U.S. citizen who pastored churches in Turkey for more than two decades, Brunson was arrested by Turkish authorities in October 2016 and held without charges for months. The North Carolina native was then kept in prison after being accused, without compelling evidence, of being a member of a terrorist group. A few months ago, an official indictment was filed by Turkish prosecutors, who are seeking a 35-year sentence for the American pastor.
After eight months of imprisonment, Brunson's trial began with a hearing on April 16. A second hearing was held on May 6, and the third hearing is now scheduled for July 18.
The European Centre for Law and Justice (ECLJ), an international affiliate of ACLJ, is actively advocating for Brunson before international institutions and media.
On June 25, ECLJ addressed the 38th Session of the United Nations Human Rights Council, again drawing the council's attention to Brunson's plight.
"Turkey has made it clear that this is a sham trial, and, as indicated by President Erdoğan's multiple demands to swap Pastor Brunson for Fethullah Gülen, Pastor Brunson is undoubtedly a political prisoner being held as a bargaining chip for Turkey," ECLJ stated.
"Turkey has violated many international laws and obligations, as well as its own constitution, by arresting and detaining an innocent pastor in prison for over a year and a half based on the hearsay testimony of clearly questionable secret witnesses. Moreover, Turkey has denied Pastor Brunson the opportunity to mount an adequate defence by flippantly dismissing all defence witness testimony," it added.
"The ELCJ respectfully requests that this Council remind Turkey of its obligations and make every effort to ensure that Pastor Brunson is released and allowed to return home."
On June 30, Turkey's leading news source, the Hurriyet Daily News, ran an opinion piece by columnist Serkan Demirtas with the headline: "Pastor Brunson's detention has become too costly for Turkey."
In the article, Demirtas noted that Brunson's release "would sure help the ongoing reconciliation process between Turkey and the U.S." He also claimed that "many diplomats in Ankara expect his potential release followed by his deportation pending trial on the July 18 hearing."
He acknowledged, however, that "it is impossible to foresee what the court's decision will be."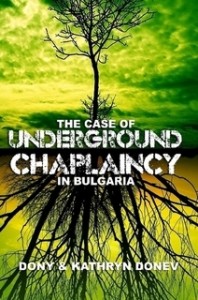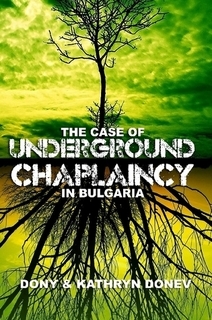 Bulgarian Chaplaincy Association celebrated 20 years of Military Ministry in Bulgaria since the first event co-hosted by the Bulgarian Armed Forces and government officials in 1997.
2018 The Road toward a Balkan Multi-Ministry Center and Legal Status
2017 Bulgarian Chaplaincy Association: Legal Case Renewed
2015 Revisting the Integration Proposal with Local NATO Programs by Bulgarian Chaplaincy Association
2014 Bulgarian Chaplaincy Association: Vision and Resolution Reaffirmed
2012 First Class of the Master's of Chaplaincy Ministry Program
2011 Master's of Chaplaincy Ministry Program Continues
2010 Master's of Chaplaincy Ministry Program begins in Sofia, Bulgaria
2009 Bulgarian Chaplaincy Association holds an introductory chaplaincy course in Yambol, Bulgaria
2008 The Case of a NATO Chaplaincy Model within the Bulgarian Army released
2007 Bulgarian Chaplaincy Associations Recognized by U.S. Department of State
2006 Registration for the Bulgarian Chaplaincy Association Rejected by Bulgarian Court
2005 The Bulgarian Chaplaincy Association presented before the Bulgarian Evangelical Alliance
2004 Three U.S. Bases in Bulgaria to be Built by 2010
2003 The Case of a NATO Chaplaincy Model within the Bulgarian Army
2002 First Balkan Chaplaincy Conference at the Central Church of God in Sofia, Bulgaria
2001 Church of God Chaplaincy Commission to visit Bulgaria
2000 Euro-seminar: Christian ethics in the military forces
1997 First Military Ministry Seminar in Veliko Tarnovo
With all this accomplished, in the beginning of the 21st century law and chaplaincy meet on the road to democracy as Bulgaria remains the only country in NATO without military force chaplaincy. But before chaplaincy could be legalized completely and endorsed by the state to its full functionality, several changes must be undergone. Some of them are:
Legal provision allowing chaplains to work as staff in the army, which guarantees the equal presence of protestant chaplains as well.
The approval, acceptance and implementation of a NATO based model for chaplaincy within the structures of the Bulgarian Army.
Periodical and systematic educational strategy toward chaplaincy workers among Bulgarian evangelicals.
A paradigm for cooperation of Bulgarian chaplains from various ethnic, religious and cultural backgrounds.
Further research publications to enhance the efficiency of chaplaincy within the Bulgarian national context.
Also important [click to read]:
More Publications on the Topic and History of Events:
A secondary outbreak of the animal plague was found in the town of Bolyarovo, Bulgaria. This was announced today by the Bulgarian National Food Ministry.
Threats of EU restrictions on the export of dairy products have encouraged the Bulgarian government to euthanize more than 4,000 sheep and goats in villages close to the Turkish border. Some experts say ovine rinderpest can lead to an 80% mortality rate of a sheep herd and a 100% mortality rate among goats in a matter of a week.
The first positive test results in Voden were confirmed by the French agricultural lab CIRAD on 23 June. In connection with a new outbreak of African swine fever virus in feral pigs near the border of Bulgaria in Tulcea, Romania, the Executive Agency for Forests calls on Bulgarian hunters to strictly observe the preventive measures imposed to reduce the spread of the disease, the agency said.
According to the Agency, "the Bulgarian hunter is the most important figure not only for the use and management of wildlife but also for the protection of its health." The moral right and privilege of hunters is to take seriously and responsibly the problem and to help fight the African a plague in feral pigs, which initially involves more intense individual shooting to reduce the population of wild boar in the country to levels of 0.3 per 100 hectares. " Increasing shooting by individual hunting will in no way affect planned hunting for group hunting of wild boar for the upcoming hunting season, noted by the FIA.
The report reminds that since the beginning of the year, the Forestry Agency has taken urgent action by convening a meeting of the Hunting Council which has imposed preventive measures to prevent the occurrence of African swine fever in Bulgaria. In addition to augmenting the population, hunters must immediately notify an official veterinarian of each wild boar corpse found. The decisions of the Hunting Board meeting were sent to all the regional structures of the agency as well as to the six state forest enterprises. All hunting associations in the country are well informed about the disease. Particular attention is paid to the municipalities along the Danube and on the islands along the river, the municipalities of Silistra and Dobrich along the land border with Romania and the Black Sea border.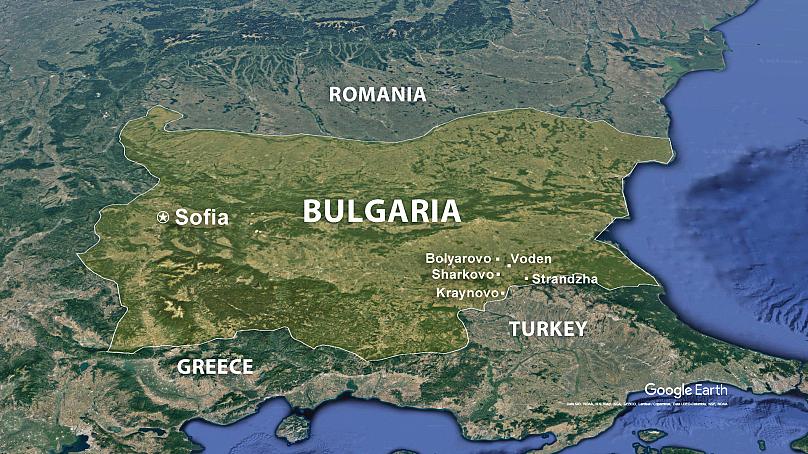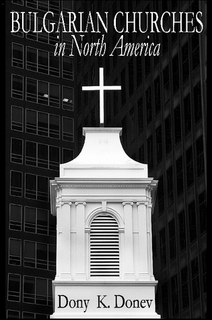 Over a decade ago, after publishing Bulgarian Churches in North America: Analytical Overview and Church Planting Proposal for Bulgarian American Congregations Considering Cultural, Economical and Leadership Dimensions, we purposed to explore the possibility of implementing the church planning program among Bulgarian Diasporas in various destination countries of migration.
With this in mind, we carried the vision for establishing 20 Bulgarian churches outside of Bulgaria by the year 2020. Cyprus, the United Kingdom and Canada were among the first to successfully implement our program. Bulgarian migrant communities in France, Italy and especially Spain and Germany followed with great enthusiasm – there are 7 Bulgarian evangelical churches active in Span today, and 18 in Germany.
Of course, not all parts of the program proved to be efficient. The program's modules and training that was implemented, however, have produced 47 strong church plants thus far and the number is growing every month. The program proposed has been confirmed by the leadership we have received from the Holy Spirit. Our commitment to seize the opportunity and work toward adding more Bulgarian churches by the year 202 has by far surpassed all expectations.
READ ALSO: