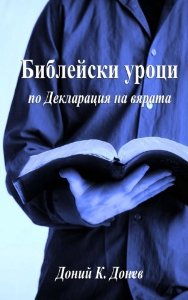 This small book has been over ten years in the making. It is a commentary and study guide for the doctrinal teachings of the Church of God aligned with our Declaration of Faith. It was initially prepared for Bible School and seminary students due to the lack of Sunday school and teaching literature in the Bulgarian vernacular. Through the years however, it has became the standard teaching tool in Sunday schools and programs across the country being used in several Bulgarian churches across Europe as well.
The Bible series was initially published in single lesson leaflets for the Church of God in Sofia. Our team would prepare the lessons every week and print about a thousand copies of each to teach at the beginning of each Sunday morning service. As we gathered information from the local churches at the 2002 Church of God national minister's meeting, it was reported that thousands of leaflets were being copied, distributed and taught each month without us even knowing about it. Our team has further presented the complete series in the Church of God congregations of Sofia, Pravetz, Ruse, Gabrovo and even Chicago. We are grateful that after all these years it has finally seen its publication as a book accompanied with the video teachings of our weekly Bible Hour broadcast program.
Lessons accompanied with video presentations included in volume 1:
Lesson 1: My Bible
Lesson 2: Holy Trinity
Lesson 3: Jesus Christ
Lesson 4: Repentance for Salvation
Lesson 5: Difficult Questions
Lesson 6: Fasting
Lesson 7: Prayer
Lesson 8: Holiness
Lesson 9: Holy Ghost Baptism
Lesson 10: Giving and Charity
Lesson 11: Water Baptism
Lesson 12: Divine Healing
Lesson 12: Divine Healing
Lesson 13: Holy Communion
Lesson 14: Last Days
Lesson 15: Resurrections
Lesson 16: Fruit and Gifts of the Spirit
Lesson 17: Theology with Melody
Lesson 18: Ministry and Praxis
Lesson 19: Angels
Lesson 20: Pentecostal Primitivism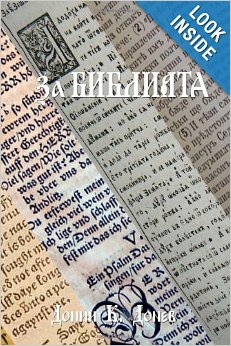 About the Bible (3a Bibliata) is a publication series of some 100 research articles written for the Bulgarian Evangelical Newspaper between 2004-2010. They include topics as paleography, manuscript collage, textual criticism and much more. The historical outline explores the translation of the Bible in various languages from its conception to present day and early Bible versions (Coptic, Armenian, Georgian and others). Special attention is paid to the early Slavic and Gothic manuscripts. Then, the timeline continues with the Bibles of the Protestant Reformation from Hus, Wycliffe, Luther, Zwingli, Geneva all the way to the King James Bible of 1611. The last part of the book includes a detailed exegetical and text-critical exploration of the Bulgarian Bible versions including early translations of the 19th century, the Constantinople Bible, Revised Protestant editions of 1924 and 1940 and all available modern revisions (Bible Society, Veren, WBTC, Bible League) and the New Bulgarian Translation of the Bible (2007-2013).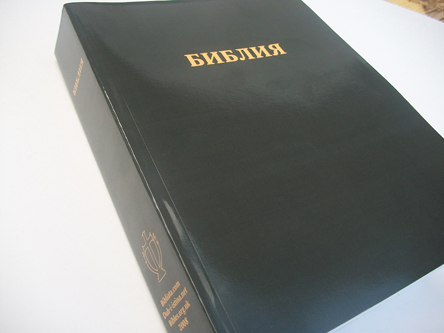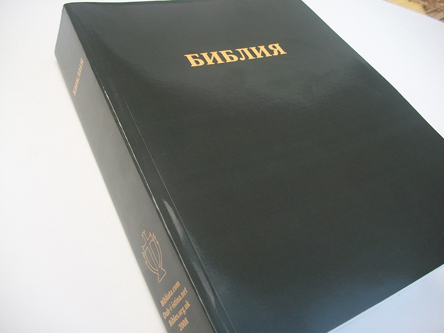 Bulgarian Bible (1871 Constantinople Edition) now available worldwide through Amazon.com markets
50% of the Video Bible is already recorded. See it at http://bibliata.mobi/
For several years now, our team has been working on a brand new project featuring unconventional technology, which combines social media and the message of the Bible. We call it simply VIDEO BIBLE – a complete video recording of the Bible text through reading, expository preaching, drama, congregational reading, visual arts and many other ways of incorporating the Bible with modern media. It is easier to use compared to the common reading and listing of text.
How does it work?
The introduction of this unconventional media model to the social networks is much more appealing and user friendly than texting the Bible or broadcasting it as an audio stream. But even more powerful than the message itself, is its effect on the people as the church comes together in a community of faith to fulfill the Biblical commandment for reading and living the Book. This internet ecosystem is truly Bible based and everyone can see it on the recorded videos.
Where do we stand?
Over 250 people, youth groups, whole churches and ministries have participated in the project until this point. Over 50% of the Biblical text has been recorded and published via our video sharing stream at http://bibliata.tv and this number is increasing daily. Every recorded and broadcasted chapter of the Bible brings new participants to the community thus exponentially increasing the effect of the project.
What's next?
The completion of the Bulgarian version of the Video Bible is set by the end of 2012, when our team will introduce the API for other languages and Bible versions. The idea is to create a global community of believers who introduce the message of the Bible in a user friendly video format, thus making it available to anyone who wants to read through the Bible. And something more – through its unique technology, mobile capabilities and social networking, the Video Bible is a genuine evangelism tool that could be used by anyone.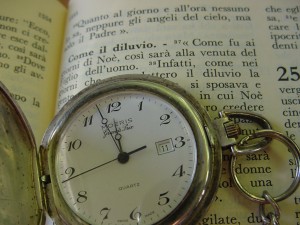 Since the beginning of the year, we have begun a weekly live broadcast in Bulgarian called "Bible Hour." It airs every Monday evening in Bulgaria. They can be watched live via our ministry's website www.cupandcross.com every Monday at 1PM ET or anytime at http://biblehour.net/
The broadcast embodies three types of video broadcasts as related to our ministry in Bulgaria and abroad as follows: (1) Bible Hour Series, (2) Selected sermons and teachings from our evangelism ministry and (3) videos from our annual X events for youth in Bulgaria and abroad.
This is a new dimension of our work and effort to establish Bulgarian Christian Television since 1995. Since then, we have equipped and trained some 20 congregations in Bulgaria and abroad, who currently broadcast their church services, Bible seminars and special events on the internet creating virtually a 24-hour live broadcast.
Just recently, one of these efforts for Bulgarian Christian Television, held a 6-hour prayer marathon. A Church of God congregation in Stara Zagora also participated via a video bridge. Join us in prayer for God's favor as we continue to work toward this effort reaching for Christ many Bulgarian speaking people around the globe.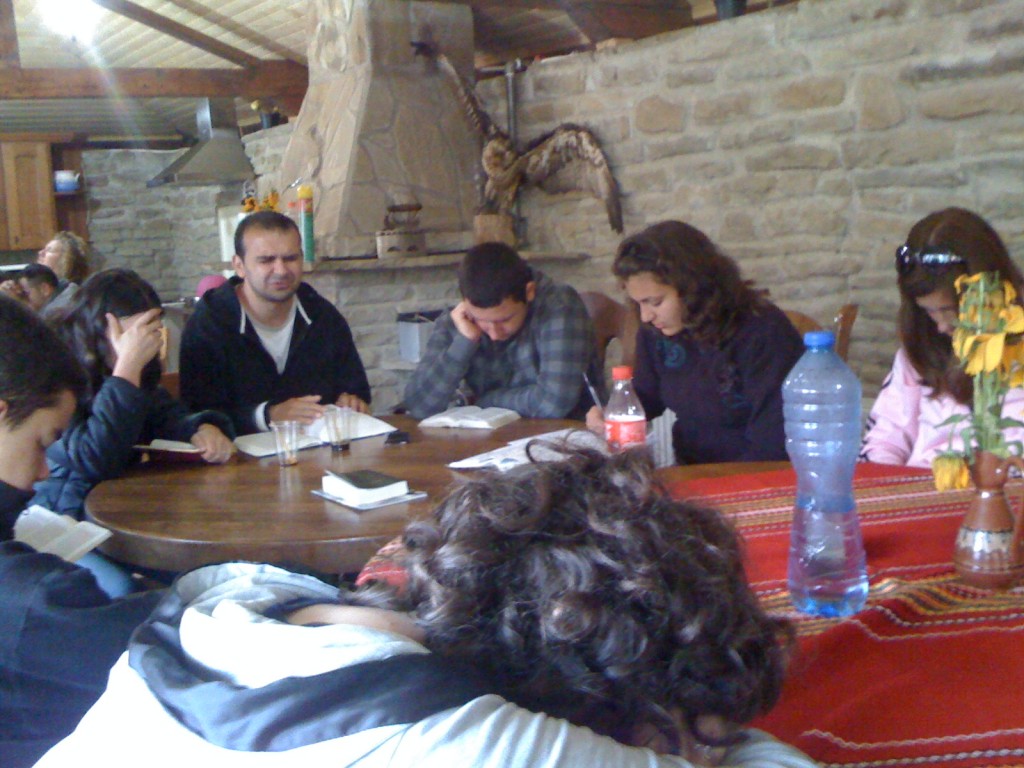 6:00 AM The Day Begins with Prayer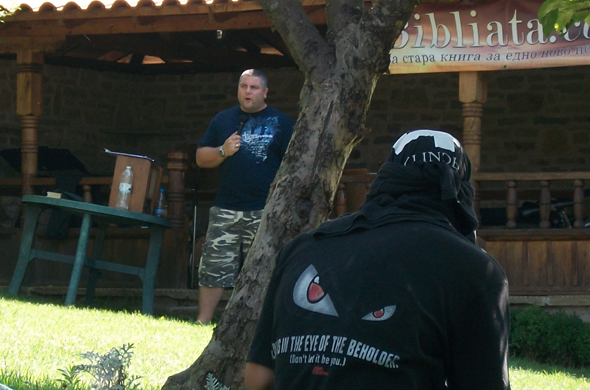 10:00 AM General Training Session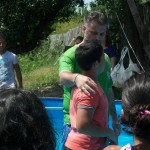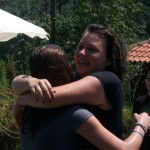 2:00 PM General Discussion/Water Baptism
4:00 PM Workshops in (1) Prayer, (2) Preaching, (3) Deliverance and (4) Missions
8:00 PM Evening Service followed by prayer at the alters until midnight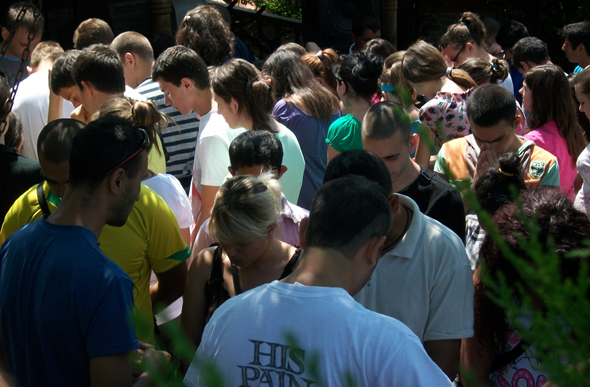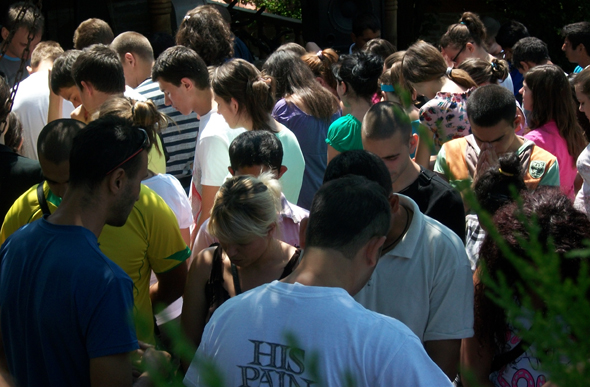 ALL ABOUT BIBLE CAMP 2011 BULGARIA:
BC/AD 2011 (Bible Camp/All Denominations) in Bulgaria – A Vision of Purpose
BC/AD 2011 (Bible Camp/All Denominations) in Bulgaria – A New Generation Called to the Presence of God
BC/AD 2011 (Bible Camp/All Denominations) – God's Favor Realized
In order to provide spiritual upbringing for the young ministers, each day followed a carefully prepared schedule beginning with prayer at 6:00am. Dr. Dony Donev delivered the morning messages at 10:00am which continued with a personal time of prayer and reflection. Every afternoon at 4:00pm the youth broke into small groups on the topics of preaching, prayer and fasting, leading worship and healing and deliverance. Missionary Ivo Shatrovsky who has been a guest speaker at previous meetings held a group on Tuesday and spoke about foreign missions. Regional Bishop Vassil Petrov of the Gabrovo Church of God led a study group on the subject of Spiritual Ministry through Healing and Deliverance, Pastor Anton Penev of Reformation Church in Haskovo taught on prayer and praise, while Dr. Dony Donev lectured on preaching and teaching from the Word of God.
During our morning fellowship after prayer, the youth shared their unique calling for the ministry. Some where called to be worship leaders, others to be preachers, several even had a prophetic calling upon their lives and three shared their calling to missions in the Middle East. One of them received a confirmation during the camp that she was accepted to an Arab language studies program at the Bulgarian University of Velik Tarnovo, where she would receive further preparation for her calling.
On Wednesday afternoon six young ministers from our group displayed the results of their week of training and delivered a sermonet on Psalms 23. It was encouraging to see the dedication of these young men and women as throughout the day you would see them reading their Bibles in preparation and hear their prayers coming from unknown places.
A water baptism service was held at 2:00pm on Wednesday where after receiving instruction, 17 were baptized while all sang a Bulgarian hymn with the words "Come to the river with waters of life…"
The water baptism and all other results from the camp came with a direct testimony of experiencing the Glory of the Lord on the mountain. During the alter call following the service on Tuesday night in particular, the presence of God was so evident and powerful that prayers continued long after closing into the night. It was a moment like we have never seen before in our ministry of 21 years. This is a report which is not given lightly and was confirmed by various testimonies. A few follow:
"It has been a long time since I have witnessed a time like this and have felt God's Glory so powerfully." ~ Young minister from Haskovo
"From small to large were all one, and Jesus himself was among us. I personally am encouraged by this camp."~ Regional Bishop Vassil Petrov of the Gabrovo Church of God
"I have never in my life experienced the presence of God so powerfully" ~ Panayot Budinov, Youth Pastor from the Assemblies of God Church in Yambol
"I am certain that the Word that was delivered at this camp will have global results"~ Young person with a Calling for Missions
"Mightily blessed! Outpouring of the Holy Spirit! Prayer, worship and anointing! Baptisms in the Holy Spirit and 17 water baptisms! What else could be said?" ~Pastor Anton Penev
We are waiting and believe that we will continue to receive praise reports from miracles and transformations that happened as a result of Bible Camp 2011. We thank all of those who made this camp a success and as always extend a special thanks to the Eco Complex Katunishte for graciously hosting our event and allowing us to use their facilities.
ALL ABOUT BIBLE CAMP 2011 BULGARIA:
BC/AD 2011 (Bible Camp/All Denominations) in Bulgaria – A Vision of Purpose
BC/AD 2011 (Bible Camp/All Denominations) – God's Favor Realized
BC/AD 2011 (Bible Camp/All Denominations) in Bulgaria – A New Paradigm for Ministry in the Spirit
Just like last year, in order not to interfere with church services, the camp began on Sunday afternoon, followed by registration of over 75 young people already active in the ministry. This number does not include the guest who traveled for daily seminars and evening services from the nearby towns and villages. Some even traveled from the capital Sofia, located over 200 miles west on the other side of Bulgaria and from nearby countries.
After pitching tents and getting settled in, Pastor Anton Penev of Reformation Church in Haskovo opened the camp with a message on Fixing Our Eyes on Jesus. First time guest, Regional Bishop Vassil Petrov of the Gabrovo Church of God, spoke during the next evening service and gave testimony of his salvation and calling to healing ministry. Dr. Dony Donev delivered a message on Tuesday night on the Glory of God, followed by guests from Greece who arrived Wednesday to minister during the closing service. Praise and worship during services was lead by the youth praise team from the Yambol Assemblies of God. (Continues)
ALL ABOUT BIBLE CAMP 2011 BULGARIA:
BC/AD 2011 (Bible Camp/All Denominations) in Bulgaria – A Vision of Purpose
BC/AD 2011 (Bible Camp/All Denominations) in Bulgaria – A New Generation Called to the Presence of God
BC/AD 2011 (Bible Camp/All Denominations) in Bulgaria – A New Paradigm for Ministry in the Spirit
Since 2008, when we began the Mobile School of Ministry in Bulgaria, our team has been able to organize an annual youth camp purposing the training and equipping young ministers for the harvest of God in Bulgaria. Just recently, our training model has been featured by youth outreach organizations like Youth for Christ via their European regional office in Barcelona, Spain.
When you hear about a youth camp you have a certain picture in mind like a reunion of friends who haven't seen each other since last summer or times of fun, of games and so forth. But Bible Camp is not your typical youth camp. It was specifically designed for a select group of young people called and involved in the ministry.
This may sound strange at first, however, today in Bulgaria there are plenty of Christian camps for kids to hang out, play games and enjoy themselves. This camp is for young people who have accepted a calling for ministry on their lives. It is a time of prayer and fasting; a time of being one on one in a quiet place seeking the face of God, hearing His voice and seeing His Glory abide in a genuine Biblical and personal experience.
As early as 2008, this unique opportunity to train workers for the Harvest has been in the planning. It began with a Word that the Lord is calling a new generation to a new level of ministry in Bulgaria. This vision was casted among the churches and as a result teams from various towns were formed and we began having monthly leadership training seminars in the village Katunishte in the Balkan mountain in 2009.
Then, 2010 marked the first year of having an organized camp. Now, several years latter, we are able to announce that the second national annual Bible Camp in Bulgaria was a reality and a success. This is a camp that did not just spring up over night. Much prayer, planning and partnership went into making the vision a reality. (Continues)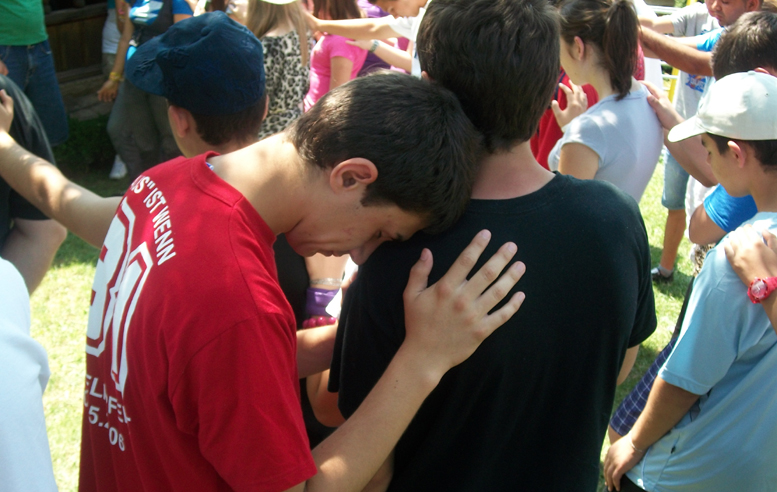 ALL ABOUT BIBLE CAMP 2011 BULGARIA:
BC/AD 2011 (Bible Camp/All Denominations) in Bulgaria – A New Generation Called to the Presence of God
BC/AD 2011 (Bible Camp/All Denominations) – God's Favor Realized
BC/AD 2011 (Bible Camp/All Denominations) in Bulgaria – A New Paradigm for Ministry in the Spirit

Unprecedented revival is sweeping the country of Bulgaria again and has started among the Pentecostal Church of God. We have spent the last full month in traveling and preaching in key churches crossing the country from the capital Sofia to the Black Sea and from the Danube River through the Balkan Mountains to the Thracian Valley.
While people in general are struggling with the economic and political crises and the church is in continuous leadership dilemmas, God is on the move with a new revival mainly among the new generation of young people. We saw this in recent national youth events like our spring 2011 youth leaders gathering near Yambol and the regional youth revival in Silistra during Easter. Similar meetings were reported in Eastern Bulgaria in May and in the capital Sofia in June with the arrival of praise team from Hillsong, which gathered over 7,000 people in one single event. And last but not least, various meetings of Roma leaders and youth, to which we had the privilege to contribute as well.
We are now looking forward to combining these experiences within our national Bible Camp which we hold for young ministers and youth leaders, followed by the New Wave camp at the Black Sea and the traditional Karandila Youth Camp in the Balkan Mountain. For when one generation looses touch with God, as described in Jeremiah 5:31, God always brings a new generation to serve Him. Today, God is raising a generation of young and faithful people full with the Holy Ghost, and we simply cannot afford to stay out of this great move of God in the last days.