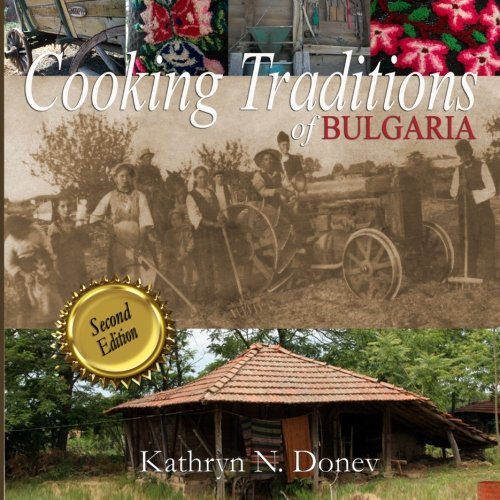 Bulgarian cuisine is distinct, yet eclectic at the same time with Mediterranean influence and flavors of its surrounding countries. Bulgaria borders the Black Sea, between Romania and Turkey. Greece is also a neighbor, along with Serbia and Macedonia to the west. This cookbook features 50 personal, but authentic recipes in attempts to further the tradition of keeping alive century old recipes of Bulgarian cuisine. I have tried to keep the recipes as authentic as possible with using American based ingredients and with every dish, dessert or drink there is a story to be told…
Preview and Purchase Your Copy at: Amazon Kindle Store
Ancient Recipes of Bulgaria, Second Edition
By Evdokia Krusteva
This cookbook features nearly two dozen truly ancient recipes of Bulgarian cooking. Some of these dishes are distant relatives to ones found in ancient Roman manuscripts believed to have been compiled in the late 4th or early 5th century AD. Others are among those far before the time of Christ. As Bulgaria is a country of oral history, recipes are typically not written, but passed down from one generation to the next by experiencing the method of preparation. With nearly every dish in Bulgarian cooking comes a story and custom. This cookbook attempts to preserve these century year old stories for many years to come so they can continue to be passed down.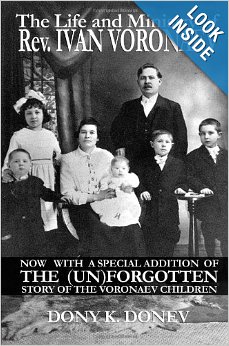 Since we began the research on the Life and Ministry of Ivan Voronaev over a decade ago, several new valuable sources have become available. Among them are never published family correspondence and travelling journals.
From Bulgaria, after remaining hidden for over half of a decade during the Communist Regime, the earliest Book of Minutes of the Executive Committee of the Bulgarian Pentecostal Union (1929-1933) has resurfaced. It contains detail information on the 18 Pentecostal congregations started in Bulgarian in 1921-1922 and the establishment of the Pentecostal Union.
In Russia, Zaplishney's autobiography and a FSB confirmation of the original order for Voroanev's execution has been discovered. Along with them, several volumes of Sevlag prison papers have shed light on the exile years of the first Pentecostal leaders there.
Now that this new information has been made available to us, a new expanded edition for the 90th Anniversary of the Bulgarian Pentecostal Union in 2018 is in order. With this in mind, we have felt compelled to release the remaining first print Voronaev monograph for a fraction of its value while supplies last.
This cookbook features authentic recipes in attempts to further the tradition of keeping alive century old recipes of Bulgarian cuisine. Here you can learn how to make dishes from moussaka to baklava and others in between. The variety of tastes of authentic Bulgarian foods is much desired and the chosen recipes are easy to follow.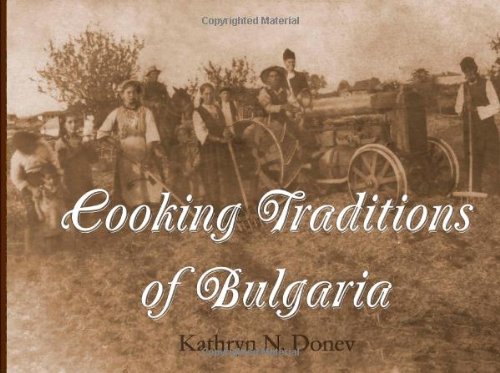 Go to amazon to see the table of contents and purchase
or purchase directly form CreatSpace eStore here: https://www.createspace.com/3890623
FIRST EDITION, 2012
Copyright © February, 2012 by Dony & Kathryn Donev
Cooking Traditions of Bulgaria
© 2012, Spasen Publishers, a division of www.cupandcross.com
ALL RIGHTS RESERVED under international and Pan-American Copyright Convention. Printed in the United States. This book contains material protected under International and Federal Copyright Laws and Treaties. Any unauthorized reprint or use of this material is prohibited. No part of this book may be reproduced or transmitted in any form or by any means, electronic or mechanical, including photocopying, recording, or by any information storage and retrieval system without express written permission from the author(s)/publisher.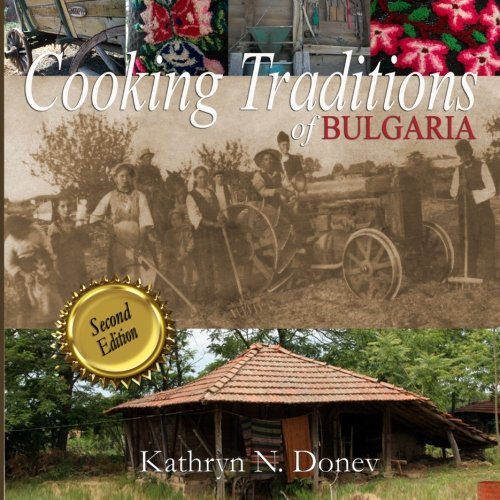 Bulgarian cuisine is distinct, yet eclectic at the same time with Mediterranean influence and flavors of its surrounding countries. Bulgaria borders the Black Sea, between Romania and Turkey. Greece is also a neighbor, along with Serbia and Macedonia to the west. This cookbook features 50 personal, but authentic recipes in attempts to further the tradition of keeping alive century old recipes of Bulgarian cuisine. I have tried to keep the recipes as authentic as possible with using American based ingredients and with every dish, dessert or drink there is a story to be told…
Preview and Purchase Your Copy at:
Amazon.com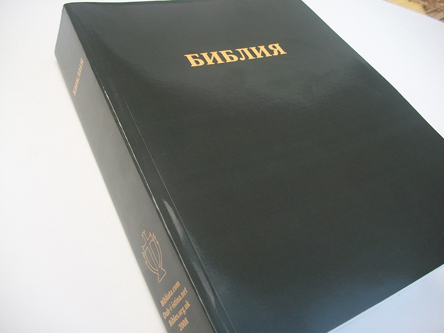 Bulgarian Bible (1871 Constantinople Edition) now available worldwide through Amazon.com markets
Day of the Bible: December 7, 2008

180 Anniversary of the New Bulgarian Translation of Peter Sapunov
Year of the Bible in Bulgaria
Christian web mega portal Bibliata.com, with the partnership of Duh-i-istina.net and Bibles.org.uk websites, published a new printed revision of the first Bible in the new Bulgarian vernacular originally published in Constantinople in 1871. The complete text has been revised according to the modern Bulgarian alphabet in the period from 2004 to 2008. All words and their order have been preserved as in the original edition.
This first complete printed revision of the text was published on December 7, 2008 – Day of the Bible for the 180 Anniversary of the New Bulgarian Translation of Peter Sapunov. It is one of the 10 projects of Bibliata.com proposed for the Year of the Bible in Bulgaria.  The others follow:
November 2008: Days of the Bible in schools of Kardzhali
September 2008: Bibliata.TV – Bulgarian Christian video portal
July 2008: Newly revised printed edition of the Bible of 1940 in partnership with Bibles.org.uk
June 2008: Children's Bible 2.0 (audio, video and images for the little ones)
April 2008 (Easter): JOHN: Gospel, Epistles and the Apocalypse (New Bulgarian Translation) in partnership with the Eagle Publishing House
March 2008: New Bible Software CrossBgBible in partnership with Cross.Bibliata.com
December 2007 (Christmas): JOHN: New Bulgarian Translation (pilot edition) in partnership with the Eagle Publishing House
August 2007: Palm/PDA Bible 7.23 complete with three Bulgarian translations of the Bible Constantinople (1871), Revised Edition (1940) and WBTC (2000) in partnership with Bulgarian-American software company GMP Soft
March 2007: Revised digital edition of the Constantinople Bible of 1871 in partnership with Christian web portal Duh-i-Istina.net
Bulgarian Constantinople (Tsarigradska) Bible of 1871 can be ordered at: http://stores.lulu.com/Bibliata