Click on the text-link to watch our message while ministering at the Regional Church of God exactly 9 months before the Massive Youth Revival in the Schools of Delbarton, West Virginia | http://www.ustream.tv/recorded/69822047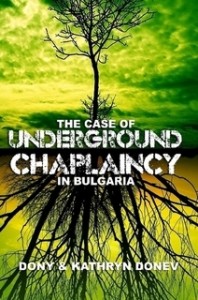 Bulgarian Chaplaincy Association: Celebrating a Decade of Ministry
We are proud to announce that the Master's of Chaplaincy Ministry Program, we designed and launched in Bulgaria in 2006, has been selected to be part of the Social Service Program of New Bulgarian University. After being for years a valuable part of the regular curriculum of the Bulgarian Evangelical Theological Institute and the St. Trivelius Institute in the capital Sofia, the chaplaincy program has received the highest level of recognition as successful graduates will be finally able to receive government recognized degrees and apply their knowledge and training in chaplaincy on a professional level. The chaplaincy program can also serve within the Integration Proposal of local NATO programs and be instrumental in dealing with the enormous wave of Middle East migrants crossing through Bulgaria today.
But let us backup just a moment and start from the very beginning. In the summer of 1995, while pioneering the first Bulgarian church in the Chicago Metro, the local Church of God state office offered a civil chaplaincy training course for beginners. Unfortunately, due to our heavy church schedule, the chance to attend was low and virtually unobtainable. It was not until five years later that our interest in the field was finally rewarded, as in the summer of 2000 both my wife-to-be and I completed the required course work for chaplaincy accreditation, followed by an intense module at the Erlanger Hospital in Chattanooga, where essentially the whole idea for the resurrection of chaplaincy ministry in Bulgaria was born.
Today, our Master's of Chaplaincy Ministry Program has produced a number of graduates who are serving in various chaplaincy positions and civil services in Bulgaria. Please continue to pray for all our named and unnamed chaplains on mission. (Click here to read more)
Also important [click to read]: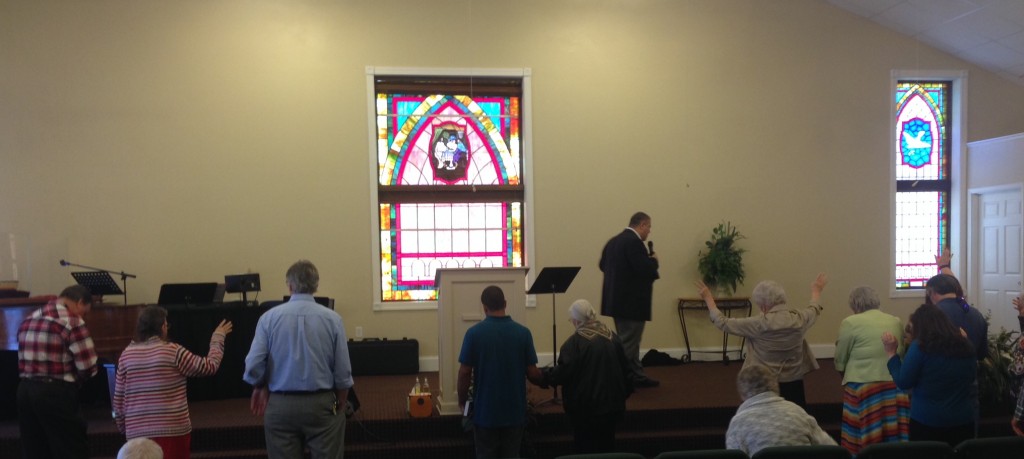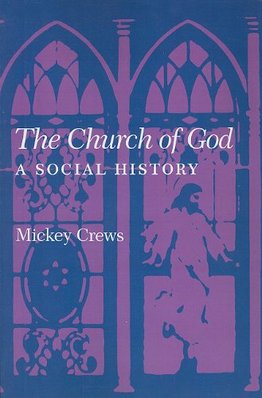 The Church of God: A SOCIAL HISTORY
by Mickey Crews
The University of Tennessee Press, KNOXVILLE
Copyright © 1990 by The University of Tennessee Press / Knoxville. All Rights Reserved. Manufactured in the United States of America. First Edition.
The paper in this book meets the minimum requirements of the American National Standard for Permanence of Paper for Printed Library Materials.
READ the full text here: https://archive.org/details/churchofgodsociacrew
DOWNLOAD as PDF file here: https://archive.org/download/churchofgodsociacrew/churchofgodsociacrew.pdf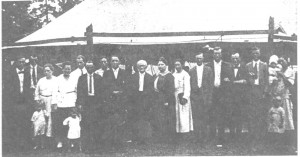 By Glenn Gohr
A/G Heritage, Fall 1992
Although the modern Pentecostal movement relates its beginnings to Charles Parham, who formulated classical Pentecostal theology at his Bible school in Topeka at the turn of the century, throughout history, from apostolic times to the present, there have been certain religious groups and isolated cases of individuals who have experienced tongues-speaking and spiritual gifts.
William Jethro Walthall, who founded the Holiness Baptist Churches of Southwestern Arkansas, a group which later merged with the Assemblies of God, is an important figure who received his baptism in the Spirit prior to Parham's launching of Pentecostalism in 1901.
Walthall's Spirit baptism, which occurred 113 years ago, is one of the earliest documented cases of speaking in tongues in North America. Earlier instances of tongues-speaking have been reported among the Shakers, the Holiness Movement, the "Gift People" or "Gift Adventists" in New England, and others. It is very possible that Walthall is the earliest person to have received the baptism in the Holy Spirit and who later joined the Assemblies of God.
William Jethro Walthall was born in Nevada County, Arkansas, March 9, 1858, the son of Charles Featherston Walthall and Mary Jemima Meador. His father died in 1863 at Rock Island, Illinois, as a prisoner in the Civil War, and his mother died 2 years later. Orphaned at age 7, he was reared by his widowed grandmother. However he had no Christian upbringing, so it was not until 1877 that he was confronted with the claims of the Gospel. That happened when he attended an old-time Methodist meeting and conviction gripped his heart, resulting in his conversion at age 19. Two years later, on August 3, 1879, he was married to his first wife, Melissa P. "Missy" Beavers, who bore him two children, Millard and Ibber Mae. After Melissa passed away, he married Hattie Vaughn on March 24, 1915.
While a young Christian, Walthall had a yearning for more of the workings of God in his life. He earnestly began to seek for a fullness of power to witness and better serve the Lord. This spiritual hunger led him to carefully study the Book of Acts and other scriptures. There he found recorded an enduement with power of the Holy Ghost which had accompanied the Early Church. He wanted this same experience in his life.
During a season of fervent prayer, he received a mighty infilling of the Spirit on September 3, 1879. Since he had never heard of the baptism of the Holy Spirit, he did not receive his Baptism through any prescribed theory or method.
Until that time all he knew about the Holy Spirit came from the teachings of the Methodists and Baptists. But this was something new. His experience came about in answer to prayer and through his own study of the Word of God. From the outset he understood that his experience corresponded with the records given in the Book of Acts.
In his testimony, Walthall describes his infilling by saying, "I was carried out of myself for the time being." From the time of his Baptism, he testified that he often felt the strong anointing power of God. At times he would fall under the power of God when the Spirit came upon him. He also spoke in tongues as the Spirit directed.
For two years, during which time the Holy Ghost would often fall on me, I walked with God. Sometimes while in service and sometimes when alone in prayer I would fall prostrate under His mighty power. While under this power my tongue seemed to be tied in the center and loosed at both ends. I knew nothing of the Bible teaching on the Baptism or speaking with tongues, and thought nothing of what had happened in my experience.
Walthall was ordained by the Missionary Baptist Church on May 29, 1887, and served several congregations in Southwest Arkansas. He was active in various associational committees including foreign missions and temperance. In 1891 he was pastor of Piney Grove Church at Boughton, Arkansas, which was a part of the Red River Baptist Association of the Southern Baptist Convention. In fact, the annual associational meeting was held that year at Walthall's church. The next year he was pastoring two churches at Bluff City and Prescott. From 1894-1895 he was pastoring at Stephens. The last Baptist church he pastored was at Buena Vista. Because of the prevalent view of the Holy Spirit held by Baptists, Methodists, and other mainline churches, Walthall had some reservations about his experience, as he shares in his testimony:
The ordinary Methodist and Baptist teaching was all that I knew, and, of course, that served to diminish my experience and to paralyze my faith rather than build me up. In the meantime, I began preaching a work to which I was called when the blessed Spirit filled me. I always felt that there was a lost chord in the Gospel ministry. My own ministry never measured up to my ideal, nor did the teaching of my church (Baptist) measure up to my experience.
Then in 1895 Walthall came into contact with the Holiness revival. Its emphasis on the work of the Holy Spirit impressed him. Its teachings approximated his ideal more nearly than anything else, but he never fully ascribed to the Holiness theology. He could not accept its theory of sanctification; nor could he accept its abridgement of the supernatural. Even so, the Holiness revival opened him up to a larger sphere of ministry, This in turn gave him the encouragement he needed to preach the full gospel message as he understood it from the Scriptures. As he began to preach a full gospel message, the Baptist leaders excluded him from his church and he was ostracized from the Baptist ministry in 1896. He continued preaching on his own.
After my new vision of the Word of truth, and my expulsion from the Baptist fellowship and ministry, I went alone with a new zeal in an independent, plodding ministry, with church and school houses closed against me. I was looked upon with suspicion, as unbalanced but was so animated by the divine presence that it seemed at times as if terrestrial bearing was almost lost. Baptist minister, J. C, Kelly, and other Baptists who became disfellowshipped because of their beliefs in entire sanctification and the work of the Holy Spirit.
He was soon followed by another Baptist minister, J. C. Kelly, and other Baptists who became disfellowshipped because of their beliefs in entire sanctification and the work of the Holy Spirit.
1. State Level
Contact your congressman/senator for available options. Write your governor without hesitation
2. Personal Level
Inform yourself and your family of the clear Biblical principles for love and holiness applicable in this situation
Pray daily for the protection of your family and the salvation of many souls
Be faithful to your husband/wife and children
3. Corporate Level
Hold on to your Christian standards for doing business
Support other Christian businesses
Forgive and forget, but watch and pray
4. Local Church Level
Join in corporate fasting and praying in the Spirit
Uphold the Biblical standard of holy living
Preach the truth as you have received it
Adopt local church resolutions on the sanctity of the family
5. Denominational Level
6. Christian Alliances Level
7. International Organizational Level
Beware of what Christian churches are doing internationally to protect their members, ministers, local congregations and Christian schools
Examine your current tax status and consult your CPA, attorney and insurance agents about the various possibilities to protect your church and ministry
8. Get good insurance with adequate coverage and experience in the matter
• A good example from Brotherhood Mutual Ins. 
READ ALSO: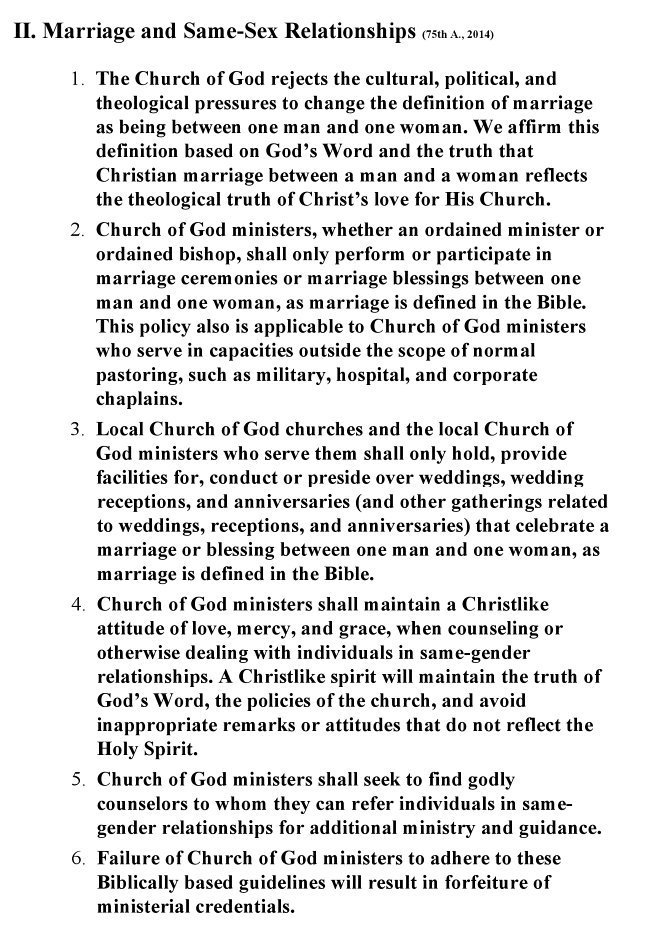 Church of God Instructions for Ministers: Marriage and Same-sex Relationship (75th A., 2014)
p. 158-159, S63. GENERAL INSTRUCTIONS FOR MINISTERS, by adding the following so as to read:
II. Marriage and Same-Sex Relationships
A. The Church of God rejects the cultural, political, and theological pressures to change the definition of marriage as being between one man and one woman. We affirm this definition based on God's Word and the truth that Christian marriage between a man and a woman reflects the theological truth of Christ's love for His Church.
B. Church of God ministers, whether an ordained minister or ordained bishop, shall only perform or participate in marriage ceremonies or marriage blessings between one man and one woman, as marriage is defined in the Bible. This policy also is applicable to Church of God ministers who serve in capacities outside the scope of normal pastoring, such as military, hospital, and corporate chaplains.
C. Local Church of God churches and the local Church of God ministers who serve them shall only hold, provide facilities for, conduct or preside over weddings, wedding receptions, and anniversaries (and other gatherings related to weddings, receptions, and anniversaries) that celebrate a marriage or blessing between one man and one woman, as marriage is defined in the Bible.
D. Church of God ministers shall maintain a Christ-like attitude of love, mercy, and grace, when counseling or otherwise dealing with individuals in same-gender relationships. A Christ-like spirit will maintain the truth of God's Word, the policies of the church, and avoid inappropriate remarks or attitudes that do not reflect the Holy Spirit.
E. Church of God ministers shall seek to find godly counselors to whom they can refer individuals in same-gender relationships for additional ministry and guidance.
F. Failure of Church of God ministers to adhere to these biblically based guidelines will result in forfeiture of ministerial credentials.
Alive, alive! (A personal testimony)
Church of God Primitivism
Bulgarian Church of God
J.W. Buckalew
Pentecostal Primitivism Preserved
Why revival came? by Dr. Charles Conn
Azusa Street Sermons, etc.