Metropolitan Neofit of Ruse was elected Sunday as the new spiritual leader of Bulgaria's Orthodox Christians amid social unrest threatening to throw the Balkan country in a serious political crisis. The 67-year-old Neofit was picked among three candidates shortlisted in a secret ballot by the 14 bishops that make up the Holy Synod of the church.
The enthronement ceremony for Patriarch Neofit was held at Sofia with ongoing nationwide protests against high energy bills, poverty and corruption, and demands for radical political reforms, which forced the government to resign. Speaking at the ceremony, President Rosen Plevneliev voiced hope the new patriarch will contribute to Orthodox unity and the strengthening of the faith, and will preserve the integrity of the church.
The main challenges Neofit will face at home are addressing church unity, the church's isolation from current public concerns, financial troubles and the dwindling number of priests and monks. Last year, a panel investigating communist-era secret services announced that 11 of the 15 metropolitans had ties to those services. Among those named was also Neofit. Over 20 Pentecostal and charismatic denominational leaders were also revealed to have been a part of a nationwide network of secret agents and handlers organized by the communist secret police. Yet, only two have resigned form their leadership positions. Alike many evangelical leaders in Bulgaria, the patriarch of the Orthodox church is elected for life.
JOE PARKINSON, The Wall Street Journal
SOFIA—Bulgaria sacked its finance minister on Monday after a weekend of demonstrations over electricity prices brought tens of thousands onto the streets, raising pressure on a government that had until recently defied political gravity by retaining popularity in the teeth of an austerity drive.
Simeon Djankov, a former World Bank official who won the respect of financial markets for undertaking painful reforms but courted controversy in Bulgaria as a fiscal hawk, was relieved from his duties as finance minister by Prime Minister Boyko Borisov on Monday, the government said in a statement. The prime minister proposed Tomislav Donchev, the minister responsible for European Union funds, for the post, the statement said.
The news, which took analysts by surprise, comes as Mr. Borisov's ruling center-right Citizens for European Development of Bulgaria party, or GERB, is facing mounting pressure after a series of antiausterity protests and corruption scandals have dramatically eroded popular support for its policies.
Sunday saw Bulgaria's largest demonstration for more than a decade as tens of thousands of protesters gathered in more than a dozen regions, paralyzing city centers and blocking highways. Venting their anger against high electricity bills, the protesters demanded the resignation of the cabinet and the re-nationalization of power distributors. Electricity prices are politically sensitive in the EU's poorest member state, where power bills bite off a large chunk of monthly incomes, especially during the winter.
Hewing to a tight fiscal policy and navigating the financial crisis without taking a foreign bailout, Bulgaria has stood as one of the EU's fiscal brightspots, comparing favorably to regional economies Hungary and Romania, which have been plagued by steeper recessions and political turmoil.
But analysts warned that the removal of Mr. Djankov, the government's most high-profile technocrat, would likely foreshadow a shift toward more populist economic policies ahead of national elections tabled for July.
"Djankov was the figure who symbolized fiscal and financial discipline. The whole economic policy was based on these priorities," said Daniel Smilov, program director at the Center for Liberal Strategies, a Sofia-based think tank. "Now there is an expectation that some change in economic course is imminent and that may make some people nervous."
There were signs that Czech power company CEZ AS, BAACEZ.PR -0.44% which has been the focus of popular anger at rising energy prices, could be in the cross hairs of a more populist policy. Bulgaria's Energy Economy and Tourism Ministry said on its website on Sunday that the national energy regulator was considering whether to revoke CEZ's license due to allegations the company violated public-procurement rules. CEZ, which insists it hasn't breached regulations, had 9.9 % of its 2011 revenue from Bulgaria, making it the company's second-largest market after the Czech Republic.
Bulgaria's opposition leaders on Monday sought to build pressure on Mr. Borisov, stressing that the removal of Mr. Djankov would not alleviate public anger.
"This move means Borisov is panicking…The change is not enough, we need a new government and new rules," said Ivan Kostov, former Prime Minister and leader of the rightist Democrats for Strong Bulgaria party was quoted as saying by Bulgarian state media.
On the periphery of the euro zone, but overwhelmingly dependent on the bloc's larger economies for growth, Bulgaria won admiration from Brussels by reducing its budget deficit to 0.5% of gross domestic product last year from 2% in 2011. The economy managed a 0.5% expansion in the fourth quarter from a year earlier, marking its 10th successive quarter of growth
But opinion polls in recent months showed a precipitous decline in the ruling party's ratings after three years of austerity policies, corruption scandals snaring cabinet ministers and a lack of significant results in fighting crime and graft.
A lead of 15 percentage points last year has evaporated in recent months, placing GERB level with the Bulgarian Socialist Party, according to recent polling. Analysts say that electoral arithmetic would make it very difficult for Mr. Borisov to form a single-party government at national elections and could prompt the Prime Minister to call a snap poll in the Spring. On the streets of Sofia on Monday, residents appeared polarized about the news.
Boiana Stoyanov, a 34-year old hotel manager said Mr. Djankov had been made a "scapegoat" and his ouster showed the coming election campaign "will be dirty." Tsvetan Tcherneva, a pensioner who demonstrated in Sofia on Sunday said he was surprised Mr. Djankov lasted so long. "He brought American ideas and took an ax to pensions and to state wages. The government is in serious trouble now," he said.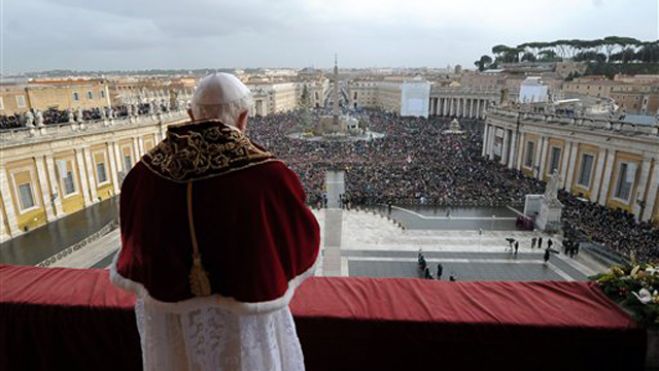 (VATICAN CITY) — Pope Benedict XVI announced Monday that he would resign on Feb. 28 because he was simply too infirm to carry on — the first pontiff to do so in nearly 600 years. The decision sets the stage for a conclave to elect a new pope before the end of March. The 85-year-old pope announced his decision in Latin during a meeting of Vatican cardinals on Monday morning. He emphasized that carrying out the duties of being pope — the leader of more than a billion Roman Catholics worldwide — requires "both strength of mind and body."
"After having repeatedly examined my conscience before God, I have come to the certainty that my strengths due to an advanced age are no longer suited to an adequate exercise of the Petrine ministry," he told the cardinals. "I am well aware that this ministry, due to its essential spiritual nature, must be carried out not only by words and deeds but no less with prayer and suffering.
"However, in today's world, subject to so many rapid changes and shaken by questions of deep relevance for the life of faith, in order to govern the barque of St. Peter and proclaim the Gospel, both strength of mind and body are necessary — strengths which in the last few months, has deteriorated in me to the extent that I have had to recognize my incapacity to adequately fulfill the ministry entrusted to me."
The last pope to resign was Pope Gregory XII, who stepped down in 1415 in a deal to end the Great Western Schism among competing papal claimants. Benedict called his choice "a decision of great importance for the life of the church."
The pope's brother, Georg Ratzinger, says the pontiff had been advised by his doctor not to take any more transatlantic trips and had been considering stepping down for months. Pope Benedict XVI announced Monday that he would resign Feb. 28. Talking from his home in Regensburg to the news agency dpa, Georg Ratzinger said his brother was having increasing difficulty walking and that his resignation was part of a "natural process." "His age is weighing on him," the 89-year-old said of his 85-year-old brother. "At this age my brother wants more rest." Georg Ratzinger did not answer his telephone for calls seeking further comment.
The move sets the stage for the Vatican to hold a conclave to elect a new pope by mid-March, since the traditional mourning time that would follow the death of a pope doesn't have to be observed. There are several papal contenders in the wings, but no obvious front-runner — the same situation when Benedict was elected pontiff in 2005 after the death of Pope John Paul II. When Benedict was elected pope at age 78 — already the oldest pope elected in nearly 300 years — he had been already planning to retire as the Vatican's chief orthodoxy watchdog to spend his final years writing in the "peace and quiet" of his native Bavaria.
Contenders to be his successor include Cardinal Angelo Scola, archbishop of Milan, Cardinal Christoph Schoenborn, the archbishop of Vienna, and Cardinal Marc Ouellet, the Canadian head of the Vatican's office for bishops. Longshots include Cardinal Timothy Dolan of New York. Although Dolan is popular and backs the pope's conservative line, the general thinking is that the Catholic Church doesn't need a pope from a "superpower."
All cardinals under age 80 are allowed to vote in the conclave, the secret meeting held in the Sistine Chapel where cardinals cast ballots to elect a new pope. As per tradition, the ballots are burned after each voting round; black smoke that snakes out of the chimney means no pope has been chosen, while white smoke means a pope has been elected.
Popes are allowed to resign; church law specifies only that the resignation be "freely made and properly manifested." Only a handful have done so, however and there's good reason why it hasn't become commonplace: Might the existence of two popes — even when one has stepped down — lead to divisions and instability in the church? Might a new resignation precedent lead to pressures on future popes to quit at the slightest hint of infirmity?
Benedict himself raised the possibility of resigning if he were simply too old or sick to continue on in 2010, when he was interviewed for the book "Light of the World." "If a pope clearly realizes that he is no longer physically, psychologically and spiritually capable of handling the duties of his office, then he has a right, and under some circumstances, also an obligation to resign," Benedict said. The former Cardinal Joseph Ratzinger had an intimate view as Pope John Paul II, with whom he had worked closely for nearly a quarter-century, suffered through the debilitating end of his papacy.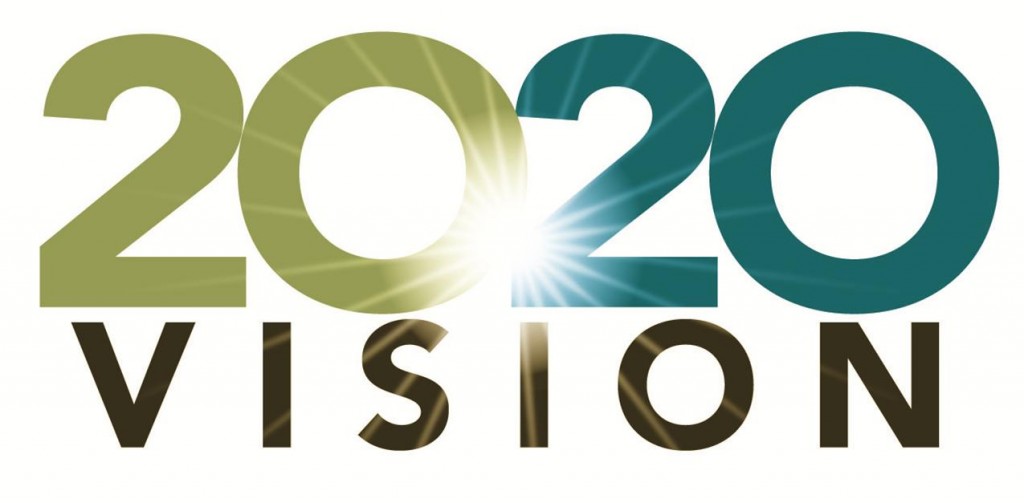 The Holy Ghost within us cries for holiness and we shall not be oppressed, depressed, repressed, regressed, transgressed by this dead and dying world. For there's a standard of heaven and a judgment of God; a rule of holiness and a road of righteousness which must begin nowhere else but with the household of God; where God is doing a NEW thing in 2013 speaking a SEASON of:
– Re-covery
– Re-claiming
– Re-versal
– Re-juvenation
– Re-imbursement
– Re-cuperation
– Re-organization
– Re-volution
– Re-envisioning
– Re-freshing
and re-telling the old, old story that a King has left His glory and died on cross on Calvary to save a wretch like me…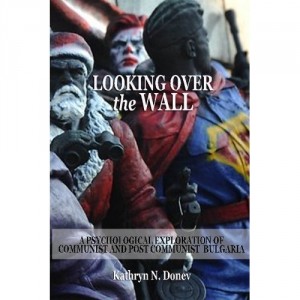 From an environment of uncertainty and hopelessness, the Bulgarian Evangelical believer turns to the continuity of faith in the Almighty Redeemer. Pentecostalism as practical Christianity gives a sense of internal motivation to the discouraged. In a society that is limited in conduciveness for progression of thought or self actualization, one finds refuge in the promises of Christianity. It becomes a certainty which can be relied upon. Historically, having undergone severe persecution, the Bulgarian Evangelical believer is one who possesses great devotion to his or her belief. Having to defend the faith fosters a deep sense of appreciation and in an impoverished country, faith becomes all some have. Christ becomes the only one to whom to turn for provision. In the midst of this complete dependence is where miracles occur. Furthermore, it is in the midst of miracles where the skepticism which is prominent in post communist Bulgaria is broken. When those who believe are healed from cancer and even raised from the dead, there is no room for disbelief or low self-esteem.
by Kathryn N. Donev, M.S., L.P.C.
The following is a response to the most recent developments within Bulgarian laws dealing with Educational Reform making it mandatory that children begin attending public school at the age of four years old.
The mind of a child is an extremely fragile organism that is malleable with the potential to be molded into whatever a caregiver chooses. It is a great responsibility to raise children and much love and guidance has to be given in order for a child to become a healthy functioning part of any society.
Before age six, give or take a year or so, is when a child is most impressionable and is most influenced by learning information and forming realities and constructs. It is before age six that a child's mind has most neuroplasticity, although our minds are always capable of change. It is during this period when reorganization of neural pathways and long lasting functional changes in the brain occurs as we take in new information.
When the immature brain first begins to process sensory information is when it is most malleable. Indoctrination can occur at great rates and if accomplished before the age of six, then these teachings are so deeply ingrained within that it becomes nearly impossible to change or re-wire the neural pathways which have been formed. Accordingly to neuroscientists, by the time an infant is two or three years old, the number of synapses in their brain is approximately 15,000 per neuron, which is twice the amount of an average adult. This gives insight into how absorbent and thirsty the brain is for knowledge. At the same time, a child's brain is very impressionable without yet having the ability to rationally sensor the intake of information. Meaning, they will believe whatever a caregiver tells them because they have no other reason but to innocently trust at this early age.
Since a young child's memory has not yet fully developed, learning takes place by being told and retold what to do. They have to be indoctrinated. And it is the greatest responsibility of a caregiver to choose the most appropriate principles and values to teach a child. By age three or four, the parent or primary caregiver still is their "external conscience," reinforcing their memory of what they're supposed to do.
According to Erikson's stages of child development, it is around two-four years when a child enters into the "Will: Autonomy vs. Shame and Doubt" stage in which they encounter life and ask the question if it is okay to be themselves. This question is answered with how the world around them responds to their actions. This period of time is when a child, in gaining control over eliminative functions and motor abilities, will begin to explore their surroundings. If a parent is patience and encouraging, autonomy will be fostered within a child. A caregiver must encourage self-sufficient behavior in hope to develop a sense of autonomy in order to being competent to face life challenges independently. But if caregivers are too demanding, refusing to let children perform tasks of which they are capable, or ridicule early attempts at self-sufficiency, children may instead develop shame and doubt about their ability to handle problems. Now if it is the intent to diminish this fostering of self sufficiency, then it is right at the age of 4 when a child can be influenced to be dependent and self-doubting.
It is during the next developmental stage, "Purpose: Initiative vs. Guilt" that a child asks, "Is it okay for me to be proactive?" in attempts to master the world around them and learn basic skills. At this stage, the child wants to begin and complete their own actions for a purpose. The development of courage and independence are what set preschoolers, ages three to six years of age, apart from other age groups. During this stage, the child learns to take initiative and prepare for leadership and goal achievement roles. However, if a child is striped away from this ability to take initiative, then their purpose is stripped away.
A child has to be given times of self-taught or self-thinking in order to form within a sense of identity; personal and not corporative identity or knowing their true self. If this is not allowed, then confusion sets in and results in midlife crises. After for years having lived exactly how you have been instructed and after having believed all of what you have been told to believe, an awakening takes place that this perceived reality does not meet up with your real internal being and destined reality.
If a child is not allowed to think for themselves and explore on their own at this young age outside of systematic education, then they will never reach the stage of development which is known as "Competence: Industry vs. Inferiority". The consequences are self-explanatory. Inferiority and doubt set in and this child becomes a product of the system and is void of internal motivation, will and desire to make a change for the betterment of the society. They become cogs in a wheel and the result of a communistic effort.
If we give over our children to a state school system at early and early ages, the parents' rights are being stripped away. The choice to teach morals of right and wrong or beliefs is only available for a limited time and shared with an organization with limits. A child has no one to speak for themselves at such a young age and they will believe that the sky is green if they are told it is so. It is by around age six that normal children are developing an internal conscience. By age six, they have formed this conscience based on what they have been taught is truth, is right and is wrong. These first six years of development are the most crucial and should not be trusted to anyone else or any other organization that may have hidden agendas. If a child is asking if it is okay to be themselves and they are told it is not, but rather they have to be what a government or a society insists, then confusion arises.
Let children be children and the children that they are intended to become naturally and innocently void of any motive. Let us foster a society of thinkers with independent minds free to make choices. Democratic principles should be applied on all levels of society. We always hear of child rights including stopping physical and emotional abuse, but we rarely are faced with having to protect our children's minds. Awareness is the first step in prevention and we have to at all cost, protect the rights of our children. Our children only have our mouthpiece to protect them…