Pope Benedict Resigns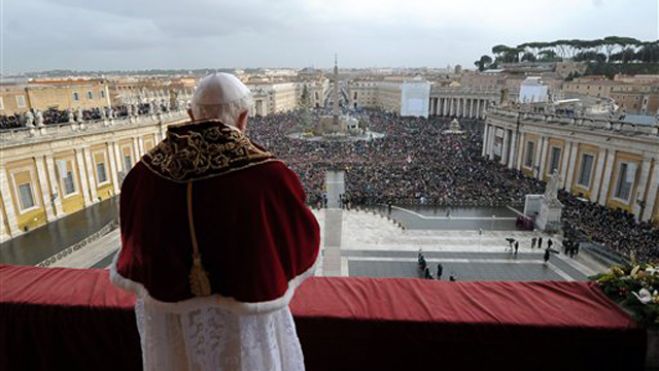 (VATICAN CITY) — Pope Benedict XVI announced Monday that he would resign on Feb. 28 because he was simply too infirm to carry on — the first pontiff to do so in nearly 600 years. The decision sets the stage for a conclave to elect a new pope before the end of March. The 85-year-old pope announced his decision in Latin during a meeting of Vatican cardinals on Monday morning. He emphasized that carrying out the duties of being pope — the leader of more than a billion Roman Catholics worldwide — requires "both strength of mind and body."
"After having repeatedly examined my conscience before God, I have come to the certainty that my strengths due to an advanced age are no longer suited to an adequate exercise of the Petrine ministry," he told the cardinals. "I am well aware that this ministry, due to its essential spiritual nature, must be carried out not only by words and deeds but no less with prayer and suffering.
"However, in today's world, subject to so many rapid changes and shaken by questions of deep relevance for the life of faith, in order to govern the barque of St. Peter and proclaim the Gospel, both strength of mind and body are necessary — strengths which in the last few months, has deteriorated in me to the extent that I have had to recognize my incapacity to adequately fulfill the ministry entrusted to me."
The last pope to resign was Pope Gregory XII, who stepped down in 1415 in a deal to end the Great Western Schism among competing papal claimants. Benedict called his choice "a decision of great importance for the life of the church."
The pope's brother, Georg Ratzinger, says the pontiff had been advised by his doctor not to take any more transatlantic trips and had been considering stepping down for months. Pope Benedict XVI announced Monday that he would resign Feb. 28. Talking from his home in Regensburg to the news agency dpa, Georg Ratzinger said his brother was having increasing difficulty walking and that his resignation was part of a "natural process." "His age is weighing on him," the 89-year-old said of his 85-year-old brother. "At this age my brother wants more rest." Georg Ratzinger did not answer his telephone for calls seeking further comment.
The move sets the stage for the Vatican to hold a conclave to elect a new pope by mid-March, since the traditional mourning time that would follow the death of a pope doesn't have to be observed. There are several papal contenders in the wings, but no obvious front-runner — the same situation when Benedict was elected pontiff in 2005 after the death of Pope John Paul II. When Benedict was elected pope at age 78 — already the oldest pope elected in nearly 300 years — he had been already planning to retire as the Vatican's chief orthodoxy watchdog to spend his final years writing in the "peace and quiet" of his native Bavaria.
Contenders to be his successor include Cardinal Angelo Scola, archbishop of Milan, Cardinal Christoph Schoenborn, the archbishop of Vienna, and Cardinal Marc Ouellet, the Canadian head of the Vatican's office for bishops. Longshots include Cardinal Timothy Dolan of New York. Although Dolan is popular and backs the pope's conservative line, the general thinking is that the Catholic Church doesn't need a pope from a "superpower."
All cardinals under age 80 are allowed to vote in the conclave, the secret meeting held in the Sistine Chapel where cardinals cast ballots to elect a new pope. As per tradition, the ballots are burned after each voting round; black smoke that snakes out of the chimney means no pope has been chosen, while white smoke means a pope has been elected.
Popes are allowed to resign; church law specifies only that the resignation be "freely made and properly manifested." Only a handful have done so, however and there's good reason why it hasn't become commonplace: Might the existence of two popes — even when one has stepped down — lead to divisions and instability in the church? Might a new resignation precedent lead to pressures on future popes to quit at the slightest hint of infirmity?
Benedict himself raised the possibility of resigning if he were simply too old or sick to continue on in 2010, when he was interviewed for the book "Light of the World." "If a pope clearly realizes that he is no longer physically, psychologically and spiritually capable of handling the duties of his office, then he has a right, and under some circumstances, also an obligation to resign," Benedict said. The former Cardinal Joseph Ratzinger had an intimate view as Pope John Paul II, with whom he had worked closely for nearly a quarter-century, suffered through the debilitating end of his papacy.