The opening long decade of the 21st century (2000-2012) has been a period of repeated and profound economic and social crises, of serial and prolonged wars and declining living standards for the vast majority of Americans. How have people responded to this crisis? No large scale, long term, socio-political movements have emerged to challenge the bi-partisan dominent classes. For a brief moment the "Occupy Wall Street" movement provided a platform to denounce the 1% super-rich but then faded into memory.
Questions arose whether in the midst of prolonged hardship people would turn to religion for solace, escape into spiritual pietism. The question this essay addresses is whether religion has become the 'opium of the people' as Karl Marx suggested or whether religious beliefs and institutions are themselves in crisis, losing their spiritual attraction in the face of their inability to resolve the everyday material needs of a growing army of impoverished, low paid, unemployed and contingent workers and a downwardly mobile middle class. In other words are major religions growing and prospering in our time of permanent economic crise and perpetual wars or are they on the downslope part and parcel of the decline of the US Empire?
According to the latest data as of 2008 the biggest religious group is Christianity with 173.402 million members representing 76% of adult population followed by Judaism with 2.680 million representing 1.2% of the adult population; followed by Eastern religions 1.961 million and representing .9% Muslims 1.349 million representing .6% of adults. The second most populous group after the Christians are those adults who state they have 'no religion' 34.169 million or 15%.
Adult Population and Religious Affiliation 1990-2008 (in millions and percentages)
1990
Adults
2008
Adults
Numerical
Change
1990 % of
Adults
2008 % of Adults
Change in % of Total
Adults 1990-2008
Adult Population
175,440
228,182
30.1%
(All) Christian
151,225
173,402
14.7%
86.2%
76%
-10.2%
(All) Jewish
3,137
2,680
-14.6%
1.8%
1.2%
-.6%
(All) Eastern
687
1,961
185.4%
.4%
.9%
.5%
(All) Muslim
527
1,349
156%
.3%
.6%
.3%
No Religion
14,331
34,169
138.l4%
8.2%
15%
6.8%
The dynamic trends over time show a declining percentage of adults who are Christians: between 1990-2008 they dropped from 86.2% to 76%; Jews have declined from 1.8% of adult population in 1990 to 1.2% in 2008 and Eastern religion is growing from .4% of adult population to .97% of population. Likewise, the percentage of Muslims in the adult population has grown from .3% in 1990 to .6% in 2008. The percentage of non-religious adult population has increased from 8.2% in 1990 to 15% in 2008.
While both practioners of Christianity and Judaism, as a percentage of the adult population, have declined, there is a sharp divergence in terms of numerical change; between 1990 and 2008 the number of Christians has increased by 2,218 million while the number of Jews has declined by 457 thousand. Judaism is the only one of the major and minor religions to decline in absolute numbers.
The combined number of Eastern and Muslim religious affiliates now exceeds Judaism by 630,000 believers about 30%. Jews today represent only 1.2% of the adult US population compared to 1.5% for Muslims, Buddhists and Hindus. The gap between Christians and non-religious US adults has narrowed over the past 20 years: from 86.2% to 8.2% in 1990 to 76% to 15% in 2008. Among Christians the biggest decline is among 'mainline protestant churches' (Methodists, Lutheran, Presbyterian, Episcopalian/ Anglican and United Church of Christ) from 32.8 million in 1998 to 29.4 million in 2008; and among "unspecified Protestants" from 17 million to 5.2 million. The biggest increases are among "non-denominational Christians" rising from 194,000 to 8.03 million believers in 1990-2008, unspecified Christians from 8.1 million to16.4 million and Pentecostals up from 5.7 million in 1990 to 7.9 million in 2008. Catholic and Baptists grew in numbers but barely held their own as a percentage of the adult population.
Analysis of Religious Trends in Political-Economic Context
Contrary to most observers and pundits, the economic crisis has not led to an upsurge in religious memberships or identification – the search for 'spiritual consolation' in a time of economic despair. The mainline churches and synagogues do not attract or even keep membership because they have little to offer in material solutions to their members in time of need (mortgage foreclosure, bankruptcies, unemployment, losses of savings, pensions or stocks). Contrary to some pundits even the more otherworldly, apocalyptic, Pentecostal, Charismatic, Born Again Churches while increasing their number have failed to attract a larger percentage of the adult population over the past 20 years; in 1990 they had 3.5% of adults and in 2008 4.4% an increase of .9%.
The crises decade has had several major impacts – it severely weakened religious identity with any specific denomination, it increased religious uncertainty and vastly increased the number and percentage of adult Americans who are no longer religious. Between 1998 and 2008, the percentage of adults in both categories doubled from 10.5% to 20.2%; the numbers increased from 18.34 million to 46 million. It would appear that most of the 'non-religious' are drawn from former mainline Christians and Jews.
The rise of non-religious adults between 1990-2008 cannot be related to greater education, urbanization and exposure to rationalist thought which has more or less remained the same over the two decades. What has changed is the rising discontent over declining income among wage and salaried workers, the vast increases in inequality, the perpetual wars and the public discredit of the principle political and economic institutions – Congress is viewed as negatively by 78% of Americans, as are banks, especially Wall Street. The religious institutions and religious faith is increasingly seen as irrelevant at best and complicit in the decay of American living standards and workplace standards. Despite the dramatic increase in 'non-religious' Americans close to 75% still claim to be believers of one or another version of Christianity.
The crisis in Judaism is far more severe than even the 'mainline Christian' churches. Over the past 20 years the number of adult Jews has declined by about 15%, over 450,000 former Jews ceased to identify as such. Some of the political economic causes for the flight from Judaism may be similar to the Christians. Others may be more specific to Jews: over 50% of Jews marry outside of the synagogue with non-Jews, cause and consequence of 'defection'. Others may convert to other religions – Oriental or Christian. Some Jewish neo-conservative rabbis and ideologies rant about the threat of 'assimilation' being the equivalent of 'genocide'. Most likely most former Jews have become 'non-religious' or secular and some of the reasons may vary. For some, Old Testament bloody tales and Talmudic rulings do not resonate with modern rational thought. Political considerations may also contribute to the sharp decline in self-identifying Jews: the ever tighter links and identity of Israel with Jewish religious institutions, the Israeli flag waiving and unconditional support of Israeli war crimes has repelled many former parishioners, who quietly retire rather than engage in a personally costly spiritual struggle against the formidable pro-Israel apparatus embedded in the inter-locking religious-Zionist networks.
Conclusion
The religious crises, the decline in belief and institutional affiliation, is intimately related to the moral decay in US public institutions and the precipitous decline of living standards. Among Christians the decline is incremental but steady;among Jews it is deeper and more rapid. No 'alternative religious' revival is in the horizon. The more fundamentalist Christian groups have responded by becoming more politically involved in extremist movements like the Tea Party demonizing public spending to ameliorate social inequities or have joined Islamophobic pro Israeli movements – precisely as increasing number of ex-Jews depart!
The secular or non-religious adult population has yet to organize and articulate a program in contrast to the fundamentalists, perhaps because they are too disparate a social category – in terms of socio-economic and class interests. 'Not religious' tells us little about what is the alternative. The shrinking percentage of religious believers can have several outcomes: in some cases it can lead to a hardening of doctrine and organizational structures 'to keep the faithful in line'. In others it has led to increasing politicization, mostly on the extreme right. Among Christians it means insisting on literal readings of the Bible and anti- evolutionism; among Jews, the shrinking numbers are intensifying tribal loyalties and more aggressive fundraising, lobbying, and unconditional support for a "Jewish State", purged of Palestinians, and more punitive witch-hunts against critics of Israel and Zionism.
What needs to be done is a movement that links the growing mass of rational non-religious people with the vast majority of American wage and salaried workers, experiencing declining living standards and the rising costs (material and spiritual) of imperial wars. Some religious individuals and even denominations will be attracted to such a movement others will attack it for sectarian and political reasons. But as a non-religious morality links individual and political crises to social action, so can the political community create the bases for a new society built on secular needs and public ethics.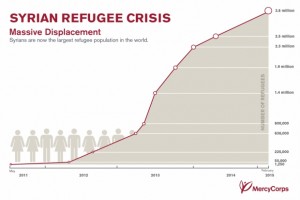 Rev. Dony K. Donev, M.Div., D.Min.
We saw them everywhere during our ministry trips through Europe. Long columns of dark bearded men, covered women and malnourished, underdressed little children. They fill the refuge villages in Bulgaria near the Turkish border. Many of them were forced to travel in long trains from Austria to Hungary, Germany and all the way to the large Muslim ghettoes of Amsterdam and East Berlin. And even at the Dover side of the English Channel, where tens of miles long truck columns were parked directly on the interstate waiting for the refugees to pass with the ferryboats.
Every minister/missionary should at least wonder about a solution to this largest migration wave of the century. What is the proper human, Biblical approach toward these people regardless if they are persecuted Christians, migrating terrorists or just refugees without a country? What would be the Pentecostal (in the Spirit of Pentecost) response to their fate?
Several outspoken Pentecostal denominations have already raised awareness to the issue with a call for a "Christian assimilation." Frankly, "assimilation" as an anthropological term is outdated even in the most assimilative cultures in the world. In the United States, once a melting pot of ethnos and cultures, modern day emigration takes terms in creating subcultures. In such cultural setting, assimilation is fairly hard to achieve and quite imperialistic as an approach. It is also not a religious term – the proper faith language being "proselytizing." Even the Bible states that at the end "every tongue shall confess" picturing a multitude of ethnoses, not merely one assimilated culture. With all this, a call for cultural assimilation on part of Christianity borders a call for crusades, even the thought of which is inapplicable in 21st century's society.
On the part of Islam, a Muslim subculture allowing assimilation without conflict and resistance will be practically impossible to achieve. And how exactly do you convert with words in a culture that allows speaking only to men? We all know of ministries or missions that have done successful work among Muslims, but what is observed in today's context of ministry among Muslim migrants is unfamiliar to even experienced missionaries. A Muslim subculture is being created so fast, so vast and so unified throughout European Union countries, that it threatens to assimilate the Christian local host-culture before being assimilated or culturized within Western Christendom. Pentecostal churches throughout Europe are simply not prepared for such challenge, as confirm leaders of "Maranatha Ministries," the largest Pentecostal church in the Netherlands.
The single greatest challenge is perhaps that the Islamic culture is not like any of the known subcultures in the Western World. While Hispanics focus on their language and Asians accent on their heritage and predecessors, the Islamic subcultures are being centralized around the Sharia Law. The newly forming subculture then is not simply ethnic or heritage oriented, but a legal precedent – often in direct contradiction with the law of the land. How do we engage the Sharia Law mindset with the law of Grace to effectively penetrate with the Message of Salvation such closely guarded culture, will be the answer to this current dilemma of ministry. Although not a complete solution, the following practical steps are much more Christ like and suitable to the situation than a theoretical assimilation, which may prove to be nothing more than a 21st century crusade:
Fast from your daily Starbucks (Costa, or coffee brand of your choice) for a month. With the money you can sponsor one refugee child out of starvation. The cost is the same, but saving a child tastes much better than java
Team up with a Pentecostal church in Europe, which is directly working within the refugee camps. It will not be hard to find one as only a few Pentecostal churches in Western Europe are involved in refugee work
Prayerfully consider going to Europe yourself and contribute your time and resources toward a refugee camp.
JOE PARKINSON, The Wall Street Journal
SOFIA—Bulgaria sacked its finance minister on Monday after a weekend of demonstrations over electricity prices brought tens of thousands onto the streets, raising pressure on a government that had until recently defied political gravity by retaining popularity in the teeth of an austerity drive.
Simeon Djankov, a former World Bank official who won the respect of financial markets for undertaking painful reforms but courted controversy in Bulgaria as a fiscal hawk, was relieved from his duties as finance minister by Prime Minister Boyko Borisov on Monday, the government said in a statement. The prime minister proposed Tomislav Donchev, the minister responsible for European Union funds, for the post, the statement said.
The news, which took analysts by surprise, comes as Mr. Borisov's ruling center-right Citizens for European Development of Bulgaria party, or GERB, is facing mounting pressure after a series of antiausterity protests and corruption scandals have dramatically eroded popular support for its policies.
Sunday saw Bulgaria's largest demonstration for more than a decade as tens of thousands of protesters gathered in more than a dozen regions, paralyzing city centers and blocking highways. Venting their anger against high electricity bills, the protesters demanded the resignation of the cabinet and the re-nationalization of power distributors. Electricity prices are politically sensitive in the EU's poorest member state, where power bills bite off a large chunk of monthly incomes, especially during the winter.
Hewing to a tight fiscal policy and navigating the financial crisis without taking a foreign bailout, Bulgaria has stood as one of the EU's fiscal brightspots, comparing favorably to regional economies Hungary and Romania, which have been plagued by steeper recessions and political turmoil.
But analysts warned that the removal of Mr. Djankov, the government's most high-profile technocrat, would likely foreshadow a shift toward more populist economic policies ahead of national elections tabled for July.
"Djankov was the figure who symbolized fiscal and financial discipline. The whole economic policy was based on these priorities," said Daniel Smilov, program director at the Center for Liberal Strategies, a Sofia-based think tank. "Now there is an expectation that some change in economic course is imminent and that may make some people nervous."
There were signs that Czech power company CEZ AS, BAACEZ.PR -0.44% which has been the focus of popular anger at rising energy prices, could be in the cross hairs of a more populist policy. Bulgaria's Energy Economy and Tourism Ministry said on its website on Sunday that the national energy regulator was considering whether to revoke CEZ's license due to allegations the company violated public-procurement rules. CEZ, which insists it hasn't breached regulations, had 9.9 % of its 2011 revenue from Bulgaria, making it the company's second-largest market after the Czech Republic.
Bulgaria's opposition leaders on Monday sought to build pressure on Mr. Borisov, stressing that the removal of Mr. Djankov would not alleviate public anger.
"This move means Borisov is panicking…The change is not enough, we need a new government and new rules," said Ivan Kostov, former Prime Minister and leader of the rightist Democrats for Strong Bulgaria party was quoted as saying by Bulgarian state media.
On the periphery of the euro zone, but overwhelmingly dependent on the bloc's larger economies for growth, Bulgaria won admiration from Brussels by reducing its budget deficit to 0.5% of gross domestic product last year from 2% in 2011. The economy managed a 0.5% expansion in the fourth quarter from a year earlier, marking its 10th successive quarter of growth
But opinion polls in recent months showed a precipitous decline in the ruling party's ratings after three years of austerity policies, corruption scandals snaring cabinet ministers and a lack of significant results in fighting crime and graft.
A lead of 15 percentage points last year has evaporated in recent months, placing GERB level with the Bulgarian Socialist Party, according to recent polling. Analysts say that electoral arithmetic would make it very difficult for Mr. Borisov to form a single-party government at national elections and could prompt the Prime Minister to call a snap poll in the Spring. On the streets of Sofia on Monday, residents appeared polarized about the news.
Boiana Stoyanov, a 34-year old hotel manager said Mr. Djankov had been made a "scapegoat" and his ouster showed the coming election campaign "will be dirty." Tsvetan Tcherneva, a pensioner who demonstrated in Sofia on Sunday said he was surprised Mr. Djankov lasted so long. "He brought American ideas and took an ax to pensions and to state wages. The government is in serious trouble now," he said.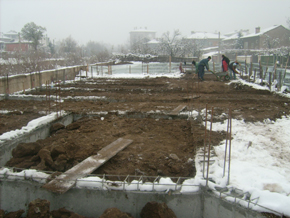 The snowstorm in Sofia slowed us down a bit, but it certainly could not stop us from holding yet another exciting ministry event in the town of Dupnitsa. In the past few years, the town has received much attention being a major point on the interstate connecting Greece and Macedonia with the Balkan Peninsula and the countries of the European Union. This has given the local Church of God a unique opportunity to minister to various ethnic groups and it was then that the need for a ministry building was recognized. The church has now finished the foundations of a very nice and solid church building project with a strategic location in the cities center by the river. The main work will be completed by the spring, which will empower the Dupnitsa Church of God for a new level of ministry. Our team was able to travel to the city with several fellow ministers and deliver a timely message to the people whom gathered in the cold winter eve. We enjoyed a warm spirit filled service which renewed and encouraged. After the service, we met with pastors who work with Bulgarian communities in Spain and England and discussed the possibilities for a short ministry trip to their churches in the near future.