Former Secretary of Defense Mark Esper says the United States should deploy more troops along the Black Sea in Bulgaria and Romania to deter potential aggression from Russia as tensions between Moscow and Washington heat up.
Esper, now a fellow at the McCain Institute for International Leadership at Arizona State University, said "I think we need to continue to stand up to Russia and trying to deter their bad behavior."
Washington should look to reassure European allies and boost the NATO alliance by deploying more forces in Poland, "into the Baltics, if it makes sense, and places like Romania and Bulgaria, if not on a permanent – on a rotational basis," Esper said in an interview with Reuters on Tuesday.
President Joe Biden called on Russian President Vladimir Putin on Tuesday to reduce tensions stirred by a Russian military build-up on Ukraine's border and proposed a summit of the estranged leaders to tackle a raft of disputes.
Russia seized Crimea from Ukraine in 2014 and fighting has increased in recent weeks in eastern Ukraine, where government forces have battled Russian-backed separatists in a seven-year conflict that Kyiv says has killed 14,000 people.
When he was running the Pentagon last year, Esper advocated a similar shift as former President Donald Trump announced his intention to cut the U.S. troop contingent in Germany by about a third, saying Berlin had been taking advantage of the United States while not meeting financial obligations to NATO.
The United States announced on Tuesday that it will ramp up its forces in Germany amid the latest tensions with Russia over Ukraine, abandoning Trump's plan to withdraw around 12,000 of the 36,000 U.S. troops there.
Government Elections in Bulgaria (2005-2021):
2005 Parliamentary Elections
2006 Presidential Elections
2007 Municipal Elections
2009 Parliamentary Elections
2009 European Parliament elections
2011 Presidential Elections
2011 Local Elections
2013 Early parliamentary elections
2014 Early Parliamentary Elections
2015 Municipal Elections
2016 Presidential election
2017 Parliamentary elections
2019 European Parliament election (23-26 May)
2019 Bulgarian local elections
2019 Municipal Elections
2021 Parliamentary elections
AS WE HAVE PREVIOUSLY PROPOSED, THIS PUTS BULGARIA BACK ON THE "RED LIGHT OF 30 YEARS OF COMMUNISM…" AS IN 2013, 2014, 2015, 2016, 2017, 2018, 2019 AND 2020…
According to Article 111(2) of the Constitution of the Republic of Bulgaria, Prime Minister Boyko Borisov submitted to the newly elected 45th National Assembly the resignation of the Council of Ministers he headed. Prime Minister Borisov's letter tendering the resignation of the Cabinet was deposited today with the President of the National Assembly via the registries of the two institutions. In accordance with Art. 111, para. 3 of the Constitution, the government led by Prime Minister Borisov will continue to perform its functions until the election of a new Council of Ministers and will ensure continuity in government.
Okay, so this is going to be a bit of a depressing church statistics. During the Great Depression, Americans gave 3.3% of their income to their church. Today, it's only 2.5% of their income. Less give to church in 2020 than during the Great Depression
1. Small Portion Of Tithers
Despite growing your church's membership, you might find tithing doesn't automatically increase. In fact, only 10% to 25% of church members tithe regularly.
2. Online Tithing Boosts Tithing
What church doesn't want to increase tithing? The same Nonprofit Source study as above shows that offering online tithing increases tithing by 32%. This means it's well worth investing in online giving solutions.
3. Accept Cards To Increase Tithing
Many people don't carry cash anymore, even to church. Allowing members to tithe via credit or debit card boosts tithing. In fact, Nonprofit Source found that 49% of all donations are made via a card.
4. Over A Third Don't Tithe
It just seems to keep going downhill, doesn't it? The Nonprofit Source study found that 37% of attendees don't tithe at all. That means over a third of your members probably aren't tithing. If they do, it's only on rare or special occasions.
5. Some Tithers Give Far More
While the suggested tithing amount is 10% of a member's income, those who do tithe help make up for those who don't. The majority (77%) give anywhere from 11% to just over 20% of their income regularly.
6. Most Giving Happens Monday – Saturday
Sunday seems like it would be the biggest giving day, right? Tithe.ly found that while it's the biggest single day, 67% of church donations happen throughout the rest of the week. This is to fit tithing into their budget better. Another surprising giving statistic is over 30% of donations come in between 9 PM and 6 AM. What does this mean for your church? Online giving is a must.
7. Mobile Giving Rules
When it comes to non-traditional tithing, mobile rules. Apps are the clear winner with 57% of people preferring a mobile option. Tithe.ly also found that web giving accounts for 24% of online donations, while text giving came in at 14%.
8. A Few Give A Lot
If you're worried about the small percentage of tithers, don't. In fact, Tithe.ly discovered that 15% of consistent tithers give 51% of total donations. This at least offers your church some consistency for your budget.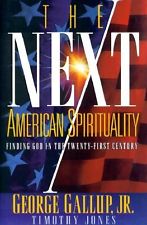 Three Trends and Three Issues Affecting Asian Missions" by David Barrett bring focus on obvious antipode of missionary need in the Western hemisphere today. The Macedonian Call to 3.7 billion Asian people with some 9% Christians is no small issue in global missions. At the same time, America becoming the 3rd largest mission field in the world is the obvious missions gap in the Western hemisphere. The parallels in post-modernity are many.
About 20 years ago, a book called "The Next American Spirituality" summarized the culture of today's American spirituality and its relation to the apostolic church. The main question is, "What would a theology of the church look like that took seriously the fact that North America is now itself a mission field?"
To answer the question, Gallup and Jones examined how America does Biblical spirituality, using the gathered data to analyze its shift and direction. According to their survey, the marks of the next American spirituality were going to be (in short):
1. Bull-market church growth
2. Self-centered religion of me and thee
3. Hunger for experience – any experience
4. Search of roots amid the relativism
5. Quest for community resulting in self-belongingness and self-realization
In our current context of ministry two decades later, all of the above signs are evident and true. This is due on hand to the constant shift in the cultural paradigm, as well as the obvious shift in the identity and practices of the Christian church in the postmodern context. It almost seems like instead of being the model, the church is following a model, which not only changes the churches identity but interferes with its original evangelistic goal and global mission.
Empowered by the vision for a continuous revival within the church of the 21st century, we have chosen to make the mission of our work this one statement: We help churches grow.
One of the approaches we have taken to accomplish this ministry goal is Evangelism and World Missions:
We have ministered for over 30 years now on three continents, 25 U.S. states, Canada and Mexico (Map of our global ministry)
We have spent seven consecutive years in missionary work in Bulgaria ministering to over 300 local congregations (Map of our ministry in Bulgaria)
Since 1990, we have helped in the planting and team training of over 25 churches in Bulgaria as well as the Bulgarian congregations in Chicago, Houston, Las Vegas, San Francisco, Atlanta, London, Spain, Cyprus and Palma de Mallorca
Beside personal presence and team building strategies, we implement the media in virtually every approach of ministry. We have published several research monographs as well as film series about our ministry work. Our team holds a weekly TV program called the Bible Hour. (Learn how we help churches build their own and unique web presence)
See also how we help churches grow through: