South Attleboro, Massachusetts – Martha C. (Zaplishny) Jackson, 96, went to her heavenly reward on Saturday, May 6, 2023. She was the beloved wife of Rev. David V. Jackson. The couple would have celebrated their sixty-ninth wedding anniversary on May 8, 2023.
Born in Stamford, Connecticut, she was the daughter of Missionaries to Bulgaria, the late Dionisey and Olga (Popova) Zaplishny. Martha's father died when she was eight years old. She had resided in Newport, Rhode Island before moving to South Attleboro, Massachusetts in 1966.
Martha was a longtime member of Crossroads International Church, the former South Attleboro Assembly of God, where her husband had been Pastor for thirty-three years. She was a kindergarten teacher at Dayspring Christian Academy, South Attleboro, for forty-two years until retiring in 2009.
Besides her loving husband, she leaves two daughters, Joy Jackson Marchione and her husband, Nicola, of Walpole, Massachusetts and Susan Faith Mayer and her husband, James, of North Attleboro; seven grandchildren, Jeffrey Jackson, Christina Bensley, Carley Jackson, Riley Marchione, Sara Marchione, Rachel Mayer and Christian Mayer; four great-grandchildren, Tristan Bensley, Kai Bensley, David Jackson and Christiana Jackson, and many nieces and nephews. She was the mother of the late Jonathan Roy Jackson.
VISITATION will be held on Friday, May 12, 2023 from 4 p.m. until 7 p.m. at Crossroads International Church, 1052 Newport Ave., South Attleboro. Services will be held on Saturday, May 13, 2023 at 10:30 a.m. at Crossroads International Church, 1052 Newport Ave., South Attleboro. Interment will follow at Swan Point Cemetery, 585 Blackstone Boulevard, Providence, Rhode Island. In lieu of flowers, memorial gifts to the Missions, C/O Crossroads International Church, 1052 Newport Ave., South Attleboro, MA 02703 would be appreciated.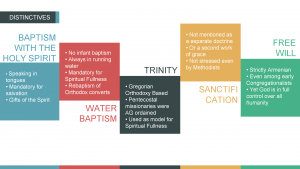 by Dony K. Donev, D.Min.
Historical and Doctrinal Formation of Holiness Teachings and Praxis among Bulgarian Pentecostals (Research presentation prepared for the Society of Pentecostal Studies, Seattle, 2013 – Lakeland, 2015, thesis in partial fulfillment of the degree of D. Phil., Trinity College)
The Doctrine of the Trinity was not foreign for the Eastern Orthodox mindset of the first Bulgarian Pentecostals. They grew in a spiritual context where eastern pneumotology historically promoted the graduate process of theism development, with the Spirit being involved in both original creation of the world and the new-birth of the believer. For them, God's work did not end there, but continued throughout a process of personal sanctification of the believer. This gradual process would have the same triune characteristics as of the triune God, providing the believer an experience with each person of the Trinity.
The historically inherited value of the Trinity is evident in the Bylaws of the Pentecostal Union where it was listed second only to the verbal inspiration of the Bible. As ordained Assemblies of God ministers, both Zaplishny and Voronaev subscribed to the 1916 Statement of Fundamental Truths, which resolved the "oneness controversy" and because of that were unquestionably Trinitarian. All documents from the time period prove that the movement they started in Eastern Europe followed their theological teachings.