Doctrine of the Trinity among Early Bulgarian Pentecostals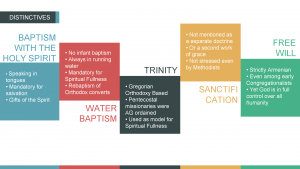 by Dony K. Donev, D.Min.
Historical and Doctrinal Formation of Holiness Teachings and Praxis among Bulgarian Pentecostals (Research presentation prepared for the Society of Pentecostal Studies, Seattle, 2013 – Lakeland, 2015, thesis in partial fulfillment of the degree of D. Phil., Trinity College)
The Doctrine of the Trinity was not foreign for the Eastern Orthodox mindset of the first Bulgarian Pentecostals. They grew in a spiritual context where eastern pneumotology historically promoted the graduate process of theism development, with the Spirit being involved in both original creation of the world and the new-birth of the believer. For them, God's work did not end there, but continued throughout a process of personal sanctification of the believer. This gradual process would have the same triune characteristics as of the triune God, providing the believer an experience with each person of the Trinity.
The historically inherited value of the Trinity is evident in the Bylaws of the Pentecostal Union where it was listed second only to the verbal inspiration of the Bible. As ordained Assemblies of God ministers, both Zaplishny and Voronaev subscribed to the 1916 Statement of Fundamental Truths, which resolved the "oneness controversy" and because of that were unquestionably Trinitarian. All documents from the time period prove that the movement they started in Eastern Europe followed their theological teachings.