After the success of our annual national X Event for youth in the heart of Bulgaria we undertook a national evangelization campaign with a special focus on the Stara Zagora region of the Bulgarian Church of God. The reason behind this ministry endeavor were the countless meetings, calls and contacts with ministers and believers from the area who agreed to pray, fast and partner with us in the work toward a regional revival campaign. The purpose of this work was to enhance and sharpen the focus of the local congregations and their leaders toward the ultimate goal of ministry, namely the salvation of eternal souls.
We are here to report that the Bulgarian Church of God is preparing for to receive a fresh vision from God and to move into a new level of ministry. The need for this is great and the factors that confirm it are many. Just regard our ministry report from the last several weeks.
After the X Event in the Heart of Bulgaria and after teaching the leadership course at the Church of God congregations of Samokov and Sofia, we ministered in the Pentecostal church in Yambol from the Gospel of Mark. Then on Monday night, we took a youth team to minister in the gipsy ghetto of Yambol. This was a very unique opportunity as we patterned with the "Jesus Film" representatives in Bulgaria.  After singing a few songs and showing the children's version of the film, a little past 9:00 p.m. we delivered a message to the many adults and children that had gathered around us and offered to pray for them at the end. Many raised their hands and others came forward for prayer. Several young mothers brought their children to us to be anointed and prayed for. We were blessed to participate in this service, as our lives were also touched by what took place in the middle of the ghetto.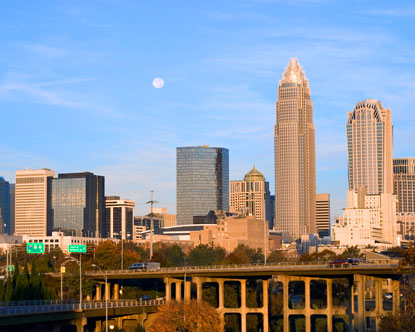 For over twenty years, East Coast Bible College was a place which left a great legacy of training as well as wonderful memories for many students, staff, local pastors, and denominational leaders. It was a place where students and faculty grew in a deeply intimate relationship with our Great Father. It was a place where we were trained and prepared to step out into places of ministry that still continues throughout the world. It was also a place where many were able to see God move with great demonstration in spiritual gifts, miracles and forthright testimonies of God's power. Through these faculty and students, East Coast Bible College still lives today! Read more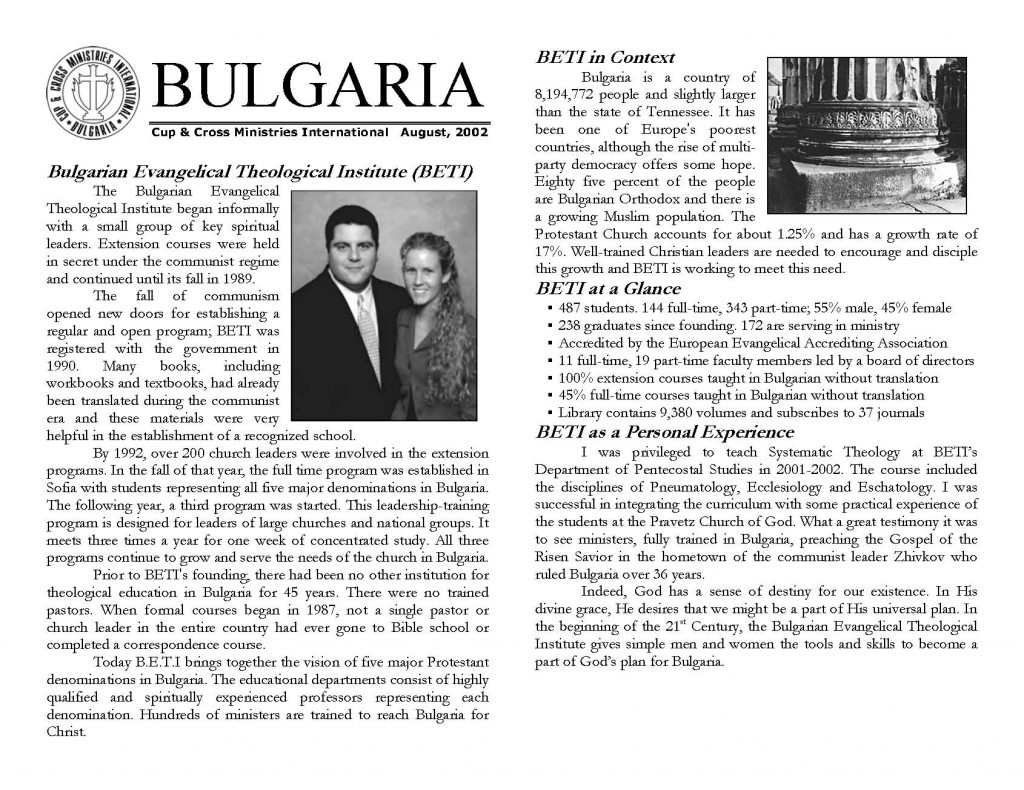 MISSION BULGARIA: QUARTERLY REPORT AUGUST – NOVEMBER 2001 Sofia, BULGARIA
Three months have passed since I have returned to my home country Bulgaria on August 17, 2001. This year has been a special one for me and I have a lot to thank the Lord for. First of all, I thank the Lord for my fiancée Kathryn Nell Barton. Kathryn and I got engaged on July 4, 2001 and will be getting married on July 6, 2002. Then, I thank the Lord for giving me the opportunity to finish my master's degree from the Church of God Theological Seminary, a water wheal of experience and knowledge from which I can now take in abundance and apply to the present ministerial context and tasks. I thank the Lord for bringing me back to my home country Bulgaria and giving me the opportunity to minister here of which I give the following report:
Focus:
1. Sunday School Pilot Program
2. Central Church of God in Sofia
3. Chaplains Commission
4. Local congregations and outreaches
5. Results: Sunday School Pilot Program
6. More than 15,000 lessons printed and distributed (cost: 5 cents per copy)
7. Lessons made available vie e-mail and internet
8. Sunday School lessons taught in 37 local congregations nationally (reported)
Results: Central Church of God in Sofia
FTH – Central Church of God – Sofia – 6 out of 12 lessons on Revelation finished
Results: Chaplains Commission
1. Bulgarian Chaplaincy work reformed according to modern standards
2. Chaplaincy Training Course scheduled for 18-22 February 2002
Results: Local congregations and outreaches (including Yambol team)
1. 66 Bibles and 91 New Testaments purchased and distributed free of charge
2. More than 40 pairs of eyeglasses given or fixed free of charge
3. Social work – lunch served twice weekly to more than 450 people
4. Financially supporting 1 minister of the Gospel
5. Weekly Bible Radio program reaching Yambol and 19 villages in the area
7. Sunday School for children reaching 137 children of 4 villages with Children Bibles, Sunday School literature for children (in Bulgarian and English) and food
8. 39 visited churches
9. 457.5 miles traveled per week with rented car (price of gas $2.94 per gallon)
Vision – Goals for the next quarter (November 17, 2001-February 17, 2002)
1. 15-20% Increase of total ministerial activities
2. Finish the Sunday School Pilot Program and publish a Sunday School textbook including lessons on the 14 articles of the Declaration of Faith and Revelation
3. Continue participating in the ministerial outreaches
4. Decreasing the transportation expenses by getting own automobile
5. Continuing the local radio ministry and starting TV documentary with Shalom TV
6. Establishing a Chaplaincy Commission with the Bulgarian Church of God
7. Click here to view a full map of events
The Experience with the Community of God
Because I am limited in my time and resources, I have to ask people to help me. For example, in order to have the Sunday School lesson printed in the needed copies, I write it on my computer, send it vie e-mail to a friend who prints it on the printer in her office, then gives it to her husband who takes it to the print shop where they multiply the copies and returns it to me on Saturday night ready for the Sunday morning service. This process takes a little bit less than a week. While it seems quite inconvenient, it involves people and relationships, which make it a priceless experience within the family of God. If I had all the resources I needed, I would have never had the opportunity to ask people to help me, and being helped and helping others I have found to be the best part of ministry.
Rev. Dony K. Donev, M. Div.
17 November 2001 – Sofia, BULGARIA