BulgarianCooking.com's featured author of the month is Bulgarian native, Evdokia Krusteva who wrote the cookbook, "Ancient Recipes of Bulgaria".
Evdokia (Eva) Krusteva was born and raised in Yambol, Bulgaria. She is a fourth generation Pentecostal believer and minister of the gospel. She fondly remembers how her home was opened to holding services underground during communist times. These times would be centered around a meal as not to bring unwanted attention to people gathering.
Having lived in communist and post-communist Bulgaria, Eva has a unique view on life with a great story to tell. She often recalls how dishes were traditionally prepared growing up along with the many unique customs of each. She has included a few in this collection of memories.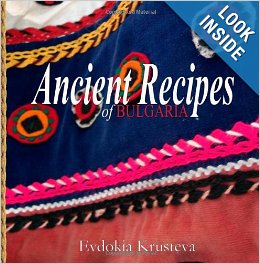 This cookbook features nearly two dozen truly ancient recipes of Bulgarian cooking. Some of these dishes are distant relatives to ones found in ancient Roman manuscripts believed to have been compiled in the late 4th or early 5th century AD. Others are among those far before the time of Christ. As Bulgaria is a country of oral history, recipes are typically not written, but passed down from one generation to the next by experiencing the method of preparation. With nearly every dish in Bulgarian cooking comes a story and custom. This cookbook attempts to preserve these hundred year old stories for many years to come so they can continue to be passed down.