[slideshow]
In October, John Bevier visited Bulgaria for a powerful Holy Ghost conference. Our team was able to broadcast LIVE the three-day event over the internet to some 20,000 people in and outside of Bulgaria.
October 24, 2011
October 23, 2011
October 22, 2011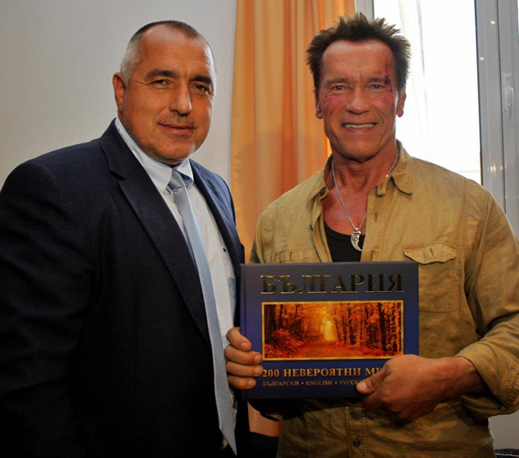 Bulgaria's fall season has again become a colorful arrangement of political attitudes and campaigns toward the upcoming Presidential Elections on October 23, 2011. To add to the political theater at hand, Prime Minister Boyko Borisov thoughtfully scheduled the shooting of The Expendables 2 to take place in Sofia, Bulgaria a week before the elections.
Sylvester Stallone has been in Sofia for the past month or so, Dolph Lundgren for the past few days. Chuck Norris landed in Bulgaria last week, and now Bulgaria's Prime Minister patiently is waiting for governor Schwarzenegger to arrive along with Bruce Willis before an official public meeting before the press with the star cast as part of his political campaign.
This time however, the nation's political and ethnic tensions were rebirth anew after a civil unrest followed the death of two Gipsy boys in the village of Katunutza. The ruling party GERB was strongly criticized by its opponents for the way police handled the wave of protests that followed throughout the country.
Meanwhile, a total of 79 political parties and formations are already registered for the elections on October 23, 2011. Only seven of them are expected to have the necessary electorate to finish the race. They are as follows:
(1) GERB (Bul. "coat of arms") the Bulgarian abbreviation means Citizens for European Development of Bulgaria took over the parliamentarian elections a few years back with the strong political figure of leader Boyko Borisov, who began his colorful career as fireman and personal bodyguard of ex. king Simeon and Bulgarian communist dictator of over 30 years Todor Zhivkov. Borisov became minister-general of Internal Affairs, mayor of Sofia and serves currently as Bulgaria's Prime Minister. While he has not taken a much expected place as a presidential candidate, his political strategy has been strongly criticized by his opponents as inadequate and insufficient to answer Bulgaria's current crises.
(2) BSP, the Bulgarian Socialist Party has followed a leftist communist trend for over a century now, being empowered by economic and structural recourses inherited by the Regime and Russia's political strategies on the Balkans. Ruled in the triple coalition in the previous government mandate along with the party formed by the ex-king and Turkish minority, it has been represented in the past decade by current president with two consecutive mandates.
(3) Bulgaria's Democratic Forces, a rightist party of 21 years is now lead by recognized evangelical Martin Dimitrov, but unofficially ruled by ex. prime minister Ivan Kostov. The party has again disappointed their supporters by being a small and inefficient political force, which remains in the periphery of Bulgaria's political realm with small voting power and virtually no influence on government polices.
(4) NDSV (abr. National Movement for Stability and Progress) formed at the turn of the century by Simeon Saxe Coburg Gotha – Bulgaria's ex-king returning after a 50-year exile. The party was a major political player since its coming to power in 2001, but has remained virtually uninvolved in recent years boxed by a political coffin created by both socialists and democrats after its last mandate ended. One of their activists, Mrs. Miglena Kuneva, currently serving as EU parliament deputy has launched a campaign as independent presidential candidate.
(5) ATAKA (Bulg. Attack) as always is absorbing the negative vote, which comes from the people disliking current government politics, socialism and minority parties. Their methods have been rightfully characterized as dangerous with extreme pro-Bulgarian chauvinism bordering nationalistic ideologies. The party was involved in a fire-related attack against the central mosque in Sofia and consecutively organized protests flaming ethnic and political unrest in the recent incidents at the village of Katuntza.
(6) RZS (abr. Order, Law and Justice) although keeping away from nationalistic ideologies, it resembles ATAKA, being a minor but scandalous political formation. RZS received sufficient vote in the last parliamentarian elections through presenting a series of compromising publications in major Bulgarian periodicals. These politics have been continued through RZS's participation in government life, as the party was the first one to start its current campaign branded with the phrase "I'll fire Boyko Borisov!"
(7) DPS (Bulg. Movement for Rights and Freedom) was formed on ethnic foundation of Bulgarian Turkish and Muslim population. It has remained the constant "balancer" in Bulgaria's political life providing the necessary votes to one or another formation only to remain in power. DPS was blocked almost permanently after the last parliamentarian elections, but only until now when it is strongly entering Bulgaria's political scene again.
After almost entering Bulgaria's parliament in 1997, the Bulgarian Christian Coalition has again remained on the borderline of any political existence. Bulgarian evangelicals have never been able to reach their political legacy again, although the new Bulgarian census showed over 25% increase of evangelical population in Bulgaria to some 65,000 people strong. The alternative party, Christian Democratic Forum has showed no political activity since last election when it was defeated having only some 1,000 votes nationwide. The Bulgarian Christian Coalition has also chosen not to run in the presidential elections.
In the beginning of 2010, the Lord gave as a word for a New Prophetic Generation in Bulgaria, which we delivered in the Church of God in Gabrovo. The word came from I Samuel and referred to the story comparing Eli and his two sons with Hannah and her Son of promise, Samuel. It opened the door to a new level in our ministry, one we have waited for over 20 consecutive years of ministry.
After preaching over 100 times by 2011, a second word came to us during the Bible Camp we organize each year for young ministers in the Eco Complex of Katunishte in the Balkan Mountains. This word was from Ezekiel chapters 8-11 about the departure of the Glory of God. Virtually all present, over 80 youth leaders from around the country and abroad, testified that the presence during this service was perhaps the most powerful move of the Holy Spirit they have ever witnessed.
Finally, we delivered yet a third message in a more recent service with the Pentecostal Roma Gipsy community in the city of Sliven. It was called "New Prophetic Generation Part 2." The picture above is from that meeting.