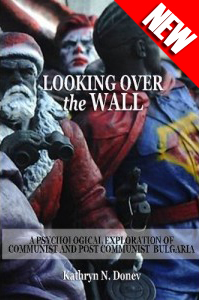 25 years after the Fall of the Berlin Wall, people in Eastern Europe are still haunted by the spirit of communism. The Regime robbed them not only from happiness and freedom, but from their deep human ability to even imagine a better and free world. For this very reason, we wrote the book "Looking over the Wall" as our prayer for a new prophetic re-imagination of the present reality. After laboring in Bulgaria for over 25 years, in 2014, we were thrilled to minister to churches and people that are dreaming and re-imagining God's purpose for Bulgaria along with us. Join us in re-imagining imagination anew:
1. Purchase the book from Amazon
2. Read it with your church family
3. Help us pray for a renewal of a new prophetic re-imagination in the minds and hearts of the people in Bulgaria and Eastern Europe






In the beginning of 2010, the Lord gave as a word for a New Prophetic Generation in Bulgaria, which we delivered in the Church of God in Gabrovo. The word came from I Samuel and referred to the story comparing Eli and his two sons with Hannah and her Son of promise, Samuel. It opened the door to a new level in our ministry, one we have waited for over 20 consecutive years of ministry.
After preaching over 100 times by 2011, a second word came to us during the Bible Camp we organize each year for young ministers in the Eco Complex of Katunishte in the Balkan Mountains. This word was from Ezekiel chapters 8-11 about the departure of the Glory of God. Virtually all present, over 80 youth leaders from around the country and abroad, testified that the presence during this service was perhaps the most powerful move of the Holy Spirit they have ever witnessed.
Finally, we delivered yet a third message in a more recent service with the Pentecostal Roma Gipsy community in the city of Sliven. It was called "New Prophetic Generation Part 2." The picture above is from that meeting.
We were blessed to visit the Antioch Project Church in Sliven again, where long-term friends of ours have focused their prayers and efforts on a vision to reach one of the poorest communities in Bulgaria with the Gospel of Salvation. And their prayers have been answered in full.
Their church is growing, as they minister to both adults and children. The Sunday night service, in which we ministered, was full packed. Famous Bulgarian folk singer, Kondio, who was saved in prison two years ago, is a member of this church and is now planning to record a Christian album for Christmas. The congregation has established itself as a beacon in the community and is getting involved in a building program that will give them the opportunity to worship in a place of their own. It was a challenge to get a building permit in a city where several mosques are active. Nevertheless, the church's ministry is extending to may areas of life and we were delighted to participate in what turned to be a prophetic service for both the people of the Antioch Project Church and our ministry team as well.