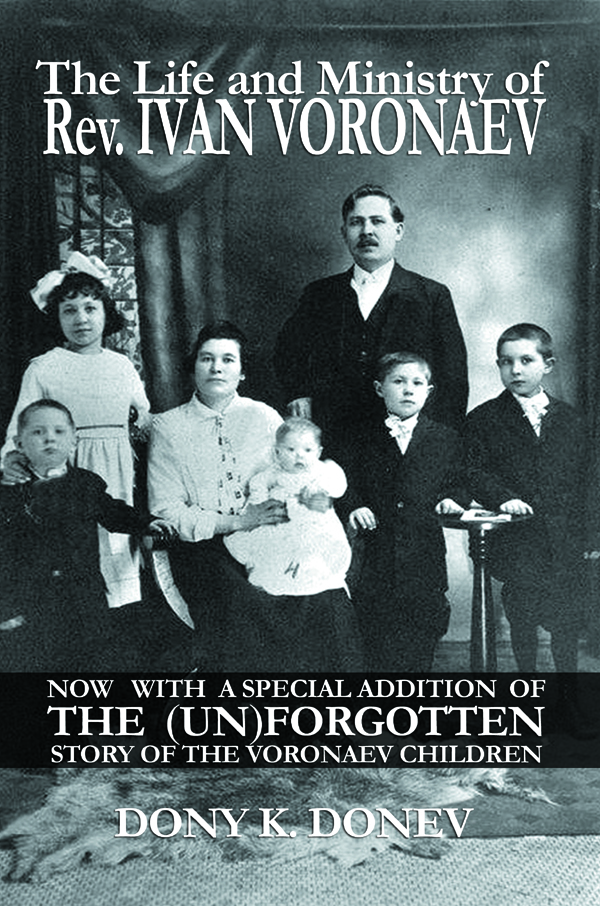 THE LIFE AND MINISTRY OF REV. IVAN VORONAEV NOW WITH A SPECIAL ADDITION OF THE (UN)FORGOTTEN STORY OF THE VORONAEV CHILDREN

This book tells the story of the life and ministry of the family who brought the message of Azusa Street to Eastern Europe and Russia. The research has taken close to a decade to complete. It started with a brief article on the beginning of the Pentecostal movement in Bulgaria, where unfortunately most church archives were destroyed during Communism. Consecutively, the research led my wife and I on a long journey from the Southern Baptist Historical Library and Archives in Nashville, to the Assemblies of God headquarters in Springfield and the Graduate Theological Union at Berkeley.
We are grateful to the Flower Pentecostal Heritage Center for making available the ministerial file of Rev. Ivan Effimovich Voronaev kept in their denominational archives. We are deeply indebted to Dr. Albert Wardin for opening the doors for research in Nashville and Berkeley, where most documentation referring to Voronaev's ministry as a Baptist is preserved. We are also thankful to Oleg Bronovolokov of the Ukrainian Evangelical Theological Seminary in Kiev,
who helped with the input of various Russian documents pertaining to the Voronaevs.
Both papers included in this book were presented at two consecutive meetings of the Society for Pentecostal Studies in Minneapolis (2010) and Memphis (2011). The first paper, although heavily edited to fit the format, was published in vol. 30 (2010) of Assemblies of God Heritage magazine under a new title, "Ivan Voronaev: Slavic Pentecostal Pioneer and Martyr." Some of the historical data we presented in the article was published openly for the first time. Our research was further mentioned in the December, 2010 AG Heritage editorial. The Bulgarian "Evangel" also published our translations of Voronaev's correspondence.
In 2011, Vladimir Franchuk, translated parts of the Voronaev's papers in Russian and included it in his book "Revival: from the center of Odessa to the ends of Russia," thus making our research available to the Slavic people just in time for the 90th Anniversary from the beginning of Ivan Voronaev's Pentecostal ministry in Russia. Partial information from these papers was also used by several recent studies concerning Pentecostalism in Europe and the life and ministry of Rev. Dionissy Zaplishny. Unfortunately, with all this interest, little attention was given to the second paper concerning the Voronaev children until now.
Since the beginning of the year, we have begun a weekly live broadcast in Bulgarian called "Bible Hour." It airs every Monday evening in Bulgaria. They can be watched live via our ministry's website www.cupandcross.com every Monday at 1PM ET or anytime at http://biblehour.net/
The broadcast embodies three types of video broadcasts as related to our ministry in Bulgaria and abroad as follows: (1) Bible Hour Series, (2) Selected sermons and teachings from our evangelism ministry and (3) videos from our annual X events for youth in Bulgaria and abroad.
This is a new dimension of our work and effort to establish Bulgarian Christian Television since 1995. Since then, we have equipped and trained some 20 congregations in Bulgaria and abroad, who currently broadcast their church services, Bible seminars and special events on the internet creating virtually a 24-hour live broadcast.
Just recently, one of these efforts for Bulgarian Christian Television, held a 6-hour prayer marathon. A Church of God congregation in Stara Zagora also participated via a video bridge. Join us in prayer for God's favor as we continue to work toward this effort reaching for Christ many Bulgarian speaking people around the globe.
Silence in the face of evil is itself evil: God will not hold us guiltless.
Not to speak is to speak. Not to act is to act.
Dietrich Bonhoeffer
Pastors who served as agents of the secret police during the Communist Regime in Bulgaria are being revealed this week through special legal provision of the Bulgarian Constitution, which allows secret government dossiers and archives to be made public. The law excuses ministers who are retired, immigrated or deceased as it pays special attention to people who continue to serve on denominational boards, heads of religious organizations or church pastors.
The released records have revealed a significant count of Bulgarian evangelical pastors, who have served directly under the Communist government as secret agents and are currently serving in lead positions in their respective churches and denominations. At least 17 agents have infiltrated the Pentecostal churches in Bulgaria (including the Assemblies of God, Church of God and other charismatic denominations). The count is overwhelming in comparison with the Bulgarian Orthodox Church representing some 90% of Bulgaria's general population with only 11 regional bishops with secret police dossiers.
The newly released documents reveal that these pastor-agents served the Regime through willfully betraying and reporting fellow ministers and their respective ministries, regularly submitting the names of new believers joining their congregations and the activities of their churches as a whole. Special interest in their reports seems to have been given to "foreign religious emissaries" – missionaries from sister-denominations in other countries who visited Bulgarian evangelicals with the purpose of bringing moral and financial support, smuggling Bibles or just encouraging the churches during their time of trials and tribulations under the Regime.
Even more disturbing is the lack of definite and unified response on behalf of the current denominational leaders and the repulsiveness of the general public on the issue as a whole. While the Bulgarian Evangelical Alliance appealed for prayerful but fair dealing with the said misconducts, the Bulgarian Assemblies of God has chosen to deal with the issue internally behind closed doors and the Church of God in Bulgaria has postponed discussion to its general meeting in March or perhaps May. Several outspoken leaders from the Congregational and Apostolic churches have been unsuccessful in bringing about a public debate involving all Bulgarian Protestants, while journalistic investigations in the Christian media have been openly attacked in attempt to be kept silent.
It is understood that many of the said pastor-agents were coerced to serve as such through pressure in their jobs, friends, families and in some cases even their children. Yet, the Bulgarian churches are now struggling to cope with the fact that leading ministers within their denominational structures have continually and purposefully reported on the life of the church, thus betraying fellow believers and ministers.
Inspired by the Pneuma Foundation and Review
Walter Brueggemann: Divine Presence Amid Violence
"Here I Am Send Me" was the theme of the 2012 Seventeenth Annual Missions Conference at the Good Sheppard Church of God in Pahokee Florida. The event was represented by missionaries from Uruguay, Mexico, Nicaragua, Southwest Indian Reservation, Nigeria and Bulgaria by Cup and Cross Ministries International. The Sunday morning message was delivered by Bishop Victor Pagan, Assistant Director of World Missions and Missions Representative, Bishop Ray Sanders spoke to the people Sunday evening on that the Orders Remain the Same.
Our report to the church during the missions' banquet included over a dozens projects completed in 2011, including the highlight of teaching the Counseling Module of the Master's in Chaplaincy Ministry, which has now been accepted as part of the government accredited curriculum of New Bulgarian University. Dr. Donev also shared of the services during our 2011 Bible Camp BC/AD (Bible Camp/All Denominations) in which the Glory of the Lord fell among the youth present. It was our pledge to the congregation that we would continue to seek His Glory and continue to pray and fast so that the Glory may be a working part of the lives of this upcoming generation. It is a spiritual call to all present not just to speak of or about the Glory, but to believe and minister as people who have lived through and experienced the Glory of God.
SOFIA, Bulgaria — Swollen rivers in Bulgaria and Greece burst their banks Tuesday, leaving dozens of homes underwater, as Bulgarian officials declared a day of mourning for eight people confirmed killed after a dam collapse nearly washed away their village.
Bulgaria's civil defense agency warned that two other, bigger dams were also on the brink of spilling over and residents were urged to prepare for an evacuation. Authorities have started a controlled release of water from the dams to prevent overflow.
Europeans across the continent have been battling more than a week of extreme weather, with thousands still trapped by snow in remote, mountain villages in the Balkans; hundreds — most of them homeless — dead after temperatures hit as low as minus 33 Fahrenheit (minus 36 Celsius); and authorities now facing the prospect of flooding caused by melting snow.
A day after the dam burst, the Bulgarian government declared a day of mourning, and streets in the village of Bisser were covered with sticky mud as people returned to their water-logged homes.
At least a dozen houses had collapsed, uprooted trees blocked roads and smashed cars sat abandoned along deserted streets. Veterinary officials were collecting the bodies of dead animals from streets still covered in snow.
Bisser Mayor Zlatka Valkova said she received a phone call about the dam and tried to get out of her office in time to alert people of the eight-foot-high (2.5-meter) torrent. "I rushed out on the street, but then I saw the wave," she said. "It was terrible, it came with such speed that I couldn't do anything."
The village's 800 residents have been provided with food, water and medicine while the recovery operations continue. District Governor Irena Uzunova said eight people have been confirmed dead, and the whereabouts of an elderly couple remain unknown.
Bulgarian President Rosen Plevneliev and the EU commissioner for humanitarian aid, Kristalina Georgieva arrived Tuesday to assess the extent of the damage. "The next two weeks will be very difficult and the melting snow could make the situation very complex," Georgieva told reporters in Bisser. Georgieva voiced sympathy over the loss of lives and of property of people "who had not been wealthy even before the disaster."
Further south, the heavy rain caused the Maritsa River to overflow its banks, leaving dozens of homes under water in the city of Svilengrad near the Greek border. Rescue crews helped transport nearly 100 residents to temporary shelters.
In Greece, rescuers had to help five elderly people escape from their flooded homes after the river Evros burst its banks near the country's northeastern border with Bulgaria. Several elderly residents were also evacuated overnight from another three villages in the area.
Clinton urges Bulgaria to be energy independent
Schools in Bulgaria Close Due to Extreme Winter
Roof of Bulgaria's Plovdiv Airport Collapses under Snow Cover