SOFIA, Bulgaria — Swollen rivers in Bulgaria and Greece burst their banks Tuesday, leaving dozens of homes underwater, as Bulgarian officials declared a day of mourning for eight people confirmed killed after a dam collapse nearly washed away their village.
Bulgaria's civil defense agency warned that two other, bigger dams were also on the brink of spilling over and residents were urged to prepare for an evacuation. Authorities have started a controlled release of water from the dams to prevent overflow.
Europeans across the continent have been battling more than a week of extreme weather, with thousands still trapped by snow in remote, mountain villages in the Balkans; hundreds — most of them homeless — dead after temperatures hit as low as minus 33 Fahrenheit (minus 36 Celsius); and authorities now facing the prospect of flooding caused by melting snow.
A day after the dam burst, the Bulgarian government declared a day of mourning, and streets in the village of Bisser were covered with sticky mud as people returned to their water-logged homes.
At least a dozen houses had collapsed, uprooted trees blocked roads and smashed cars sat abandoned along deserted streets. Veterinary officials were collecting the bodies of dead animals from streets still covered in snow.
Bisser Mayor Zlatka Valkova said she received a phone call about the dam and tried to get out of her office in time to alert people of the eight-foot-high (2.5-meter) torrent. "I rushed out on the street, but then I saw the wave," she said. "It was terrible, it came with such speed that I couldn't do anything."
The village's 800 residents have been provided with food, water and medicine while the recovery operations continue. District Governor Irena Uzunova said eight people have been confirmed dead, and the whereabouts of an elderly couple remain unknown.
Bulgarian President Rosen Plevneliev and the EU commissioner for humanitarian aid, Kristalina Georgieva arrived Tuesday to assess the extent of the damage. "The next two weeks will be very difficult and the melting snow could make the situation very complex," Georgieva told reporters in Bisser. Georgieva voiced sympathy over the loss of lives and of property of people "who had not been wealthy even before the disaster."
Further south, the heavy rain caused the Maritsa River to overflow its banks, leaving dozens of homes under water in the city of Svilengrad near the Greek border. Rescue crews helped transport nearly 100 residents to temporary shelters.
In Greece, rescuers had to help five elderly people escape from their flooded homes after the river Evros burst its banks near the country's northeastern border with Bulgaria. Several elderly residents were also evacuated overnight from another three villages in the area.
Clinton urges Bulgaria to be energy independent
Schools in Bulgaria Close Due to Extreme Winter
Roof of Bulgaria's Plovdiv Airport Collapses under Snow Cover
Bulgarian Railways Warn Passengers to Avoid Travel
Traveling during winter conditions in Bulgaria has never been easy. But it's getting worse every year as temperatures drop lower and lower with record negative recordings. But ministry must continue regardless of the weather conditions. And there is a story in pictures of our ministry this past Sunday in blizzard conditions through the covered with snow Bulgaria: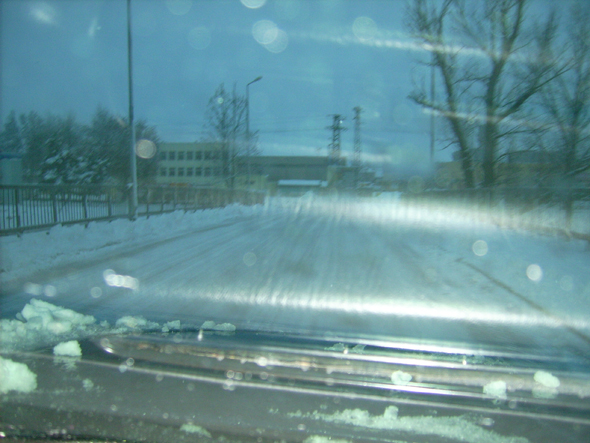 7:30 AM: Early departure by dawn, defrosting the engine and heading out of town.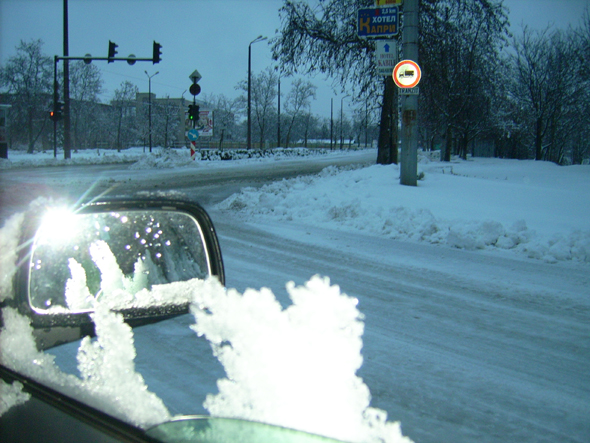 7:45 AM: A few minutes later still trying to leave Yambol, Bulgaria on our way to Sliven (25 miles north) to reach the Tricia Interstate. We stop to ask a southbound traveler of the road conditions ahead. The report is that while the roads are being cleaned they are simultaneously being recovered with snow.
8:00 AM: Heading out of Sliven west toward the city of Nova Zagora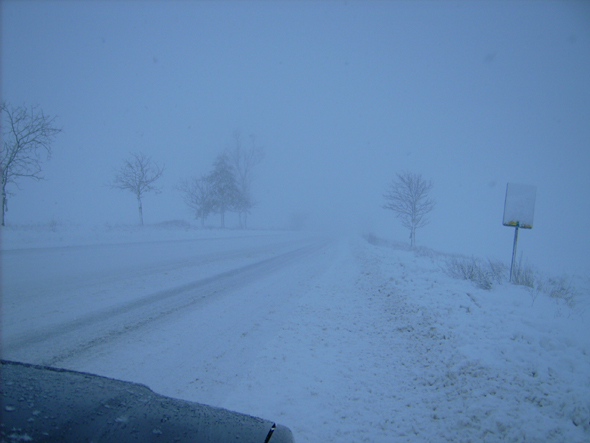 8:15 AM: A few miles before the city Nova Zagora barely seeing the road ahead with falling snow and increasing fog.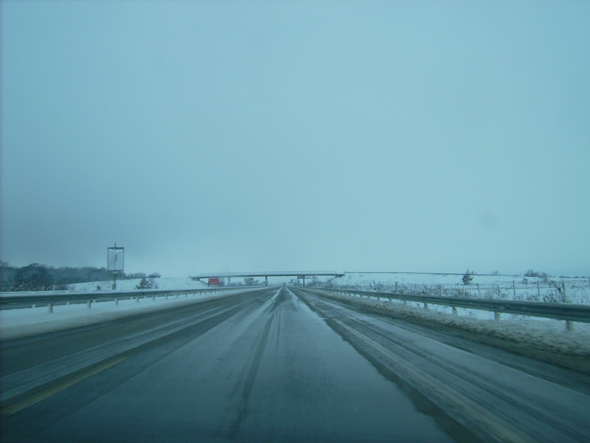 9:00 AM: Reaching the interstate just pass the city of Stara Zagora where we were stopped by Police who inquired about road conditions and asked which direction we were traveling to ensure our safety.
9:20 AM: On the somewhat clean interstate attempting to make up for the lost time.
9:45 AM: Reaching the second largest Bulgarian city of Plovdiv also frozen under the snow to minister to some 150 members of the Apostolic Church of Bulgaria.
9:55 AM: Almost at the Apostolic Church of Bulgaria in Plovdiv, Bulgaria following our host to the church location.
3:00 PM: Heading back east after a long service and great fellowship afterwards in a hurry to our next ministry location in Sliven, Bulgaria.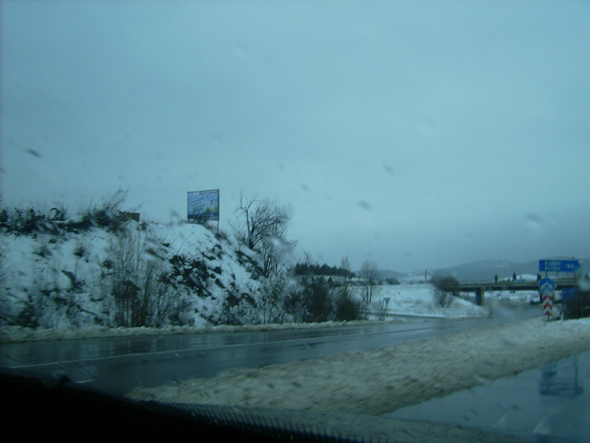 3:30 PM: Not much improvement on the interstate, but thanks to the temperatures the snow is melting. We are very grateful. For Bulgaria this is normally the time in which the snow begins to freeze over after being melted by the noon time sun when temperatures permit.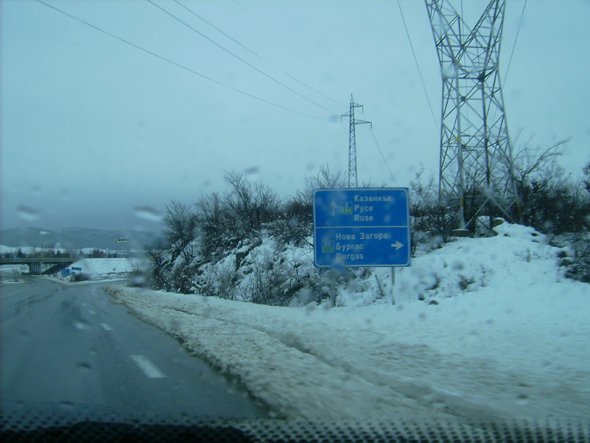 4:00 PM: Passing Stara Zagora for a second time in one day.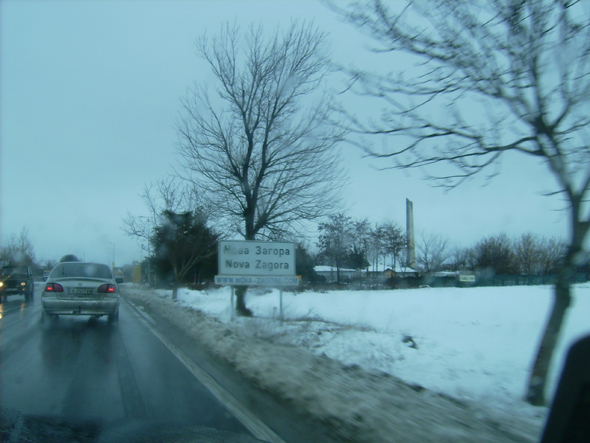 4:15 PM: Quickly going through Nova Zagora as evening traffic begins to pick up.
4:30 PM: Passing the turn to our home office in Yambol to reach our ministry location in Sliven, Bulgaria.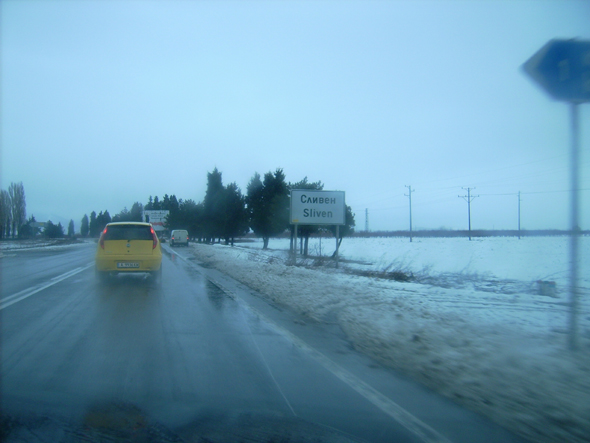 4:55 PM: Entering Sliven under severe winter conditions, perhaps the worst we have seen all day, just in time for the evening service. The church is located in somewhat secluded back streets of the town which had not been cleaned all day.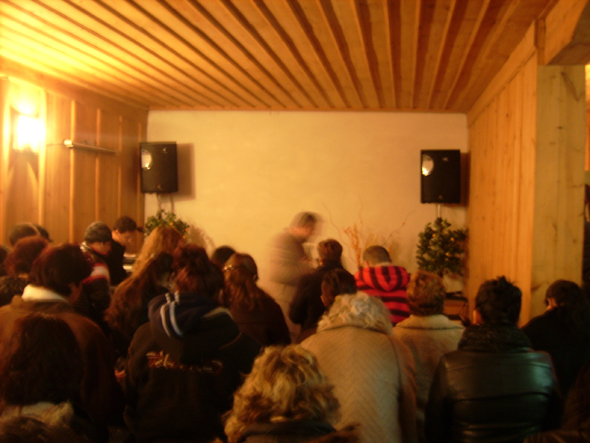 6:15 PM: Altar call at the Antioch Project Church of Sliven, Bulgaria – worth every effort we have made for the ministry all day long.