LIFE AND MINISTRY OF IVAN VORONAEV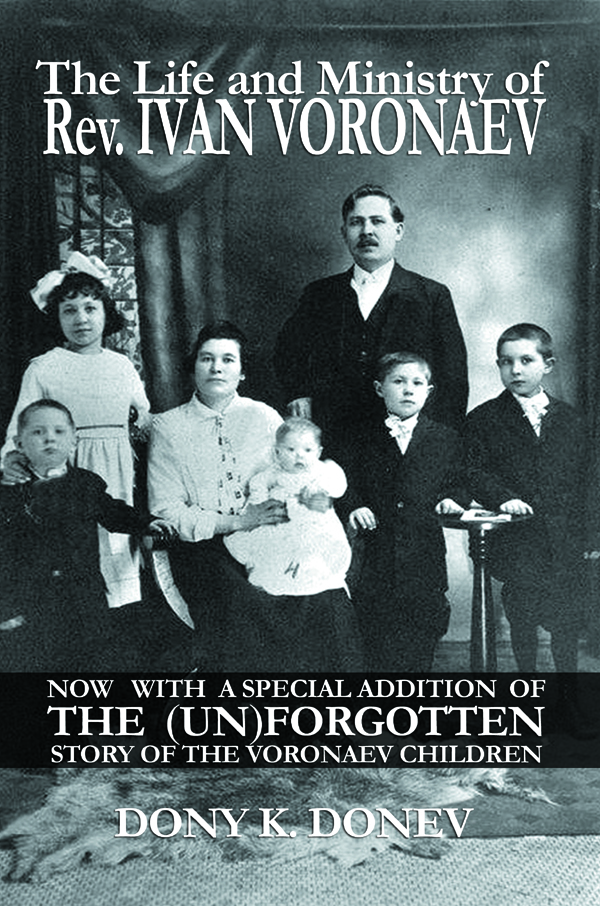 THE LIFE AND MINISTRY OF REV. IVAN VORONAEV NOW WITH A SPECIAL ADDITION OF THE (UN)FORGOTTEN STORY OF THE VORONAEV CHILDREN

This book tells the story of the life and ministry of the family who brought the message of Azusa Street to Eastern Europe and Russia. The research has taken close to a decade to complete. It started with a brief article on the beginning of the Pentecostal movement in Bulgaria, where unfortunately most church archives were destroyed during Communism. Consecutively, the research led my wife and I on a long journey from the Southern Baptist Historical Library and Archives in Nashville, to the Assemblies of God headquarters in Springfield and the Graduate Theological Union at Berkeley.
We are grateful to the Flower Pentecostal Heritage Center for making available the ministerial file of Rev. Ivan Effimovich Voronaev kept in their denominational archives. We are deeply indebted to Dr. Albert Wardin for opening the doors for research in Nashville and Berkeley, where most documentation referring to Voronaev's ministry as a Baptist is preserved. We are also thankful to Oleg Bronovolokov of the Ukrainian Evangelical Theological Seminary in Kiev,
who helped with the input of various Russian documents pertaining to the Voronaevs.
Both papers included in this book were presented at two consecutive meetings of the Society for Pentecostal Studies in Minneapolis (2010) and Memphis (2011). The first paper, although heavily edited to fit the format, was published in vol. 30 (2010) of Assemblies of God Heritage magazine under a new title, "Ivan Voronaev: Slavic Pentecostal Pioneer and Martyr." Some of the historical data we presented in the article was published openly for the first time. Our research was further mentioned in the December, 2010 AG Heritage editorial. The Bulgarian "Evangel" also published our translations of Voronaev's correspondence.
In 2011, Vladimir Franchuk, translated parts of the Voronaev's papers in Russian and included it in his book "Revival: from the center of Odessa to the ends of Russia," thus making our research available to the Slavic people just in time for the 90th Anniversary from the beginning of Ivan Voronaev's Pentecostal ministry in Russia. Partial information from these papers was also used by several recent studies concerning Pentecostalism in Europe and the life and ministry of Rev. Dionissy Zaplishny. Unfortunately, with all this interest, little attention was given to the second paper concerning the Voronaev children until now.