Bulgaria and Macedonia Signed Good Neighbour Agreement
The Prime Ministers of Bulgaria and Macedonia signed on 1st of August the Good Neighborly Relation Agreement between Bulgaria and Macedonia. It is subject to ratification by the parliaments of the two countries…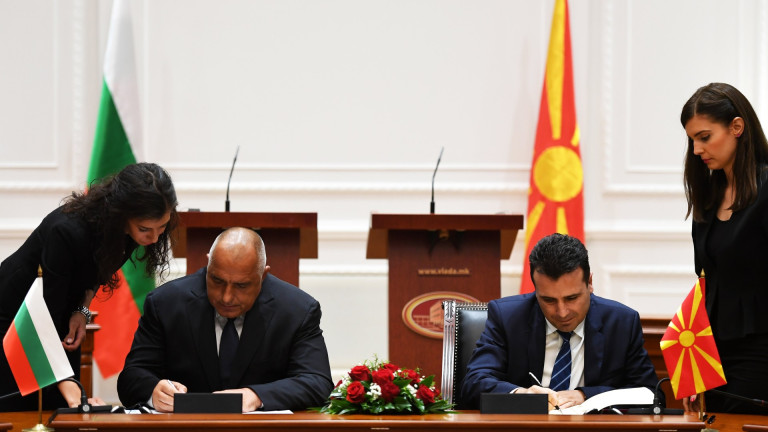 The Prime Ministers of Bulgaria and Macedonia signed on 1st of August the Good Neighborly Relations Agreement between Bulgaria and Macedonia. It is subject to ratification by the parliaments of the two countries. Signing the document is the basis for a lasting and sustainable building of friendly and good neighborly relations and will contribute to strengthening bilateral and multilateral cooperation, expanding transport links and communications, facilitating contacts between citizens of the two countries.
The transport ministers of the Republic of Bulgaria and the Republic of Macedonia signed a Memorandum of Understanding on the development of the railway links between Sofia and Skopje. The energy ministers of the two countries signed a Memorandum on cooperation in the area of natural gas.
Following the signing of the agreement, the prime ministers Boyko Borissov and Zoran Zaev also gave a briefing. The signing of the document was negotiated during the visit of Macedonian Prime Minister Zoran Zaev in Sofia in June.
The agreement provides for establishing a multidisciplinary expert commission (on parity principle) on historical and educational matters to bring about an objective interpretation of historical events. It also envisages organizing of joint observances of common historical events and personalities. The document states that the two countries do not have and will not make territorial claims against the other side. The two sides vow to take action for preventing hostile propaganda by their institutions and agencies.