BULGARIA: 2017 Election Results
As we have previously proposed, this puts Bulgaria back on the "Red Light of 25 Years of Communism…" as in 2013, 2014, 2015 and 2016…
Government Elections in Bulgaria (2005-2015):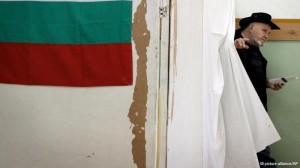 2005 Parliamentary Elections
2006 Presidential Elections
2007 Municipal Elections
2009 Parliamentary Elections
2009 European Parliament elections
2011 Presidential Elections
2011 Local Elections
2013 Early parliamentary elections
2014 Early Parliamentary Elections
2015 Municipal Elections
Washington Post/Associated Press
SOFIA, Bulgaria — The center-right GERB party of former Prime Minister Boiko Borisov took the lead in Bulgaria's parliamentary election on Sunday, a pair of exit polls showed, a result that if confirmed by official returns indicates support for the country keeping its European identity.
The Alpha Research exit poll said GERB won 32.2 percent of the vote, with the Socialist Party coming in second with 28 percent, while a separate exit poll by Gallup International Balkan had GERB with 32.8 percent and the Socialists with 28.4 percent.
The leader of the Socialists Party later conceded defeat and said the party would not take part in a coalition government with GERB.
Official results are expected Monday. If they confirm the exit polls, Borisov, a political maverick who combines man-in-the-street rhetoric with a pro-European Union disposition, will be handed a mandate to form his third cabinet.
GERB did not win enough votes to govern alone, and will likely form a coalition government with the United Patriots, an alliance of three nationalist parties that the exit polls showed placing third.
Borisov, 57, resigned as prime minister after his party lost the November 2016 presidential election. Parliament was dissolved in January, and the president appointed a caretaker government that will stay until a new government is formed.