I recently sat in a lecture "Why Are Youth Leaving the Church?" I listened to the most recent statistics, compared one opinion to the next, looked at the latest church involvement research and even explored some emerging themes of why people in general leave the faith. All the information was very interesting and contained an impressive collaboration of ideas. The research does not lie and opinions are to be valued. However, honestly what good does this enlightenment do us when we sit back and do nothing to correct the problem? We are so used to youth leaving our church that we have become complacent with pews filled with "ancient dinosaurs" in the words of a young lady just last week. We have become so overwhelmed with data that we forget to look at the real picture of why our next generation of leaders are leaving. Or perhaps we do nothing because we simply don't understand young people's true motivation for leaving the church. The answers may be uncomfortable for some but they deserve deeper exploration.
Youth are leaving the church but this does not necessarily mean they all are leaving the faith. Many young people of today have much more faith than some of the pew fillers whom have their assigned seats with their pillows and blankets left to save their spots. So if this is the case that they still have a genuine relationship with Christ but simply don't want to be within the four walls of religion, so to speak, should we not explore the million dollar question differently? We should not excuse away their leaving to agnosticism, postmodernism or neopaganism regardless of how cleverly it takes the focus off of the real concerns and sins of the "church." It is not a very popular idea to confess the sins of the church which is ironic when we proclaim to be a house of confession. Perhaps confession is only good for the soul as long as the sins are not our own. Behind the irony rests a darker problem, one that is responsible for many young people leaving the church.
For years the church has been a place of hypocrisy and today's young generation is one that is fed up with the dishonesty and is willing to take a stand. They are so disgusted they can no longer keep silent. They are not willing to "tweak the numbers" of the church financial records or work their way up the hierarchical ladder. They see through the masks and are not willing to compromise. Young people are tired of religious politics, bickering, back stabbing and lying. If we, the church, do not open our eyes to this now, if not yesterday, it will be too late.
This young generation is wandering looking for a place of refuge and they no longer find a safe place in the church house. The church regrettably is no longer safe. You cannot genuinely express your feelings, concerns or doubts without them being the topic of the message on the following Sunday morning. There is no longer trust within the church. The place of worship has turned into a place of gossip. A spiritual encounter has been replaced with a social gathering. The leadership of the Holy Spirit is no longer considered because we are too busy worrying about the opinions of others. So if by now you are still puzzled as to why the today's youth are leaving the church then my heart is deeply saddened.
Nevertheless, we need to make a self-less effort and remember that the church does not exist for our personal entertainment. Realize it is not a prize to possess but is a treasure to be given away to the next generation. We must do whatever it takes to restore the tabernacle to its original purpose; to call its people back to holiness. We must be willing to give up our seat to the next generation before it is too late and there is no body left willing to fill the void.
Postscript: This article was written based on the following word the Lord gave me June, 2011: "The Church is not a prize to possess, but is a treasure to give away".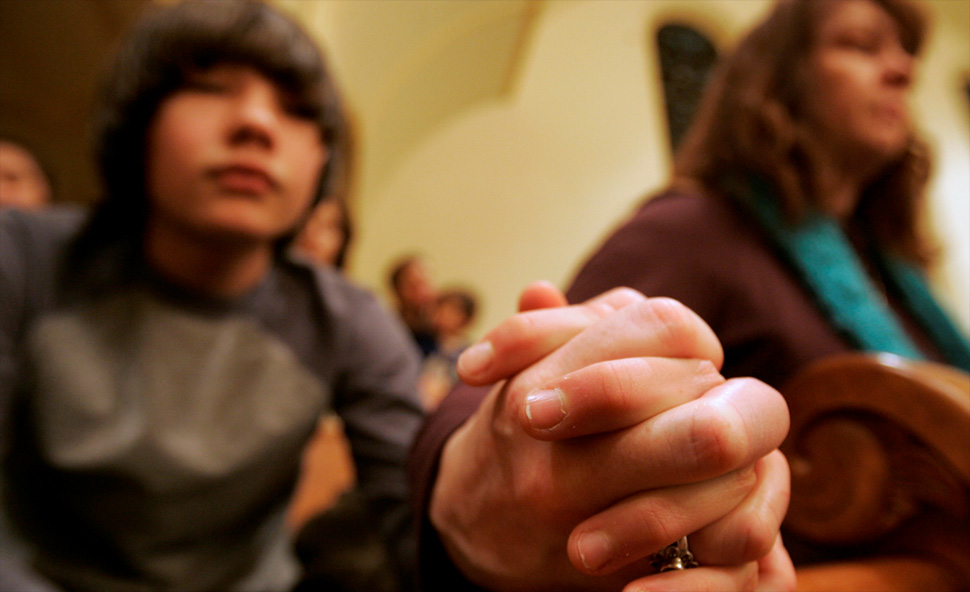 The Bulgarian Pentecostal movement is rooted in the Azusa Street Holiness Revival, which began in April of 1906. As a result of the revival, which followed throughout the United States less than a decade later, denominations such as the Church of God (1896) and Assemblies of God (1914) were established and sent missionaries to foreign lands including Bulgaria. After Assemblies of God missionaries to Eastern Europe Zaplishny and Voronaev embarked on their missionary endeavors in the 1920s, Bulgaria officially received the message of Pentecost. However, when Communist Dictatorship began in 1944, religious freedom was repressed and forced Pentecostal believers underground for 45 years until the Fall of the Berlin Wall in 1989.
From this oppression, Christians became creative in where and how they would gather. Services were held in secret rooms, moving from one house to the next and literally underground. During difficult times they would even gather in secluded mountain plains and hold services, which would last for days at a time. Even to this day, this tradition is kept where every year believers will assemble together for a time of praise and worship. And it is from these times that branched other church movements, which attempt to replicate this experience with a focus on evangelizing the youth of Bulgaria. However, some of these attempts have not been very successful. These movements successfully target young people, but the experiences which they are having are not as their fathers and grandfathers. Unfortunately, they are somewhat superficial and have become a time of leisure and socialization. There has been a perversion of the genuine experiences of the past in this attempt to simply copy what is happening without having a sincerely encounter with God. The church attempts to keep the tradition without having the experience.
Yet, in the midst of these movements of camps, rallies, mega services, concerts, there are young people which do have a genuine encounter and are on fire for God. But unfortunately, these movements with a lack of a better word are not properly equipped with a follow through plan in which the youth can be plugged into a local church where they can be discipled. It is almost as if the churches do not have an internal program for youth because they are relying on the many external activities to minister to their youth.
Many Bulgarian congregations are struggling with how to motivate their youth locally. They are confused why during the times of conferences and camps youth appear to be on fire for God, but when they return to their local church, for the ones who have a local church, they "lose" this drive. The simple, simple answer to this is that our youth are lacking in a strong internal biblical foundation. Youth need this foundation to build on in order to genuinely grow in Christ. Therefore, the churches' focus should be to educate our children and give a solid Biblical basis as opposed to waiting until they are lost to gather them in a camp and attempt to reach them. If ones motivation is based internally, no external factor will be needed to motivate your youth. There is no substitute for an internal passion for Christ for when something is internal it does not come and go with a movement or trend. This foundation comes from our fathers and mothers and from the local church.
Youth are ready for a serious authentic move of the Spirit, which is Biblical based in the foundation of the roots from which their faith is grounded. When understanding from where you came, you will be able to appreciate your here and now. Meaning that in identifying with your roots you know who you are and do not waiver with movements. But for those whom have had a genuine encounter on the mountain tops, so to speak, where are they to go? Who will father them? With the crisis in leadership in the churches of Bulgaria, there is a spirit of discouragement and distrust among believers. This is harsh to say, but should not be kept silent simply because of pride. Only when Bulgaria is ready to recognize this, will it be ready to genuinely minister to youth. It is only then that the young people will have a place to go and someone to minister to them. For how can one minister to another when they themselves are occupied with bitterness and power.
Children from birth watch everything. All is new to them, everything is interesting and they are instinctively curios. This curiosity is a God given desire in order to learn and grow. When a child is learning to pray they are told to bow their heads, close their eyes and listen to the words of their parents, but if you observe this process closely you will notice that a child will at first peak around. Why do they do this? Initially, one might think that a child is just playing around and not taking prayer seriously, however this is not the case. They look out of the corner of their eye and peak around in order to watch and see what you do and how to pray. They cannot learn when their eyes are closed. They have never before closed their eyes to pray and need a model.
So just as children look to their fathers and mothers to learn how to pray, the Bulgarian youth are looking to their spiritual fathers to know how to pray. With much sorrow I say the following: these children do not like what they are seeing. They peak out of the corner of their eye and see arguing, hostility, selfishness, depression, burnt-out, and worst of all, they do not see their fathers praying. They do not see their fathers fasting. If a father does not pray or fast how will the children know how to do these biblical acts. This lack of spiritual discipline leads to a rebellion against the church in which you hear from the mouths of babes "I believe in God, but I don't believe in the church". This factual quote should be eye opening. Yet instead, we keep our eyes wide shut. We need to overcome the lie that if we do not see things or problems, they do not exist. It is time to listen to what we know is truth.
So on one hand, we have a lost generation that does not have any faith in organized religion and on the other, we have a generation of youth that is hungry if not starved. They are hungry for solid foods and tired of living off babes milk. They are ready for a real experience and need spiritual parents. Who is willing to be that spiritual father? Who is willing to stop arguing? Who is willing to open their house again to be a home for the spiritual orphans of Bulgaria? Let the church once again be a place of refuge and not a place to be prostituted out to the highest bidder. Let the pastor genuinely be a father again instead of a corrupt politician. Let the children of Bulgarian have a voice, because if their voice is taken away today, they will have no future tomorrow and be lost for an eternity. This is not a price we should be willing to pay.
This article is based on a word the Lord gave me on 09/09/2010 that "The Children of Bulgaria are looking out of the corner of their eyes up to their fathers and not liking what they are seeing".
-Kathryn N. Donev
In years past, we have visited and ministered to a dozen different youth camps in Bulgaria. Each of them has been unique and special, but it has been a while since we have ministered at a youth camp where people have been so hungry to receive from God.
We were asked to visit the National Youth Camp at Petrohan and to lecture on our new translation of the Bulgarian New Testament. Pastor Vasil Petrov and his team from the Gabrovo Church of God accompanied us for the evening services. People from the churches in Sofia, Bankia, Aheloy, Bourgas, Varshetz, Gabrovo, Nova and Stara Zagora, Kazanlak, Sliven, Yambol and many other places joined with tents and campers for the occasion. Visiting missionaries from the Untied States and Switzerland were also present.
As our publisher provided us with several hundred copies of the translation, we were able to give each of the attendees a copy to read and to study. This helped us tremendously in the presentation of somewhat difficult material from the translator's notes. The lectures were followed by the evening services with an inspiring message from pastor Vasil Petrov. Each night, prayer and worship at the alter continued well after midnight. We prayed for the healing of dozens of people. Many more were delivered instantly from various infirmities, both in soul and in body. Eight young people received the baptism with the Holy Spirit the very first night and many more were baptized in the following evenings. You could see parents and children praying for each other around the clock. One girl saw a vision of the "Heart of God" being exalted in our midst. As we continued with our next ministry appointment in the city of Varshetz, some stayed behind to spend one more day in the presence of the Lord on the top of the mountain. We will reconvene with them this week at the next youth camp organized by the Assemblies of God on the Karandila Mountain near Sliven.
1. Assume that the youth ministry is not your responsibility.
2. Assume you know all problems of your youth without taking the time of surveying them.
3. Never attempt to become a role model.
4. Preach messages irrelevant to youth.
5. Do not attend youth services and activities.
6. Give up on the youth in your congregation.
7. Never plan and work toward hiring a youth pastor.
8. Do not authorize your youth pastor with full responsibility for the youth ministry.
9. Appoint a person to communicate between you and your youth pastor.
10. Allow the influence of church members' opinions and wishes over the vision for the youth ministry.
11. Allow people distanced from youth problems to take leading positions and/or decisions concerning the youth ministry.
12. Do not include the youth ministry in your annual church budget.
13. Deny the involvement of parents in youth work.
14. Do not allow youth representation in the decisions concerning the future of the youth ministry.
15. Blame or allow the youth to be blamed for problems beyond their control and comprehensions.
16. Never deal with change.
17. Use youth ministry techniques older then 2½ years.
18. Do not provide enough room for growth.
19. Underestimate the influence of drugs, alcohol, premarital sex and peer pressure.
20. Ignore the topic of sex.
21. Ignore technology as a ministry tool.
22. Restrict youth ministries to church activities alone ignoring fun and playing as a ministry tool.
23. Never allow youth to participate in spiritual and ministry activities like prayer, fasting and preaching.
24. Limit your youth ministry only to activities organized by your church/denomination.
25. Do not expect the youth ministry to grow beyond the limitations of your personal agenda or limitations.
26. Do not expect the youth ministry to grow beyond the limitations of your congregation.
27. Do not provide age transition mechanisms for youth to enter and exit the youth ministry.
28. Do not treat youth as if they were to remain in church for the rest of their earthly lives.
29. Do not treat youth ministry as the most important ministry of your church.
30. Refuse to be a pastor of youth.