Marked Man
https://www.christianitytoday.com/ct/1978/november-3/new-firepower-for-fighting-war.html
The mysterious deaths in London last month of Bulgarian defectors Vladimir Simeonov and Georgi Markov didn't surprise fellow defector Stefan Bankov. Bankov, a Christian who left Bulgaria with his family in 1969 to escape persecution, now preaches the gospel by radio to his countrymen. Working with Underground Evangelism in Glendale, California, he says that he and his family have been subjected to Communist harassment, threats, and assassination attempts.
While flying from London to Seattle in 1974, a man and woman spilled a liquid on Bankov's shoulder that paralyzed his side and made him violently ill for several days. Two months ago, shots were fired at him outside his home. Bankov says that during his stay in the United States, there has been an attempt to kidnap his daughters. He reports that strangers have made attractive offers to his wife and daughters to get them to return to Bulgaria, and that his family has received hundreds of abusive telephone calls. A note taped recently to a window at the Bankov home warned: "You are marked. We follow you all the time."
Bankov made these threats public only recently and after the deaths of Simeonov and Markov, who were among a group of five Bulgarian broadcasters who defected. Markov died after being stabbed by a poison-tipped umbrella. Simeonov died after falling down the stairs inside his London apartment (London authorities aren't discounting the possibility that he was pushed), and Vladimir Kostov survived a poisoning attempt similar to that which killed Markov. A fifth broadcaster now working for Radio Free Europe hasn't been attacked.
Currently under police protection, Bankov is cooperating with the FBI and Scotland Yard in an investigation of the deaths of the Bulgarian defectors—victims, he is sure, of foul play on the part of Bulgarian Communists. "I think their (the Communists') main purpose is to scare every member of my family," Bankov said of his own situation. "They want to keep us under constant psychological pressure."
The Bulgarians apparently are upset by Bankov's radio witness that is beamed to his homeland of nine million people. He recently received a letter from Bulgaria that warned him to leave Underground Evangelism, an organization with an evangelistic outreach to Communist countries, or "the troubles will never stop."
Bankov attended a Bible college in Los Angeles for four years before starting his radio ministry. He works seven days a week preparing sermons and lectures in systematic theology for his Bible College of the Air. Broadcasts are aired once a day over Radio Trans Europe in Portugal and over Radio Malta.
The Bulgarian government frequently uses "ground wave jamming" to block Bankov's broadcasts into major Bulgarian cities, according to Underground Evangelism president Joe Bass. Copies of a two-volume set of Bankov's sermons and lectures, as well as cassette tapes of his broadcasts, are being smuggled into that Communist nation.
Bankov became a Christian in 1953, and he later pastored an independent church in Bulgaria until the government closed it in 1964. Bankov still owns the tattered New Testament, held together by a rubber band, that was his only resource during his ministry in Bulgaria.
The forty-five-year-old Bankov is accustomed to persecution. Before he escaped Bulgaria, Bankov says he was "constantly under pressure." "It was a difficult time with the Bulgarian government.… They accused me of being mentally sick because I could not see the progress of the Communist party or of the Socialist society."
Bankov, who creates most of his own teaching materials during twelve- and fourteen-hour working days, fears most for the safety of his family. As he intends to continue his radio ministry, he says, "My prayer every day is just, 'Lord, help the kids and my wife to understand.' "
East-West Christian Solidarity, Inc.
Glendale, California 91225
Mission:
East-West Christian Solidarity was founded by Dr. Stefan Bankov, an internationally recognized Christian leader who survived Communism and the Cold War. Rev. Bankov was an underground pastor in Bulgaria from 1958 to 1969. He emerged from behind the Iron Curtain in 1969, after escaping a prison death sentence by the communist leaders in Bulgaria. He has survived communist torture, beatings, and attempted murder. After his escape, Pastor Bankov continued to preach to the Bulgarians by radio broadcasts from Trans World Radio and Radio Ibra. Dr. Bankov has spoken before members of Parliament in Australia, in churches of countless denominations, and his name has been featured in newspapers, magazines, and on television in several countries. Dr. Bankov has also authored many books–including the first Slavic Bible Concordance for the Eastern Bloc countries. After the fall of communism, Dr. Bankov returned to Bulgaria, his native homeland, to plant new churches, minister to the needs of people in this third world country, and contribute to the country's long-term development. East-West Christian Solidarity offers preaching, teaching, literature, and humanitarian relief, in addition to planting, building and supporting churches even in the large Muslim population in remote areas of Bulgaria. Dr. Bankov has over 35 years of experience in providing underground evangelism, outreach and humanitarian relief in Bulgaria. For more information, please contact us.
Rev. James Slay of the Narragansett Church of God in Chicago was commissioned to write the book entitled, THIS WE BELIEVE in connection to the 1948 Church of God Declaration of Faith.  During the forties, you could see him driving around Cleveland in a white and green Packard. His hair was much longer then and somewhat wavy. Later, he was heard preaching a sermon at the Narragansett Church of God in Chicago a sermon titled: "God setteth the door ajar and flings it wide open when necessary."
On August 30, 1948, the Church of God General Assembly adopted the Church of God Declaration of Faith. Rev. James L. Slay was the chair of the committee that drafted the 14 item statement. Along with its adoption, the Assembly also recommended: "That the same Articles of Faith Committee, consisting of James L. Slay, Earl P. Paulk, Glenn C. Pettyjohn, J.L. Goins, J.A. Cross, Paul H. Walker, R.P. Johnson, E.M. Ellis, and R.C. Muncy, prepare a full document of the 'Articles of Faith of the Church of God,' to be presented for acceptance at the next General Assembly of the Church of God." Despite the General Assembly recommendation, the Declaration of Faith has not been modified since its adoption in 1948.
Sa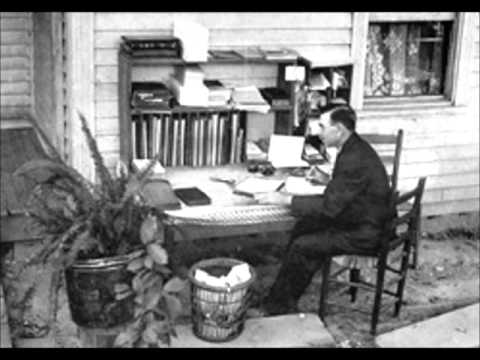 mson's Foxes published by Rev. A.J. Tomlinson in Culberson, N.C. (January, 1901)
Samson's Foxes published by Rev. A.J. Tomlinson in Culberson, N.C. (April, 1901)
Samson's Foxes published by Rev. A.J. Tomlinson in Culberson, N.C. (August, 1901)
Samson's Foxes published by Rev. A.J. Tomlinson in Culberson, N.C. (September, 1901)
Samson's Foxes published by Rev. A.J. Tomlinson in Culberson, N.C. (January, 1902)
Samson's Foxes published by Rev. A.J. Tomlinson in Culberson, N.C. (February, 1902)
Samson's Foxes published by Rev. A.J. Tomlinson in Culberson, N.C. (March, 1902)
Samson's Foxes published by Rev. A.J. Tomlinson in Culberson, N.C. (May, 1902)
The Evelasting Gospel Charles F. Parham
Voice Crying in the Wilderness
Selected Sermons of Charles Parham
CHARLES FOX PARHAM: Founder of the Apostolic Faith
In a time when divine healing and moves of the Spirit had scarcely been heard of, Charles Parham introduced the American Church to the power available through pursuing a Spirit-filled life. He revealed to the church the life-giving power found in the baptism of the Holy Spirit that was evidenced by speaking in other tongues. He sought to bring a balance of both the intellectual and experimental to the Body of Christ: as a teacher, rooted and grounded in the Word of Truth, as well as a healing evangelist moved by compassion, commitment, and an amazing faith.
CHARLES PARHAM and the Apostolic Faith Bible College
In early 1899, Parham opened a home for divine healing. Sarah, Parham's wife, named it "Bethel." The purpose was to minister to the sick around the clock. Powerful teaching services were held daily while individual prayer was offered several times throughout the day and night. It was through this healing home that the Bethel Bible College in Topeka, Kansas, started and experienced a glorious batism in the Holy Ghost on January 3, 1901.
We believe that this outpouring of the Holy Ghost was the latter rain that is referred to in the Scriptures. This Bible College, founded by Parham, is still in operation today. It is now known as the Apostolic Faith Bible College, located in Baxter Springs, Kansas. No tuition has ever been charged of any student. Their room and board, along with meals is provided by the sacrifice and generous donations of Apostolic Alumni and friends. The Apostolic Faith Bible College teaches the inspired word of God and works to prepare each student for his or her ministry.
From envisioning and founding a Healing Home to establishing Bible Schools, Charles Parham studied to show himself approved unto God with a rare diligence while fervently working to prove the truth of God's Word through the demonstration of faith. His ministry contributed to over two million conversions, and his light still shines. His story is an example for the students today. Charles Fox Parham died quietly on January 29, 1929 at the age of fifty-six, but his legacy lives on.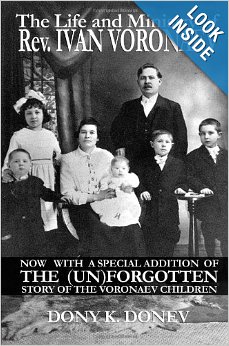 We are pleased to announce that some five years after its first publication in English and Russian, our research on the Life and Ministry of Ivan Voronaev is now available in Bulgarian as well. This edition includes the Story of the Voronaev Children, the Correspondence of Ivan Voronaev plus a concluding chapter on the First Pentecostal Believers and Churches in Bulgaria. The book is published for the 95th anniversary of Bulgaria's Pentecostal movement.
This book tells the story of the life and ministry of the family who brought the message of Azusa Street to Eastern Europe and Russia. The research has taken close to a decade to complete. It started with a brief article on the beginning of the Pentecostal movement in Bulgaria, where unfortunately most church archives were destroyed during Communism. Consecutively, the research led my wife and I on a long journey from the Southern Baptist Historical Library and Archives in Nashville, to the Assemblies of God headquarters in Springfield and the Graduate Theological Union at Berkeley.
We are grateful to the Flower Pentecostal Heritage Center for making available the ministerial file of Rev. Ivan Effimovich Voronaev kept in their denominational archives. We are deeply indebted to Dr. Albert Wardin for opening the doors for research in Nashville and Berkeley, where most documentation referring to Voronaev's ministry as a Baptist is preserved. We are also thankful to Oleg Bronovolokov of the Ukrainian Evangelical Theological Seminary in Kiev, who helped with the input of various Russian documents pertaining to the Voronaevs.
Both papers included in this book were presented at two consecutive meetings of the Society for Pentecostal Studies in Minneapolis (2010) and Memphis (2011). The first paper, although heavily edited to fit the format, was published in vol. 30 (2010) of Assemblies of God Heritage magazine under a new title, "Ivan Voronaev: Slavic Pentecostal Pioneer and Martyr." Some of the historical data we presented in the article was published openly for the first time. Our research was further mentioned in the December, 2010 AG Heritage editorial. The Bulgarian "Evangel" also published our translations of Voronaev's correspondence.
In 2011, Vladimir Franchuk, translated parts of the Voronaev's papers in Russian and included it in his book "Revival: from the center of Odessa to the ends of Russia," thus making our research available to the Slavic people just in time for the 90th Anniversary from the beginning of Ivan Voronaev's Pentecostal ministry in Russia. Partial information from these papers was also used by several recent studies concerning Pentecostalism in Europe and the life and ministry of Rev. Dionissy Zaplishny. Unfortunately, with all this interest, little attention was given to the second paper concerning the Voronaev children until now. The last chapter on the First Pentecostal Believers and Churches in Bulgaria is published for the 95th anniversary of Bulgaria's Pentecostal movement.
Read about the legacy of Ivan Voronaev: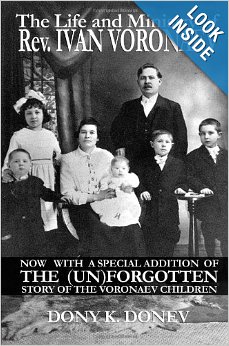 The (un)Forgotten: Story of the Voronaev Children
Missions & Intercultural Studies
Dony K. Donev, D. Min.
Presented at the 40th Annual Meeting of the Society for Pentecostal Studies
The enormity of the movement could not be left unnoticed by the Bolsheviks. After crashing every form of organized life in Russia, sentencing for life in the death camps of Gulag or simply shooting on the spot every leader and visionary of freedom, the atheistic government turned to the only organization apart from the Communist party that could still gather thousands of people – the Christian Church. The persecution of evangelicals was ordered from the very top and began with a full force.
First, in the winter of 1929, the Voronaevs were thrown on the street from their home on 22 Jukovskaya Str. and the father was constantly called and harassed by the Communist police. As soon as a friend took them in his home at 8 Arteoma Str., Ivan was arrested and beaten severely.
Over 800 Russian pastors were arrested and imprisoned in 1930. Some of Voronaev's closest coworkers, among which B.R. Koltovich, were also taken away by the KGB and Ivan knew his turn was coming soon. His son Paul recalls him praying and "…. pleading with God for days for strength and courage…. Then it happened. It was a cold winter night, we were asleep. It was after the midnight hour. We were rudely awakened by a pounding at the door and someone calling with a loud voice, "Open the door, in the name of the law."
After a thorough examination of their quarters the agents confiscated boxes of Bibles and religious literature and Rev. Voronaev was taken away.
"Mother walked silently beside him. In a moment, life had become a vacuum; husband taken from her, six children to care for, the youngest not even three years old. How could she endure it! …. Once more father embraced mother and tried to comfort her with the words "Cheer up, dear Katusha. God will take care of you … go back and take care of the children. Everything will be all right …"
For the next several months, Rev. Voronaev was moved around from prison to prison, "….battened, tortured, and kept without visitors or mail privileges. Then without trial, he was sentenced to lifelong exile in a Siberian prison." On one rare occasion, his second oldest son Peter was allowed to visit him in prison for a period of 10 days. Peter took the difficult journey alone and travelled 11 days by train to Moscow and Kotlas, riverboat to Yst-Vym and secretly hidden on the back of a prison truck to the Siberian consecration camp of UFT-Uza reaching his father's prison barrack at last. It was the last time any of his children ever saw him.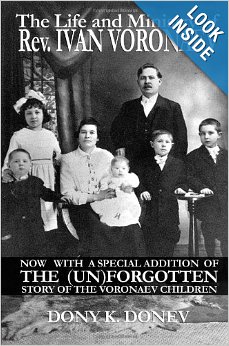 The (un)Forgotten: Story of the Voronaev Children
Missions & Intercultural Studies
Dony K. Donev, D. Min.
Cup & Cross Ministries International
Presented at the 40th Annual Meeting of the Society for Pentecostal Studies
Our presentation at the 2010 SPS meeting in Minneapolis opened a door for discussion of early missionaries to Eastern Europe with a special focus on Rev. Ivan Voronaev. But the story and ministry of Rev. Ivan Voronaev cannot be separated from his main supporter and partner in the ministry – his wife and children.
During the time of original research, it became obvious that Ivan Voronaev was successful in the ministry both in the United States and Europe only through the obedience of his family. They followed his call for missions, leaving behind the comfort of life in America. The Voronaevs sacrificed the future of their children for the unknown reality of Russia's greatest depression. The strive for survival followed the imprisonment of both parents along with the virtually impossible task to re-immigrate from Russia and reunite in the United States, and the constant struggle to save their parents from certain death in Stalin's consecration camps even when all hope was lost.
The Voronaevs' story presents an early historical case study on Pentecostal missionaries and their children, not only as second generation believers, but as second generation Pentecostal immigrants as well. This example is particularly interesting since it combines both mission and immigration, as integral parts of the Pentecostal identity at the dawn of the movement. To add to this there is the relationship between missionary families and the mission-sending agency, on this occasion being the Missions Department of the Assemblies of God and in part the Russian Evangelical Diaspora.
In this context, the research on the Voronaev family has three distinct parts: (1) life in Russia and the imprisonment of the parents, Ivan and Katherine Voronaev, (2) back to America under the care of Assemblies of God Missions' Department and (3) and the after years, with a special focus on the life and ministry of the oldest of the Voronaev's children, Paul.
The research will utilize the available archive information at the Assemblies of God archives in Springfield, MO, as well as some Russian library material from Moscow and Kiev, which have become available after the presentation of our 2010 Voronaev paper. Special attention will be given to Paul Voronaev's personal correspondence after his return to the United States and subsequent papers, relative to the story of the Voronaev's children, published by him in later years. As Rev. Ivan Voronaev's personal end is yet unknown, it is our hope that story of the Voronaev children, will provide a much needed closure to the life and ministry of one of the earliest Eastern European missionaries in Pentecostal history.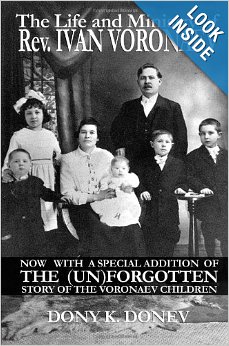 New Voices from the Past: The Untold Story of the Life and Ministry of Rev. Ivan Voronaev
Missions & Intercultural Studies
Dony K. Donev, D. Min.
Cup & Cross Ministries International
Presented at the 38th Annual Meeting of the Society for Pentecostal Studies
The name Ivan Efimovich Voronaev is of a central importance for the development of Pentecostalism in Communist Russia and its Eastern European satellites. Voronaev was saved in his early life in Russia and then became a powerful Baptist minister, but after being persecuted for preaching the Gospel, in 1912 he immigrated with his family through Japan to the United States. Voronaev's ministry touched both Baptist and Pentecostal churches from California and Washington to New York and Connecticut, before he undertook the difficult journey across the Atlantic, through Constantinople and Bulgaria to reach his native land. Voronaev established Pentecostal churches along the way laying the foundation of Pentecostalism in Eastern Europe. Although his story has been told many times, very little has been documented about his early ministry before he converted to Pentecostalism and launched what would become an international Pentecostal campaign reaching people from Seattle to Siberia (going eastbound). This present study reviews Voronaev's ministry based on documents from the early period of his life, examining his connections with Baptist and Assemblies of God denominations in the United States. It then presents information about his mission trip to Eastern Europe, with a special focus on his stay in Bulgaria and the foundation of his work in Russia. But long before finding his place in the ministry, the story of Ivan Voronaev begins with his personal quest for identity in ministry, beginning with a search for a name…