The (un)Forgotten: The Story of Rev. Ivan Voronaev's Children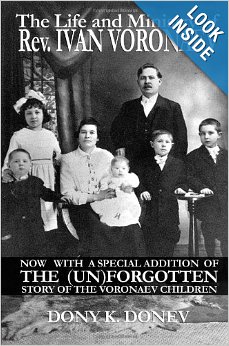 The (un)Forgotten: Story of the Voronaev Children
Missions & Intercultural Studies
Dony K. Donev, D. Min.
Cup & Cross Ministries International
Presented at the 40th Annual Meeting of the Society for Pentecostal Studies
Our presentation at the 2010 SPS meeting in Minneapolis opened a door for discussion of early missionaries to Eastern Europe with a special focus on Rev. Ivan Voronaev. But the story and ministry of Rev. Ivan Voronaev cannot be separated from his main supporter and partner in the ministry – his wife and children.
During the time of original research, it became obvious that Ivan Voronaev was successful in the ministry both in the United States and Europe only through the obedience of his family. They followed his call for missions, leaving behind the comfort of life in America. The Voronaevs sacrificed the future of their children for the unknown reality of Russia's greatest depression. The strive for survival followed the imprisonment of both parents along with the virtually impossible task to re-immigrate from Russia and reunite in the United States, and the constant struggle to save their parents from certain death in Stalin's consecration camps even when all hope was lost.
The Voronaevs' story presents an early historical case study on Pentecostal missionaries and their children, not only as second generation believers, but as second generation Pentecostal immigrants as well. This example is particularly interesting since it combines both mission and immigration, as integral parts of the Pentecostal identity at the dawn of the movement. To add to this there is the relationship between missionary families and the mission-sending agency, on this occasion being the Missions Department of the Assemblies of God and in part the Russian Evangelical Diaspora.
In this context, the research on the Voronaev family has three distinct parts: (1) life in Russia and the imprisonment of the parents, Ivan and Katherine Voronaev, (2) back to America under the care of Assemblies of God Missions' Department and (3) and the after years, with a special focus on the life and ministry of the oldest of the Voronaev's children, Paul.
The research will utilize the available archive information at the Assemblies of God archives in Springfield, MO, as well as some Russian library material from Moscow and Kiev, which have become available after the presentation of our 2010 Voronaev paper. Special attention will be given to Paul Voronaev's personal correspondence after his return to the United States and subsequent papers, relative to the story of the Voronaev's children, published by him in later years. As Rev. Ivan Voronaev's personal end is yet unknown, it is our hope that story of the Voronaev children, will provide a much needed closure to the life and ministry of one of the earliest Eastern European missionaries in Pentecostal history.