The building of the Church of God in the city of Elin Pelin burnt down last week after a fire was set on the premises in the middle of the night. The church was built years ago and has faithfully served as a beacon in the local community until now. Under the current conditions it is impossible for the congregation to meet as at the same time they cannot make any plans for rebuilding until the investigation is over.
Pastor Tommy Karakolev, who is one of the oldest ordained ministers in the denomination, has addressed colleagues and friends for help. Through the years, his congregation has produced many ministers and pastors serving in churches in Bulgaria and abroad, and they have been all called to assist with their churches in any way they can. Please join us in prayer for the rebuilding of the church in an even better way and open doors for the congregation to continue meetings while the rebuilding lasts.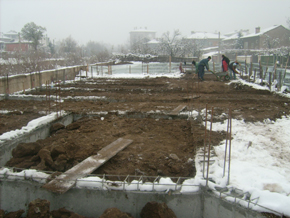 The snowstorm in Sofia slowed us down a bit, but it certainly could not stop us from holding yet another exciting ministry event in the town of Dupnitsa. In the past few years, the town has received much attention being a major point on the interstate connecting Greece and Macedonia with the Balkan Peninsula and the countries of the European Union. This has given the local Church of God a unique opportunity to minister to various ethnic groups and it was then that the need for a ministry building was recognized. The church has now finished the foundations of a very nice and solid church building project with a strategic location in the cities center by the river. The main work will be completed by the spring, which will empower the Dupnitsa Church of God for a new level of ministry. Our team was able to travel to the city with several fellow ministers and deliver a timely message to the people whom gathered in the cold winter eve. We enjoyed a warm spirit filled service which renewed and encouraged. After the service, we met with pastors who work with Bulgarian communities in Spain and England and discussed the possibilities for a short ministry trip to their churches in the near future.