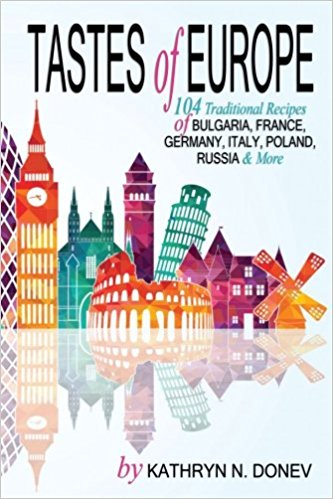 Europe has a very rich history and is a place many aspire to visit. To walk its cobblestone streets, see the majesty of the Eiffel Tower or tour the ancient ruins of Rome are only but a few wondrous adventures one can partake in Europe. The tastes of Europe are all the same intriguing. European cuisine is filled with depths of flavor implementing fresh seasonal ingredients while being influenced by hundreds of different cultures and as many years of technique and mastery.
Now you can enjoy this unique culinary culture of intriguing dishes from all over Europe right in the comfort of your own home. From the distinctive desserts of Czechoslovakian Blueberry Bublanina and Lithuanian Poppy Seed Cookies to the heavenly flavors of more traditional meals like Sautéed Sauerkraut with Pork and Mini Meatball Soup, Tastes of Europe includes delicious exciting recipes that are easy for all to prepare. This cookbook features 104 authentic recipes of Europe with an emphasis on Eastern European flavors and Bulgarian cuisine. Among other featured countries are France, Germany, Italy, Poland and Russia.
Some of these dishes are distant relatives to ones found in ancient Roman manuscripts believed to have been compiled in the late 4th or early 5th century AD. Others are among those far before the time of Christ. With nearly every dish comes a story and custom. This cookbook attempts to preserve these century year old stories for many years to come so they can continue to be passed down.
FREE Shipping on orders over $25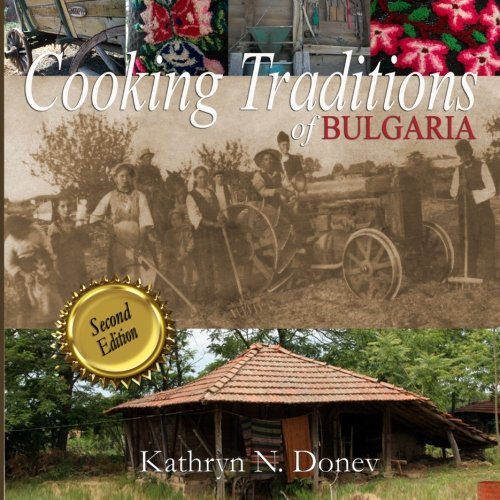 An introduction to Cooking Traditions of Bulgaria
After 11 years of higher education and three earned degrees in theology, there is still one question I have difficulties answering. I stumble every time when inquiring of our missions work in Bulgaria or just interested in the local culture someone asks me, "So what do you eat over there?" My short answer generally is: "Food!" But that hardly covers it all.
Kathryn has done a fine job answering this question through her new book with 50 authentic Bulgarian recipes. This is not just what Bulgarians eat in general, but what we have eaten during our missionary travels sitting around the table of hospitable brothers and sisters in the Lord.
They are truly Pentecostal recipes. And not because they were served "in the Spirit," but because they were often done through what I perceive to be the one true Pentecostal confessions of the Bible "Silver and gold have I none, but what I have I give unto you…" For many of them we have shared with brothers and sisters living in the complete poverty of the mission field, yet willing like the widow of Elijah's time to share their last bread with the ministers of God.
This is what makes these recipes truly missional. I cannot say that I have personally cooked them, but I can assure you I have personally eaten them all and enjoyed everyone and each of them after five long services on Sunday, a three day church fast or a night of crossing the snow covered Balkan Mountains. I challenge you to cook some of them for your family or church and send us feedback about your experience with the answer of the question so many of you have asked me through the years. May be next time we see each other, we can ask you "How do you like what we eat over there?"
Preview and Purchase Your Copy at: Amazon.com