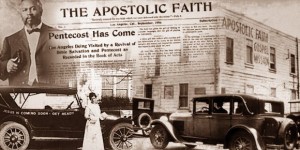 by HAROLD HUNTER, PH.D.
Writing during the glow of the Azusa Street revival, V.P. Simmons claimed to have 42 years of personal exposure to those who spoke in tongues. Published in 1907 by Bridegroom's Messenger and circulated as a tract, Simmons chronicled the history of Spirit baptism from Irenaeus (2nd century) up to and including a group from New England whom he personally observed manifesting tongues-speech as they continually partook of a spiritual baptism.1 Identified as Gift People or Gift Adventists, they were widely known for their involvement with spectacular charisms.Early Pentecostal periodicals reported that tongues-speech was known among these groups since the latter part of the 19th century. Some groups were said to number in the thousands.
William H. Doughty, who, by 1855, had spoken in tongues while in Maine, was counted among that number. Elder Doughty moved to Providence, Rhode Island, in 1873 and assumed leadership among those exercising the gifts of the Spirit.3 Doughty's mantle was passed on to Elder R.B. Swan who, reacting to the Azusa Street revival, wrote a letter explaining that the Gift People in Rhode Island had experienced speaking in tongues as early as 1874–75. (See "The Work of the Spirit in Rhode Island.") B.F. Lawrence followed Swan's letter describing an independent account of a woman who spoke in tongues in New York, perhaps prior to 1874, a result of her contact with the Gift People.4 (See "A Wonderful Healing Among The Gift People.")
Stanley H. Frodsham quotes Pastor Swan's claim to having spoken in tongues in 1875. Swan speaks of great crowds drawn from five states and specifically mentions his wife — along with Amanda Doughty and an invalid hunchback who was instantly healed — among those who spoke in tongues during this time.
Simmons said that Swan's group adopted the name "The Latter Rain" after the advent of the Pentecostal movement. Their activities extended throughout New England states, especially Rhode Island, New Hampshire, Massachusetts, Vermont, and Connecticut, with the 1910 Latter Rain Convention held October 14–16 in Quakertown, Connecticut. Frank Bartleman frequently referred to joint speaking engagements with Swan, specifically recounting a 1907 tour that included a convention in Providence, Rhode Island, where he spoke 18 times.
Previously overlooked in related investigations is whether the Doughty family counted among the Gift People overlap with the Doughty who traveled with Frank Sandford. Lawrence attests that Swan's circle included William H. Doughty's daughter-in-law, Amanda Doughty, and her unnamed husband, an elder in the Providence congregation.8 Simmons says that William H. Doughty had two sons, the oldest, Frank, who was ordained. Could the unnamed brother of Frank be Edward Doughty, who at the end of the 19th century was part of Sandford's entourage? So it seems.
Most of the groups named here have similar stories. For example, among the Fire-Baptized Holiness ranks was Daniel Awrey who had spoken in tongues in 1890 in Ohio. His residence was in Beniah, Tennessee, where an outbreak of speaking in tongues was reported in 1899. F.M. Britton wrote about people speaking in tongues in his Fire-Baptized revivals that predated the Azusa Street revival. Also, a revival in Cherokee County, North Carolina, in 1896, that gave the Church of God (Cleveland, Tennessee) many of its early leaders reported an outburst of speaking in tongues among several of the adherents. Given the above accounts, there is some debate as to whether Parham first heard speaking in tongues while at Sandford's Shiloh in Maine or while he was among Fire-Baptized enthusiasts.
THE FOLLOWING ARE THE CATHOLIC LEADERSHIP OR GROUPS RECORDED TO HAVE SPOKEN IN TONGUES:
• ST. HILDEGARD (1098-1179)
• ANTHONY OF PADUA (1195-1231)
• FRANCISCANS (1200S)
• ANGE CLARENUS (1300)
• VINCENT FERRER (1350-1419)
• STEPHEN, MISSIONARY TO GEORGIA (1400S)
• ST. COLETTE (1447)
• LOUIS BERTRAND (1526-1581)
• THE JANSENISTS (1600)
• JEANNE OF THE CROSS (1450S)
• FRANCIS XAVIER (1506-1552)
SHERRILL'S BOOK ALSO LISTS SOME INDIVIDUALS FROM THE 19TH CENTURY WHO REPORT TONGUES-SPEAKING OCCURRING:
1855 V.P. SIMMONS
ROBERT BOYD (DURING MOODY'S MEETINGS)
1875 R.B. SWAN
1979 W. JETHRO WALTHALL
MARIA GERBER
MORE BOOKS to STUDY:
"THEY SPEAK WITH OTHER TONGUES" BY JOHN L. SHERRILL
"GLOSSOLALIA: TONGUE SPEAKING IN BIBLICAL, HISTORICAL, AND "PSYCHOLOGICAL PERSPECTIVE" BY FRANK E. STAGG
"SPEAKING IN TONGUES: A GUIDE" BY MILLS
"SPEAKING WITH TONGUES: HISTORICALLY AND PSYCHOLOGICALLY CONSIDERED" BY GEORGE CUTTEN.
The Bulgarian Church of God started in the 1920s north of the Balkan Mountains as part of the Bulgarian Pentecostal movement. They came to be known as the "northern brethren" and "free churches." They had received the message of Pentecost under the ministry of first Assemblies of God missionaries to Eastern Europe Zaplishny and Voronaev and kept their faith fervently through the early years of persecutions. The first Church of God members were Holy Ghost baptized, Bible believing believers who walked in the Spirit of prophecy and practiced the supernatural gifts God had given them.
Their theology was conservative and their practices strict. But their prayers could be heard all through the night as they tarried in fervent persistence, testing themselves against the Word in a constant search for the holiness of God in their hearts. And humbled themselves when they had found it, they experienced miracles ever unseen, knew things of matters untold, saw visions no man was allowed to utter and heard from the throne room in glory, from God, receiving the words to be spoken to their generation. Their tears became rivers of life that watered the seed of the Gospel they sowed, and slowly but surely God blessed their work and brought back revival in the soul of the land.
When the Assemblies of God trained and sent Bulgarian born Dr. Nick Nikoloff in 1928 to bring to order the growing Bulgarian Pentecostals, the Church of God people set themselves apart refusing to register with the secular state, thus loosing their legal status and were forced to go underground. But their prayers were still heard in the darkness of persecution. The stories of the gifts they practiced were told and when only a miracle could have answered a need, it was brought to the people who practiced the gifts, who prayed without ceasing and waited on God till He gave the answer from Heaven above.
Some 90 years have passed since these humble beginnings and times have now changed. Now, new things, new people, new orders and such are taking new rule of soul and of life. And slowly but surely the story is forgotten. The glory of old is long gone in the past.
But it is said that in crises, when times are too hard, someone should return to the basics of life, to reclaim the old roots of the faith from the past, and save again people and free them at last. This time is right now … and this chance must not pass.