M3: Mobile Power for the Ministry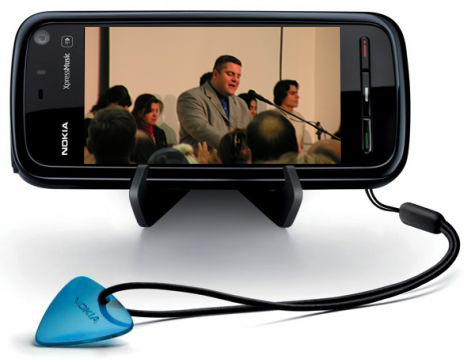 After traveling almost 4,000 miles, I am finally at the 2010 BibleTech listening to Antoine's talk on mobile technology in the ministry. Antoine is the main guy behind the Mobile Ministry Magazine and a great friend, but I am sitting in his lecture for more than just the code and the algorithm. I am a practitioner in the ministry.
Thousands of Bulgarian speaking people across the globe rely on our team every day to receive a verse from the Bible via SMS. Our Bibliata.TV website has become the Bulgarian GodTube with over 10,000 daily visitors, 1,500 active uploaders and hitting a half petabite monthly traffic in video exchange. So, I am more than just a listener – I am here for the power of the experience.
I met Antoine last year at BibleTech in Seattle. I shared with him our ministry in Bulgaria and abroad, and he offered to help us. Not long after the conference, I received in my office a Nokia 5800, which according to Antoine had more than one advantage over the iPhone, but the one that concerned me the most was the uStream app.
Speaking at the Leadership Development Institute earlier that year, I mentioned uStream but being busy with other projects never paid too much attention to it. Now, I had a reason to try it. No more than five minutes after opening the FedEx package I was broadcasting LIVE on a dozen of our ministry's websites. Five more minutes and people were actually watching. Hundreds of them.
WOW! I stopped for a pause, because my heart was racing. The potential of one small mobile device applied to the ministry of the church was overwhelming and I needed to pray.
A week later I had convinced two Bulgarian churches to broadcast their services via uStream. Two more joined on the following Sunday, one of them being a Bulgarian speaking congregation in Chicago. A Bulgarian minister from Spain began broadcasting on Thursday nights as over 50 people were logged in and ready to watch 30 minutes before his broadcast. We then put LIVE online the annual conference of Bulgarian churches in North America. Then the Global Day of Prayer from downtown Sofia was watched by 35,000 people LIVE on our Bibliata.com website.
Before we ever returned for our ministry term in Bulgaria, we had over a dozen churches broadcasting LIVE services on Sunday alone plus additional LIVE services on every night of the week except Monday. We received hundreds of emails with testimonies of dramatic healings and life transformations. And this has been going on for over one year now. All because of a small portable telephone that can fit on the palm of my hand and travel with me oversees in the pocket of my blue jeans. I guess I can say it like this: this phone was made for preaching!
John Maxwell says that while training followers adds to your church, training leaders multiplies it. I call this the G2 effect – the growth of the church in a geometrical progression. Like the story of chess boards (2, 4, 16, 256, etc). But the use of mobile technology in the ministry multiplies its effectiveness tridimensionally, adding to it a mobile dimension as a Rubik Cube. I call it M3 – a mobile motivational ministry factor that is unprecedented. And this is something the church cannot afford to miss if it wishes to remain relevant in postmodernity.