Doctrine of Free Will among Bulgarian Protestant and Pentecostal Believers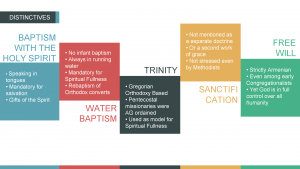 by Dony K. Donev, D.Min.
Historical and Doctrinal Formation of Holiness Teachings and Praxis among Bulgarian Pentecostals (Research presentation prepared for the Society of Pentecostal Studies, Seattle, 2013 – Lakeland, 2015, thesis in partial fulfillment of the degree of D. Phil., Trinity College)
Another peculiar characteristic present among early Pentecostals around the globe was the subject of free will. This was not a problem for the movement in Bulgaria. As strange as it may sound, among all publications and teachings by missionaries in Bulgaria during the 19th century there is no mention of Calvinism, election or predestination. Because Bulgaria's traditional Eastern Orthodox orientation, both Congregational and Methodist missionaries taught Armenian free will. Even though many Bulgarian ministers were educated in the Calvinistic schools like Princeton and Auburn, Calvinism never picked up among Bulgarian Protestants. With the explosive growth of Bulgaria's Pentecostals in the 1920s, this Armenian theological heritage was widely accepted amongst the movement.