"…Then they came for the Jews,
and I did not speak out—
Because I was not a Jew.
Then they came for me—
and there was no one left to speak for me."
~Rev. Martin Niemöller
Pastor Rodney Howard-Browne was arrested for having church on Sunday.
The charges: unlawful assembly and a violation of health emergency rules.
The state administrative order issued restriction on all "public or private gatherings, including community, civic, public leisure, faith-based events…" The "safer at home" allowed leave only for essential work or to pick up food and medication.
For us Pentecostals, going to church is like going for food or medication. Our supernatural healing proceeds from the atoning work of Christ. Our gathering together represents the resurrection of His body from the dead and our own resurrection from all disease, sickness and even death. It is a spiritual self-fulfilling need guaranteed in the Constitution: Congress shall make no law respecting an establishment of religion, or prohibiting the free exercise thereof; or abridging the freedom of speech, or of the press; or the right of the people peaceably to assemble, and to petition the Government for a redress of grievances. Yet, during this state of emergency, both second degree misdemeanor charges somehow prevailed over the First Amendment.
Now, I can understand if many do not like Rev. Browne's approach or praxis. I like him as much as the next preacher or practitioner of theology. But the seven principles of the Constitution still stand and right after federalism and republicanism it still reads individual rights.
In America where until today, Romans 13 carried a much different interpretation than when cited by communist agents in China, North Korea, Eastern Europe and beyond. And where since July 4, 1776 the Biblical imperative "Honor the King" aligns with Paul's "bond servant of Jesus Christ," meaning: not a slave to any earthly king, empire or any other new world order. For before anything else, every ambassador of the Kingdom of Heaven is accountable first to the Heavenly Call.
It is in this sense that today we are all Rodney Howard-Browne! If not, tomorrow we all could be arrested for having church on Sunday.

Police surveillance of phone and internet now allowed under new pandemic law in Bulgaria
Those of you that are receiving our monthly printed report, already know of several proceedings in Eastern Europe and beyond as following. The new Bill on Religions voted in Bulgaria 2019, allows only "registered" ministers to minister in their respective denominations. The Social Service Act (Jan-Jun, 2020) allows social services to act upon an anonymous complaint to cease children and put them in a foster-home for up to 30-days until the legal parent is proven innocent in court. But none of these matches this current development…
As of today (March 25, 2020) under the current COVID-19 quarantine, the newly voted emergency law allows for the authorities to monitor telephone and internet activities. Data obtained from internet or telephone monitoring will be stored for six months, not twelve as had been previously provided. There will be judicial control over the requests for extension of the period for data storage, but no judge or court order is needed for obtaining of the initial phone or internet records.
The good news?
They tell us this is just a temporary measure until the virus goes away.
The rest is yet to come…
COVID-19 can live for some 24-hours on cardboard.  Leave home-delivery shipments in garage for this time and then bring only inside contents into home after disinfecting them.
Shave facial hair and consider removing fake fingernails or cutting long nails.
Eucalyptus oil shows anti-viral activity as a vapor.
Be careful with DIY hand-sanitizers – only those that have 60-70% alcohol content will be effective.
Soap and water remove germs from skin, but hand sanitizer just reduces germs – per CDC.
COVID-19 can also transmit through our eyes and tiny viral particles or aerosols, can penetrate masks and reusing masks can be a breeding ground for virus.
MERV 13 filters capture airborne viruses and bacteria from coughs and sneezes. Clean air helps keep your immune system strong even though it might not remove COVID-19.
Sucking on zinc lozenges at first signs of sickness can create barrier for COVID-19 to enter body.
Steam for 5 minutes and dishwashers reaching a final rinse temperature of 150 degrees can disinfect pet bowls, scrub pads, some kids' toys and more and drying laundry on hot cycle for 45 minutes is effective against certain viruses and germs.
Worry only decreases your immunity to fight off viruses; prayer is proven to increase it.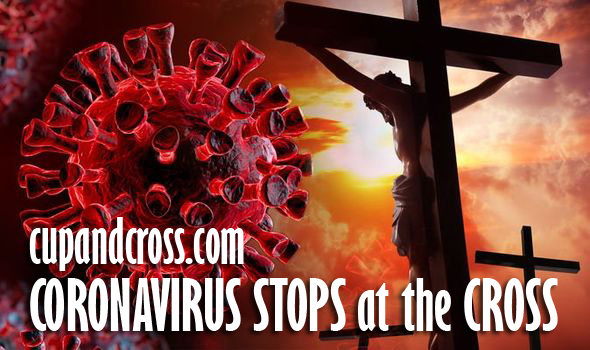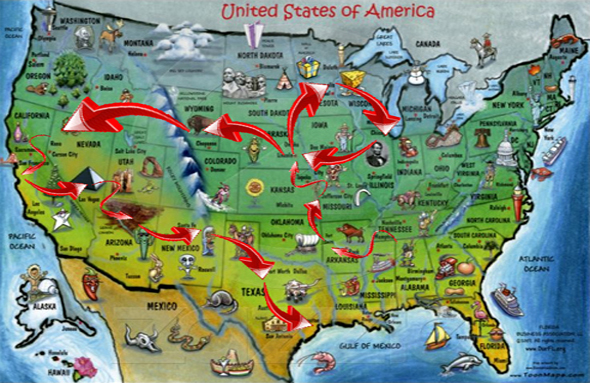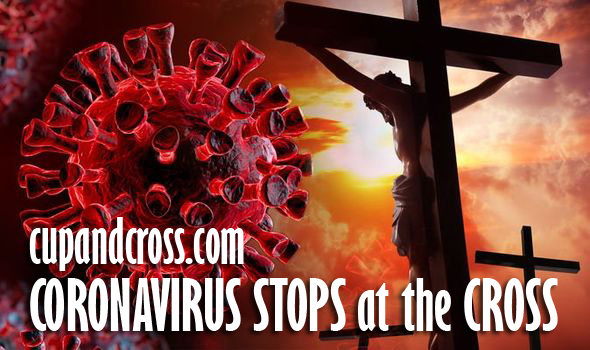 CORONAVIRUS STATEMENT by Cup & Cross Ministries International
The United Nations have just declared the Coronavirus (COVID-19) a global pandemic. Most European flights are suspended and a number of countries in our area of ministry remain closed. Alternatively, CDC has issued a detail set of resources for faith-based communities and their leaders for preventing COVID-19. As a result, churches are cancelling their Sunday services, conferences and international assemblies.
Having full awareness of the above and convinced by the Bible that "It is not the healthy who need a doctor, but the sick," according to Mark 2:17
WE HEREBY AFIRM that:
Divine healing [is] provided for all in the Atonement (Psalm 103:3; Isaiah 53:4, 5; Matthew 8:17; James 5:14-16; 1 Peter 2:24 – 42nd A., 1948, pp. 31, 32)
"The prayer of a righteous person is powerful and effective" (James 5:16)
And that there is still "power, power, wonder working power in the blood of the Lamb" (L.E. Jones, 1899)
For 30 years now, every public prayer we have held around the Globe has ended with these words:
"WE COMMAND every sickness, every disease, every virus
and ever infection, every tumor and every cancer
to leave the body of the believer in the name of Jesus."
This prayer includes the Coronavirus (COVID-19) as well and therefore
WE FIRTHER AFIRM:
Our commitment to REVIVAL especially in the year 2020
Our long-scheduled Revival Harvest Campaign in celebration of the First Centennial of Pentecostalism in Bulgaria (1920-2020)
Our readiness to respond to every church, state and national office that contacts us with a request to schedule our ministry in due time.
The Cross of Calvary cancels every coronavirus!
Revival must go on…
Sincerely,
Dr. Dony & Kathryn Donev
Cup & Cross Ministries International
How churches define regular attendance has changed in the last few decades. An active member used to be defined as one who attended at least three times a week. Now, that number is three times a month or less. This doesn't mean they're out of reach though.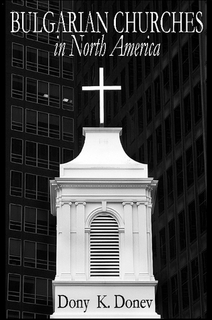 Bulgarian Evangelical Churches in the European  Union (2019)
Bulgarian Evangelical Churches in America (2019 Report)
Bulgarian Evangelical Churches in Chicago (2019 Report)
Bulgarian Evangelical Churches in Texas (2019 Report)

Bulgarian Evangelical Churches – West Coast

(2019 Report)
Atlanta (active since 1996)
Los Angeles (occasional/outreach of the Foursquare Church – Mission Hills, CA)
Las Vegas (outreach of the Foursquare Church – http://lasvegaschurch.tv)
San Francisco (occasional/inactive since 2012, Berkeley University/Concord, CA)
Bulgarian Evangelical Churches in Canada (2019 Report)
Toronto (inactive since 2007)
Toronto/Slavic (active since 2009)
Montreal (occasional/inactive since 2012)
CURRENTLY INACTIVE CHURCHES/CONGREGATIONS:
New York, NY (currently inactive)
Buffalo, NY  (occasional/inactive)
Jacksonville, FL  (occasional/inactive since 2014)
Ft. Lauderdale / Miami  (currently inactive)
Washington State, Seattle area (currently inactive)
Minneapolis, MN (occasional/inactive since 2015)
READ MORE: