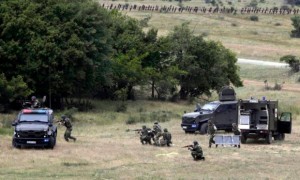 Troops with tanks, armored vehicles and artillery to be in place by September to help counter European concerns about Russia's involvement in Ukraine
A Marine Corps unit equipped with tanks, light armored vehicles and artillery will be sent to Bulgaria in September as part of US efforts to reassure Nato allies worried by Russia's involvement in Ukraine. Brig Gen Norman Cooling, the deputy commander of the US marines in Europe and Africa, said on Thursday that 155 troops equipped with four Abrams battle tanks, six light armored vehicles and three howitzers were scheduled to be deployed at the Novo Selo training area by early September. He spoke as NATO defense ministers met in Brussels.
"It's certainly our intent to convince the Russians and Mr Putin to refrain from aggression and return to the community of peaceful nations," Cooling said.
The US defense secretary, Ash Carter, said this week that more US military equipment would be positioned in Estonia, Lithuania, Latvia, Bulgaria, Romania, Poland and Germany as NATO seeks to bolster its forces in eastern Europe. Cooling said that in addition to being a deterrent, the unit would train with Bulgarian, Romanian and other troops over the next 18 months to improve US forces' ability to operate with counterparts using different equipment and methods. "Ideally this culminates with integrated exercises, with units from more and more allied nations that are able to call for fire from one another's artillery, our tanks maneuver in support of their infantry units, and vice versa," he said.
Read more about Chaplaincy in Bulgaria and the proposal of the Bulgarian Chaplaincy Association to reestablish chaplaincy in the Bulgarian as submitted to NATO's Manfred Wörner Foundation in 2006