Releasing our decade long work of "Greek-Bulgarian Interlinear of the New Testament with Critical Apparatus Based on Nestle-Aland 27/28 and UBS-5"in Bulgaria
October 31, 2017 marks the 500th Anniversary of the Protestant Reformation. For this commemorative occasion, occurring only once every seven generations, we will be presenting a decade long work of ours in the capital Sofia. On All Saints Day 2017, the first edition of the Greek-Bulgarian Interlinear of the New Testament from the critical edition of GNT will be released. A symbolic stack of the first 95 copies arranged at the presentation will commemorate the work of the great reformers.
After working on the New Bulgarian Translation of the Bible since 1996 and more actively on the interlinear version for the past decade, we are hoping to address the following problems within the current revision of the Bulgarian Protestant Bible:
Lack a definite orientation toward the critical edition of the Greek New Testament
Revisions made on the basis of older revisions separating the current Bulgarian Revision from the true meaning of the Bible
Diverse Biblical text tradition with undefined sources, base texts and methodology of revision
Need of analytical Greek New Testament with proper morphology
Interlinear edition, combining New Testament Greek and modern day Bulgarian based on the critical edition of the Greek New Testament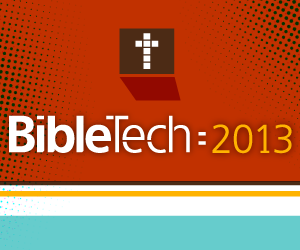 Announcing BibleTech: 2013! Seattle, Washington
Preparations are underway for BibleTech 2013. Set aside March 15-16, 2013 for a fresh look into the exciting ways that technology is affecting the way we study, visualize, and communicate the Scriptures.
Why Attend?
This is an exciting time for Bible technology! Web 2.0 and Internet-connected mobile devices offer new ways to interact with Scripture. Bible software developers are building new visualizations and data sets. Publishers are excited about delivering content electronically. And open source projects and APIs are sparking creativity and getting more people involved in developing technology for Bible study.
Yet with all the projects underway, there's been little opportunity for focused networking and peer-to-peer learning.
BibleTech 2013 will inspire and inform you by:
offering fresh ideas
forging new relationships
exposing you to the work others are doing at the intersection of Bible study and technology