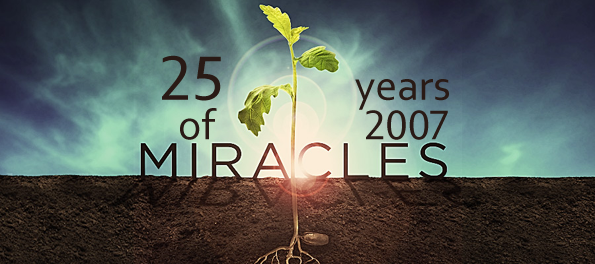 Healing Revival in Seneca (February 15, 2007)
In the beginning of February we began a Friday Night Healing Revival at the High Falls Church of God in Seneca. We committed ourselves to spend a month of prayer and fasting before God, studying and preaching the Word while expecting healings and miracles to happen. Services began February 2nd, as we invited other churches to join us in prayer and fasting expecting God's miraculous intervention through a fresh experience of the power of the Holy Spirit.
Various Healings Reported
Several healings were reported as early as the first Friday night service. Other testimonies followed in the days to come, as people moved in faith and prayed during the altar services. This is no different than our ministry experience in Bulgaria in the past two years, where in the midst of numerous salvations and Holy Spirit baptisms, healings were reported on a regular basis. Just a reminder that God still has the power to save, heal and deliver.
Wave of Healing Revival
We have received responses from churches as far as Mississippi and Maryland who have also prayed and fasted for a move of the Spirit expecting miracles and healings. We are persuaded beyond a shadow of a doubt that in the beginning of the 21st century God is doing a new thing purposing a complete physical and emotional healing of his people. If your church has also prayed for a healing revival, please let us know how we can partner with you in this ministry endeavor.
Mission BULGARIA 2007 (April 20, 2007)
The itinerary of the small mission team contains the minimum of four weekly trips to villages in the area. They often hold up to twenty services per week as the team is always open for new opportunities for ministry. Their church meetings are often accompanied with miracles and healings, which have drawn many new converts.
The commission for declassification of the secret services archives announced on October 25 that of the candidate mayors registered by the election committee, 420 had collaborated with the former secret service, BTA said.
Of the candidates in Sofia and its regions, 10 had worked with the service, Focus news agency said. Only two candidates for the central city had worked with the secret service, Brigo Asparuchov, candidate for the Bulgarian Socialist Party and Radko Hadzhiev, , candidate for United National Front.
The other eight former agents were candidates for regions and included Boyan Boyadzhiev, GERB candidate for Vitosha, Dimitur Dimitrov, candidate for Bulgarian Socialdemocrats in Krasna Polyana, Ibrahim Karahasanov, candidate for the Green Party in Lyulin, Ivan Petro, candidate for the Green Party in Lozenets, Lyudmil Yordanov, candidate for GERB in Oborishte, Plamen Krustev, candidate for BDNIE in Ilinden, Boiko Koichinov, candidate for BDNIE in Krasno Selo and Stefan Gulubov, candidate for BDNIE in Triaditsa.
Two of the members of the Central Election Committee (CEC) collaborated with the communist-era secret services, the commission for declassification of the secret services archives said on October 23 2007.
The two are Roumen Elenski and Tsvetozariya Iosifova-Krusteva, mediapool.bg said. Iosifova-Krusteva was a secret collaborator and held agent quarters. She worked for the services until 1990. Elenski was on the staff of the services. In 1982, he become an intelligence agent and in 1985 was sent to the KGB school in the USSR. In 1989, he became senior intelligence agent. National Movement for Stability and Progress nominated Iosifova-Krusteva for the CEC in 2003, while Elenski was nominated by Bulgarian Socialist Party in 2005.
Some 15 000 to 20 000 voters are to arrive to Bulgaria's Kurdjali on October 28, the day of the municipal elections, Citizens for the European Development of Bulgaria (CEDB) informal leader Boiko Borissov said on October 21 2007.
Bulgarian Parliament and the three ruling parties, Bulgarian Socialist Party (BSP), Movement for Rights and Freedom (MRF) and National Movement for Stability and Progress (NMSP) made that possible, Borissov said as quoted by mediapool.bg.
Borissov called "nasty and foul insinuation" the statements that if CEDB nominee for Blagoevgrad mayor Kiril Pandev won the elections, he would agree to storage of Sofia's waste in Blagoevgrad. In the beginning I enjoyed these statements, there were similar rumour about Vidin and other cities as well, Borissov said. The administrative potential of Bulgarian cities, including Sofia, was small and European funding remained unutilised. "Only 10 to 15 per cent of the money is utilised and in the same time we complain that we are poor, hungry and weak," Borissov said.