Tie the priest and you will have peace in the village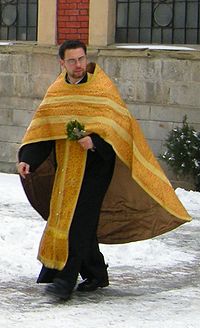 "Tie the priest and you will have peace in the village," an ancient Bulgarian proverb says. This is exactly what the Bulgarian Chief Prosecutor did last July when he ordered police forces to raid over 250 Orthodox Churches and expel their priests who belong to the so-called Alternative Synod. The synod split from the "traditional" Orthodox Church in 1992 rejecting the authority of Patriarch Maxim, whom they claimed was installed in the 60s by the Communist Regime with the purpose of state control over the church.
The Chief Prosecutor justified his order with the recently accepted Bulgarian Confessional Act (Law of Religions). The government of Simeon hopes to finally stop the schism in the Orthodox Church, while a number of human right supporters both in and outside Bulgaria see this act and the new Law of Religions as an attempt of the state to control the religious life in Bulgaria.
Why focus on fixing the church, when Bulgaria has so much to deal with right now? The government was unable to show real improvement un Bulgaria after the promised 800 days were over. While the Internality Currency Board refused to raise minimum income to over $150 per month, the prices of goods and service continue to grow rapidly. Over one million Bulgarians have already left Bulgaria to find a better life somewhere else on the globe. The declining Bulgarian economy combined with the growing rates of crime, corruption and unemployment are not helping much either.
The events accompanying the police actions against the priest of the alternative synod were shocking. The Bulgarian medics prosecuted for allegedly infecting children with HIV in Libya remained in prison with pending death sentences, while Bulgarian government representatives are unable to find a solution of the situation. Two Bulgarian drivers were captured and eligibly murdered by terrorist in Iraq. While the Bulgarian government was still attempting to positively identify the decapitated bodies, terrorists threatened to turn Bulgaria into a blood bath due to its alliance with the United States. The following week, six Bulgarian men allegedly connected with organized crime and drug traffic, were gunned down in a Sofia restaurant by masked men driving police marked vehicles. To rightfully finish this trend, on the eve of the Olympic Games in Athens, the president of the Bulgarian Olympic Committee was broadcasted by BBC's "Panorama" while promising to secure votes for the next Olympics in favor of London.
And in all, the most successful Bulgarian government operation was the "tying of the priests" and dealing with the schism within the Orthodox Church. This may seem to some as tying the priest in order to have peace in the village, but even more it looks like an attempt to remove the attention from other much larger problems which the Bulgarian government is simply unable to solve.