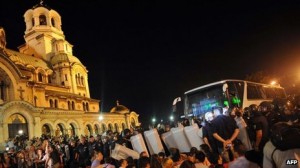 SOFIA, Bulgaria – Bulgarian President Rosen Plevneliev has formally given the winner of recent parliamentary elections a mandate to form a new government, seeking to restore stability in the poorest EU member country.
Conservative Boyko Borisov won the largest share in Oct. 5 early parliamentary elections, ousting a Socialist-led coalition. The 55-year-old former bodyguard and mayor of Bulgaria's capital, Sofia, founded his center-right GERB party in 2006, and was prime minister between 2009 and 2013. Borisov's party won only 84 of the 240 parliamentary seats, and he faces the hard task of forming a right-wing coalition with sufficient support in the fragmented legislature.
The winner of Bulgaria's parliamentary election signed an accord on Thursday to form a minority coalition government after a month of talks, a welcome breakthrough for a country reeling from a bank crisis and struggling to revive economic growth.
Minority centre-right govt to rely on allies for support
PM-designate Borisov was toppled by protests in Feb 2013
New cabinet must tackle bank crisis, fiscal deficit
Parliament expected to approve govt on Friday (Adds quote, details, background)
(Reuters) – The winner of Bulgaria's general election said on Monday it was ready to form a minority government with the support of other parties, after a fractured result that threatens more instability in the Balkan country.
Led by a former bodyguard and karate expert, the centre-right GERB party won around a third of the vote but is likely to find itself dozens of seats short of a majority. That may leave Bulgaria, one of Europe's poorest countries, with another shaky coalition struggling to solve a bank crisis and revive growth.
A record eight parties were expected to enter parliament, as disappointment with the main parties strengthened the attractions of fringe players.
If a coalition cannot be formed, Bulgarians who have seen their country lurch from one crisis to the next may have to head to the voting booths yet again. The new government will be the fifth in less than two years, during which mass street protests toppled a previous GERB administration and nearly felled its successor.
More instability would also dismay investors. Foreign direct investment has fallen by more than a fifth this year.
In a sign of possible trouble ahead, GERB leader Boiko Borisov warned it would be difficult to form a coalition. Party officials said GERB would look to form a minority government, either alone or with the help of smaller parties.
"We are ready to form a minority government and we expect support from other parties," Rumiana Bachvarova, a senior GERB official, told a news conference. Another senior GERB official warned Bulgaria could have another election by Christmas if cross-party talks broke down.
Underscoring the high level of disillusionment with the political class, the exit polls suggested voter turnout was the lowest in the 25 years since Bulgaria emerged from communism.
"With such a fragmented parliament, it's difficult to form a government and it also raises the question of how stable it will be," said Dimitar Bechev, a political analyst. Bulgarian stocks fell on Monday, bucking a rising regional trend.
"Investors are not excited, for sure, because with a surprisingly big number of parties in the next parliament, the possibility for a reformist majority that can push ahead with reforms is very small," said Dimitar Georgiev, a trader at the Sofia-based brokerage Elana.