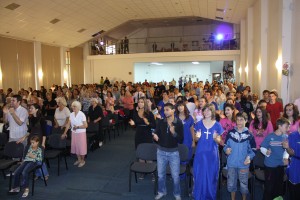 Once again we were invited back to the Light of the World Church of Plovdiv, Bulgaria to hold the subsequently scheduled Mega-Youth Service. The Lord spoke to us back in 2006 for a series of mega-services to be part of our annual Bibliata.com tour.  Plovdiv, being the second largest city in Bulgaria next to the capital was one of the targeted strategic locations of these rallies, which purposes to gather youth groups of various churches together in unity for a time of worship. At the 2006 meeting, in this same location, hundreds of teenagers gathered and our team will never forget how all of them knelt at the alter at the end of the service and recommitted their hearts and lives to God.
Regardless of the laps in time, this years Mega-Youth service in Plovidv was no different. There were over 200 youth present representing virtually all evangelical churches from the city and surrounding region. A praise band of 15 musicians and singers from the Life Church of God in Sofia, with whom we have partnered regularly in the past several years, attended as well to help us with the event. The local youth groups and their leaders were also very instrumental in organizing the meeting and inviting their fellow citizens for the event.
The service was opened by the youth pastor of the Light of the World Church and then their youth praise team presented the gathered people with a powerful time of worship followed by the Sofia praise band. Our team, who traveled from the Southern part of Bulgaria, then delivered a message on the Prodigal Son and challenged the youth to return to the Heavenly Father.  After the Word, all present were again on their knees in prayer.  Many of them made the decision to rededicate their lives to Christ and many were obedient to His call for ministry on their lives.