New Sermon Series in Yambol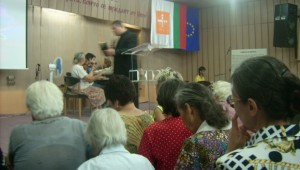 What tremendous services we have had at the Yambol Pentecostal Church this year again, as we began a new sermon series on II Timothy as one of our summer projects. For four weeks now we have gathered with the people on Wednesday night for payer and worship and God has honored our meetings. The church has been packed full and hundreds more have watched the service live via the internet. Miracles and healings have taken place during and after the service times, as one elderly lady reported instant disappearance of pain in her broken arm during the altar prayer as she was watching the service at home on her grandson's computer.
This is the second year in a row that we have included the Yambol church in our summer ministry, as last year we completed a 10 week teaching on the Gospel of Mark. Our work in the region, which includes parts of Sliven, Nova Zagora, Stara Zagora and Bourgas will also focus on leadership training for the village ministry teams on location with the anticipation to renew the evening services in the church before the end of the month.