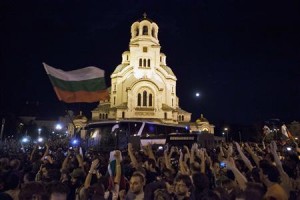 SOFIA, Bulgaria (AP) — Bulgaria's Parliament has approved a law banning women from wearing veils that cover their faces in public.
Bulgaria, a Balkan country of 7.2 million people, has a Muslim minority of about 10 percent. Similar bans have been approved in other EU countries such as France, Netherlands and Belgium.
The law was pushed by the nationalist Patriotic Front coalition citing security reasons for it, saying "the burqa is more a uniform than a religious symbol." The law was opposed by the Movement for Rights and Freedoms, the third-largest party in Parliament, which has a substantial Muslim electorate. In protest, the group walked out of Parliament. Women who violate the ban face fines of up to 770 euros ($860), as well as a suspension of social benefits.