Increase of Religious Non-Identifiers in America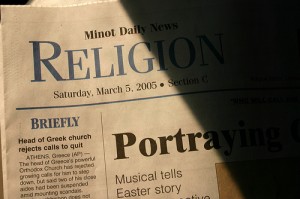 There is a documented and marked decline since 1990 in the number of Americans espousing a religious identity, from less than one-tenth of the public to nearly one in every six adults today. Far from being randomly distributed in the population, the data portray non-identifiers as more likely than those expressing a religious affiliation to be young, male, living in the West and New England, moderate-to-liberal politically, and unmarried.
A lingering question for this research is whether the decline in psychological affiliation with any church or denominational organization will persist, level off, or reverse course. Will the decline in religious identification observed in this research continue or prove to be a temporary phenomenon?
If the question is meant to refer to the traditional, established churches and faith systems that have been with us for some time, the answer is very likely to be yes, it is likely to continue. But if we expand the concept of "religion" to include the increasingly popular forms such as New Age religions, EasternWestern blends, multi-stranded hybrids, the "small-group movement," pseudo-scientific spiritual formulations, and other types, then maybe no.
This study is an excerpt from the larger report on The Decline of Religious Identity in the United States by Sid Groeneman & Gary Tobin published in 2004 via the Institute for Jewish & Community Research (http://jewishresearch.or)