Bulgarian Video Bible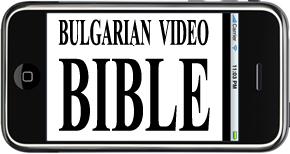 Cup & Cross Ministries is proud to announce the beginning of a new media project entitled Bulgarian Video Bible. The project purposes the production of a Bulgarian language Bible in video format. The project is hosted by the Bibliata.TV video website also directed and administered by Cup & Cross team members.
The video website was released in September, 2008 to promote Christian education and spiritual upbringing through creative arts and new technologies. For the past several months it has become a dynamic internet community for Christians in Bulgaria and abroad. The project will be presented at the upcoming BibleTech 2009 conference organized by Logos Bible Software with which Cup & Cross Ministries have partnered in various Bible study related projects.
The first Bulgarian Video Bible is expected to be released by 2010. The completed modules of the projects can be viewed now at: http://video.bibliata.tv/