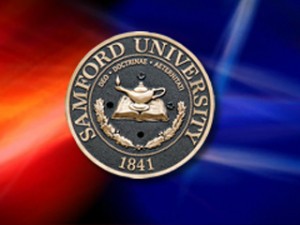 On November 11-13, 2004, Cup & Cross Ministries participated in the fourth annual Lilly Fellows Program National Research Conference on the theme, "Christianity and Human Rights." The conference, which was held at Samford University, explored the deep embedding of the language of human rights in international discourse. Cup & Cross Ministries presented a paper entitled "Postcommunist Believers in a Postmodern World."
Read the presentation of the paper
View the power point presentation (PPT)
Read the complete paper "Postcommunist Believers in a Postmodern World" (PDF)
Consult the text of the Bulgarian Confessions Act of 2002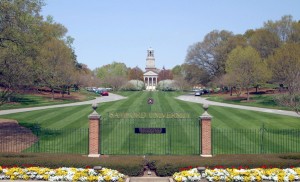 Samford University, Birmingham, Alabama, will host the Fourth Annual Lilly Fellows Program National Research Conference, November 11-14, 2004. Numerous scholarly panels are scheduled to explore the topic, "Christianity and Human Rights."
Dr. Fred Shepherd, Samford chair of political science, and Dr. Chris Metress, Samford professor of English, serve as co-directors of the conference. "The conference will bring scores of academics and activists to focus on an important set of religious and political issues," said Shepherd. "Samford is delighted to have been selected as host in a highly competitive process."
Plenary Speakers
* Robert E. Drinan , a law professor at Georgetown University has written widely on human rights. He is the former dean of Boston College Law School, and served as a U.S. Representative from Massachusetts for 10 years. He serves on the board of directors of the International League for Human Rights and the Lawyer's Committee for International Human Rights. Drinan is author of The Mobilization of Shame: A World View of Human Rights; Stories from the American Soul; Cry of the Oppressed: The History of Hope of the Human Rights Revolution; God and Caesar on Potomac; Beyond the Nuclear Freeze; Democracy, Dissent and Disorder and Religion, the Courts and Public Policy.
* Jean Bethke Elshtain, Rockefeller professor of social and political ethics at the Divinity School, University of Chicago is a political science professor at the University of Chicago and is a member of the Committee on International Relations. She is co-chair of the Pew Forum on Religion and Public Life. Her books include Faith Matters: Religion and Public Life in America; Democracy on Trial; Augustine and the Limits of Politics; Real Politics: At the Center of Everyday Life; Who Are We? Critical Reflections; Hopeful Possibilities; and But Was It Just? Reflections on the Morality of the Persian Gulf War.
* John Witte, Jr. , is the Jonas Robitscher Professor of Law and Ethics, Director of the Law and Religion Program, and Director of the Center for the Interdisciplinary Study of Religion at Emory University. He is the author of 12 books, including Religious Human Rights in Global Perspective (two volumes), Proselytism and Orthodoxy in Russia, and Religion and the American Constitutional Experiment.
* James Waller, is a professor of psychology and Edward Lindaman Chair at Whitworth College. He is the author of Prejudice Across America and Face to Face: The Changing State of Racism Across America. His most recent book is Becoming Evil: How Ordinary People Commit Genocide and Mass Killing (Oxford University Press).
Plenary addresses will be accompanied by 21 concurrent sessions in which academics, activists, policymakers, and religious representatives will present papers on a variety of human rights issues including:
War, Forgiveness, and Human Rights
Slavery and Human Rights
Human Rights and Economics
Christianity and Discrimination
Human Rights and Education
Catholic Social Thought and the Defense of Human Rights
Catholicism and Human Rights
Interreligious Dialogue and Human Rights
Christian and Secular Approaches to Human Rights
Human Rights, Religious Freedom, and Proselytization
Reverence, Christian Values, and Justice
Scripture, Ritual, and Human Rights
Contending Perspectives on Christianity and Human Rights
Influential Women Leaders and Thinkers
Human Rights and Christianity in Southeast Asia
Christian Human Rights in East Asia
Human Rights in Africa
Human Rights in Latin America
Christianity and Totalitarianism
The United States and the World
Christian Advocacy for the Rights of Women and Children
Presentations relating directly to the former Soviet Union and Central and Eastern Europe will include:
Christian Responses to International Trafficking in Women from Eastern Europe
Mark R. Elliott, Director, Global Center, Beeson Divinity School, Samford University
Children at Risk in Eastern Europe and Christian Efforts on Their Behalf
Phyllis Kilbourn, International Director, Rainbows of Hope
Post Communist Ideology, Eastern Orthodoxy and Human Rights. Reflections on the Possibility of Implementing the European Human Rights Regime in South-eastern Europe, with special reference to Romania and Bulgaria
Silviu Rogobete, West University of Timisoara
Postcommunist Believers in a Postmodern World
Dony K. Donev
Protestantism and Human Rights in Russia: Creation of the Alternative to the Authorities
Roman Lunkin, Institute of Philosophy, Russian Academy of Sciences, Moscow
Bozena Komarkova: Toward an Existential Christian Philosophy of Human Rights
Joyce J. Michael, Ph.D., Prague
Advocacy Avenues for International Religious Freedom
H. Knox Thames, Esq., Counsel, U.S. Commission on Security and Cooperation in Europe